Hundreds of nurses at the University of Illinois Hospital took to the picket line Saturday for a weeklong strike amid contract negotiations between their union, the Illinois Nurses Association, and the hospital system.
A three-year contract between the INA and UIC expired on Aug. 24 but was extended to Sept. 7. On Aug. 19, nurses voted to authorize the seven-day strike.
Nan Gasman, of Woodridge, was among those who gathered Saturday morning outside the hospital's emergency room entrance to voice their demands. Gasman has worked at University of Illinois Hospital for 25 years and attended UIC as a nursing student. She said she is striking because she believes there should be a limit to the number of patients a single nurse takes care of at a time — but the hospital doesn't believe a set nurse-to-patient ratio works, she said. "They don't want to put a cap on how many patients a nurse can have," Gasman said. "I think that's insane."
In a statement Friday, the university said it does not support the "one-size-fits-all staffing ratios proposed by the INA." Instead, it prefers a patient acuity-based model. "Staffing by acuity recognizes the professionalism of our nurses by taking into account each nurse's education level, expertise, skills, knowledge, judgement and experiences," according to the statement.
Gasman also says the hospital wants to freeze nurses' pay for three years. "After what we've been through with the pandemic, they should treat us a little bit better than that," she said.
The strike continued into late Saturday afternoon despite the rain. Nurses and other medical professionals wore blue T-shirts under their rain ponchos, chanting, "No contract, no peace." They lined the sidewalks, carried signs that read: "Protect our Patients" and "If Nurses are Outside, there is Something Wrong Inside." The crowd cheered when passing cars honked in support.
Paul Pater, a registered nurse who is the chair of the Political Action Committee for INA, says the hospital hasn't been cooperative. A proposal was set to come from UIC at midnight Saturday, he said, "and it became 1:30 a.m. and they never presented that proposal."
The hospital is refusing to talk about safe patient limits, he said.
"It's been very frustrating because we've taken their needs into account and they refuse to address all of this," Pater said. "They consistently refuse to provide a reasonable argument as to why they don't want to do this. For them, this isn't about safety or saving money or any of that other stuff, this is about ego."
Pater says the board decided that seven days would be a reasonable amount of time to drive home how unhappy the union is. Roughly 500 nurses are striking, he said.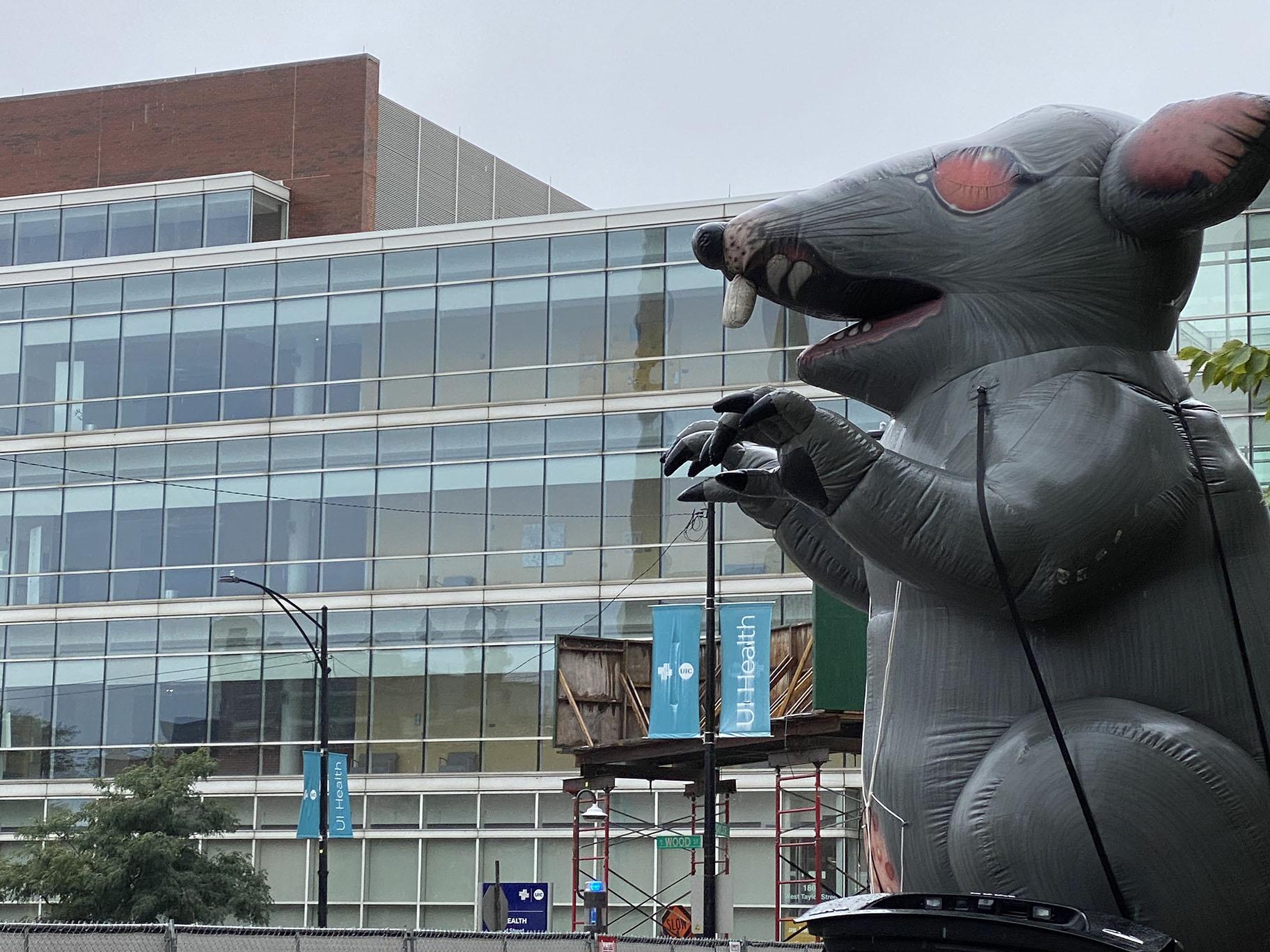 An inflated rat sits outside the University of Illinois Hospital on Saturday, Sept. 12, 2020, the first day of a planned seven-day strike by nurses. (Courtesy of Samuel duBois)
Ald. Byron Sigcho Lopez, 25th Ward, showed up in support of the nurses Saturday afternoon.  
"I'm proud to stand with the Illinois Nurses Association at UIC as they go on strike to demand safe conditions for their patients and safe working conditions to protect themselves and their families from the COVID-19 pandemic," he said.
Earlier this week, the UIC Board of Trustees filed a lawsuit to stop nurses from striking, claiming a strike would pose a danger to the public.
Michael Zenn, CEO of University of Illinois Hospital & Clinics, was not immediately available for comment.
In a statement Friday, the university said it continues negotiating in good faith with the INA, which represents 1,400 nurses at the hospital, and SEIU Local 73, which represents 4,000 UIC employees. 
The university said the hospital would remain open "should a work stoppage occur."
According to the statement, UIC recognizes and supports "the right of our INA and SEIU colleagues to decide whether to strike or come to work," but that "a strike by either or both unions is not in the best interest of UIC, UI Health, our patients or students — and the University will do everything we can to prevent one."
SEIU ancillary workers plan to join INA on the picket line Monday morning.
"I'm ready to strike to fight outsourcing and win a fair pay increase and living wage," reads a testimonial from SEIU member Julio Bautista on their Twitter. "The cost of living is going up, but our pay isn't. I support myself and I'm barely getting by. The outsourced workers are not properly trained and they're taking our union jobs."
A global pandemic. Outsourcing. Unfair pay. UIC workers are facing a multi-front fight in their upcoming strike. For Julio, a Building Service Worker, this struggle is about keeping good union jobs on campus! #StrikeForOurLives #FairContractNowUIC pic.twitter.com/7qAZG3j9FI

— SEIU Local 73 (@SEIU73) September 10, 2020
---
"We're fighting for a lot of the same things," said Pater. "It's upsetting that the university doesn't recognize the sacrifices that we've made."
Alma Campos is a freelance contributor to WTTW News: @alma_campos
---