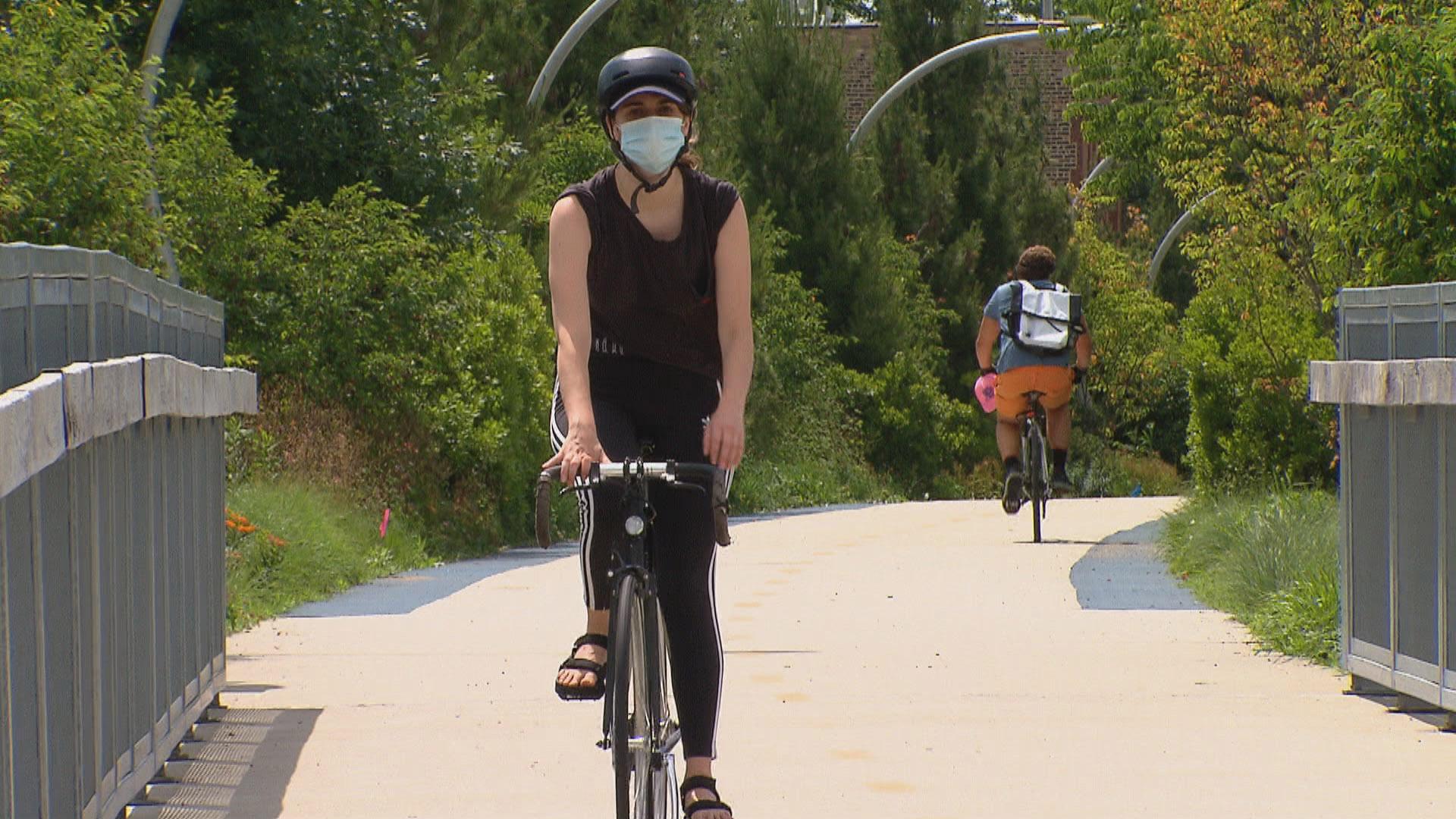 Summer during the pandemic: A cyclist wearing a mask rides along the 606 trail in Chicago. (WTTW News)
The Illinois Department of Public Health reported 1,953 new confirmed cases of COVID-19 on Thursday and another 28 virus-related deaths, as Gov. J.B. Pritzker said eight Illinois regions are making progress in slowing the spread of the virus.
The number of confirmed cases of the coronavirus has declined in Will and Kankakee counties — known as region seven — in the 17 days since Pritzker imposed restrictions designed to slow the spread of COVID-19, according to data from IDPH. The region's test positivity rate is 7.5%, according to state data.
If the region's average test positivity rate drops below 6.5%, Pritzker said he would remove rules that now prohibit indoor service for bars or restaurants, require outside bar and food service to end at 11 p.m. and limit gatherings to no more than 25 people or 25% of the overall room capacity.
"I'm hopeful that region seven might become a testament to the community's ability to turn this ship around in the right direction," Pritzker said.
However, the stricter restrictions will remain in place in the Metro East area of the state, near the border with St. Louis, where the average test positivity rate is 10.1%, and has been rising since new restrictions were imposed three weeks ago. Additional restrictions have been in place for approximately a week.
Pritzker said he would not hesitate to follow the advice of Dr. Anthony Fauci, the director of the National Institute of Allergy and Infectious Diseases and an adviser to President Donald Trump, to address surges of confirmed cases as quickly as possible.
"We can't outrun this virus," Pritzker said. "It has not gone away."
The statewide test positivity rate on Thursday was 3.99%, the IDPH reported. As of Thursday, Chicago's test positivity rate is 5.1%, while suburban Cook County has a positivity rate of 6.2%, according to state health officials.
Approximately 1,609 people in Illinois are hospitalized with COVID-19, including 346 people in intensive care units and 141 patients on ventilators, according to state health officials.
IDPH Director Dr. Ngozi Ezike again pleaded with Illinois residents to wear a mask, citing the results of a study that found a man on a 14-hour flight from China to Toronto who had symptoms of COVID-19 and later tested positive did not spread the coronavirus to any of the 25 people closest to him on the plane because everyone wore masks.
"We all want our kids in school. We all want our restaurants open. We all want all of our businesses open, and we can do that by wearing a mask," Ezike said.
In an earlier event in Rockford on Thursday, Pritzker announced that the state would spend $16.6 million from the federal government to help 1,300 Illinois residents who lost their jobs amid the economic crisis caused by the pandemic.
There were nearly 500,000 fewer jobs in Illinois during July 2020 than there were in July 2019, according to state data.
For more information, visit the state's Get Hired IL website.
Contact Heather Cherone: @HeatherCherone | (773) 569-1863 | [email protected]
---