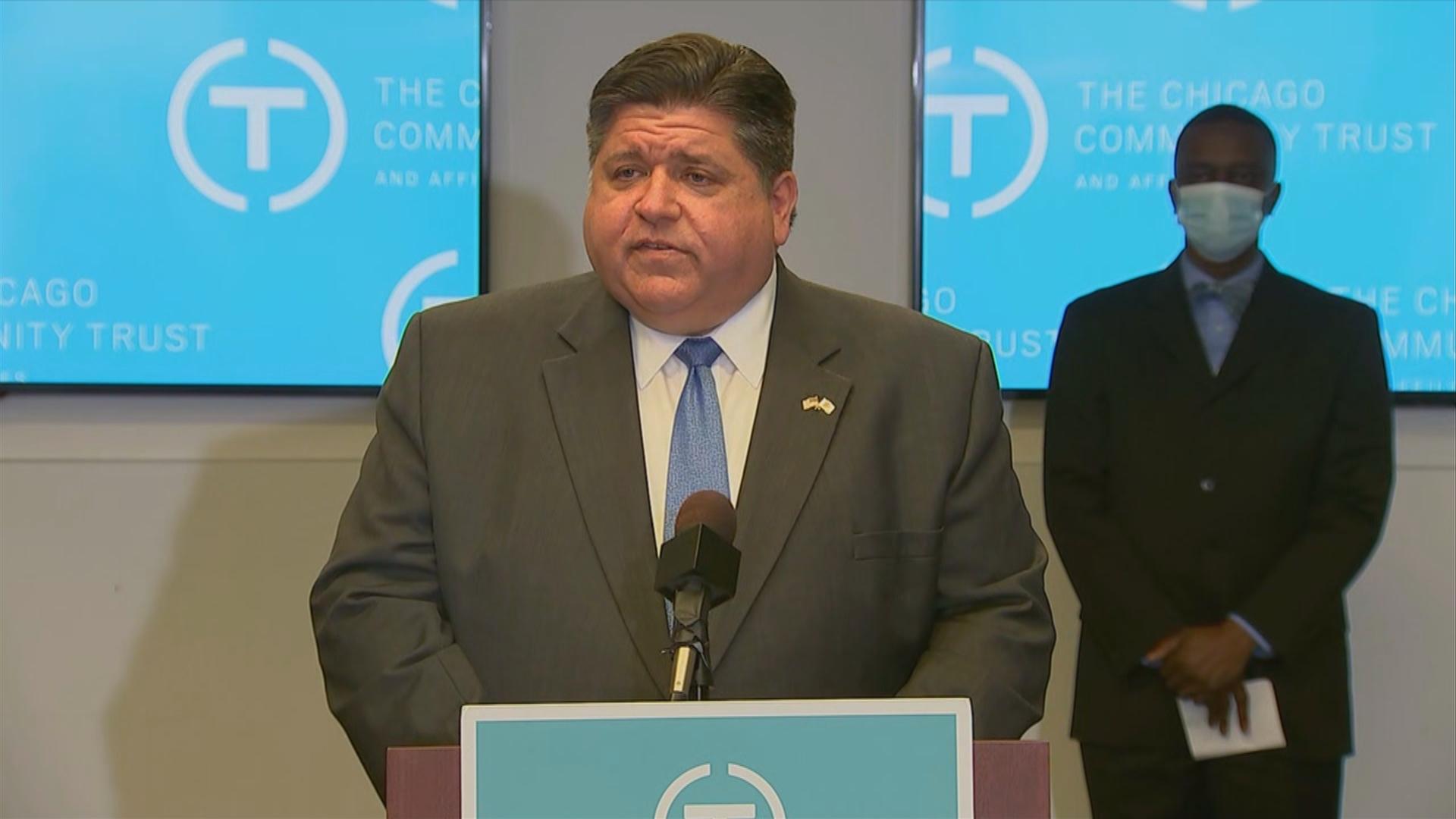 Gov. J.B. Pritzker talks Tuesday, Sept. 8, 2020 about the final round of funding distributed by the Illinois COVID-19 Response Fund. (WTTW News)
A fund to help Illinois residents impacted by the coronavirus pandemic has distributed more than $31 million since its inception and will be winding down its operations, Gov. J.B. Pritzker announced Tuesday.
"Even in the earliest days of the COVID-19 pandemic, need was unfolding beyond a scale modern-day government had ever seen – and the best response would be an all-hands-on deck, private and public efforts alike, to meet it," Pritzker said, thanking everyone who contributed to the Illinois COVID-19 Response Fund.
During an afternoon press conference, officials announced the final $7.5 million in funding had been distributed to seven nonprofits throughout the state that serve primarily Black and Latino communities and are led by a person of color or have a "meaningful" partnership with an organization led by a person of color.
Among the grant recipients is the Farmworker and Landscaper Advocacy Project, whose mission is to improve the working conditions of very low-income individuals working at farms, nurseries, greenhouses, restaurants, canneries and packinghouses, as well as those working as snowplow operators, landscapers, and meat and poultry workers.
Alexandra Sossa, executive director for the project, thanked officials for the grant and for giving them "the tools to fight this pandemic. Our very low-income Latin community is struggling. They are in the fields, they are growing the vegetables that we have every day on our tables," Sossa said. "They are infected by COVID-19 because they are not able to work from home. With this grant, we'll be able to provide direct cash assistance to this very low-income, hard workers."
About 800 very low-income workers will receive the assistance, which will make an impact on almost 5,000 households, according to Sossa, who said grant funding will also be used to distribute educational resources about COVID-19.
The other grant recipients announced Tuesday are the Community Health Partnership of Illinois, Community Life Line, DREAAM Opportunity Center, mRelief, PCs for People and Springfield Urban League, Inc.
More than 1,650 organizations throughout the state have received grants from the fund, according to officials.
"We don't celebrate this fund in a vacuum. This pandemic is not over and the need throughout the state is still great," Pritzker said.
On Tuesday, health officials reported 1,392 new COVID-19 cases and seven virus-related deaths, bringing statewide totals to 252,353 cases and 8,186 deaths. The seven-day statewide positivity rate is 4.0%, according to Illinois Department of Public Health data.
As of Monday night, 1,504 patients were hospitalized with COVID-19, and of those, 343 were in intensive care units and 133 on ventilators. In a 24-hour period since Monday, labs have processed 31,363 specimens, with more than 4.4 million completed to date.
While the fund will no longer be raising money or dispersing grants, Pritzker encouraged people interested in donating to directly contact the organizations that have been vetted by the fund; they can be found on the fund's website.
Launched during the early days of the pandemic, the fund was created to fill residents' most basic needs, including emergency food and basic supplies, interim housing and shelter, primary health care services, utility and financial assistance, supports for children and other vulnerable populations, and nonprofit safety and operations assistance.
Contact Kristen Thometz: @kristenthometz | (773) 509-5452 |  [email protected]
---