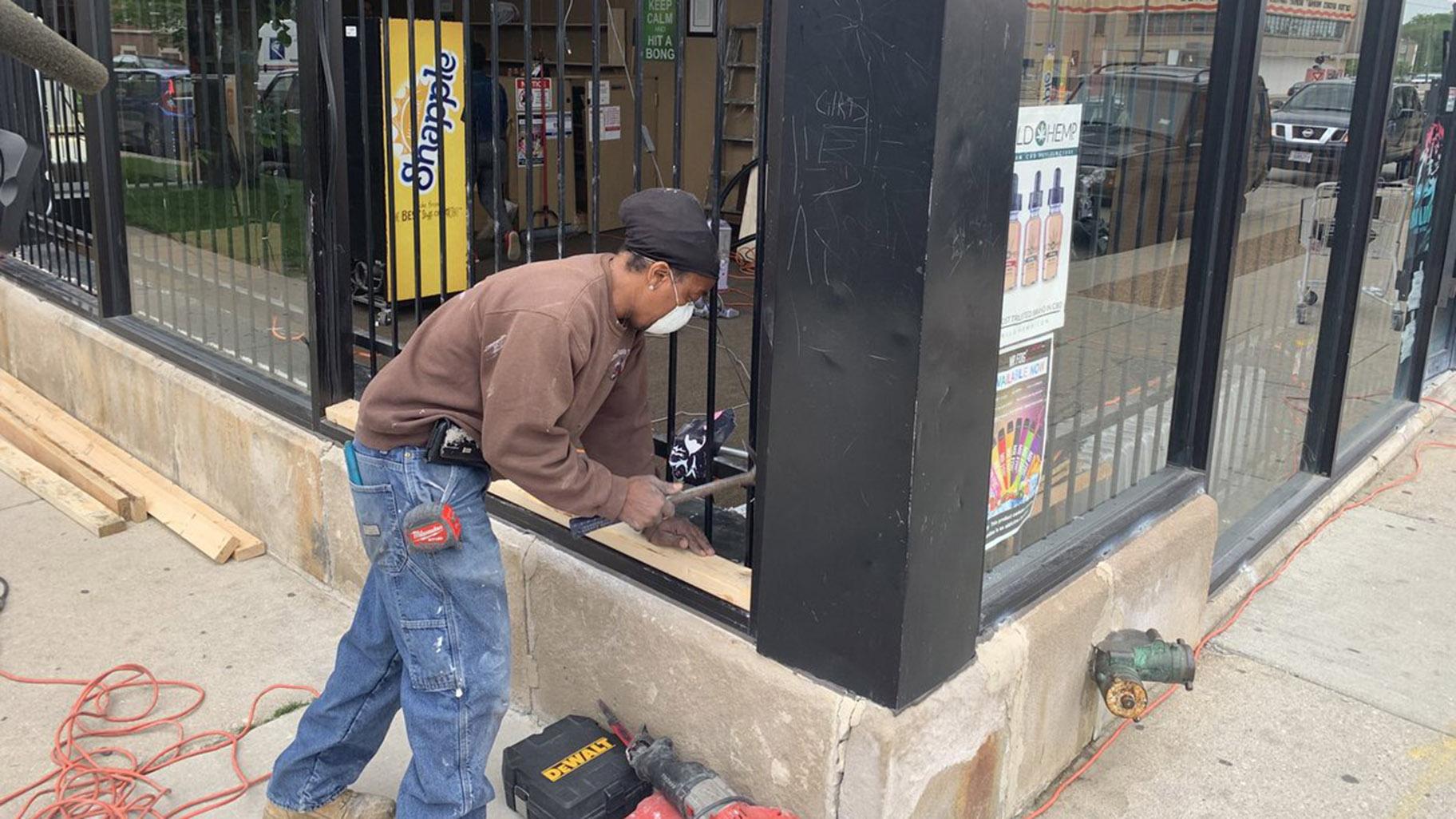 Crews start boarding up the 3 Smokin Sisters Tobacco Shop on 71st Street in Chicago's South Shore neighborhood. Shop owners emptied the store of inventory following looting on Sunday, May 31, 2020. (@paschutz / Twitter)
City officials Tuesday defended their efforts to help Chicago's small businesses struggling to stay afloat during the coronavirus pandemic and recover from unrest touched off by police brutality protests, even though only 20% of a $100 million loan fund has been spent.
Mayor Lori Lightfoot unveiled the $100 million Chicago Small Business Resiliency Loan Fund on March 19, days before Gov. J.B. Pritzker issued a stay-at-home order designed to stop the rapid spread of the coronavirus.
Since then, just $20 million has been loaned to 763 businesses, with another $30 million worth of loans to another 1,003 businesses in the works, Deputy Mayor Samir Mayekar told the members of the City Council's Committee on Economic, Capital and Technology Development.
Mayekar said the mayor urged the staff to get the funds into the hands of desperate business owners as fast as possible — but officials took steps to eliminate the chance of fraud, abuse or waste.
The city's loan program was designed to help businesses that did not qualify for the Small Business Administration's Payroll Protection Program, Mayekar said. That program sent $3.8 billion to 40,000 Chicago businesses — most on the North Side, where businesses are more likely to have established relationships with banks.
The loan fund was fueled by $25 million in city funds, $50 million from the Catalyst Fund administered by Chicago Treasurer Melissa Conyears Ervin and charitable contributions.
Businesses could qualify for loans to replace three months of their revenue before the pandemic at a 1% interest rate for the first 18 months. After that, the interest rate rises to 5.75%, and the loan must be paid off in five years. The terms of the loan require that businesses use at least half of the loan for payroll and keep at least half of their staff employed for six months, according to city documents.
A quarter of Chicago's small businesses remain closed in the wake of the pandemic and the unrest that swept the city in the wake of police brutality protests, Mayekar said.
Mayekar said Chicago has offered small businesses more financial assistance than New York, Los Angeles, Portland and San Francisco combined.
In addition to the loan fund, the city offered business owners grants of up to $10,000 to repair their stores and grants of up to $4,000 for businesses that saw their revenue drop by at least 25% during the pandemic.
The Together Now fund has awarded $6.2 million to 1,500 businesses in the first round, Mayekar said, adding that there was much more demand for the $4,000 operational grants than the $10,000 grants to rebuild their stores.
A second round will award another $3 million in grants, Mayekar said.
Approximately 27% of applications for help from the Together Now fund were rejected for failing to meet the eligibility requirements or for being a duplicate, Mayekar said. To qualify, Chicago businesses could not have more than 100 employees or owe more than $2,500 in municipal debt.
Contact Heather Cherone: @HeatherCherone | (773) 569-1863 | [email protected]
---