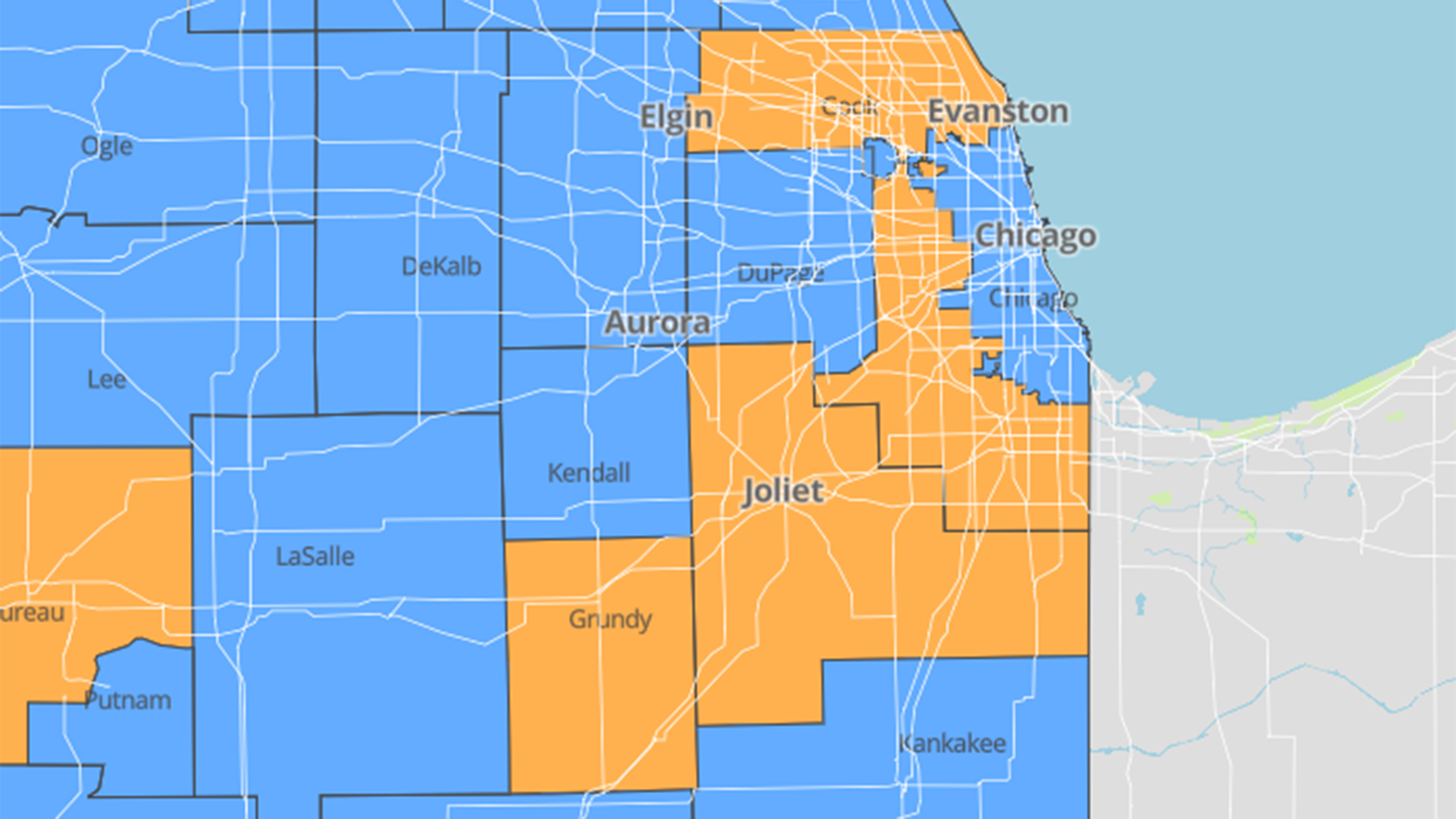 An IDPH map shows counties considered to be at a warning level for COVID-19 (orange) and counties that are stable (blue). Note that Chicago and suburban Cook are each considered a separate "county" by health officials tracking the virus. Click the image to see the full interactive map.
State health officials on Friday reported another 10 counties, including suburban Cook, are showing warning signs of increased risk for COVID-19 transmission.
An increase in two or more risk indicators tracked by the Illinois Department of Public Health triggers a warning, including the number of deaths in a county, the number of new cases per 100,000 people and the availability of intensive care units.
Though Chicago is part of Cook County, the IDPH tracks "county-level" metrics separately for the city. As of Friday, Chicago is experiencing an increase in just one risk metric: new cases per 100,000. The state's target is fewer than 50 new cases per 100,000 residents; Chicago is seeing 95 new cases per 100,000 residents, according to state data.
There are now 30 counties considered by health officials to be at a warning level. They are: Bureau, Carroll, Cass, Clinton, suburban Cook, Cumberland, Effingham, Fayette, Greene, Grundy, Henderson, Henry, Jasper, Jersey, Jo Daviess, Johnson, Madison, Monroe, Morgan, Perry, Pike, Randolph, Sangamon, Shelby, St. Clair, Union, Warren, White, Will and Williamson.
Last week, the IDPH announced that 20 counties were considered to be at a warning level. There are 102 counties in the state.
A map shows counties considered to be at a warning level (orange) and counties that are stable (blue). Click to see the IDPH's interactive map.
Health officials on Friday announced another 2,149 new cases of COVID-19, and 20 additional deaths across 13 counties, including six in Cook County. A Lake County man in his 20s was the youngest.
On Saturday, the IDPH announced another 1,880 cases and 11 deaths across 10 counties. Those who died ranged in age from their 50s to their 90s, according to state data.
More than 8,000 people have now died as a result of the virus in Illinois, where the preliminary statewide positivity rate is 4%, the IDPH reported Saturday.
According to the IDPH, outbreaks and an increase in infections across Illinois have been associated with weddings, large gatherings, long-term care facilities, bars and travel. Infections connected to schools are starting to be reported, the department noted Friday.
Some of the risk can be attributed to local officials, according to the IPDH, which wrote: "In some counties, local law enforcement and states' attorneys are not enforcing important mitigation measures like social distancing and the wearing of face coverings."
The IDPH's list of counties considered to be at a warning level are based on metrics from the previous week. Friday's announcement is based on data from the week of Aug. 16-22.
In addition to county-level metrics, the state tracks virus metrics by region. Of the 11 regions in the state — again, with Cook County and Chicago each counted as its own region — two are facing increased restrictions to stop the spread of the virus as part of the state's Restore Illinois plan.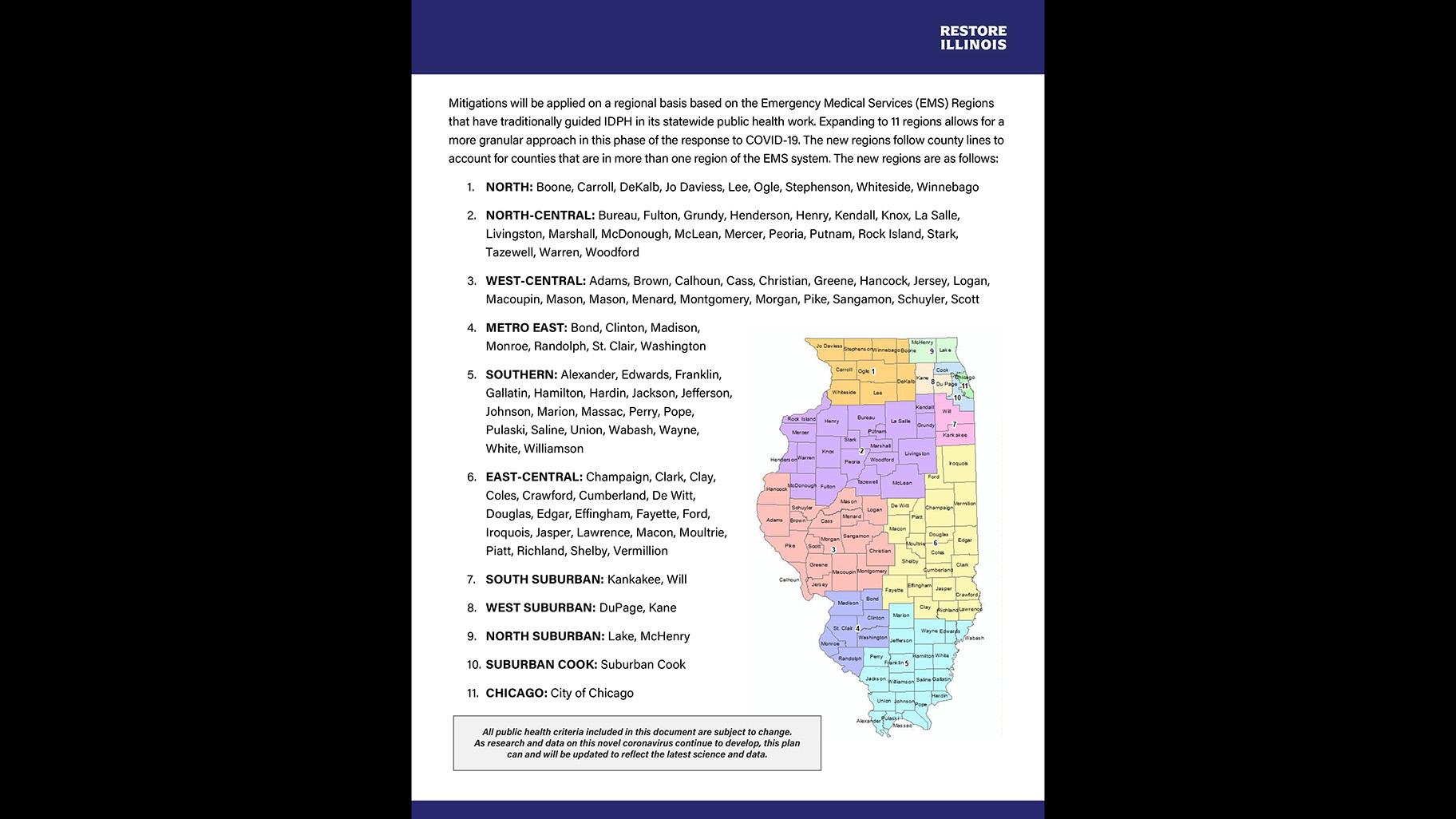 A map of Illinois' 11 regions. (Click to see full COVID-19 mitigation plan released by Gov. J.B. Pritzker.)
Those restrictions include no indoor dining or bar service, an 11 p.m. closing hour for all bars and restaurants, and reduced capacity for meetings, social events and gatherings.
Impacted areas include region four, which includes Bond, Clinton, Madison, Monroe, Randolph, St. Clair and Washington counties; and region seven, which includes Will and Kankakee counties.
Contact Kristen Thometz: @kristenthometz | (773) 509-5452 |  [email protected]
---