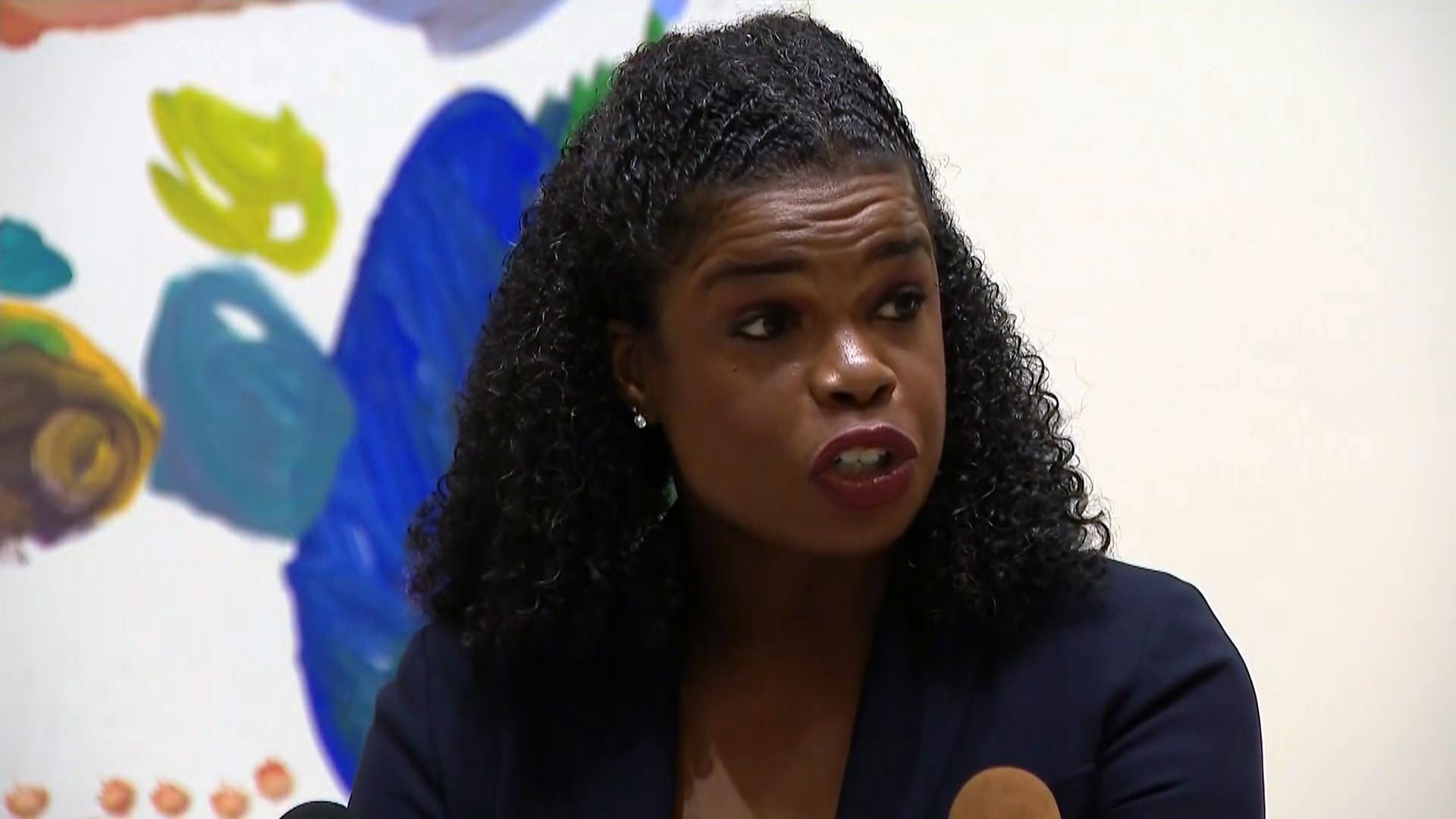 Cook County State's Attorney Kim Foxx speaks to the media Monday, Aug. 10, 2020 after a night of unrest in Chicago. (WTTW News)
A judge has denied a request to make public a 60-page investigatory report into Cook County State's Attorney Kim Foxx and her office's handling of the initial Jussie Smollett case, days after the special prosecutor released the findings of that investigation.
Judge Michael Toomin on Friday denied a motion from special prosecutor Dan Webb seeking to release that full report, citing the need to maintain the secrecy of grand jury evidence contained within it.
During an in-person hearing inside the Cook County Juvenile Court Building, the judge ruled the release of those grand jury minutes is not necessary because the case has been breathlessly covered in the media since the initial charges were filed against Smollett in the spring of 2019.
"In the absence of any showing of a particularized need for disclosure, the policies supporting the secrecy of grand jury proceedings weighs against the public release of the grand jury material sought by the special prosecutor," Toomin said in his ruling.
Toomin said news reports covering the case affords the public "material similar to that" appearing in the report.
Webb was appointed last year to re-investigate the Smollett case and determine whether anyone involved in the handling and dismissal of that case committed any wrongdoing.
Last week, Webb and his team published a 12-page report detailing the findings of their investigation, stating that while there were "substantial abuses of discretion" in the way Foxx and her office handled the case, nothing rose to the level of a criminal offense.
But that report lacked any of the evidence they relied on in making those findings. Webb argued before Toomin on Friday that the release of the full report was necessary to "restore the public's confidence" in the criminal justice system.
Foxx's office published a motion this week asking Toomin for time to review the full report before its release to the public. Retired federal judge Ruben Castillo, who is representing the state's attorney's office in this matter, said Foxx and her staff wish to provide comments to Webb's team and address what they allege are "factual inaccuracies" in the report.
"By issuing a written report in the absence of criminal charges and opining on alleged ethical violations outside of criminal charges, the (Office of the Special Prosecutor) is essentially acting as an inspector general … rather than as a prosecutor," Castillo wrote.
Castillo noted that special prosecutors don't typically even issue reports.
But Webb's team countered that they were "specifically ordered" by Toomin to do just that. And they argued in a written opposition to the state's attorney's request that there's no legal precedent to grant Foxx an opportunity to review the report.
"Furthermore, the (state's attorney's office) does not cite to any precedent where a court required a prosecutor (in Illinois or elsewhere) to allow entities to comment on a report before it was released publicly, and has provided no reason why such a review would be proper here," Webb wrote.
That issue, however, became moot once Toomin declined to publish the report.
After the hearing, Sheila O'Brien — the retired appellate judge who successfully petitioned for a special prosecutor to review the Smollett case — speculated that perhaps Webb could remove the grand jury evidence and then release the rest of the report to the public.
"I think he could," she said. "I'm off the fly here. If the grand jury minutes are not in that report, then my thought is he could release that report without the grand jury minutes in it."
"Would I love to see it? Sure," she added. "I want to read it all, I was getting ready to read 60 pages this afternoon. I wanted to see what it is that all this is about. But perhaps this is not over. We'll see. We want to see what the next steps are gonna be, if any."
Neither Webb nor Castillo spoke to the media following the hearing.
'A major failure'
Chicago police detectives last year spent weeks investigating Smollett's claims. They eventually determined Smollett had paid two brothers $3,500 to carry out the "attack" on him in an effort to boost his public profile.
The brothers testified before a grand jury days before Smollett was arrested. Even so, the Cook County State's Attorney's Office opted to dismiss the charges just weeks after they were filed in a bombshell move that stunned legal observers and spawned a legal challenge.
That challenge led to the appointment of Webb, who in February had Smollett indicted for a second time on disorderly conduct charges. That case remains pending.
In the 12-page release published last week, Webb alleged Foxx and her staff made false statements to the public about the case and called the way charges were dismissed a "major failure."
According to that report, acting State's Attorney Joseph Magats and lead prosecutor Risa Lanier did not learn any new evidence from the time the initial charges were filed against Smollett to warrant the eventual dismissal.
During his investigation, Webb found those in charge of the case had "significantly and meaningfully divergent explanations" of how that decision was made and who negotiated the terms of dismissal.
The report also details several false or misleading comments made by Foxx and her office after the charges were dropped, including a statement made that same day in which Foxx's office said it had "referred more than 5,700 cases for alternative prosecution. This is not a new or unusual practice."
But Webb found that Smollett's case was "meaningfully different" than those 5,700 others because he was not referred to a diversion program.
"There were not thousands of (or, arguably any) similar cases that the CCSAO resolved in a similar way to the Initial Smollett Case," the report states. "The CCSAO could not identify any specific similar CCSAO cases it relied upon when resolving the Initial Smollett Case."
Foxx also allegedly made false statements about her contact with Smollett's sister, actress Jurnee Smollett, following Foxx's recusal from the case. According to the report, Foxx said she stopped communicating with Smollett's family after he became a suspect in his own case.
But Webb's investigation revealed that Foxx had three phone calls and sent or received multiple texts from Jurnee Smollett in the five days after she learned her brother had become a suspect.
Even so, Webb found Foxx did not participate in the case following her recusal and no outside parties – including Jurnee Smollett and Tina Tchen, former chief of staff for Michelle Obama – had exerted any improper influence on the case.
And most notably, Webb's investigation did not find evidence to support "any criminal charges based on bribery, failure to report a bribe, official misconduct, obstruction of justice, perjury, or any other criminal statute."
Contact Matt Masterson: @ByMattMasterson | (773) 509-5431 | [email protected]
---