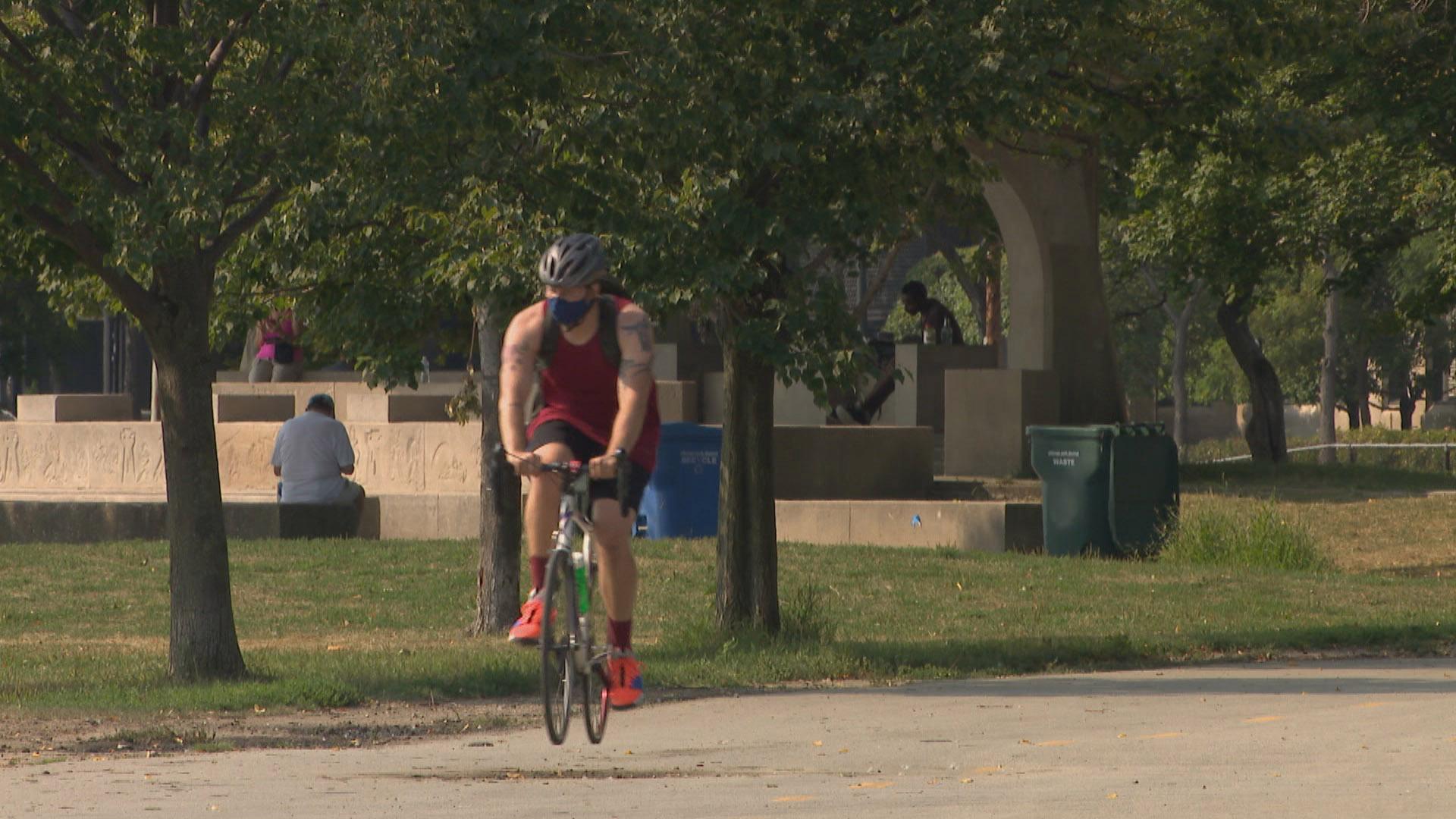 A cyclist wearing a mask rides along the lakefront trail in Chicago. (WTTW News)
The Illinois Department of Public Health reported 2,157 new confirmed cases of COVID-19 on Wednesday and another 37 virus-related deaths — including a female teenager from Cook County.
The state continued its run of conducting more than 50,000 tests in a 24-hour period between Tuesday and Wednesday, according to the state health department.
The statewide test positivity rate dropped slightly on Wednesday to 4%, the IDPH reported. As of Wednesday, Chicago's test positivity rate is 5.1%, while suburban Cook County has a positivity rate of 6.8%, according to state health officials.
Approximately 1,600 people in Illinois are hospitalized with COVID-19, including 350 people in intensive care units and 130 patients on ventilators, according to state health officials.
Those dining out at bars and restaurants in Illinois are now required to wear face coverings during all of their interactions with staff, whether they are sitting indoors or outdoors, under a new policy announced Tuesday by Gov. J.B. Pritzker. 
In addition, new restrictions took effect Wednesday in the state's region seven, which includes Will and Kankakee counties, after the region reached an 8% test positivity rate for three consecutive days. Indoor dining and bar service is banned, along with party buses, and most indoor venues, including casinos, must close by 11 p.m., with their capacity limited to 25%. The rules, which do not apply to schools, will be in place for at least two weeks.
Region seven reached an 8.3% test positivity rate on Wednesday, according to state health officials.
Restrictions are also in place in the state's region four, which includes the Metro East area near St. Louis, where the test positivity rate reached 9.7% on Wednesday. It has grown since the additional restrictions were put in place last week, and additional restrictions could be added as soon as Sept. 2.
Pritzker said Tuesday he made a "mistake" by not banning indoor dining and service last week in the Metro East area. Initially, the restrictions were designed to accommodate looser rules across the border in Missouri, he said.
Health officials said the virus is spreading most often at weddings, businesses, neighborhood gatherings, parties, long-term care facilities, travel to neighboring states, bars and sports camps.
Contact Heather Cherone: @HeatherCherone | (773) 569-1863 | [email protected]
---