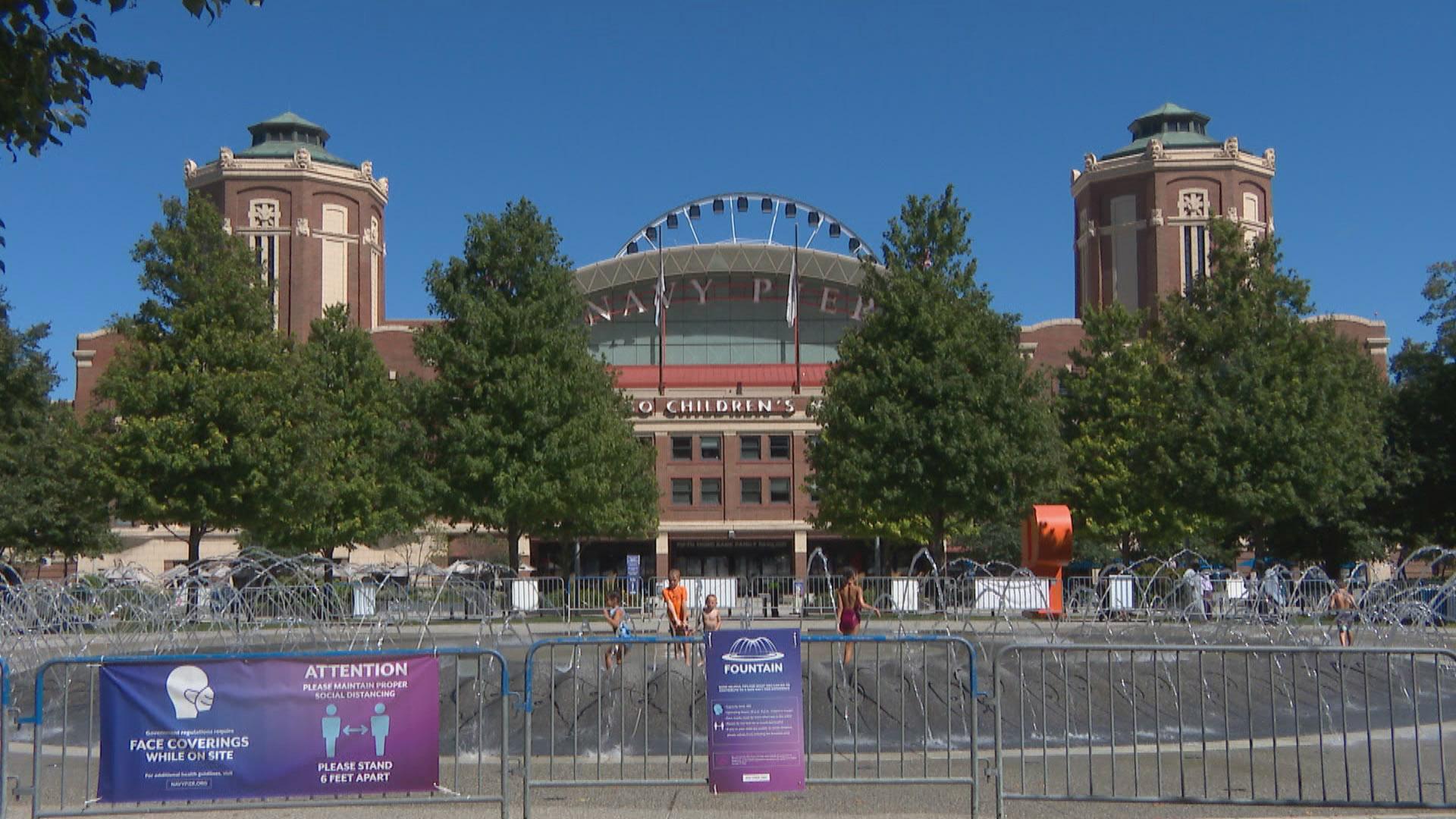 Children play in the fountain at Navy Pier on Tuesday, Aug. 18, 2020, the day pier officials announced the attraction will temporarily close in September because of the coronavirus pandemic. (WTTW News)
The Illinois Department of Public Health reported nearly 1,900 new cases of COVID-19 on Sunday and another six virus-related deaths — five of them among Cook County residents, including a woman and man in their 40s.
It was the fifth consecutive day in which more than 50,000 tests were conducted in a 24-hour period, according to the state health department. Saturday's total of 56,766 marked a high point so far in daily testing figures in the state.
More than 3,700,000 specimens have been tested in Illinois since March, according to IDPH data.
On Saturday, the IDPH reported 2,356 new confirmed cases of the coronavirus — the highest number since late May — and 17 deaths. A woman in her 20s and a man in his 30s were among 11 residents of Cook County whose deaths were reported. In total, deaths were reported Saturday in seven Illinois counties; those who died ranged in age from their 20s to their 90s.
The daily number of new COVID-19 cases in Illinois has not dropped below 1,000 in August and has surpassed 2,000 six times, according to IDPH data.
The statewide positivity rate dropped slightly on Sunday to 4.2%, the IDPH reports.
As of Friday, residents of long-term care facilities in Illinois have accounted for 26,357 of the 218,285 total COVID-19 cases in the state, and 4,319 of the 7,874 total deaths, according to state data.
Health officials on Friday announced that 20 counties are considered to be at a warning level for the virus, including five in the Metro East region, which on Tuesday began operating under mitigation measures to stop the spread of the virus.
A county enters a warning level when it experiences an increase in at least two COVID-19 risk indicators from the state's resurgence mitigation plan, according to IDPH.
Health officials say the counties saw outbreaks associated with weddings, businesses, neighborhood gatherings, parties, long-term care facilities, travel to neighboring states, bars and sport camps. Spread of the virus was also documented among members of the same household who aren't isolating at home, according to IDPH. Officials also said cases connected to schools are also starting to be reported.
Note: This story was originally published Saturday, Aug. 22, 2020. It was updated Sunday with the latest figures from the Illinois Department of Public Health.
---