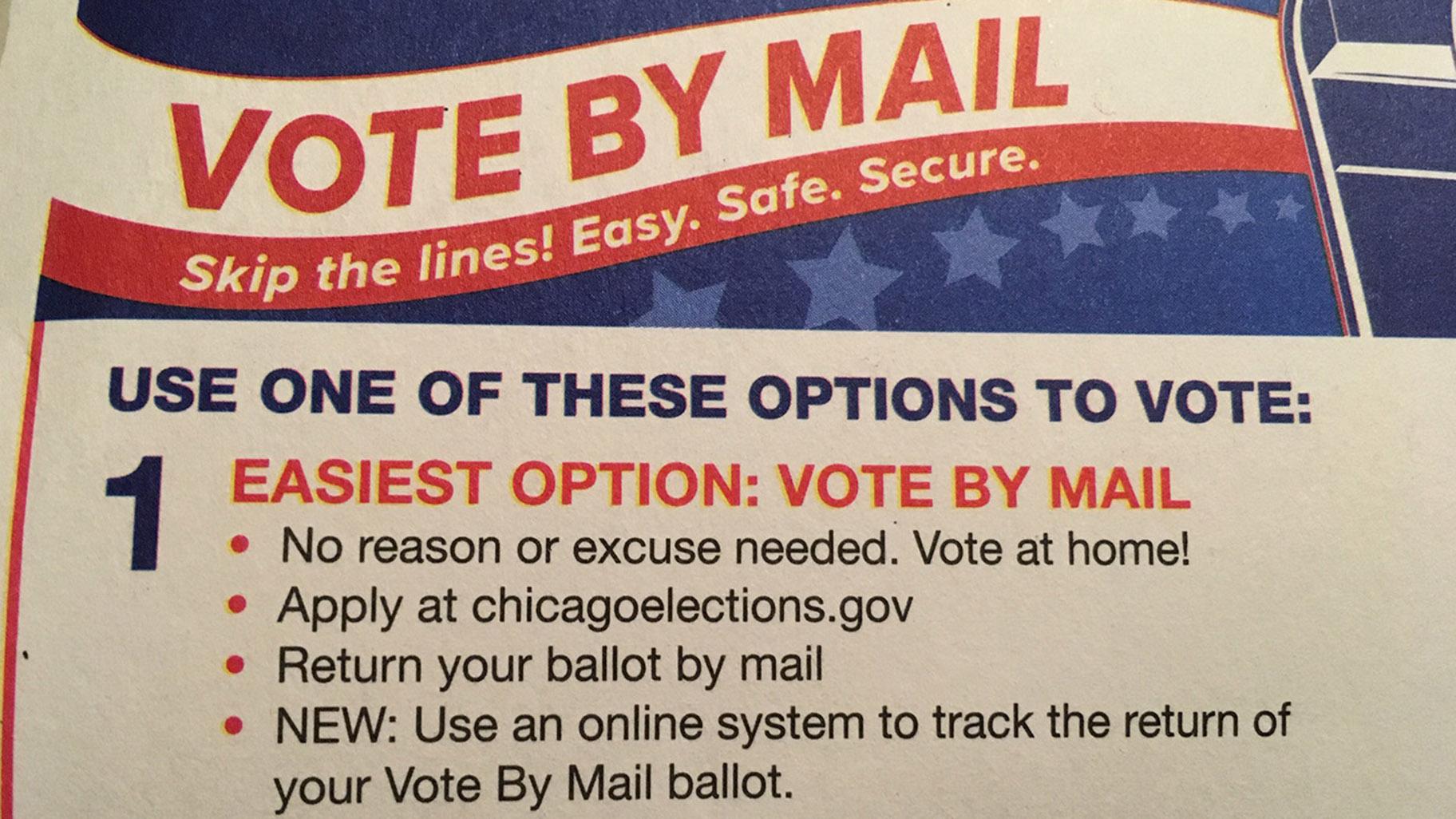 A mailer sent from the Chicago Board of Elections for the March 2020 primary. (WTTW News)
Illinois faces a heightened risk that some voters who choose to mail in their ballots in the Nov. 3 election will not have their votes counted. In a letter dated July 30, USPS General Counsel Thomas Marshall warns Illinois election officials that "certain state law requirements and deadlines appear to be incompatible with the Postal Service's delivery standards."
Under Illinois law, a voter can request a mail-in ballot up to five days before Election Day. But the USPS warns that voters who wait until that deadline are at high risk of being disenfranchised, due to the Postal Service's delivery capabilities.
"If a voter submits a request at or near the ballot-request deadline, there is a significant risk that the ballot will not reach the voter before Election Day, and accordingly that the voter will not be able to use the ballot to cast his or her vote," the letter states.
The letter goes on to state that it is not recommending Illinois change its election laws to comport with the USPS delivery capabilities, but to inform voters about the crucial need to request ballots in a timely manner.
"It is particularly important that voters be made aware of the transit times for mail (including mail-in ballots) so that they can make informed decisions about whether and when to (1) request the mail-in ballot and (2) mail a completed ballot back to election officials," the letter states.
Illinois Board of Elections spokesman Matt Dietrich says the letter is consistent with the message they've put out to voters in every election. Dietrich says that the agency is planning a statewide TV and radio ad campaign to urge residents not to wait until the last minute.
"Do everything early," Dietrich said. "Send your application in now. As soon as you get that ballot, mark it, returning and send it back."
Dietrich says that election agencies can mail out ballots starting Sept. 24, and that mail-in applications have been sent to all who voted in the last three statewide elections.
The USPS letter recommends that all voters use first-class mail to mail in ballots. Dietrich says that Illinois election authorities use first-class mail, which takes 2-5 days, to send out ballots. The less expensive standard or "marketing mail" can take 3-10 days. The letter recommends that voters request a mail-in ballot with their election authority no later than 15 days before the election. If a voter does not receive their ballot in time to cast it by the deadline, they can go to their polling place on Election Day and cast an in-person ballot.
The letter comes amid financial problems and swirling controversy around the United States Postal Service and Postmaster General Louis DeJoy, who is a donor to and appointee of Presidnt Donald Trump. Multiple news outlets have reported on the cost-cutting measures happening around the country, including the limiting of Postal Service hours, cutting of overtime, and elimination of sorting machines and mailboxes. 
U.S. House and Senate Democrats have repeatedly asked DeJoy to restore the cuts, and have pledged billions more in federal funding to help ensure a smooth election. But that funding has been caught up in the stalemate over another federal COVID 19 stimulus package, with Democratic and Republican leaders adjourning for August recess still far apart on an agreement.
Trump himself indicated that he has opposed funding for the Postal Service to enable smoother mail-in voting in the general election.
"If we don't make the deal, that means can't have the money, that means they can't have universal mail-in voting," Trump said Thursday. "It just can't happen."
U.S. Sen. Dick Durbin (D-Illinois) says the turmoil at the Postal Service has undermined much more than the upcoming election.
"The Trump administration's latest attempt to politicize and harm a government agency has led to dangerous delays in the delivery of lifesaving medications, social security benefits, and mail-in ballots," said Durbin. "The postmaster general must immediately take action to correct the harmful operational changes he's made and ensure that USPS is accessible and affordable to everyone, especially rural communities."
Follow Paris Schutz on Twitter: @paschutz
---