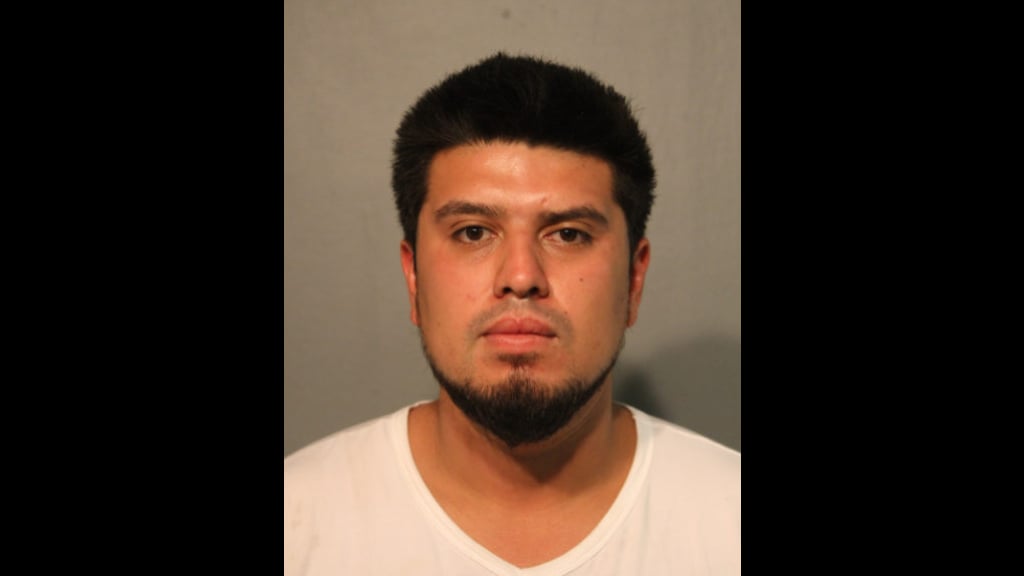 Edgar Roman (Chicago Police Department)
After striking two women with his car Monday in the downtown area, a Chicago man allegedly circled back, targeted them and ran over one of the women a second time, dragging her body down the street and killing her, before leading police on a chase and eventually claiming he had been carjacked.
Edgar Roman, 25, was ordered held on $2 million bail during a court appearance Wednesday, two days after he allegedly struck a woman and her daughter, killing 55-year-old Zoraleigh Ryan, in the midst of what Cook County Judge Susana Ortiz called "a path of intentional destruction."
"The allegation is that this defendant, Mr. Roman, intentionally took the equivalent of a loaded gun, a several thousand pound vehicle, and struck these three people … came back and then intentionally pointed his vehicle of all three of these victims," Ortiz said.
Roman was arrested later that night after allegedly leading police on a chase, crashing through a construction scene and getting away before eventually reporting to officers that he'd been carjacked by two Black males who forced him to drive around the city.
He is charged with first-degree murder in Ryan's death, as well as two counts of attempted murder, felony disorderly conduct and a felony count of leaving the scene of a fatal accident.
Cook County prosecutors said Ryan and her 20-year-old daughter were walking back to their hotel from the Chicago Cut Steakhouse at around 10:15 p.m. Monday when they decided to stop off and order an Uber to drive them the rest of the way.
As they crossed Hubbard Street in the crosswalk, Ryan's daughter said she saw an SUV turning from State Street and coming toward her and her mother at a high speed before it struck both women.
Both were thrown to the ground, prosecutors said, and Ryan was unable to get up. The vehicle continued driving a few feet before coming to a stop. Roman then allegedly got out of his car and approached the two women and a man who had come to aid Ryan in the street.
Ryan's daughter told that man to take a picture of Roman and his vehicle's license plate. As he did, Roman allegedly drove from the scene, but within a minute, the victims saw the same SUV coming back toward them once again at a high rate of speed.
Ryan's daughter told investigators she could hear the SUV's engine revving as it came toward them and prosecutors said the vehicle "drove at an angle," aiming at the trio. This time, the man grabbed Ryan's daughter and pulled her onto the sidewalk just before the SUV ran over Ryan, dragging her body around the block, killing her.
The man pulled Ryan's daughter from her mother's body and back onto the sidewalk, fearing for their safety before Roman returned to the scene a third time, prosecutors said. Chicago police officers saw Roman's vehicle driving erratically just after 10:30 p.m., but as they attempted to pull him over, he allegedly drove through a construction barricade on Orleans Street and continued west on Merchandise Mart Plaza.
Roman then allegedly tried and failed to drive through a second barricade, before performing a three-point turn and driving away from the officers, who had exited their vehicle with guns drawn and ordered Roman to get out of his SUV.
About an hour later, Roman entered the 17th District police station to report that he'd been carjacked at Dearborn and Kinzie by two Black males at gunpoint. He was immediately arrested, and after again telling detectives that he'd been carjacked, he allegedly admitted that he had been driving the vehicle that night.
Both Ryan's daughter and the man on the scene were able to identify Roman in photo arrays and the entire incident was captured on surveillance and Chicago Police Department pod cameras in the area.
Roman had worked at a restaurant in Wicker Park but was laid off and has since worked as a grocery and pizza delivery driver, according to his attorney, who asked Ortiz for a "reasonable" bail amount.
Ortiz called the details of the case "very, very disturbing."
"I consider his actions on that date and time," she said, "to be extremely dangerous to the community at large."
Contact Matt Masterson: @ByMattMasterson | [email protected] | (773) 509-5431
---