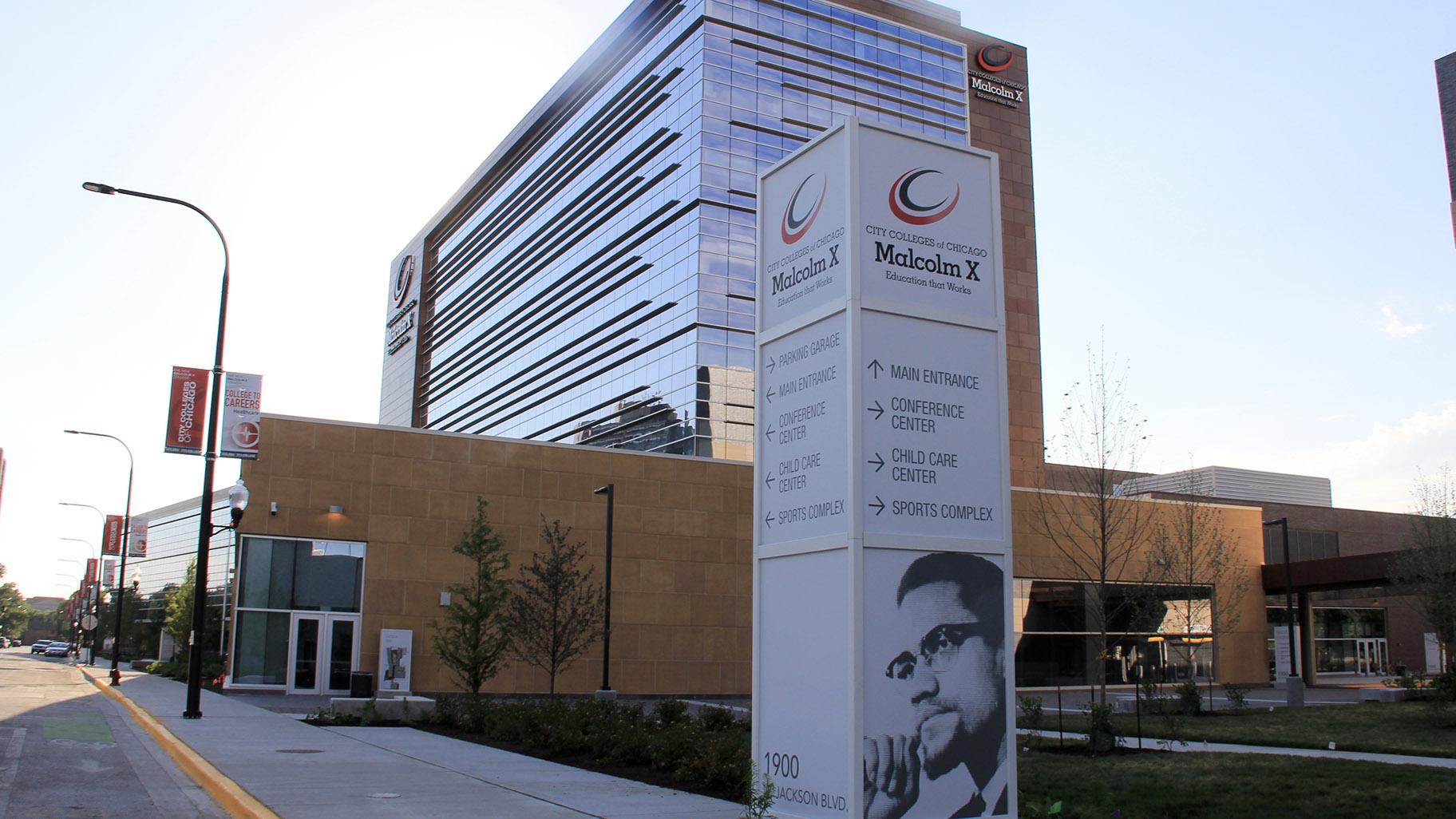 Malcolm X College (Daniel X. O'Neil / Flickr)
Hundreds of faculty and staff members within the City Colleges of Chicago say they are willing to go on strike this month if they're forced to return to their classrooms this fall for in-person instruction during the ongoing coronavirus pandemic.
Members of the Cook County College Teachers Union Local 1600, which represents nearly 2,000 CCC staffers, have scheduled an emergency meeting Friday to discuss a no-confidence vote, which could lead to a safety strike by the time classes are scheduled to resume on Aug. 24.
They say CCC administration has already demanded student service employees, including college advisors and clerical staff, return to buildings. But the workers say current reopening plans are insufficient as COVID-19 numbers trend upwards in the city.
"The plans and their implementation are deficient given the current conditions of this outbreak," CCCTU President Tony Johnston said Thursday. "The simple truth is our colleges, much like K-12 schools, were not made to deliver instruction and student services under these pandemic conditions."
Johnston said his union polled its members and found 85% are willing to participate in a safety strike if they are ordered back for in-person work. That survey also found 75% of members don't trust CCC to keep them safe, while only 5% do feel safe returning to classrooms.
Hundreds of student support staff, which include around 450 advisors, testing center, IT and childcare center personnel, returned to the CCC's seven community colleges when they reopened Monday. Already this week, an employee at Olive-Harvey College on the Far South Side has tested positive for COVID-19.
The CCCTU was joined in its strike threat by the Federation of College Clerical and Technical Personnel (Local 1708 and AFSCME 3506, which represent clerical and technical employees), and adult education faculty within the City Colleges.
Those unions are demanding CCC to move to a fully remote plan for all academic and clerical services this fall. They've voiced concerns about a lack of proper ventilation, sanitation and social distancing markers within CCC buildings, but they said administration has ignored many of those complaints.
Under its current plan, the City Colleges are offering a "limited number" of classes and student services in-person this fall, while also using college buildings as study spaces for students. CCC administration said it has added hand sanitizer dispensers throughout their buildings, and janitors will conduct daily cleanings of all high-touch and common areas.
Anyone coming to a CCC building for work or class is also ordered to wear a mask and conduct a daily self health screening before they arrive.
"Ensuring the health and safety of our students, faculty and staff, and supporting our students in reaching their academic goals are our top priorities," CCC spokeswoman Katheryn Hayes said in an email Thursday. "We recognize that while some of our students can take advantage of remote services, some students with little to no prior college or technology experience are best served in-person."
Hayes said CCC is offering more than 80% of its courses remotely or online, while only limited in-person student services will be available. For those who will attend in-person classes, the colleges have made 30,000 reusable masks available and installed plexiglass barriers.
She said their reopening plan has been reviewed by the Chicago Department of Public Health and falls in line with their recommendations as well as those from the Illinois Department of Public Health, the Illinois Board of Higher Education and the Centers for Disease Control and Prevention.
The CCC also noted a strike would be unlawful under the Illinois Education Labor Relations Act and would violate the "no strike provision" in the union's collective bargaining agreement.
While a strike over work conditions would technically be illegal, union officials said they have received support from larger affiliates including both the Illinois Federation of Teachers and the American Federation of Teachers.
Regardless of legality, Johnston said his union is willing to strike if members feel it's necessary.
"No one wants a strike," said Lucia Mascorro, a college advisor at Malcolm X. "I want to work remotely and continue to provide outstanding service as I have been. But I will strike for safety if CCC continues down this unsafe path. My health and the health and safety of students is too important."
The unions' announcement comes a day after Chicago Public Schools scrapped a hybrid learning plan, which would have included some in-person learning, in favor of a fully remote plan this fall. That change came after the Chicago Teachers Union similarly threatened to hold a strike vote if they were going to be forced to go back to class.
The CCCTU last went on strike in 2004. Johnston said the union staged a half-dozen or more illegal strikes in the 1960s and '70s because public sector unions did not yet have the right to strike.
And he said they'll do so again if members believe they're being put in danger.
"We believe as a union," Johnston said, "… that this is a matter, not of livelihood, but of our lives."
Contact Matt Masterson: @ByMattMasterson | [email protected] | (773) 509-5431
---