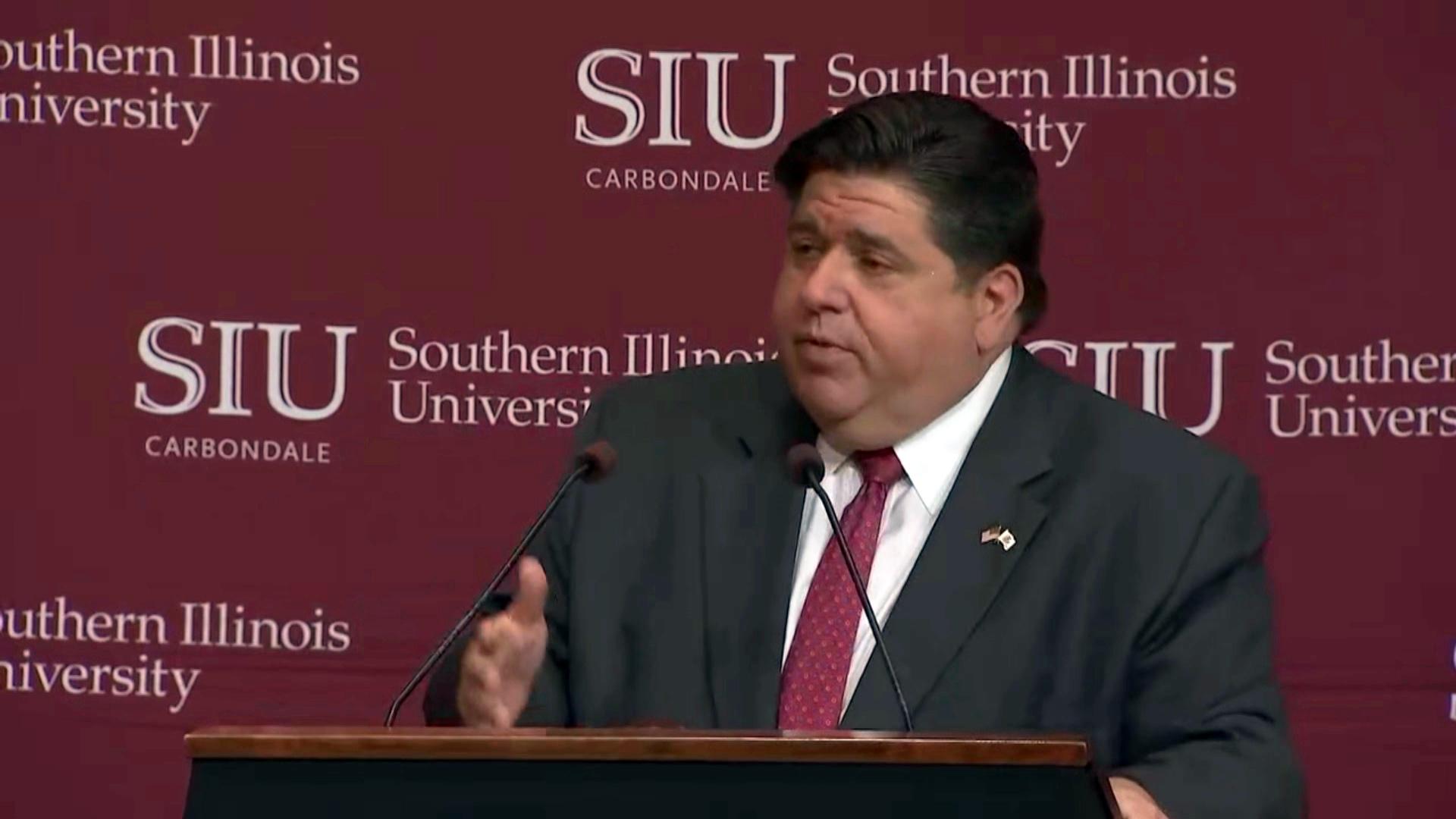 Gov. J.B. Pritzker gives an update Tuesday, Aug, 4, 2020 on the coronavirus in Carbondale. (WTTW News)
When the coronavirus pandemic struck Illinois in the spring, Cook County was hit hard while areas downstate were largely spared. But that's changing.
"I'm here today because the COVID-19 pandemic, which seemed tame in Carbondale and throughout the entire region, is now surging here," Gov. J.B. Pritzker said Tuesday at Southern Illinois University-Carbondale, which is located in Jackson County. "It's worse than in Chicago."
According to the Daily Herald, downstate residents account for almost 40% of the state's new COVID-19 cases – up from an average of 10% in early May.
Jackson County is one of 11 counties considered to be at a warning level for COVID-19, according to the Illinois Department of Public Health. All but one of those counties — Jo Daviess —  is located in downstate or central Illinois. A county enters a warning level when it experiences an increase in at least two COVID-19 risk indicators from the state's resurgence mitigation plan, according to IDPH.
To date, 658 residents of Jackson County have tested positive for COVID-19, but 40% of those cases — 287 — were reported in the past three weeks, according to county health officials, and 70% of those recently reported cases were among young adults in their teens and 20s.
"Unfortunately, the virus is winning right now in Jackson County," Pritzker said. "I'll be frank. If we don't see some changes here, the virus will cause some businesses to close and cause an increasing percentage of people to get sick and some will even die."
Jackson County, in the Southern region, and the adjacent Metro East region have the highest positivity rates in the state, at 7.4% and 7.3%, respectively, according to the governor. The statewide positivity rate is 3.9%, according to state health officials.
On Tuesday, the IDPH reported 1,471 new COVID-19 cases and 19 virus-related deaths, bringing statewide totals to 184,712 cases and 7,545 deaths. As of Monday night, 1,496 people were being treated for COVID-19 in hospitals, with 365 in intensive care units and 125 on ventilators, according to IDPH.
"Illinois has made so much progress battling COVID-19, but we're seeing troubling signs," Pritzker said. "This is our moment to pull together."
---
Contact Kristen Thometz: @kristenthometz | (773) 509-5452 |  [email protected]
---