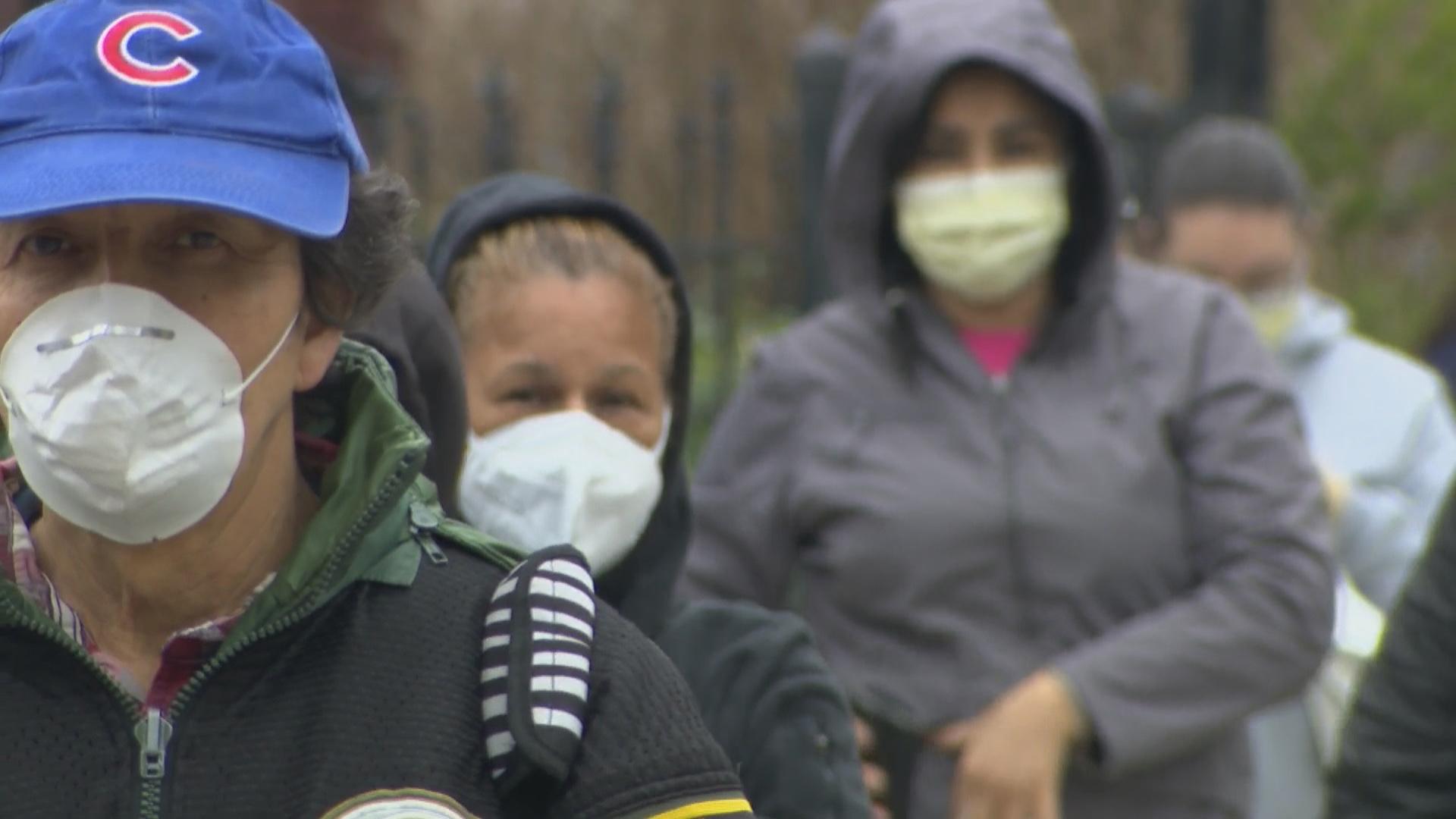 People wearing masks line up for a food drive in Brighton Park on Chicago's Southwest Side on April 23, 2020. (WTTW News)
Wearing a mask when leaving home should be second nature for Illinois residents by now. But not everyone is covering up, despite repeated urging by officials and a mask mandate that went into effect May 1.
To encourage folks to wear masks, Gov. J.B. Pritzker on Monday announced a $5 million statewide public awareness campaign, which compares face coverings to the protective — and largely nonpolitical — nature of seat belts, helmets and life jackets.
"A mask is like anything that keeps us safe. It only works if you wear it," Pritzker said. "We've made so much progress since the beginning of the pandemic. Let's protect that progress."
The campaign will include messages in English and Spanish and will be broadcast on TV, streaming audio and radio, billboards and social media, focusing on cities and counties that "have the most work to do," Pritzker said. The federal government will reimburse the state for the cost of the campaign, according to the governor's office. 
Pritzker announced the campaign in Springfield, located in Sangamon County – one of 11 counties considered to be at a warning level for COVID-19, according to the Illinois Department of Public Health. A county enters a warning level when it experiences an increase in at least two COVID-19 risk indicators from the state's resurgence mitigation plan, according to IDPH.
The governor commended Springfield Mayor Jim Langfelder for taking action to curb the spread of the virus but said government action alone isn't enough.
"We also need all of our residents to take this seriously and to protect themselves," Pritzker said, adding the outbreaks driving the warning levels have been linked to businesses not requiring masks and large gatherings, including graduation parties, churches and sporting events. "Consistently, (we've) seen these communities not wearing masks – the most important tool we have to reduce the spread of COVID-19 by individual action," he said.
On Monday, health officials reported 1,298 new COVID-19 cases and 10 virus-related deaths, bringing statewide totals to 183,241 cases and 7,526 deaths.
"With COVID-19 numbers headed in the wrong direction, especially in certain downstate counties and rural areas of the state, greater compliance is needed to overcome this health emergency," Pritzker said. "Folks, no one is asking you to wear a mask forever. But for the time being until we see a very effective treatment of vaccine, the best way to safely get to the other side of this emergency is to follow all the mitigations recommended by doctors: wash your hands, watch your distance, wear a mask whenever you're out and about."
Masks must be worn over the mouth and nose to be effective. "Keeping it in your pocket or around your neck doesn't work," he said.
When asked about the possibility of fining people for not wearing masks, Pritzker said warnings and reminders should come first. Most people will comply once reminded, he added.
As for people who refuse to wear masks, Pritzker said they should also be warned first, but if they continue to refuse it's "worthy of considering a fine at a local level."
---
Contact Kristen Thometz: @kristenthometz | (773) 509-5452 |  [email protected]
---