Chicago is the last stop on PBS' four-part career exploration documentary series: "Roadtrip Nation: To Be Determined."
Three 20-somethings from underserved communities traveled to five cities in a green RV last October. During their trip, they interviewed adults who come from similar backgrounds, and learned about their career paths.
In the final episode airing on Sunday, they visit Chicago to meet the CEO of Chicago Cook Workforce Partnership that helped one of the road trippers.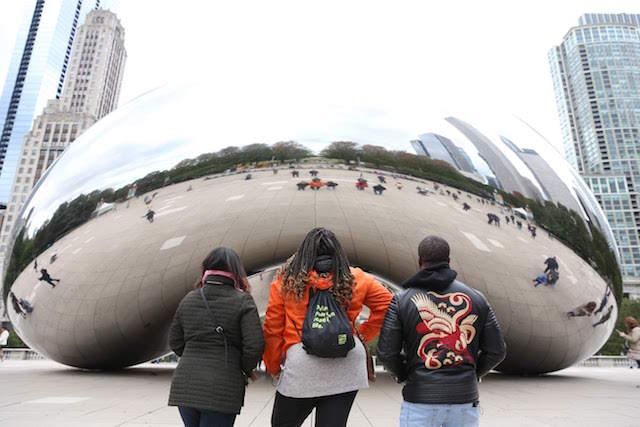 Road trippers Yasmine Tolbert, Taiheem Wentt and Denise Flores at the Chicago Bean. (Courtesy Roadtrip Nation)
Yasmine Tolbert grew up in south suburban Harvey, Illinois. When she was 14, Phalanx Family Services, which is supported by Chicago Cook Workforce Partnership, began connecting her with job opportunities, broadening her horizons and allowing her to help financially support her family.  
"I got my first taste of what it's like to be in corporate America," Tolbert said. "After high school, I learned that they had more opportunities than just summer programs, so I invested in getting into one of the trade training programs and it took me as far as becoming a phlebotomist."
Karin Norington-Reaves, CEO of Chicago Cook Workforce Partnership, said meeting Tolbert, along with the other road trippers Taiheem Wentt and Denise Flores, reaffirmed what she already knew.
"Our young people have limitless potential," Norington-Reaves said. "All we have to do as adults is listen to them and really give them an opportunity."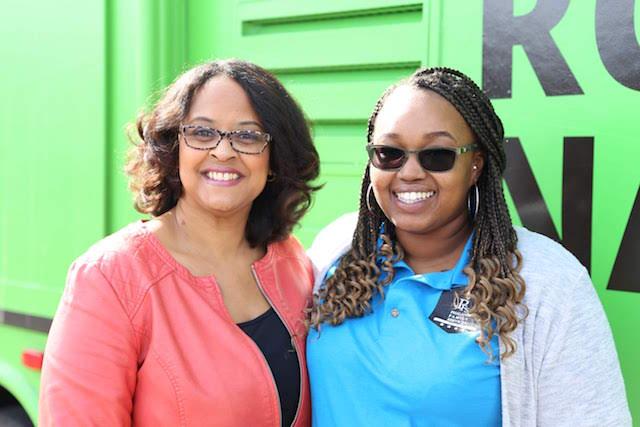 Karin Norington-Reaves (left) and Yasmine Tolbert (right) in front of the Roadtrip Nation RV. (Courtesy Roadtrip Nation)
During the episode, Norington-Reaves shares her background with the road trippers, along with her "unconventional career path." She also emphasizes the importance of recognizing the potential of prospective employees as more than just a degree they've earned.
"In my day-to-day work, I know that employers are looking for young people that have these amazing skills and attributes that really have nothing to do with four-year degrees," Norington-Reaves said. "There are plenty of opportunities out there, and opportunities to advance in a career in the absence of a degree."
Most recently, the Chicago Cook Workforce Partnership was awarded a $56 million grant to create 600 contact tracing jobs. It will partner with 30 community-based organizations, and is currently accepting requests for proposals.
It's been nine months since they filmed the documentary.
"I have definitely hit the ground running, then the pandemic hit," Tolbert said. "Now I'm doing something in the customer service field, and I'm looking forward to going back to school so that I can finish pursuing my dream of working in health care."
The final episode of the four-part documentary airs at 11:30 a.m. Sunday on WTTW Channel 11.
"I want viewers to takeaway that you don't have to live in a multimillion-dollar community just to have an opportunity to show you're worth investing into," Tolbert said. "As long as you put forth your best foot, your best effort, there are people out there that are willing to help you. All you have to do is to want that opportunity, and go for it."
---