When the pandemic hit, Chicago Tap Theatre immediately adapted to the new virtual reality and began offering daily content for any and all tap lovers. 
This weekend, they're taking it a "tap" further with their show "30 Feet Together, 6 Feet Apart."
"We think it's so important the arts play a prominent role in the healing of our country as we come out of this," said Mark Yonally, the company's founder and artistic director.  
Livestreamed from the Athenaeum Theatre, dancers will wear face masks throughout the show and the number of dancers in each piece will be limited to eight so they can maintain social distance. The one-time-only show will also feature a musical number by artist JC Brooks, who also serves as the show's host. 
They've had about two weeks of rehearsal in person, which of course came with many restrictions.
"Dancing with a mask is suffocating at times, as you're breathing hard and doing all those trick steps and fancy footwork," said dancer Isaac Stauffer. "Hand sanitizer in between numbers, if you're not dancing, you're not in the room, can't put your stuff next to someone else's, there's got to be six feet in between your supplies. Just lots of protocols and guidelines in place."
Despite those challenges, the dancers say they're just happy to be back on stage.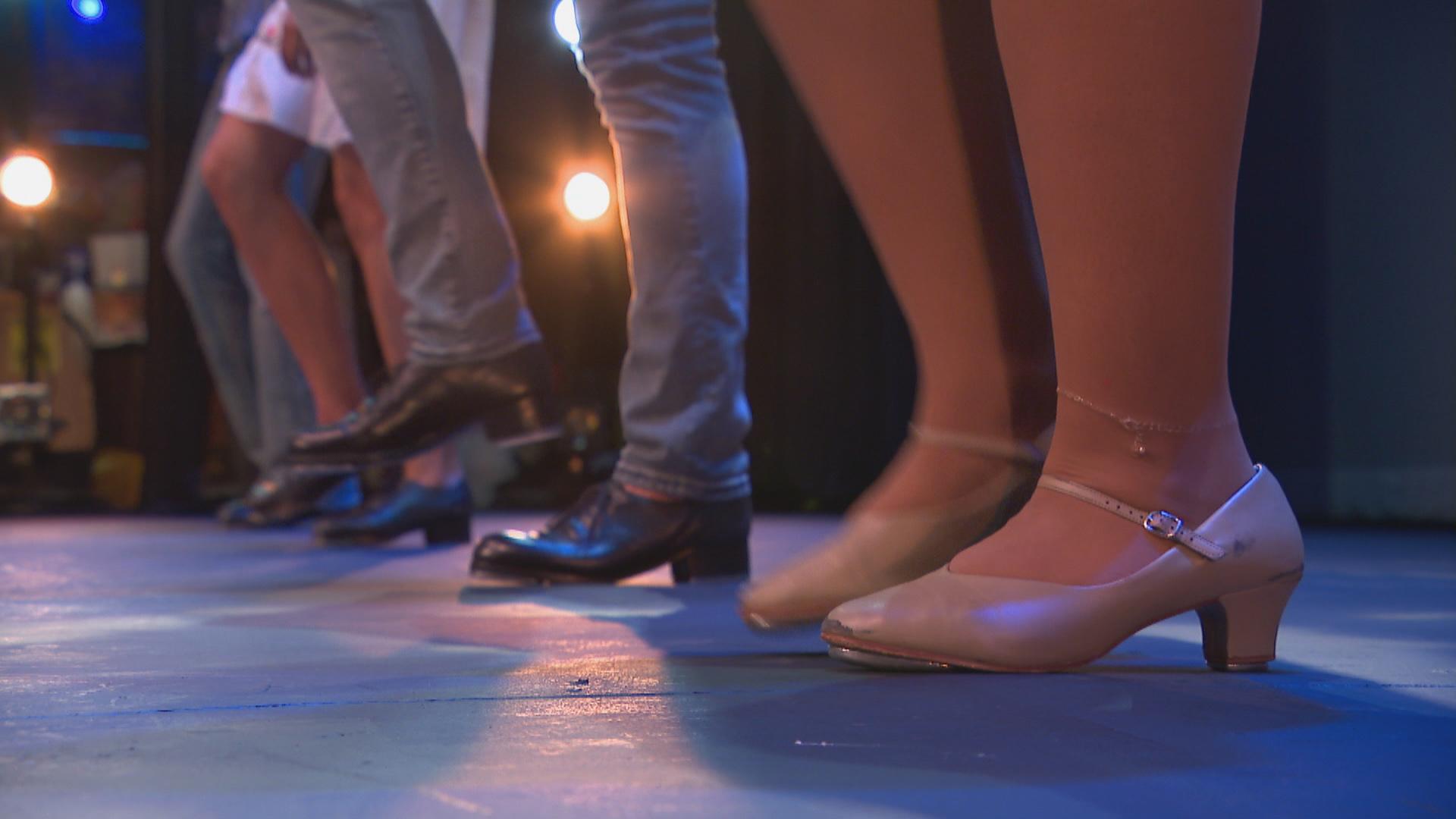 Arts correspondent Angel Idowu joins dancers of Chicago Tap Theatre for a lesson during their rehearsal for "30 Feet Together, 6 Feet Apart." (WTTW News)
"I have a very tiny board that I first started with just in case I need to carry it around with me," said dancer Sterling Harris. "It's just enough to fit two feet on and get a little bit of practice in."
"I've been mostly tapping in tap shoes without taps on the bottom," dancer Heather Latakas said. "Just because I'm in an apartment building and trying to be respectful of my neighbors. So it's nice being back together to kind of be social distance dancing, but being able to be on a real floor in real tap shoes with other people has been really nice."
They even taught me a beginner's tap sequence. 
Tap dancing is said to be an art form rooted in the celebration of the individual, one that anyone can experience.
"Tap dance is uniquely situated in its ability to let a performer go up on stage and give a pieces of themselves, and that's what we're hoping to do on Sunday — go up there be authentic and honest and say something with our feet and hope the audience can hear it," Yonally said.
"30 Feet Together, 6 Feet Apart" streams virtually on Sunday at 3 p.m. Tickets range in price from free to $30.
---
Video: Chicago Tap Theatre dancers, from left, Isaac Stauffer, Sterling Harris and Heather Latakas perform a tap number featured in "30 Feet Together, 6 Feet Apart," featuring "Mercedes Benz" by Janice Joplin, performed by JC Brooks.
Follow Angel Idowu on Twitter: @angelidowu3
Angel Idowu is the JCS Fund of the DuPage Foundation Arts Correspondent.
---