Edwin Morales hopes to be a doctor someday.
"I've always had this major interest in medicine. I think I got it from both of my grandmothers," the 12th grader said.
Despite their hopes, neither of his grandmothers could become doctors — so Morales plans to live out the family dream.
He already works at Advocate Condell Medical Center — but it's not an after-school job. In fact, Morales doesn't get paid in cash, he gets paid in education.
Morales and every student at Cristo Rey St. Martin College Prep in Waukegan work a full day once a week, and on rotating Fridays, at a North Shore corporation.
Sophomore Aracely Gonzalez works in human resources at ACCO Brands in Lake Zurich — the makers of the famous Swingline stapler and Mead school supplies.
"I love my work," Gonzalez said. "I think sometimes it can seem very minimal, and like it's very small. Little tasks might not seem very important, but I know that they are."
ACCO is among 87 North Shore business partners that place Cristo Rey students in various departments for work. The businesses pay the school for the students' work—bringing in almost $3 million in 2019.
The school says it's a significant portion of operating expenses. Fundraising and a small tuition pay for the rest.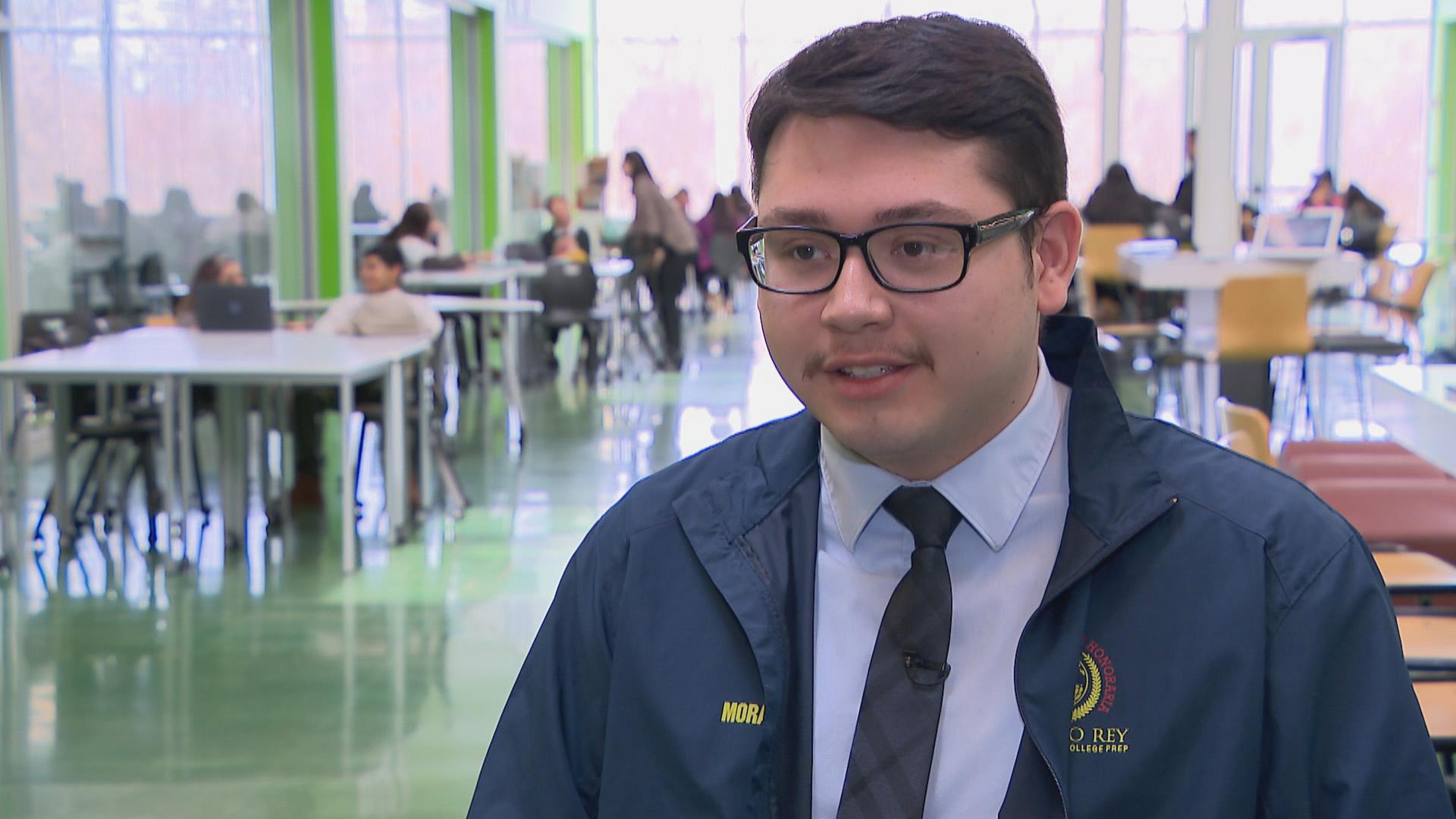 Edwin Morales, a student at Cristo Rey St. Martin College Prep in Waukegan. (WTTW News)
"The Cristo Rey model is, I think, a real innovative approach to try to get quality education to students," said Mike Boyle, director of the Greeley Center for Catholic Education at Loyola University. He says Catholic education often comes with some form of work. 
In the case of Cristo Rey, it's a clever way to overcome ever-growing funding challenges for private Catholic schools.
"Finances are always a challenge with Catholic schools," Boyle said. "What's helpful is to be able to find these sort of alternate-funding opportunities. Such as what Big Shoulders is doing to support the Archdiocese of Chicago."
But beyond paying for a private school education, the corporate work-study program also helps students earn work experience at an early age.
"They want to learn. They're so excited to be in a business, to have a day when they're in the real field learning, away from school, and take what they learn at school and bring it here. They could do more than most people would think," said Sue Shamberg of ACCO Brands.
Senior Yesenia Gonzalez says working means learning another important skill.
"Time management. I think that's one of many skills you learn here at Cristo Rey," she said. "Students only here three or four days out of the entire week, so that means that even if we are taking higher-level classes, we're still required to learn all of that within those days."
In 2019, 80% of CRSM grads enrolled in a four-year bachelor's degree program — up from 21% in 2004. And 68% of students graduate college — up from 17% 15 years ago, when the school began.
Next fall, Morales will head off to St. Olaf College in Minnesota on a Posse scholarship. Like the majority of students here, he'll be the first generation in his family to attend.
"It's kind of hard and scary because you don't know what college is. My parents didn't get to go to a college or university," Morales said. "It's kind of a lot of responsibility, but at the same time, kind of exciting."
---
More on this story
Since the pandemic set in, students have been learning from home, but only a fraction have been able to do their work-study jobs from home.
We discuss how students and rest of the Cristo Rey St. Martin community is adjusting with Preston Kendall, the school's president.
Follow Brandis Friedman on Twitter @BrandisFriedman
---