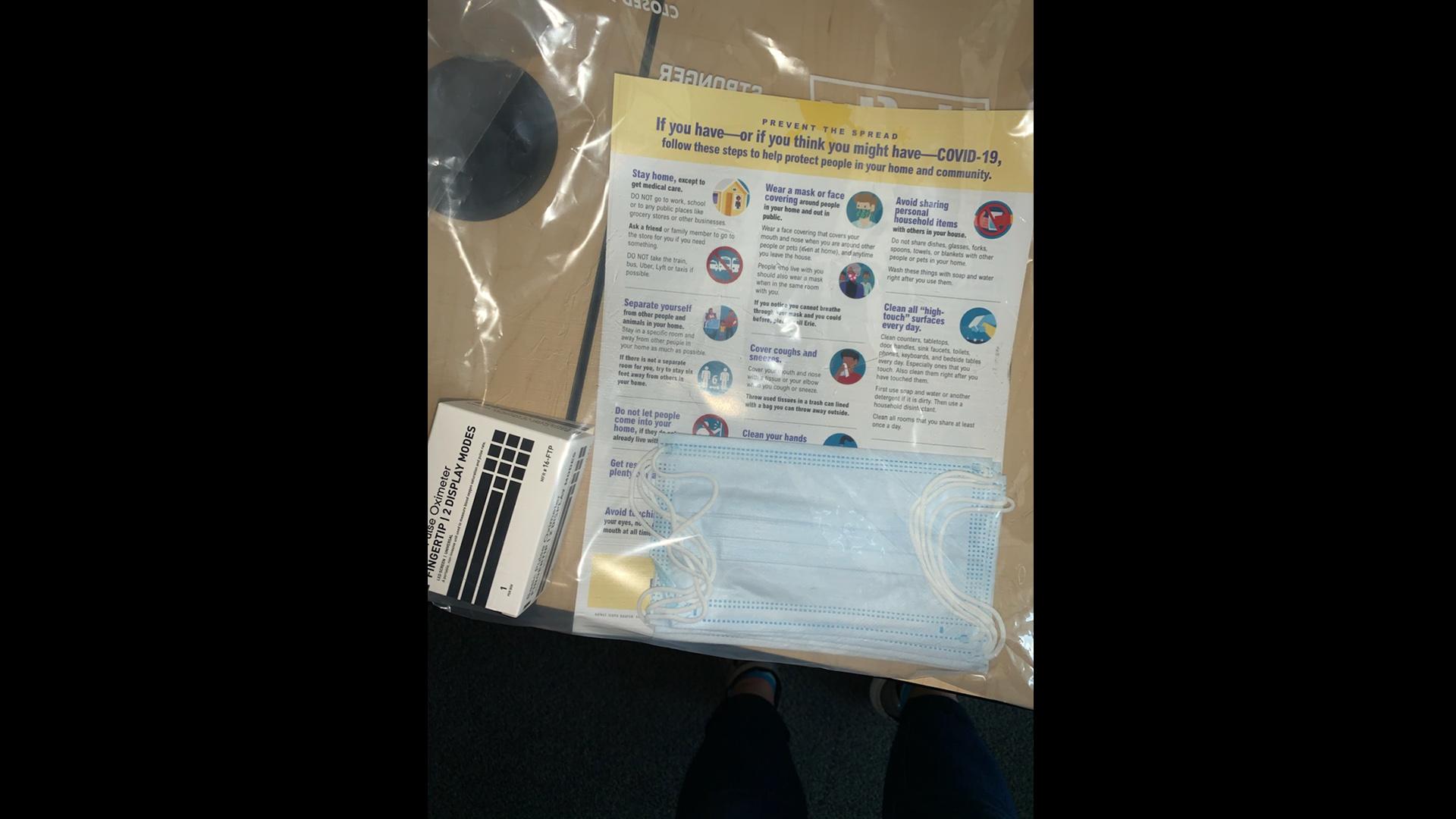 To help COVID-19 patients recover at home and monitor their symptoms, Erie Family Health Centers will be giving patients a care kit with a pulse oximeter, surgical masks and educational information. (Photo by Mary Aguilar)
In Illinois, the deaths of more than 6,800 people have been linked to COVID-19. 
One was a patient of Jean Reidy, who is leading Erie Family Health Centers' COVID-19 response team.
"I talked to a patient on a Thursday who tested positive and was feeling better. He denied having difficulty breathing and it sounded like he was on his way to recovery," said Reidy, the centers' senior director of nursing and clinical transformation. "On Monday, I found out he died at home over the weekend. It was really shocking."
Reidy wondered about the patient's blood oxygen levels. "One thing we're seeing in COVID-19 patients is they don't feel short of breath, but actually their blood oxygen levels are really low," she said.
To better track those levels while patients recover at home, Reidy came up with idea of giving patients COVID-19 care kits that include a pulse oximeter, which measures blood oxygen levels.
"This was a tool I felt could really help our patients monitor how well they're doing at home," Reidy said. The tool also gives clinicians vital information to determine whether or not a patient should be hospitalized, she said.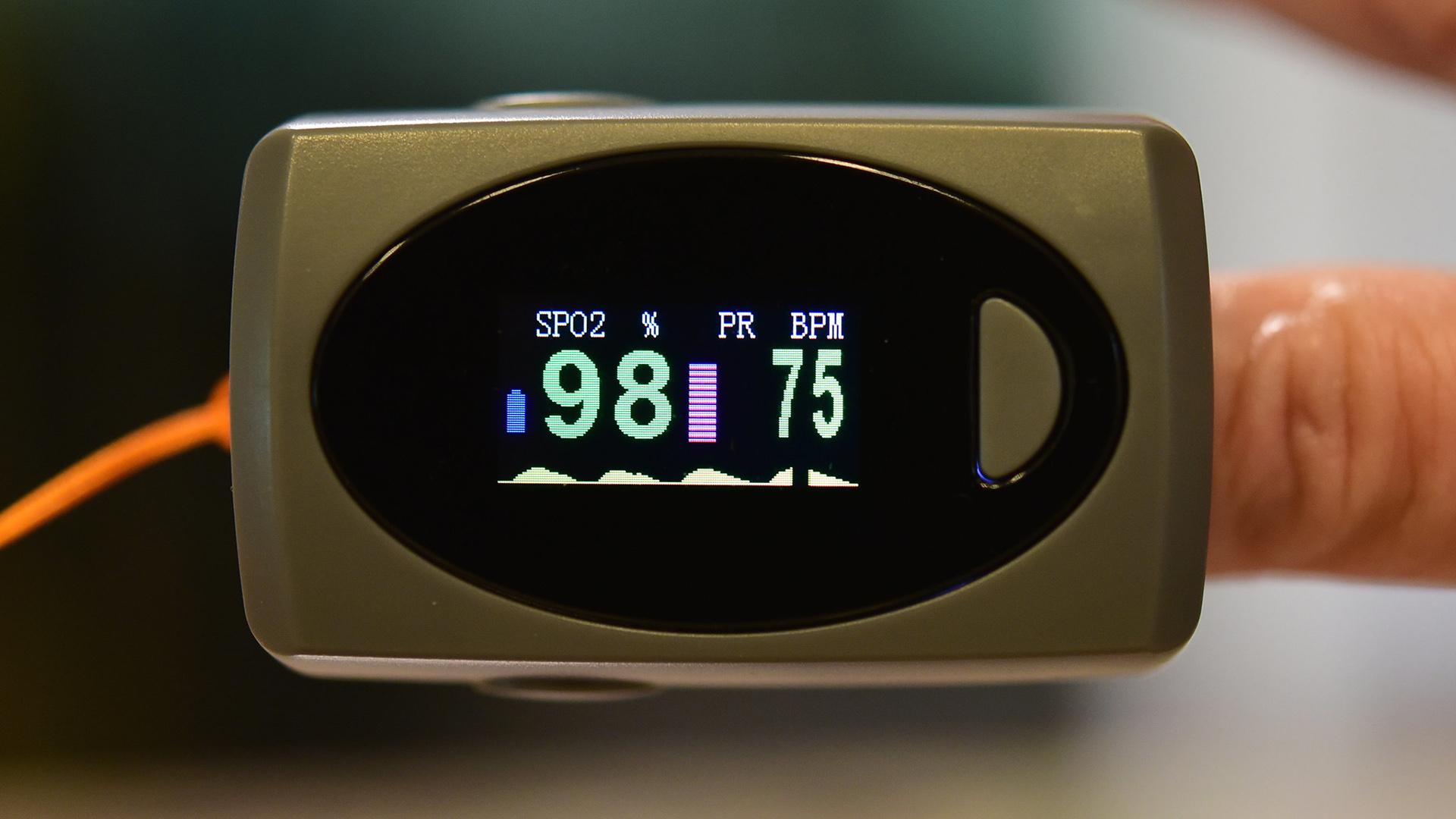 Included in the COVID-19 care kit given to patients is a pulse oximeter, which measures blood oxygen levels. (slgckgc / Flickr)
A normal pulse oximeter reading is 98%-99%, according to Reidy, who said patients are hospitalized when those levels drop to 93%.
"Not having enough oxygen causes damage to cells in the blood pretty quickly, particularly in terms of the ability to have normal thought processes," she said. "What we've found in COVID-19 patients is they're at 93% in one moment and then very quickly go down to the low 80s.
"We use 93% as our benchmark because this is a person whose lungs are likely very damaged from the virus and they have the possibility for rapidly deteriorating where they'll need extra oxygen or a ventilator," she said.
The kit also includes five surgical masks, educational information about COVID-19, guidelines in English and Spanish for recovering at home and nutritional bars and shakes.
"Many patients live in multigenerational houses and live with a large number of people. The surgical masks help protect them and their family members from getting ill," Reidy said.
Clinicians will determine who gets the kits, according to Reidy. "They'll be given to patients who tested positive for COVID-19 who are sick with symptoms and we're concerned about," she said. Patients over the age of 50 with underlying conditions will be among those prioritized to receive care kits, she said.
Reidy believes the kits will help put patients at ease.
"I expect to see a decrease in patients' anxiety and more of a sense of control over the illness," she said. "This allows us to be able to monitor patients … and allows to make more accurate clinical decisions and help us save lives."
NorthShore University HealthSystem is also giving COVID-19 care kits to patients who test positive for the virus as they recover at home.
Contact Kristen Thometz: @kristenthometz | (773) 509-5452 |  [email protected]
---