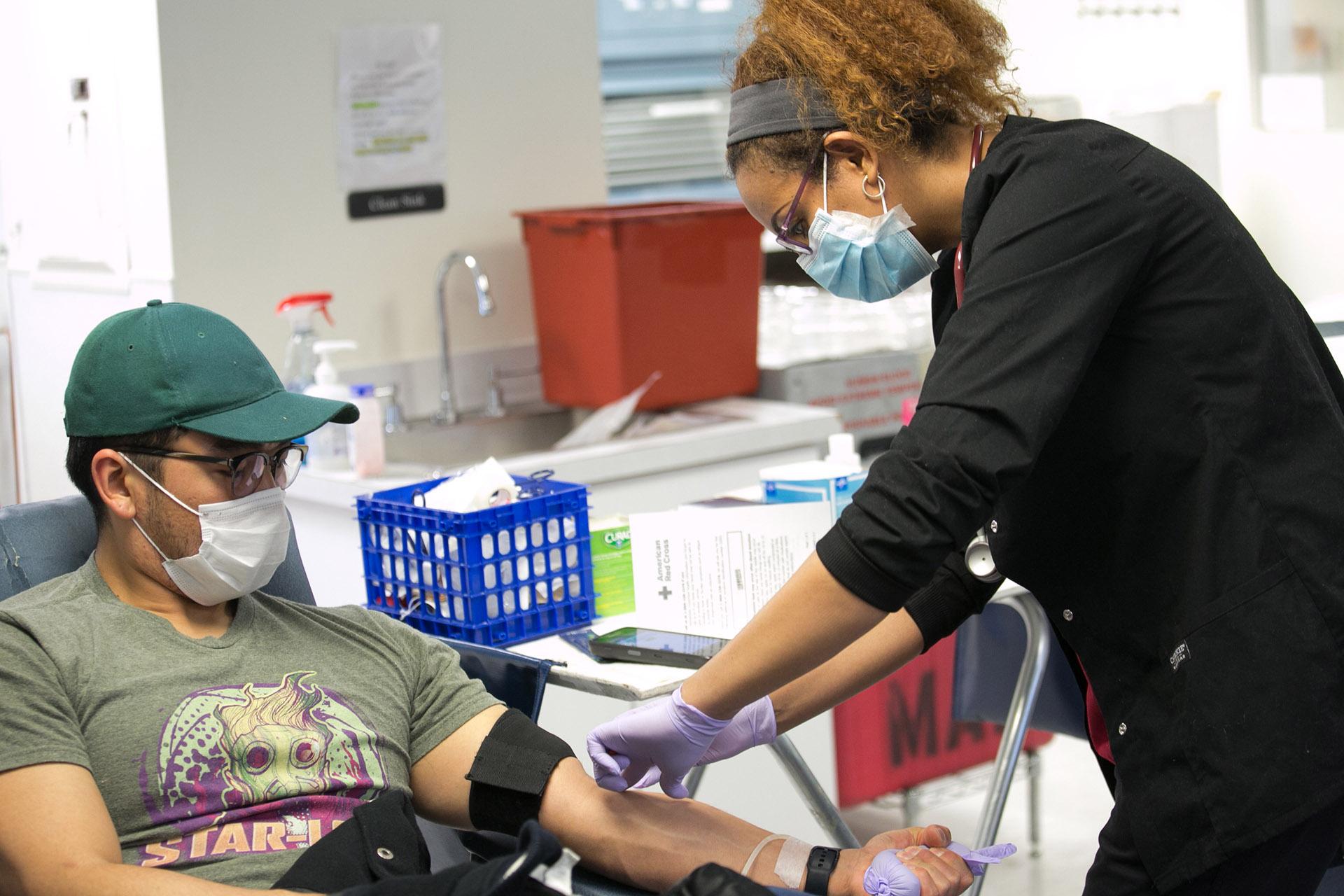 A Red Cross blood donor rolls up a sleeve to give blood during the COVID-19 outbreak at the Rockville Donation Center in Maryland. (Photo by Dennis Drenner / American Red Cross)
Coronavirus-related shutdowns of businesses, schools and community organizations has led to massive cancellations of blood drives, leading to a nearly 60% drop in collections, according to the Illinois Coalition of Community Blood Centers.
Margaret Vaughn, the coalition's government affairs director said blood banks are currently "running on a two-day supply or less," which puts them at a "critically low level."
Last weekend's violence in Chicago, which saw more than 100 people shot, underscores the need for blood donations, says Vaughn. "One trauma patient can use over 100 pints of blood in one 24-hour period," she said.
Patients with sickle cell disease and cancer also regularly need blood, she said.
Since March, about 70% to 80% of blood drives have been canceled, said Emily Alanis, regional manager of donor recruitment for Vertsiti Blood Centers of Illinois.
"Unfortunately, many people don't realize that blood only has a 42-day shelf life, needs to be constantly replenished, and that there is no substitute," Alanis said.
The American Red Cross has also been hit hard by the pandemic, which led to the cancellation of thousands of blood drives, according to Joy Squier, chief communications and marketing officer for the group's Illinois region.
"Every day across the country (the Red Cross) need 13,000 units of blood to maintain our supply for our 2,600 hospital partners and that means we need people to be generous and come out and donate," said Squier. "Every two seconds someone in the U.S. needs blood."
Typically, blood donations slow down in the summer months as people take vacations. This year, that challenge is compounded by a surge in demand for blood as elective surgeries resume following coronavirus-related shutdowns, says Matt Pitcher, senior recruitment manager for Vitalant-Illinois.
"Since COVID restrictions were lifted for elective procedures and patients returned in mass for medical treatments, we've seen a huge uptick for the need for blood," he said. "Now as we enter the summer months it's imperative we find homes for mobile (or community-based) blood drives."
Both the coalition and the Red Cross have taken precautions to keep volunteers and donors safe, including temperature checks, requiring the use of masks, social distancing and appointments for donations. "We don't encourage walk-ins like we used to," Squier said.
Donors must be at least 17 years old (or 16 with parental permission), in good health and weigh at least 110 pounds. The donation process takes about an hour and includes a health screening. Individuals can donate blood once every 56 days.
"We want to make sure people feel healthy before they come to donate. That's very important," Squier said.
People donating to either the Red Cross or through the Illinois Coalition of Community Blood Centers will receive a COVID-19 antibody test to indicate whether the donor has been exposed to the virus.
"It's not a diagnostic test, it's just part of the series of infectious disease tests that happen once a person donates blood," Squier said. People who take the test should get results within 10 days.
In addition to donations, the Illinois Coalition of Community Blood Centers is calling on individuals and organizations to host blood drives, which are considered essential services by the Centers for Disease Control and Prevention and the Illinois Department of Public Health, according to Pitcher.
Parties interested in organizing blood drives can contact the coalition at 217-280-0206 or send Vaughn an email.
For more information about blood donations or to schedule an appointment to donate, visit the Red Cross's website or the America's Blood Centers website.
Contact Kristen Thometz: @kristenthometz | (773) 509-5452 |  [email protected]
---