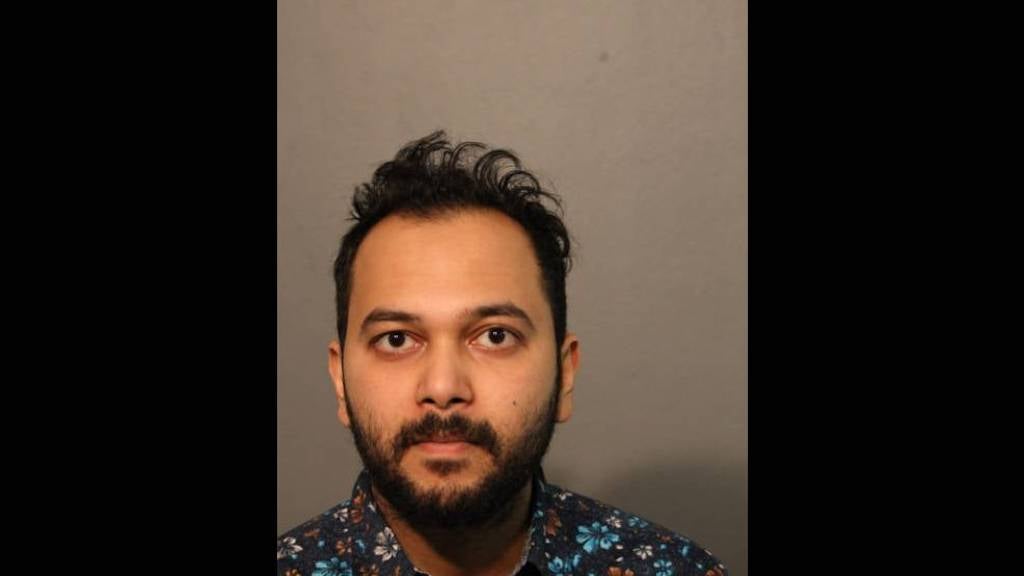 Aamir Mohammed (Chicago Police Department)
A Grubhub delivery driver is facing a trio of felony charges after he was allegedly seen on video striking a woman with his car before dragging her several feet and then running her over after he was asked to exit a North Side restaurant due to social distancing requirements.
Aamir Mohammed, 30, was ordered held on $5,000 bond during a hearing Tuesday, four days after a confrontation outside Ms. T's Southern Fried Chicken in Lakeview left a 24-year-old woman with multiple serious injuries including two broken shoulders, a broken arm and a broken pelvis.
Mohammed was charged with two felony counts of aggravated battery, a felony count of failing to report an accident involving injury, and misdemeanors counts of leaving the scene of an accident and driving without a license.
The incident began last Friday evening, according to Cook County prosecutors, when Mohammed arrived at the restaurant in his capacity as a Grubhub driver to pick up an order for delivery.
Mohammed entered the restaurant, but upon being asked to wait for his order outside due to COVID-19 precautions, he "aggressively kicked the front glass door from within the restaurant and slammed the door," prosecutors said.
Several employees then followed him outside as he re-entered his vehicle, and told him not to leave because police were being called, according to prosecutors. Those employees stood around the car as Mohammed began to shout out of his window. One witness said they heard him threaten to run people over if they did not move.
"As the victim and witness 1 stood next to the defendant's car, the defendant drove forward, striking the victim with his car," Assistant State's Attorney James Murphy said Tuesday. "After striking the victim, the defendant dragged the victim with her body on the hood of the car and her legs underneath."
Murphy said Mohammed dragged the victim about 20-30 feet before slowing down until she fell off the hood of the car. He then allegedly sped forward and drove over the victim's body as she laid on the ground and fled the scene "at a high rate of speed."
A witness recorded part of the incident on his phone in a video that has since been uploaded online. In it, a man inside a Toyota Prius can be seen arguing with at least two people on a street.
The video ends shortly after the vehicle drives forward and hits a woman.
The victim, the daughter of the restaurant's owner, was taken to Illinois Masonic where she has undergone surgery on her pelvis and arm injuries. Murphy said she remains in the intensive care unit as of Tuesday.
Cook County Judge Mary Catherine Marubio said she hasn't seen video of the incident and in weighing bond noted Mohammed's employment history, ties to the area and lack of criminal past. But she also referenced the "violence" involved in the incident and his alleged attempt to flee from the scene after striking the victim.
"He must know that this person's injured after being struck by the car two separate times," Marubio said. "There's flight despite the injury, that indicates to me a concern that he won't follow conditions of release and appear as required."
If Mohammed is able to post bond, Marubio ordered he must be electronically monitored.
Contact Matt Masterson: @ByMattMasterson | [email protected] | (773) 509-5431
---