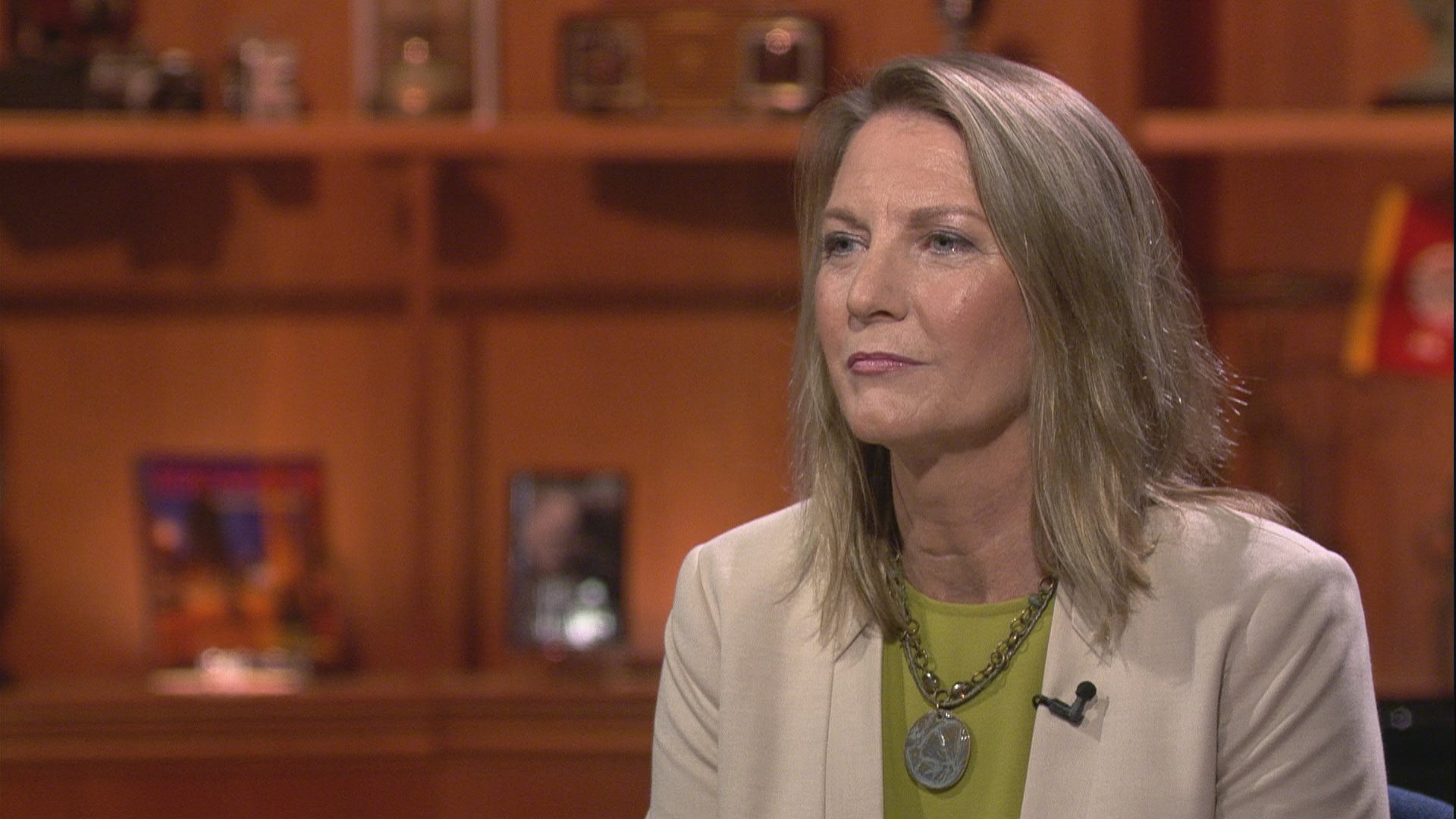 Cook County Public Defender Amy Campanelli appears on "Chicago Tonight" on Aug. 21, 2019.
Cook County's public defender is challenging a temporary ban put in place by the Illinois Department of Children and Family Services that's kept children in foster care from having supervised visits with their parents and siblings during the COVID-19 pandemic.
A judge will rule next week on a request for a temporary restraining order sought by Public Defender Amy Campanelli, who argued that by preventing in-person supervised visits during the pandemic, the DCFS has deprived families of their due process rights and put affected children at risk of "permanent harm."
Campanelli filed suit against the DCFS and its acting director Marc Smith in Cook County's chancery court on behalf of four women, each of whom have had their previously approved supervised visits with their children suspended.
"The visitation ban has negatively impacted already fragile families depriving them of much needed time to bond and stay bonded with their children," Campanelli wrote in a letter to the Chicago Sun-Times last week. "Denying family contact is a horrible misplaced priority that should not be part of our state's policy."
On Thursday, her office argued before Judge Caroline Kate Moreland for an emergency motion declaring the DCFS policy "unlawful."
"Maintaining a parental relationship with one's child is a fundamental human interest," argued Assistant Public Defender Aaron Goldstein, adding these visits could be conducted safely with masks, social distancing and temperature screenings to protect against COVID-19.
We filed in Court yesterday to force DCFS to remove their blanket suspension of our clients visits w/their children, w/no thought to the tragic results on families, siblings, and our communities. The majority are black poor families who are suffering. https://t.co/s7RMMiMV8c

— Amy Campanelli (@cookctypdamy) May 8, 2020
---
The ban, which has been in place since March 25, was enacted due to the "extreme circumstances related to COVID-19," according to the DCFS. The agency said it needed to ensure that children and families are protected from the virus through social distancing, and staff were instructed to identify "alternative ways" to hold these meetings via videoconference or phone.
But attorneys representing DCFS and the Cook County public guardian argued the case should be dismissed, claiming the suit has no merit and accusing the public defender of "forum shopping" as there's already a prior pending case in juvenile court raising the same issues.
"The notion that DCFS is defying court orders is frankly fundamentally wrong," Assistant Attorney General Barbara Greenspan said during Thursday's hearing. The balance the DCFS had struck between safety and visitation ability is the "appropriate one," she said.
One group that has signed on in support of Campanelli's lawsuit is the Shriver Center on Poverty Law. They claim virtual visits aren't a sufficient replacement for in-person meetings, which they say "must be prioritized in the way that essential healthcare is prioritized."
Tanya Gassenheimer, a staff attorney at the Shriver Center, said her organization reached out to the DCFS even before it enacted its visitation suspension with a set of recommendations about how to protect families' rights during the pandemic.
Instead, she said DCFS chose a route that is "essentially the opposite of anything we would have recommended." Even with virtual meetings being held, Gassenheimer said her group has heard from families that their children have struggled to focus on video calls or understand the "nature of the interaction."
She said this lack of interaction presents a "very negative impact" on a child's development that cannot be reversed.
"It is not something that can be delayed by a week or a month," Gassenheimer said. "I know for a lot of things in a lot of domains, the thought could be, 'It's just a month, it's just two months, we can figure this out as we go' … but this is one area where even a week can have detrimental impacts on the health and wellbeing of a child and the parent and the bond between them."
Moreland is expected to issue a written ruling in the case Monday.
Contact Matt Masterson: @ByMattMasterson | [email protected] | (773) 509-5431
---