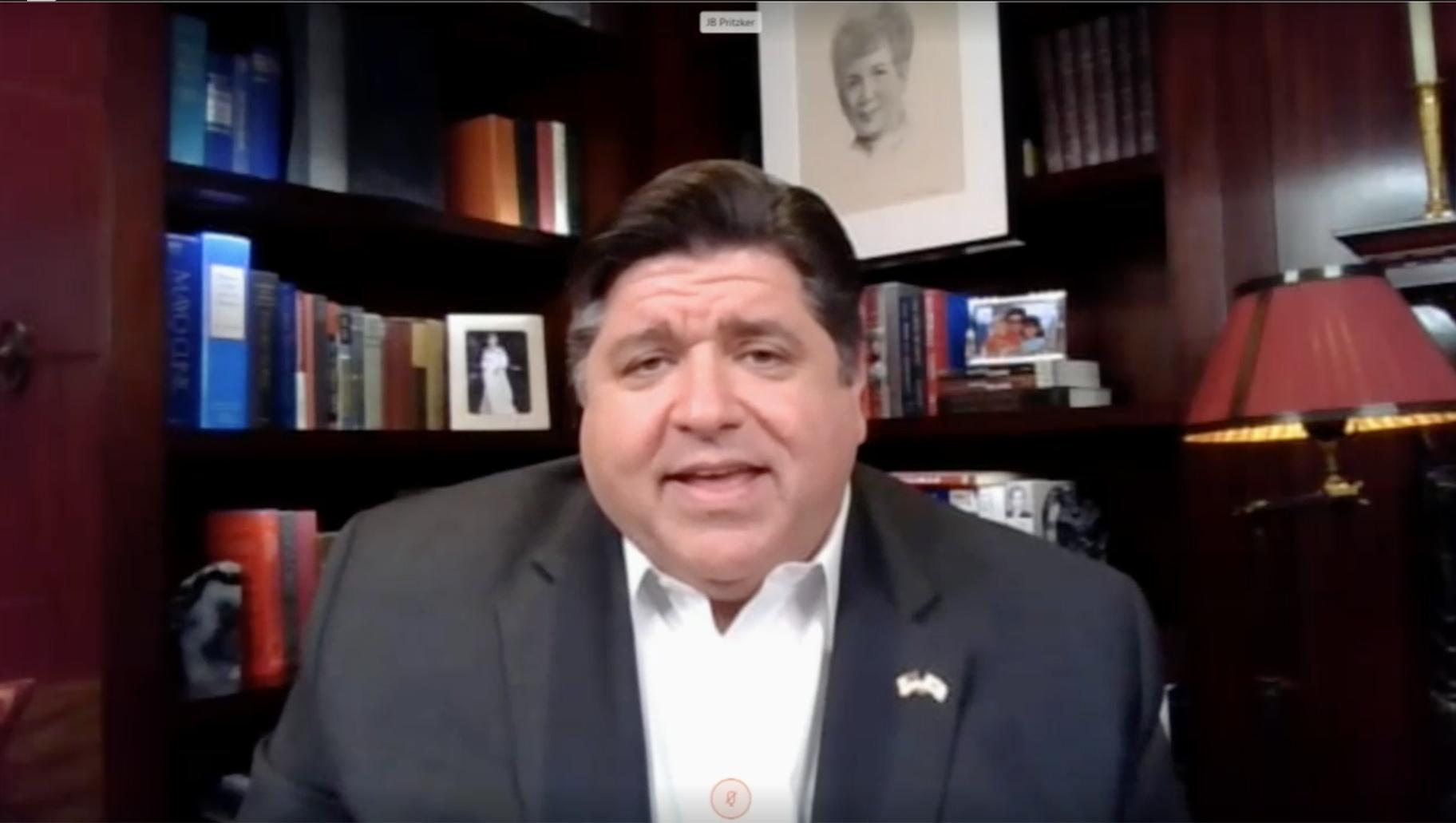 A screenshot shows Illinois Gov. J.B. Pritzker holding a press briefing from his Chicago home on Monday, May 11, 2020. The governor is staying home after senior member of his staff tested positive for the coronavirus.
While most state employees have been working from home throughout the coronavirus pandemic, an upper echelon of about 20 senior members has been working with Gov. J.B. Pritzker at the James R. Thompson Center in downtown Chicago.
Now that one of them has tested positive for COVID-19, Pritzker will go into self-isolation and work from home himself, even though, as he said Monday: "I feel fine."
"The asymptomatic staff member tested positive late last week and was in close contact with the Governor and other staff members," according to a statement Monday morning from Pritzker's press office. 
Pritkzer said he spoke with the employee, who is still exhibiting no symptoms, on Monday.
"And so, feeling fine although obviously it's, you know, anxious-ridden moment for the person just to know that they've tested positive," the governor said.
Given the virulent path the coronavirus can take, the governor was asked whether the incident has led the administration to seriously consider putting a succession plan in place.
Per Illinois' constitution, Pritzker's self-selected running mate, Lt. Gov. Juliana Stratton, would be elevated to the chief executive's office in the event the governor's position were left vacant.
"The succession plan is in fact in the constitution," Pritzker said, calling Stratton, a former state representative, a "highly capable person, who if she needed to step in would of course be terrific at managing everything."
Pritzker said he remains healthy.
"And I have tested negative. And so I don't think, at least at the moment, that there's any real danger," he said.
Instead of holding a daily briefing at the Thompson Center, on Monday Pritzker gave coronavirus updates and answered questions from reporters via a live videostream from his Astor Street home on the Gold Coast, in what appeared to be a home office. Shelves lined with books and a few framed photographs, including a large drawing of his deceased mother, were in the background.
Pritzker said the employee works down the hall from him at the Thompson Center.
"I don't have regular, everyday contact with that person directly, although that person would sometimes, would every day sit in a large meeting room where we we're all socially distancing," he said. "And so out of an abundance of caution, I think we all felt that because that person is there every day and interacts with other members of the staff on a regular basis, and me on a slightly irregular basis, we wanted to make sure that we followed all the rules for socially distancing and in particular for isolating."
The governor said he was notified on Saturday that the individual had tested positive.  
He said staffers will remain isolated for variant lengths of time, depending on their last interactions with the infected individual.
The White House has shared the names of high-level staff who've tested positive for the virus, but Pritzker said he does not plan to identify the employee by name.
"That would be a breach of their privacy. However, they have given us all of their contacts, all of the locations they were in," he said. "This is not a public person."
The governor was last tested Sunday morning, and the result came back negative. 
Staff who have been working at the Thompson Center were also tested, and those tests also came back with negative results. 
"Staff members have followed all IDPH safety protocols including daily temperature checks, wearing face coverings, social distancing and strict hygiene procedures. The office will undergo deep cleaning, and staff are monitoring themselves for symptoms. The Governor and staff will return to the office when IDPH deems appropriate," the statement said.
Asked Monday whether other members of his immediate family will follow similar precautions, Pritzker said they have been adhering to public health guidelines.
According to a report in Patch, first lady M.K. Pritzker has been at the couple's estate in Florida. When asked about it late last month, the governor did not answer the question, calling the story "inappropriate."
"My official duties have nothing to do with my family," he said at the time.
The governor said despite the physical dispersal of his staff, the administration will continue to carry out the people's business – including the coronavirus briefings on weekdays; they'll just look different than the Thompson Center press conferences.
The governor held briefings for 61 days in a row before ending his streak after Friday, when he announced the cancellation of future weekend briefings. 
Medical updates are still provided on Saturday and Sunday on the website of the Illinois Department of Public Health.
Follow Amanda Vinicky on Twitter: @AmandaVinicky
---