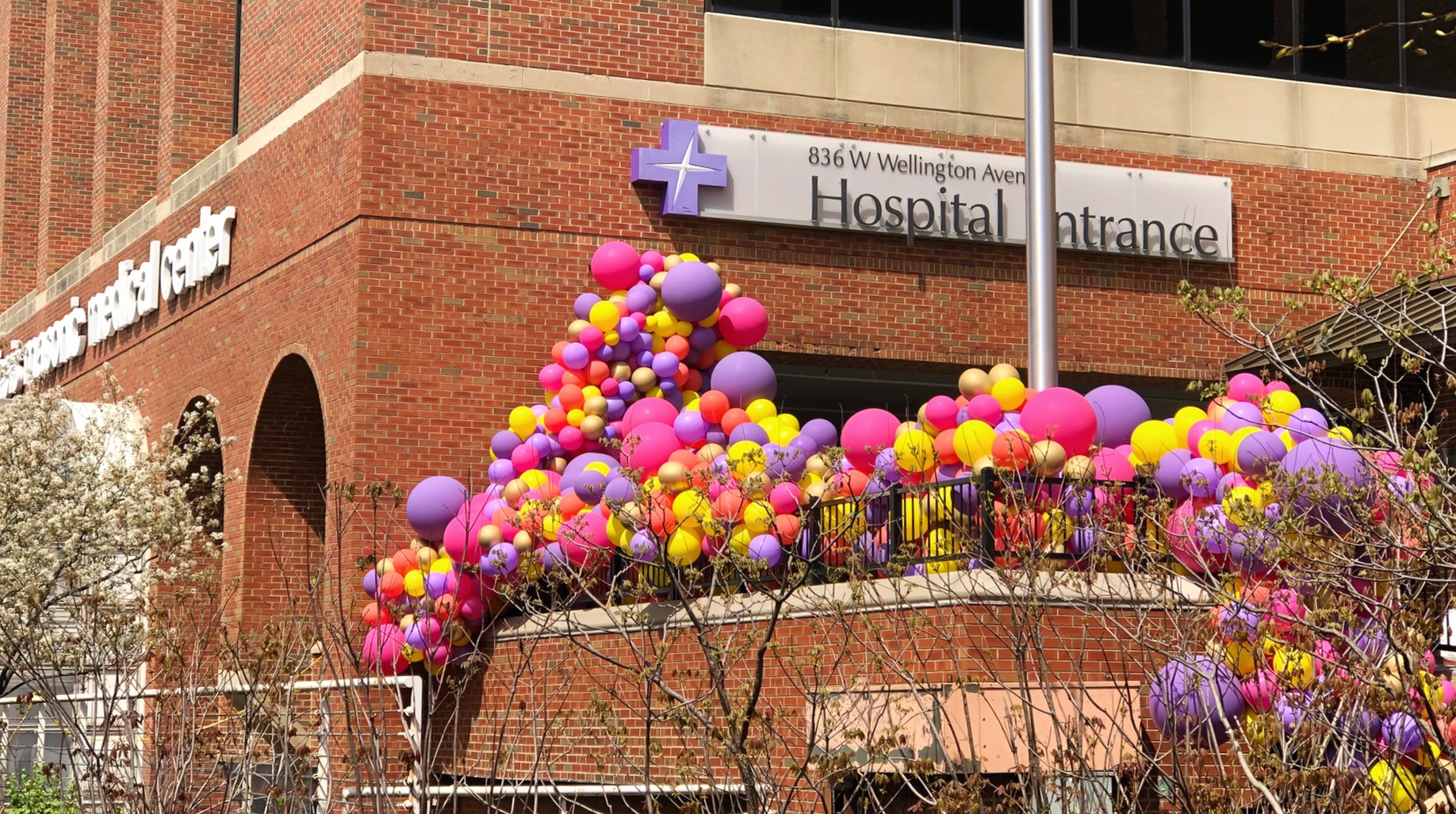 Luft Balloons' installation, bringing the joy to Advocate Illinois Masonic Medical Center. (Patty Wetli / WTTW News)
It's been a sobering couple of months for Felicia Smith and Jacob Thomas, respiratory therapists at Advocate Illinois Masonic Medical Center in Lakeview.
Patients diagnosed with COVID-19 are under the care of Smith, Thomas and their fellow therapists from the moment they enter the hospital to, in the best-case scenarios, their discharge.
"It's stressful," said Smith. "In my 30 years of working, I've never seen anything like this."
"You see somebody alive one moment — they're awake, you talk to them — and after a couple of hours they're dead," said Thomas. "So many people are suffering."
The toll on their spirits was palpable as the pair stepped outside for a brief break on a recent afternoon. As they emerged onto the sidewalk, they were greeted by a sight that provided an immediate, much-needed morale boost.  
A riot of balloons — 2,600 total — in a jumble of shapes and bright colors (including Advocate's signature purple hue) snaked its way along the ramp of the hospital's main entrance, punctuated by globes emblazoned with simple messages like "Thanks."
It was impossible not to feel a little lighter. 
"It's an encouragement for our minds," said Thomas, who snapped Smith's photo in front of the helium-filled swag.
"What we're going through, it makes you feel appreciated," he said.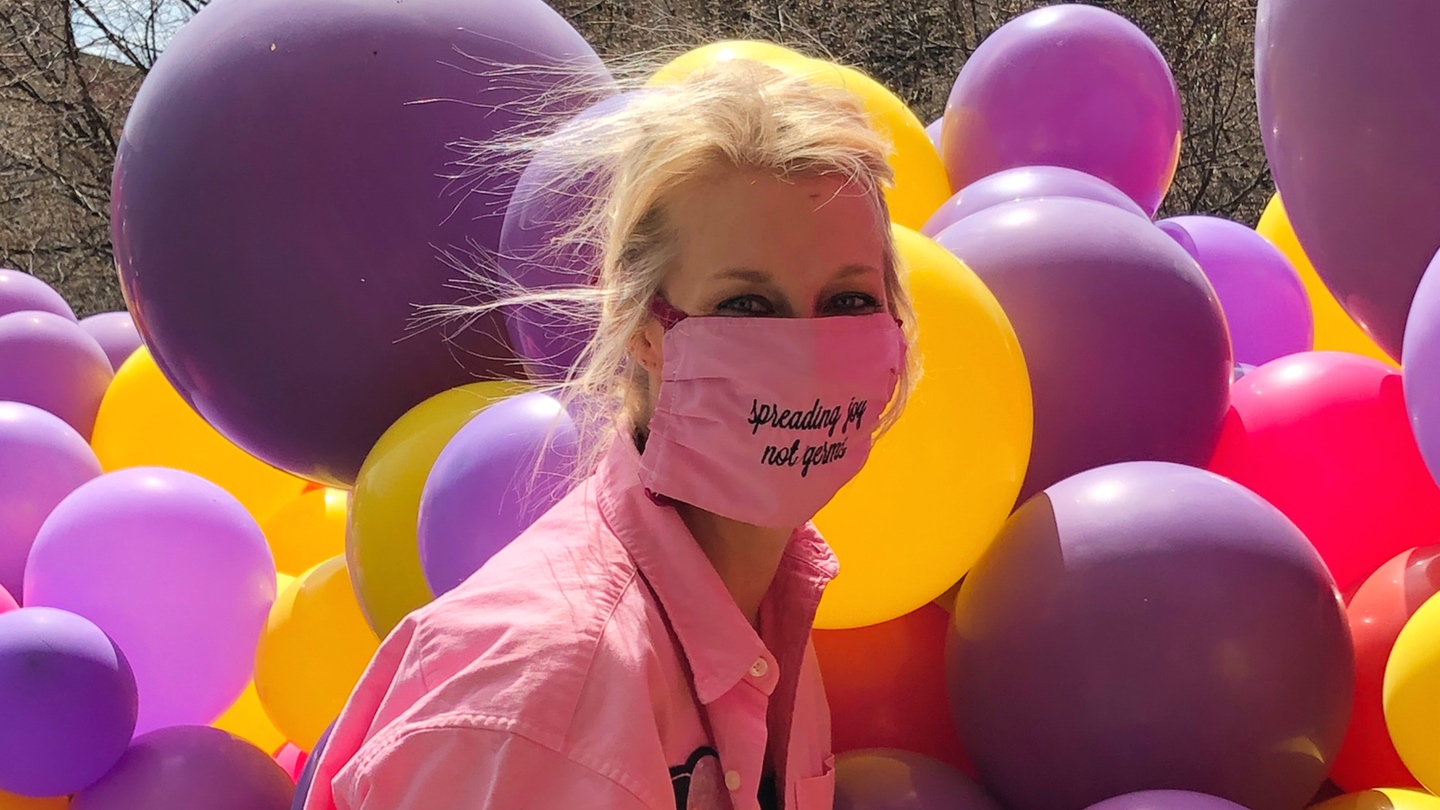 Elaine Frei, owner of Luft Balloons, bringing the joy, not germs. (Patty Wetli / WTTW News)
The latex sculpture was the handiwork of Elaine Frei, owner of Luft Balloons, which specializes in large-scale installations for special events and public spaces.
Frei, whose business is weathering the pandemic better than most, courtesy of a quick shift in gears, had been casting about for a way to thank front-line medical staff when she was struck with what she called one of those "What the heck, duh!" moments — just do what she does best. She crowdsourced more than $6,000 to fund the massive display of gratitude at Illinois Masonic, and another at Loyola University Medical Center. (The donations, in part, allow Frei to bring paid collaborators on board for the installations as a way of keeping fellow artists afloat.)
Though she's maxed out her network of supporters in terms of fundraising, Frei said if she could find sponsors, she'd gladly festoon every hospital in the Chicago area with cheery balloons.
"I just thought it was fantastic," Susan Nordstrom Lopez, president of Advocate Illinois Masonic Medical Center, said of her response when Frei approached her with the idea. "It brings some joy and happiness."
In many ways, Illinois Masonic was uniquely prepared to care for infectious disease patients, having operated one of the nation's first HIV-AIDS units, but the sheer number of COVID-19 patients has been draining, Nordstrom Lopez said. 
On any given day, Illinois Masonic is treating 45 to 60 patients with COVID-19, an influx the hospital never even experienced during the height of the AIDS epidemic, said Nordstrom Lopez.
"With AIDS, it wasn't rushes of people," she said. "This is a little different. There's a lot more patients at the same time."
It's exhausting work, not just physically but emotionally. Frei's balloons offer the kind of salve medicine can't provide.
There's no smiling inside the hospital, said Thomas. "We come out here," he said, nodding toward the balloons, "we can smile."
Contact Patty Wetli: @pattywetli | (773) 509-5623 |  [email protected]
---