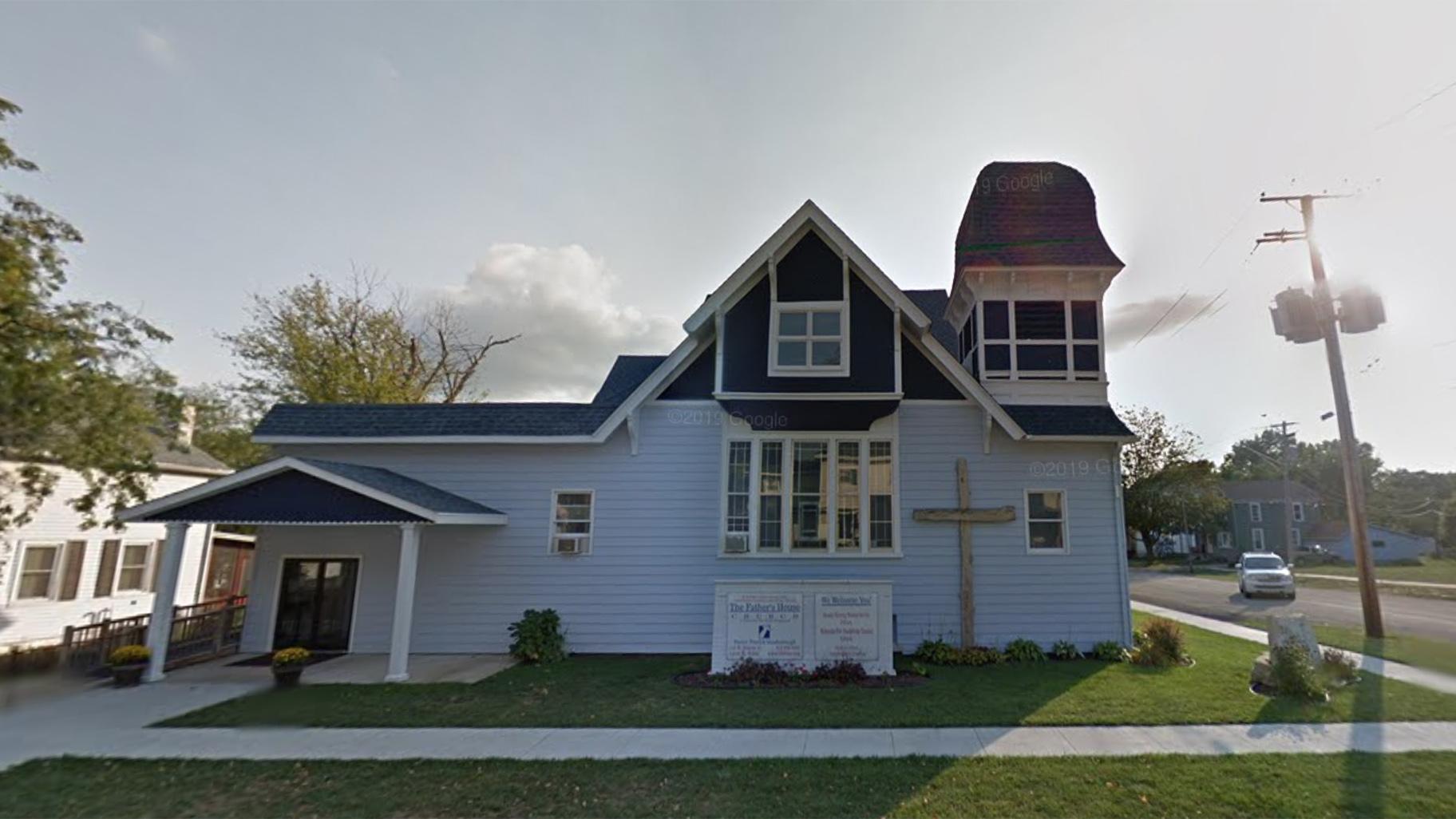 The Beloved Church at 216 W. Mason St., in Lena, Illinois. (Google Maps)
A federal judge ruled Sunday evening that Illinois' stay-at-home order does not run afoul of the First Amendment's religious protections.
The ruling came hours after the pastor behind a lawsuit targeting Gov. J.B. Pritzker's executive order led dozens of worshipers through a morning service at The Beloved Church in Lena, a village in northwest Illinois, defying both the court and the order.
"The Court understands Plaintiffs' desire to come together for prayer and fellowship, particularly in these trying times," U.S. District Judge John Z. Lee wrote in his opinion. "But even the foundational rights secured by the First Amendment are not without limits; they are subject to restriction if necessary to further compelling government interests — and, certainly, the prevention of mass infections and deaths qualifies. After all, without life, there can be no liberty or pursuit of happiness."
Pritzker has issued multiple executive orders during the pandemic that ban large gatherings and require people to stay at home, save for essential activities.
"I'm not going to be bound by any man or any government system," the Rev. Steve Cassell said late last month of the clampdown on congregating.
Cassell's Beloved Church is about two hours north and west of Chicago, between Rockford and Galesburg.
Unlike earlier versions, the governor's latest extension of the stay-at-home order  — which is in effect for all of May — specifies a religious exception.
Engaging "in the free exercise of religion" is specifically listed as a reason someone may leave home, provided the religious gatherings are kept to 10 or fewer people "in keeping with CDC guidelines for the protection of public health."
"Religious organizations and houses of worship are encouraged to use online or drive-in services to protect the health and safety of their congregants," the order states.
Between six to 12 times that limit attended Sunday's church service in Lena.
Thomas Ciesielka, a spokesman for The Thomas More Society, which is representing Cassell in the lawsuit, said that said that attendance was "average" with about 60 to 80 people attending the services, "with social distancing." Congregants were to have been provided with masks and hand sanitizer.
But a man who posted on Facebook under the name John Hess said that he attended with his family, and that there were "120 Christian patriots maybe more."
Attendees are not visible in a YouTube video of the services, though worshippers can be heard on occasion, at times cheering, other times laughing.
"I was so encouraged to see that there were so many willing to stand up for our civil liberties, namely our 1st amendment right as American's" Hess wrote. "We had an awesome service today! Pastor Steve and the leadership of the Beloved are awesome loving people, I am blessed to have found them and to have them in my life."
In another post, Hess gave a "shout out to pastor Steve Cassell for taking a stand against the tyranny coming out of Springfield. It was a blessing to go to the house of God this morning. Let's all take a stand for our 1st amendment right."
The Sunday service went forward despite Lee on Saturday night denying, without comment, Cassell's request for a temporary restraining order to allow "worship without limitations" on Sunday morning.
Lee later issued his full opinion on Sunday night.
"The sad reality is that places where people congregate, like churches, often act as vectors for the disease … Enjoining the Order would not only risk the lives of the Beloved Church's members, it also would increase the risk of infections among their families, friends, co-workers, neighbors, and surrounding communities," Lee wrote. "Plaintiffs, as Christians, can take comfort in the promise of Matthew 18:20—'For where two or three come together in my name, there am I with them,'" Lee wrote in it.
Despite the church's defiance of the stay-at-home order, Ciesielka said the morning was "uneventful" and there's no indication Cassell nor his parishioners were issued citations or faced other legal repercussion.
"They shouldn't have been having services at all, except if they were in groups of 10 or less," Pritzker said Sunday afternoon. "This is … temporary and people need to understand that — especially faith leaders  — that keeping your parishioners safe is the most important thing that you can do. Your leadership matters here, and we're not stopping you from praying, we're not stopping you from connecting with your parishioners, what we are trying to stop is the spread of this invisible killer."
Lee's opinion echoes a similar sentiment: "It is also important to recognize the religious exercises that the April 30 Order does allow. In addition to drive-in services and smaller worship services, the Order permits Cassell and other staff members to visit and minister to parishioners in their homes. It allows small group meetings, bible study meetings, and prayer gatherings at the church or in private homes, subject to the ten-person limit. It empowers Cassell and members of his congregation to celebrate communion in small groups. And it authorizes individual congregants to go to the church to obtain spiritual help and guidance from their pastor and/or other church staff members."
During a sermon Sunday that lasted at least an 70 minutes, titled "Fullness of God," Cassell quoted scripture and talked about God's power to heal.
He also made a couple of direct references to COVID-19.
"God didn't send a pandemic, but God can take a pandemic and work through it to bring all things together for good to those that love him and are called according to his purpose," Cassell said.
At one point, he appeared to joke about the threat of the coronavirus. 
"You know why the world is falling apart in panic and fear? Because of the fear of death," he said, and then pantomimed as if something threatening was stealthily approaching. "The COVID will getcha; watch out! … I thought it was sneaking up on me, like you gotta wear your mask because it sneaks up on you."
In court filings, Cassell and his attorneys argued that governor's executive order violates the First Amendment as well as three state laws: the Illinois Religious Freedom Restoration Act, the Emergency Management Agency Act, and the Illinois Department of Health Act.
Cassell's sermon last Sunday, which was broadcast on YouTube and Facebook without worshippers physically present, provides further insight into the religious underpinnings of his lawsuit.
He preached then about his plans for reopening May 3.
"Next week we're opening the church. Beloved Church is going to be an intimate, non-isolated, together-corona, congregation next week," he said.
He'd said earlier in the sermon that "isolation is demonic" because "the kingdom of God expands in your life directly through revelation and relationship."
"This world would love to force you into isolation – they're going it right now, the government is literally commanding people to isolate," he said.
Cassell said government-mandated quarantine is "causing things like drug abuse and alcohol abuse to skyrocket" as well as increases in pornography addiction, suicide and suicide attempts, and sexual and physical abuse of children.
"If you think this pandemic is just about making people sick then you don't know how the devil works," he said. "We need to break the back of this isolation."
During the April 26 sermon, Cassell made a point to say to church members who were concerned: "If you're scared and you don't know what the fallout might be" about attending this week's services, you were not required to physically attend.
"You have permission from us, from everybody in Beloved, for you and The Father to work out the salvation that's working in you," he said. "I know that there are some people that deeply desire to be in intimacy in this room, to experience the grace that takes place in this room, to be a part of doing life together with one another. And it is no longer okay for those folks to not have what the Constitution of the United States has granted for them to have, and what the creator of heaven and earth has given them salvation for: It was for freedom."
The Thomas More Society's Ciesielka did not respond Sunday evening to a request for comment on Lee's ruling.
Follow Amanda Vinicky on Twitter: @AmandaVinicky
---