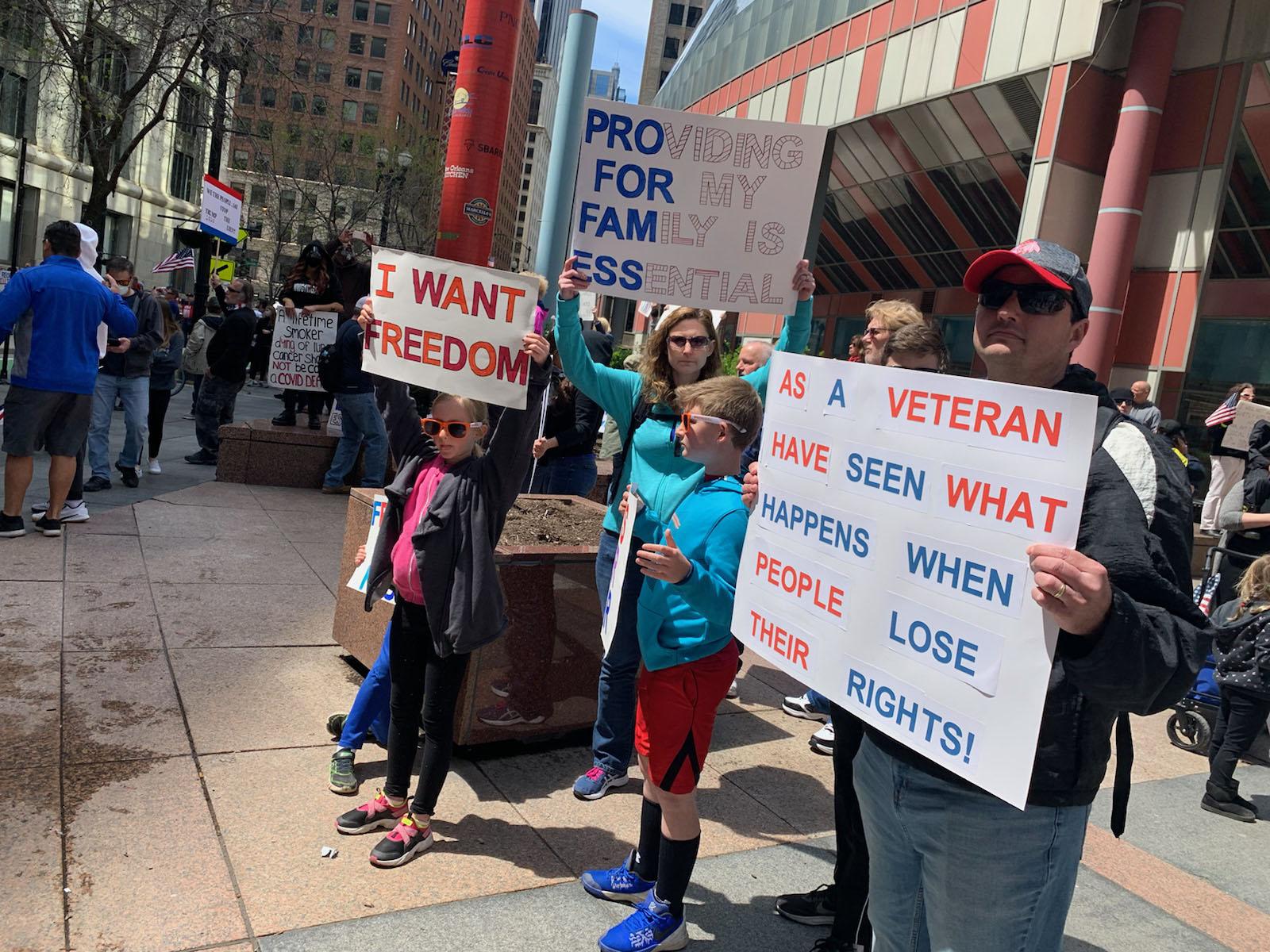 Patrick and Karen Swearingen and their four children protest Gov. J.B. Pritzker's stay-at-home order Friday outside the Thompson Center. (Heather Cherone / WTTW News)
Several hundred protesters swarmed the Thompson Center in the Loop and the Capitol in Springfield on Friday, calling for Gov. J.B. Pritzker to end the stay-at-home order he says is necessary to stop the spread of the coronavirus.
The demonstration also snarled traffic through the Loop as protesters drove around the Thompson Center honking and waving flags from cars, trucks and motorcycles. Many protesters brandished signs supporting President Donald Trump's reelection or emblazoned with anti-government sentiments.
Other signs expressed skepticism about whether the coronavirus was as deadly as the data shows, or warning that the economic toll of the shutdown would be too great for Illinois to bear.
The protests were organized by Freedom Movement USA, which bills itself as "a group of like-minded Republican activists." The organization has also organized rallies for the president. The Illinois State Police estimated the crowd to be 450 people outside the Thompson Center.
Chicago Police reported that two people were arrested, but did not immediately have any more information available.
Although Pritzker's order that masks be worn in public went into effect Friday, less than half of the crowd had their mouths covered.
Patrick and Karen Swearingen, of Frankfort, said they brought their four kids to the Thompson Center to join the protest of what they said was the "loss of their Constitutional rights."
Karen Swearingen said her family had never been on government assistance before the pandemic. She carried a sign that said "providing for my family is essential."
Patrick Swearingen said he had been scheduled to start a new job last month, but that is on hold because the company cannot operate remotely.
"The facts just don't fit the order," Swearingen said. "We need to get back to work."
Shayla Swearingen, 9, said she wanted to go back to school.
"I miss playing with my friends," she said.
The protest drew a small number of counter-protests, including several members of the Illinois Nurses Association. Alds. Daniel La Spata (1st Ward) and Rossana Rodriquez Sanchez (33rd Ward) joined the nurses at one point.
In Springfield, the Secretary of State estimated that the protest drew at about 400 people.
Pritzker said the protesters had a First Amendment right to protest his decisions, one that he said he would "defend to the death their right to exercise that right — even when they are wrong."
Many of the protesters "have some concept it is going to be safe for everybody just to open up," which is not accurate, Pritzker said.
State officials are weighing lifting the restrictions in areas of the state that have not been hit as hard by the virus, Pritzker said. In fact, some state parks were opened outside of downstate on Friday for just that reason, he added.
But some rural counties have a per capita infection rate on par with Cook County, and have limited hospital resources to care for people if there is a surge of infections, Pritzker said.
"We are being careful about this," Pritzker said. "We have to get past the peak. We are not past that yet."
Restrictions will be lifted when it is safe to do so "not because some protester has a sign reading 'Liberate Illinois,'" Pritzker said.
If Illinois reopens too soon, more people will get sick.
"We have bent the curve," Pritzker said. "It is not an accident that the number of deaths that was expected is many fewer, that the number of ICU beds is many fewer, ventilators many fewer needed. It's not an accident."
Contact Heather Cherone: @HeatherCherone | (773) 569-1863 | [email protected]
---