Illinois is set to receive a shipment of personal protective equipment from China, Gov. J.B. Pritzker announced Sunday as cases of the coronavirus across the state grew to 30,357, with 1,290 total deaths.
That marks an increase of 1,197 cases since Saturday, with 33 new deaths, according to data from the Illinois Department of Public Health.
Pritkzer said the "millions" of gloves and masks will be taken to state warehouses to be checked and inventoried before they're distributed to health care professionals and first responders.
Questions have been raised about whether personal protective equipment, or PPE, the state previously purchased from China was deficient, after other states had recalled equipment.
Most of the disposable PPE manufactured worldwide comes from China.
"If it strikes you as atypical that in the midst of a national emergency, a state is directly airlifting emergency response materials from another country, well, you'd be right," Pritzker said Sunday during his daily briefing on the pandemic. "But that's the landscape that we're operating in, competing with other states, other countries, and even our own federal government for supplies. Still, if an airlift is what it takes to bring the PPE to protect our nurses or firefighters or police officers and other essential workers, then it's an airlift that we'll use without hesitation."
Illinois has spent nearly $171.2 million so far to fight the coronavirus, according to figures from the state comptroller last updated on Thursday.
The state cannot make direct purchases from international providers; that's facilitated by private companies.
"Scams are everywhere," Pritzker said—big and small. "There can be bad actors."
He said Illinois relies on the FBI, state police and state attorney general to ferret out any wrongdoers.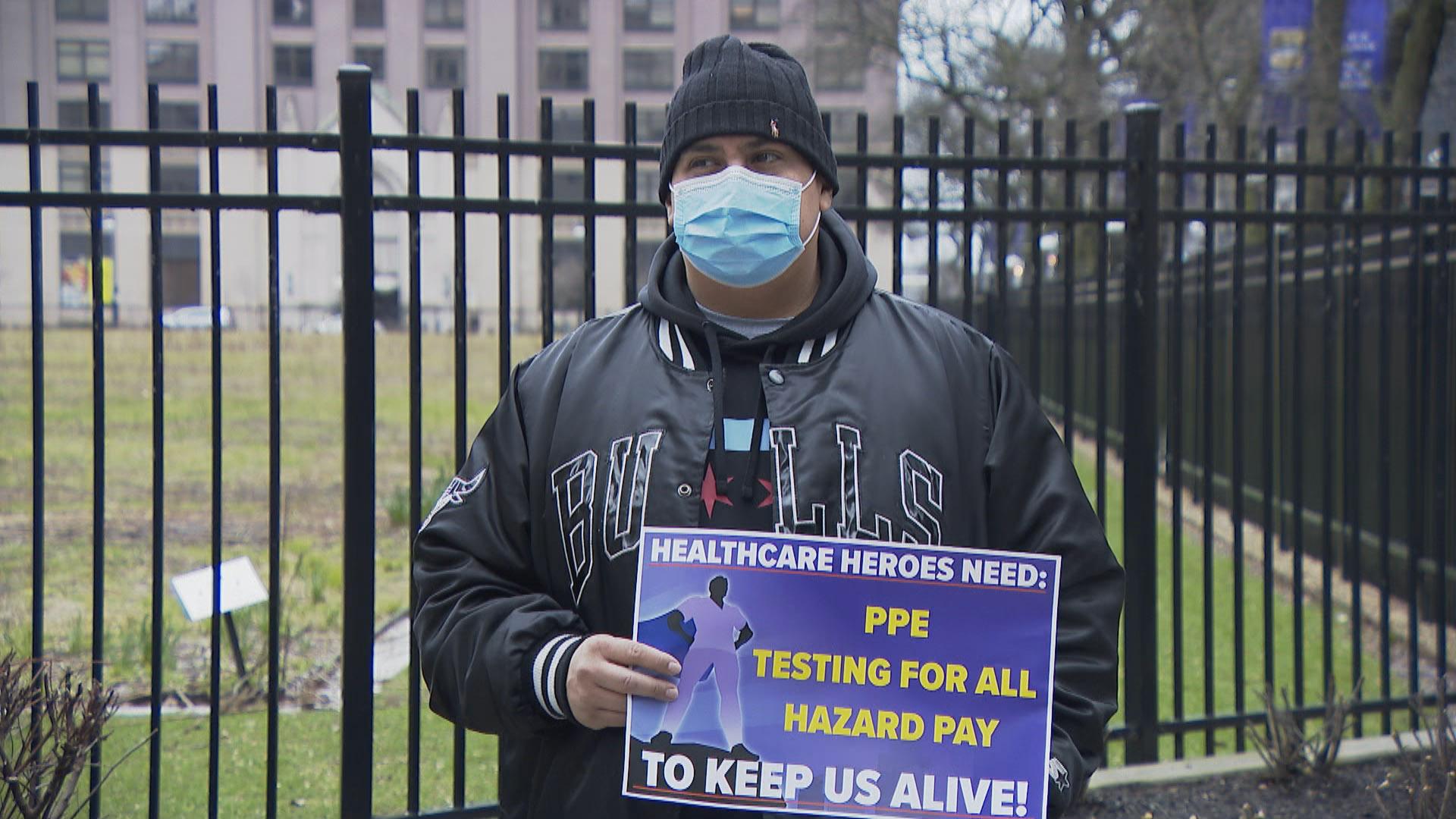 Members of SEIU Healthcare say front-line workers like nurses assistants, food service workers and medical technicians don't have access to necessary personal protective equipment and testing. (WTTW News)
Pritkzer also said that coronavirus testing remains an issue, despite federal assurances there's availability for mass testing nationwide.
There's a difference between capacity and capability, Pritzker said.
"I've been frustrated when I hear the White House talk about testing capacity, versus testing. They seem to use those interchangeably. Those are very different," he said.
It's not just a matter of machines that do the tests.
In order to conduct a COVID-19 test, there needs to be enough swabs, enough chemical to extra RNA from a sample, material to appropriately transport specimens, and enough lab technicians to actually run the tests.
"None of the states have all of those items that they need," Pritzker said.
The governor has seen his profile rise nationally during the health crisis, most notably during interviews on national TV programs during which he has criticized President Donald Trump's handling of the pandemic.
Pritzker said as a result, Illinois has received "more from the federal government."
As of Saturday, Illinois' stay-at-home order has been in effect for four weeks. It will remain in effect for at least another week and a half, through Thursday, April 30.
With most people staying home and with all but essential businesses closed, some residents may be wondering how Illinois is still seeing cases increase by 1,000 and more each day.
It's not like Illinois is on complete lockdown, Illinois Department of Public Health Director Dr. Ngozi Ezike said.
"People have to move around," she said. "Not every single person is at home."
But the stay-at-home order has slowed the disease's transmission, she said.
In epidemiology, the reproduction of an infection is measured by R0, the "R naught" figure; the larger the number, the greater the spread and susceptibility.
It "indicates how many people a person who has the disease will infect," Ezike said.
Earlier, when Illinois was seeking exponential increases in coronavirus cases, Ezike said Illinois' R0 figure was 3.5.
"If one person can infect three, and each of those people infect 3 additional, and those people go on to … within 10 rounds you get to 60,000 people," Ezike said. "Obviously we've brought that way down."
Illinois' R0 figure is now in the low 1s, she said.
"Transmission has slowed tremendously but of course it's not enough to have completely made sure that it (COVID-19) died out," she said.
The governor said Illinois is working to bring that number below 1.
---
Follow Amanda Vinicky on Twitter: @AmandaVinicky
---
---