So far, three incarcerated men in Illinois — two who had been housed at Stateville prison in Crest Hill and a detainee at the Cook County Jail – have died from complications related to the coronavirus.
A pair of court battles are now brewing, as advocates say they fear the death toll will rise given that neither the governor nor the county sheriff have done enough to winnow down incarcerated populations in hopes of stopping further spread.
According to state figures as of Tuesday night, 110 incarcerated individuals have tested positive for COVID-19, including 95 at Stateville; 39 staff are confirmed to have the virus as well. Another 187 lab results for prisoners – the state does not identify the facilities these inmates are housed at – are pending.
"Politicians are always afraid of publicity if somebody gets out and does something bad," said Alan Mills of the Uptown People's Law Center. "That's a real concern but I think it would equally be terrible if you were to end up with a headline saying '500 people died at Stateville last night' because they caught the coronavirus, when they could have gone home and been safe. Or that 500 guards came down and infected their family, because nobody decreased the population."
In its class-action lawsuit against Illinois, inmates represented by the law center say that "without urgent action by the Governor and the Illinois Department of Corrections (IDOC) to drastically reduce the Illinois's prison population, the novel coronavirus is likely to spread not just inside the walls of Illinois' 28 prisons, but throughout prison communities as well."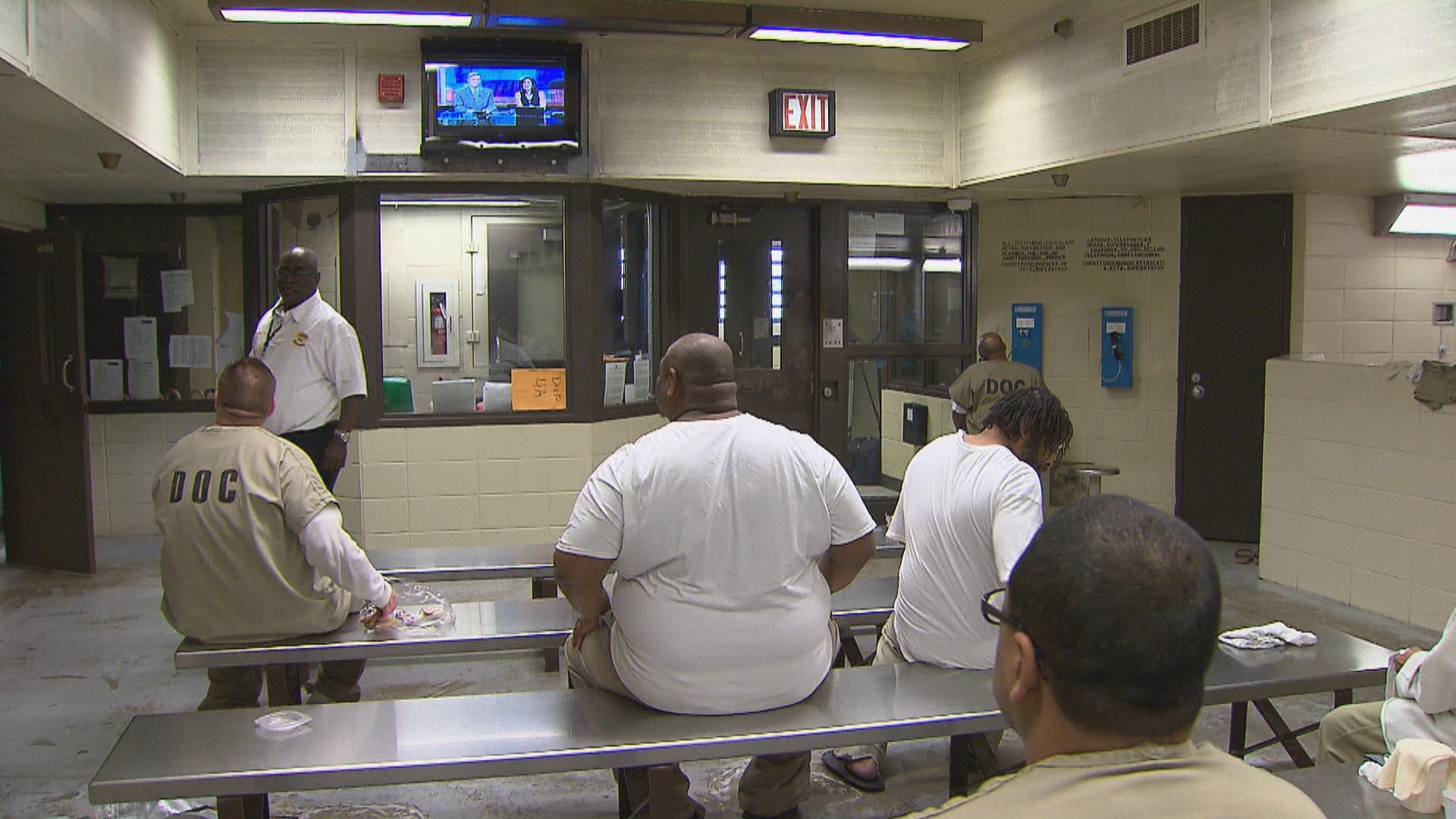 (WTTW News)
In a filing, Mills says prisons are veritable petri dishes for COVID-19, given that inmates are typically housed together in a small cell that makes social distancing impossible.
"What that means is once a coronavirus gets into a prison, it's going to spread. It's going to spread not only among the prisoners, but from prisoners to staff and back from staff to prisoners in an ongoing exchange of viral content which of course doesn't stay in the prison, it also goes outside to guards' families." Mills said. "We're asking the judge to sort of prod the Department of Corrections to use the tools it has in a way that release a lot more people. Our basic concern is we don't think the pool of the people they're looking at is large enough and we think that they're using overly restrictive criteria as to who should be released."
He says as many as 13,000 state prisoners should be eligible for medical furlough – a mechanism that allows IDOC to temporarily release inmates who need medical attention so that they can get proper healthcare.
An executive order signed by Gov. J.B. Pritkzer on Monday gives IDOC greater leeway with medical furloughs.
"It is critical to provide the Director with discretion to use medical furloughs to allow medically vulnerable inmates to temporarily leave IDOC facilities," the order reads.
Pritkzer says though medical furloughs and regular mechanisms of releasing prisoners – such as commutations – his administration has released upwards of 1,100 inmates since the coronavirus crisis hit in late March.
"This is not open to anybody and everybody that's incarcerated in the state of Illinois. We have reviewed filed, continue to review files of those who are nonviolent offenders, those who pose the least risk to communities, and we have been working expeditiously as possible to make those reviews," Pritzker said Tuesday. "We're doing everything that we can to protect those individuals who remain incarcerated in these facilities and we are focused on protecting our corrections and juvenile justice staff with PPE and medical checks as they perform a vital function to keep our communities safe."
In a filing countering the UPLC suit, the state says that "an unprecedented immediate prison release of as many as 16,000 convicted felons — is manifestly against the States' and the public's interests."
Additional filings are due Friday.
But state Rep. John Cabello, a Republican who also works as a detective in the Rockford area, says the Pritzker administration has already been too lenient.
"I believe that the folks that are in prison should remain there until their time has been served," Cabello said. "There's ways of making sure that the corrections officers and the prisoners are taken care of and try to keep safe. But the general population is also getting this, as we well know. And I feel that releasing some of these folks is putting the general population at more risk."
Pritzker has not done a good job informing lawmakers when prisoners are let out early, and he said victims should have a say.
"It's actually victimizing those folks twice," Cabello said. "The governor's office has not let us or informed us about what types of prisoner they're releasing, other than, 'well if they're susceptible or elderly.' If you're elderly and in prison you're probably in there for a pretty serious crime."
Cabello also says he has a lot of questions about the executive order, such as whether inmates who are put on medical furlough due to COVID-19 will be returned to correctional facilities once the crisis abates, and questions whether prisoners who are released could be spreading the virus to their families or the public once they're let out.
The governor said all prisoners are given medical checks first, and they can only be released if the state has confirmed they have sufficient housing.
Follow Amanda Vinicky on Twitter: @AmandaVinicky
---