Illinois Gov. J.B. Pritzker, who continues to plead for more ventilators from the federal government, announced Monday 1,006 new confirmed cases of COVID-19 and 33 additional deaths, bringing those totals to 12,262 and 307, respectively. Cases of the coronavirus are expected to peak in Illinois later this month.
So far, the state's health care system appears to be strained but mostly coping, according to health care professionals. But the burden on some safety-net hospitals is growing. Cook County Health announced Friday that it would temporarily close Provident Hospital's emergency room amid an influx of suspected coronavirus cases.
Dr. Jay Chauhan, president of the Chicago Medical Society, said that while more affluent health networks are well-resourced, some of the safety-net hospitals on the South Side of Chicago "need more support."
"In the safety-net hospitals — those hospitals with a lower degree of resources in more fiscally challenged areas — they are having more trouble, whereas some larger institutions were able to prepare for this in a more timely fashion," he said.
According to Alice Johnson, executive director of the Illinois Nurses Association, the supply of personal protective equipment, or PPE, for health care workers remains an issue.
"It depends on where the nurses work," said Johnson. "Some places have improved. Specifically, at the University of Illinois our members are saying the access to PPE has improved and that they are being used in a safe way … other places I have heard that it is bad and potentially getting worse."
Johnson said that she knew of one area hospital that had 48 registered nurses infected with the virus, but not all hospitals were disclosing infection rates for front line medical staff.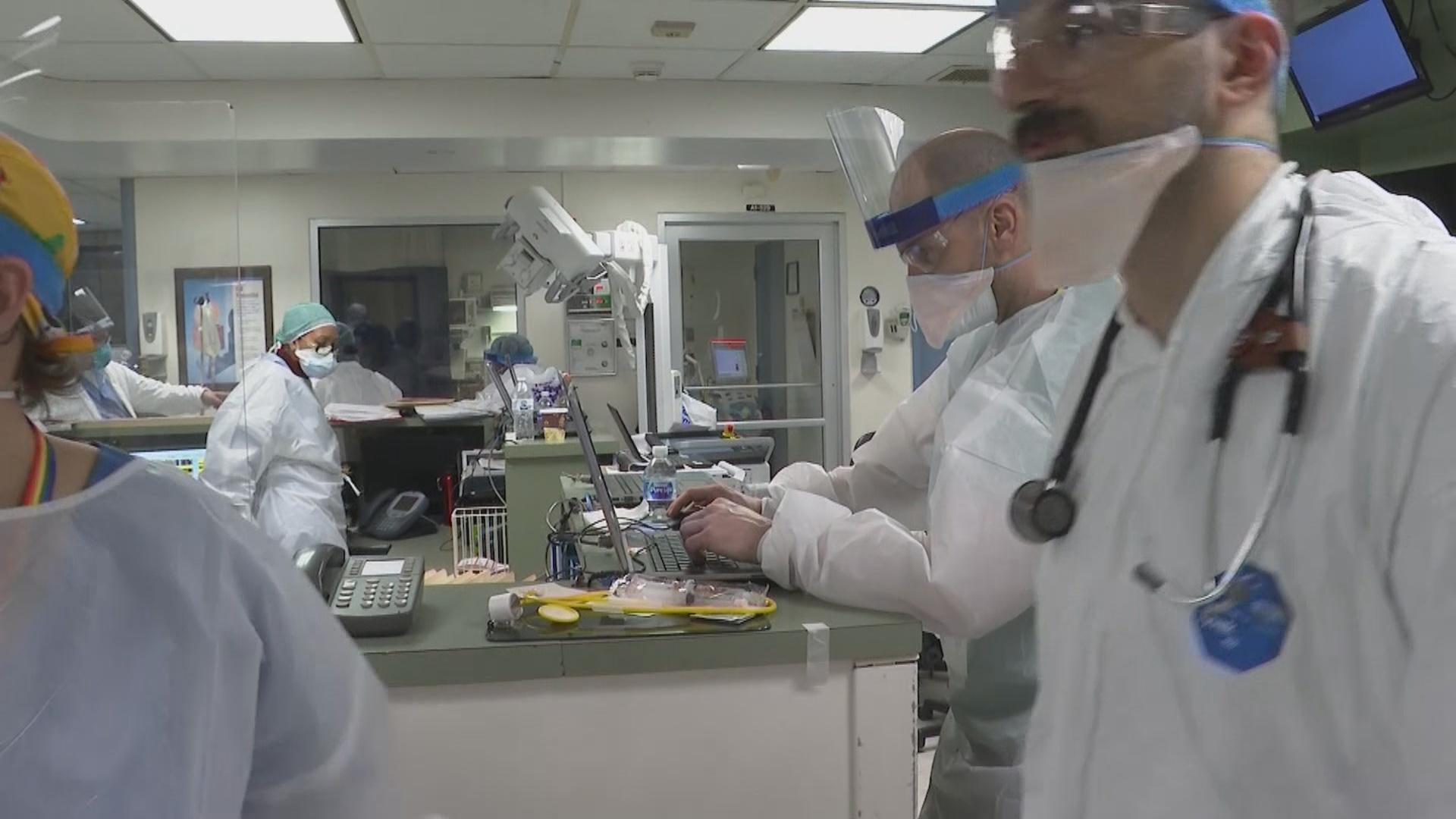 An emergency room at a New York hospital deals with coronavirus cases. (WTTW News via CNN)
Sean O'Grady, chief clinical operations officer at NorthShore University HealthSystem, which operates five hospitals and numerous clinics in the Chicago area, said that so far their supplies of protective wear for their health care workers were holding up.
"They are being provided the appropriate equipment and supplies to protect them and their patients," said O'Grady. "And we are in a constant dialogue to make sure that they feel that consistently."
O'Grady said that seeing the impact of the virus elsewhere had prompted NorthShore to spend the past month reorganizing its system to respond to the pandemic and it has converted one of its hospitals to deal exclusively with patients with symptoms of COVID-19. It has also developed a drive-thru testing facility which is currently testing roughly 1,000 people per day.
"As of this morning we had tested just over 10,000 people with symptoms with a 20% positive rate. So 2,000 have been positive of that 10,000," said O'Grady. "What we are seeing in our hospitals is that about 5% of those testing positive are needing hospitalization of some kind, usually difficulty breathing or other symptoms."
O'Grady believes Illinois' relatively early decision to order people to stay at home is already having an impact on the numbers.
"I can only speak for NorthShore, but I can say that the positive rate in the community has maintained consistently at around 20%," said O'Grady. "In other parts of the country we've seen that continue to go up significantly when there wasn't social distancing."
He added that NorthShore had redeployed ventilators from elsewhere in their system and have about 150 ready to be deployed, but that they were "not using close to that number at this point."
O'Grady said he had stopped speculating as to when the pandemic would peak in the state, but he thinks that the early social distancing measures will help to flatten the curve of infections in Illinois. 
"I would expect the experience in Illinois to be longer, meaning that there isn't that spike in cases that we've seen in other places and that cases are going to continue to spread, but at a slower rate — 20% instead of 40% — but there are still new cases being identified every day. A lot of that is because of testing, which is finally being expanded more broadly across the state. So I think this month will tell us a lot about when we may see a plateau and then a decline (in cases)."
Chauhan said that although he had seen some numbers that appeared to show tentative signs of improvement — a plateau in cases and slight reduction in deaths at one teaching hospital — it was too early to tell how well social distancing and other pandemic mitigation efforts are working. 
"We're finding more people are infected but I think that's the result of greater testing," said Chauhan. "We still need more testing and that will be critical in flattening the curve further."
---