Coronavirus-related shutdowns have had a dramatic impact on communities all across Chicago, but north suburban Highwood has felt the squeeze on two fronts. Many residents work as landscapers, painters and restaurant workers – some in the affluent North Shore suburbs surrounding Highwood. Many have been laid off.
Highwood is also the North Shore's destination for nightlife, restaurants, bars and music clubs, all of which have either been severely limited in their operations or completely shut down. When we visited on Thursday, the normally lively downtown street Sheridan Road was completely quiet.
The majority of the hospitality businesses are independently owned sole proprietorships. Isaac Naba, the owner of Isaac and Moishe's Deli and Taqueria, says his customers simply can't afford to buy his products anymore.
"Here we had many laborers, many employees that come to our business to get their supplies, their need, you know like beans, rice, all the vegetables," Naba said. "And unfortunately many are not able to work now at the restaurants or as painters or as landscaping people, they have no income coming. So it all has been affected."
Highwood restaurants have had some success adapting to a delivery and takeout model, said Highwood Chamber of Commerce President George Marktoutsas.
"They've done a fair amount of marketing and we've been trying to encourage people to dine out as much as they can to support these local businesses," Markoutsas said.
One business that opened last June had to make a quick adjustment. The 28 Mile Vodka distillery switched its entire production from vodka to hand sanitizer, and as a result, has been able to keep all of its employees.
"We had to cut off all our (vodka) operations about a week ago," said co-owner Eric Falberg. "We realized we had to make a lot of hand sanitizer because we got a lot of calls for it. First responders were asking for it. Honestly, we never thought we'd be in the hand sanitizer businesses. We opened up in June and not even a year later we're only making hand sanitizer."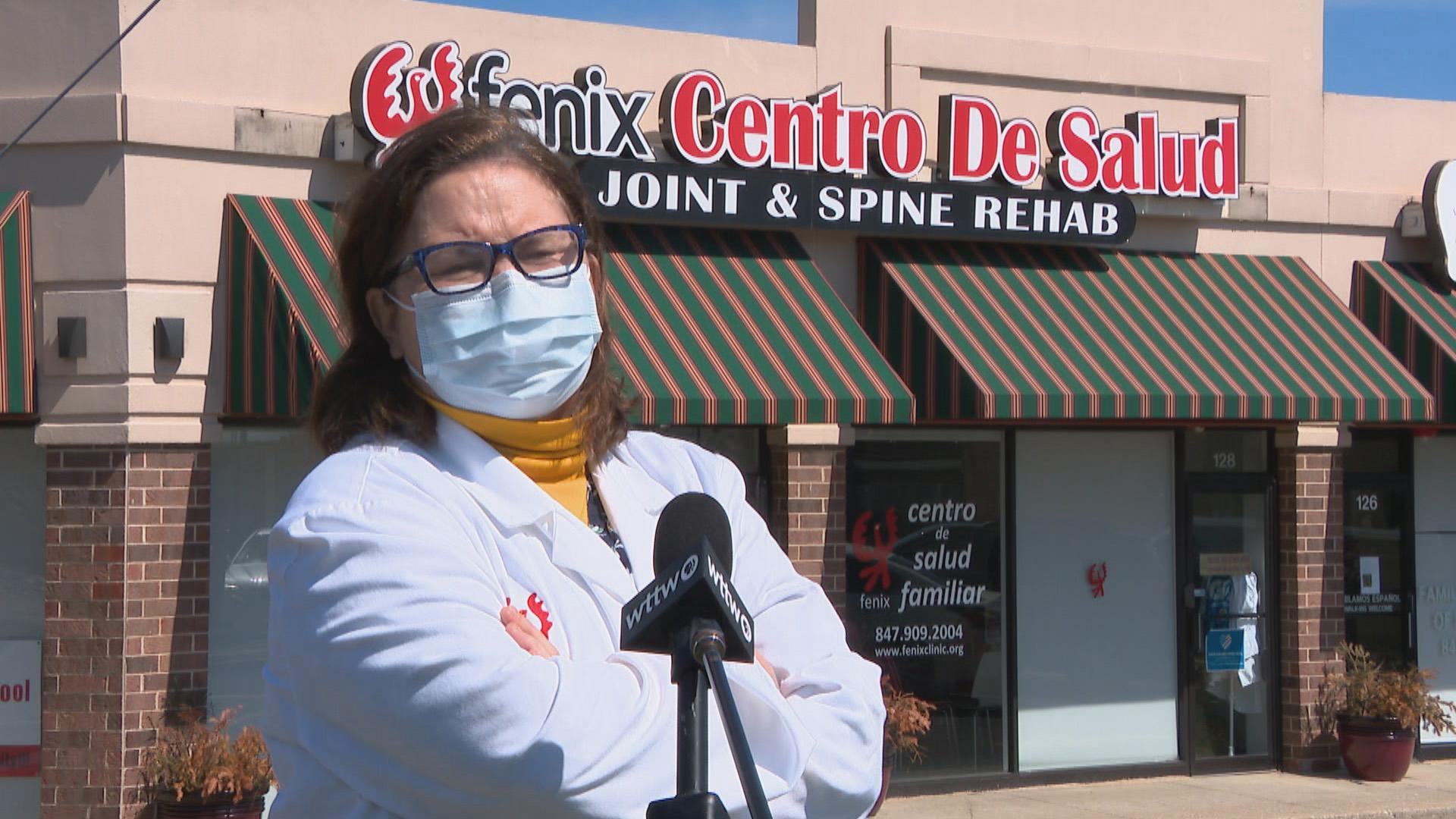 Dr. Louise Berner (WTTW News)
Meanwhile, many residents who work in the trades don't have health insurance. Community clinics, like the Fenix Family Health Center, go a long way in filling in the gaps for people on Medicaid or who have no insurance at all. Fenix's founder, Dr. Louise Berner, says she has been unable to get any COVID-19 tests but has had to treat an influx of patients exhibiting COVID-19 symptoms. She says many patients also exhibit extreme anxiety over their symptoms — and whether not they suggest COVID-19.
"We've known (the community residents) for years," Berner said. "And a lot of people are anxious. So I think we're providing a lovely support for them, helping them through this, giving them what they need, and explaining things to them in a way that they understand. I think its awful for everybody, but I think our role is to just be there with them during this really terrible time."
Berner also says she was distressed to learn from a couple of her patients exhibiting clear COVID-19 symptoms that they were forced to go back to work.
"A lot of them are still forced to work when they have symptoms. And they clearly probably have COVID if not some other infection. But many of them, they are still forced to work and it's obvious to me they have coronavirus," Berner said, noting that one of those patients works at a gas station and the other at a fast food restaurant.
Follow Paris Schutz on Twitter: @paschutz
---