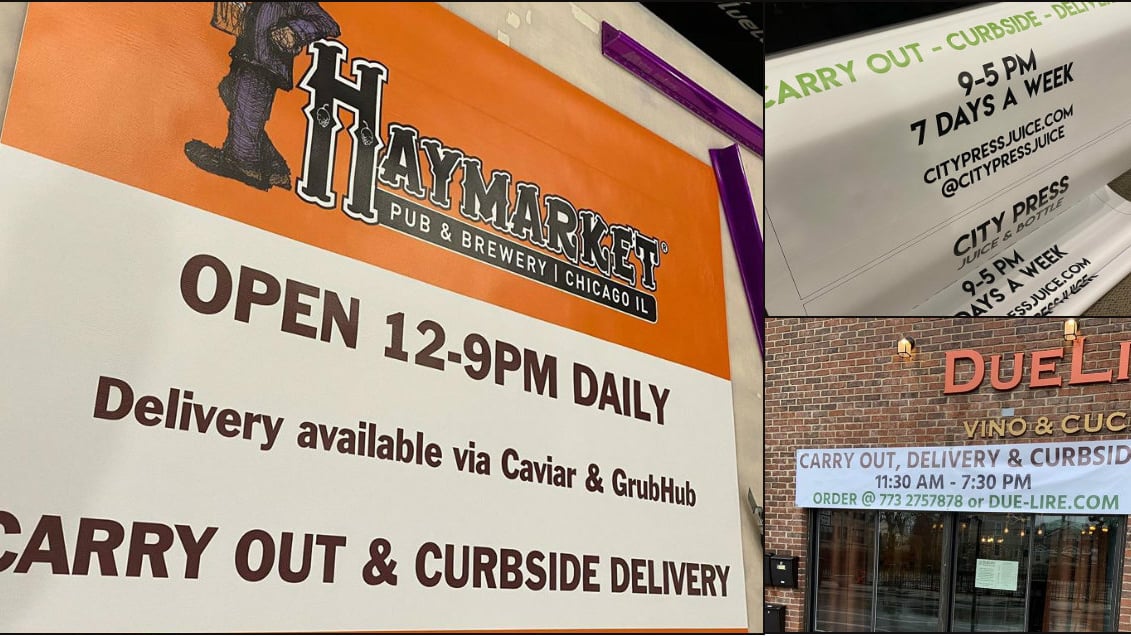 Free banner signs help business advertise their new hours and services during COVID-19 lockdown. (Courtesy of Snappy Printing and Graphics)
When his printing business dried up weeks ago due to mounting concerns about the new coronavirus, Tony Grammatis, owner of Snappy Printing and Graphics, started making work for himself.
Grammatis has extended an offer of free banners to any small business in need of signage during Chicago's COVID-19 lockdown. So far he's had 20 to 25 takers, from breweries and bakeries to juice shops and restaurants, all keen to announce their new hours and services and, most importantly, advertise the fact that they're still open in big, bold letters.
"Since I had to basically shut down my whole shop, I figured maybe I could still help other businesses that can stay open," Grammatis said. "I can do very little of the production work, but I know enough to make the banners. I can do my part and help other people out. That's all I'd really like to do. Help as many businesses as I can during these obviously troubling times."
Baker Miller cafe in Lincoln Square, which reconfigured its operations to create a walk-up window, is among those now displaying a Snappy sign.
"That was so generous of him. He was quick, offered to design it and was extremely communicative about it," said Dave Miller, co-owner of Baker Miller along with his wife Megan. "It meant so much to us and was something I hadn't even considered. I think it has really helped us a lot, too, because it has drawn so many people in."
Grammatis said he's already ordered more banner material and is prepared to keep printing freebies until he can reopen. He'll serve any business within reasonable delivery distance, or any owner willing to pick up a sign. (He can be contacted through Facebook, Instagram or email at [email protected].)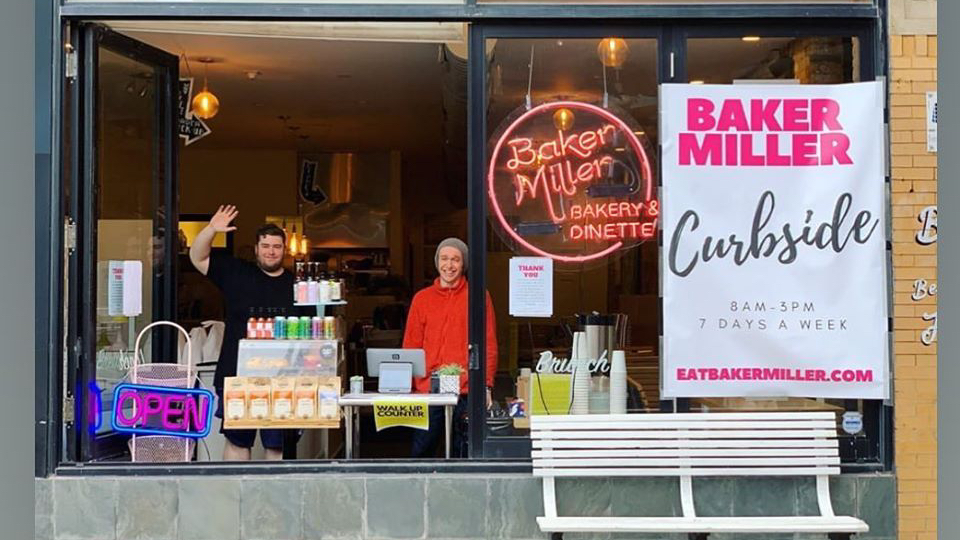 Baker Miller cafe in Lincoln Square, which reconfigured its operations to create a walk-up window, is among those now displaying a Snappy sign. (Courtesy of Baker Miller)
Snappy normally is humming with a dozen employees, all working on various screenprinting, embroidery and graphics projects, putting company logos on polo shirts, hats, mugs, mouse pads and pretty much anything with a printable surface. But at the moment, Grammatis is a one-man operation, with paying work having dried up weeks ago.
"I actually started noticing [a slowdown] in early February. I was like, 'Something's going on. This is not normal for us.' We've been growing year-over-year, and to see a dramatic slump, I'm like, 'Something's wrong, I'm not sure what it is,'" he said. "And then it just fell off the face of the earth with no orders coming in, customers not paying me, so I'm chasing money all the time. I know people are struggling, but I am too. But I'm doing what I can right now."
Grammatis has weather toughed times before, having founded Snappy after leaving his longtime job as a trader with the Chicago Board of Trade.
"I saw that was fading away to computer trading, which it's all gone electronic now," he said. "So I started in my parents' basement. I ordered a bunch of equipment to make all these things, and I had zero knowledge of what to do. So I had to YouTube everything. I figured everything out on YouTube."
His timing for launching a new business couldn't have been worse, though. The year was 2008, and the economy went into free fall. It would take five years for Grammatis to get to the point where he could hire his first employee.
"I've had some pitfalls throughout the years," said Grammatis. "Any time I had a setback of anything, I've always come back stronger. So the goal is to have my 12 people come back, and hopefully hire 12 more. I want to grow the business as much as I can."
In offering free signs, he's managed to introduce himself to fellow entrepreneurs who might not have been familiar with Snappy and its services. And maybe that good deed will reap future rewards.
"They come in the shop, at our distance of 6 feet apart, and they're like, 'Wow, you really have something going on here. When we get back up on our feet, we're going to come back, we're going to get all of our stuff done through you,'" Grammatis said.
"This is going to turn around, hopefully real soon," he said. "I hope I can help everybody out as much as I can."
Contact Patty Wetli: @pattywetli | (773) 509-5623 |  [email protected]
---