For many homeless people in Chicago, staying safely sheltered and isolated during the coronavirus outbreak simply isn't an option.
One nonprofit scours city streets looking for people in need and answering distress calls to provide medical attention, food or social services, like access to housing or an ID card.
The Night Ministry's Street Medicine Team takes extra precautions due to the highly contagious coronavirus: gloves and face masks are required wear on the streets and the team no longer shuttles people to emergency rooms, rehab clinics or other destinations, opting instead for ride-sharing services to decrease exposure.
Stephan Koruba, the Night Ministry's senior nurse practitioner, said he hasn't seen a confirmed case of the new coronavirus yet, but he does take note of any symptoms he observes.
"Some of the common signs and symptoms of opioid withdrawal could mimic the COVID-19 symptoms as far as maybe a little bit of sinus symptoms and a little bit of a cough, chills, things like that," Koruba said. "We do take temperatures of people reporting any of that, anyone with an above 100.4 above fever we're going and trying to get tested."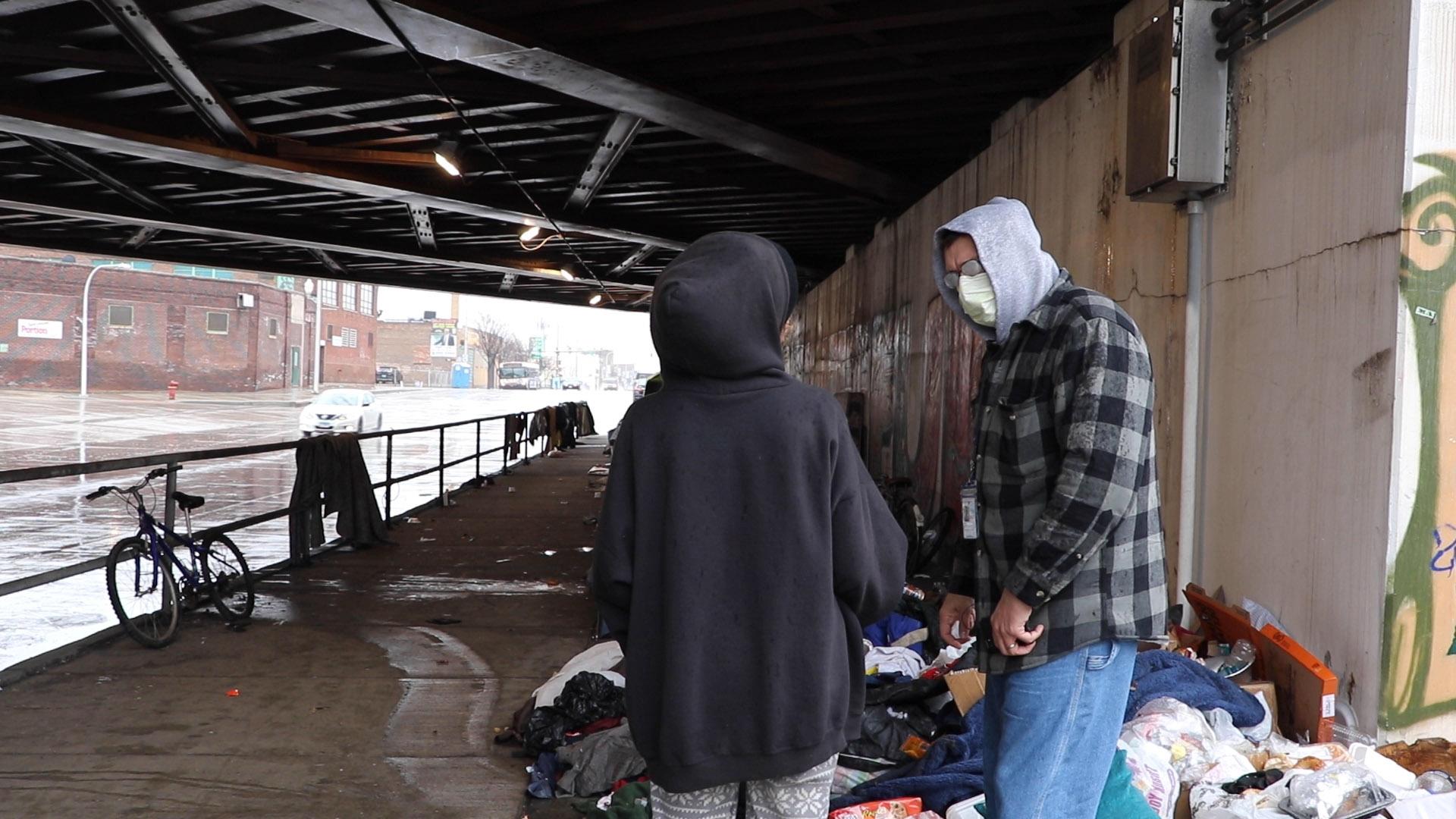 Stephan Koruba, a nurse practitioner with nonprofit The Night Ministry, speaks to a woman at a homeless encampment on Chicago's West Side. (Evan Garcia / WTTW News)
During this time of stretched medical resources, Koruba said he's encountered people struggling to find resources for substance abuse. 
"When you look at the hospitals that are going down to just dealing with the bare necessities – they're suspending some of their detox and rehab programs," Koruba said. "So even if they're becoming sick and using this as an opportunity to get into treatment, a lot of those options are cut down for us as well."
At the moment, the Night Ministry's Street Medicine team plans to continue hitting the streets during two shifts a day, six days a week, although a spokesman for the nonprofit said they're monitoring operations on a day-to-day basis amid the outbreak. 
Chicago's Department of Family and Support Services has a list of homeless services and resources.
Follow Evan Garcia on Twitter: @EvanRGarcia
---