While the state of Illinois has enacted a partial shutdown for restaurants and bars and nixed big public gatherings, one local community has taken it a step further.
Oak Park this week became the first Illinois town to issue a shelter-in-place order. Businesses and residents on Thursday made their final preparations for the order, which begins Friday and continues through April 3. 
The Book Table in Downtown Oak Park will be closed to in-store customers for at least the next two weeks. Owners Rachel Weaver and Jason Smith are preparing for online sales, but say they will lose significant business without their brick-and-mortar shop.
"People get to browse, people get to touch the books, people get our recommendations," Smith said of in-store customers. "There's this entire process that happens; the reason physical retail still exists. And that we lose."
Smith says he and Weaver will start a home-delivery service, and he said he's disappointed the order from the Village of Oak Park didn't include efforts for financial assistance.
"I think it would've been nice if this was combined with even a press release that said we are working as hard as we can, lobbying the governor," he said.
The shelter-in-place order was issued Wednesday. It requires businesses to cease most activities, but grocery stores, pharmacies, gas stations and other businesses deemed essential will stay open. It also prohibits any non-essential travel, whether by foot, car or public transit. 
Oak Park Village President Anan Abu-Taleb says the town has a high population of vulnerable residents.
"Here in Oak park we have nine nursing homes, two hospitals," Abu-Taleb said. "We don't want the hospitals to be overwhelmed."
So far, the village has reported three cases of COVID-19: one resident and two medical practitioners at Rush Oak Park Hospital.
Anyone who violates the new ordinance can potentially be charged with a misdemeanor. But Abu Taleb says the village is not looking to be punitive during the shutdown.
"We're not penalizing or punishing people," he said. "Again, this is just a way to let people know that this is serious."
Oak Park is the nexus for surrounding communities like Forest Park and River Forest. Those villages have not followed suit, but have strongly recommended residents shelter in place.
One of those residents is this reporter's mother, Jeannine Schutz, whose only trips now are to the grocery store and to walk her dog. She says the Oak Park order made her fully realize the gravity of the pandemic.
"Now I'm beginning to get a little scared because I am of that age bracket," she said. "But not scared enough to go wait in line at the store to get toilet paper."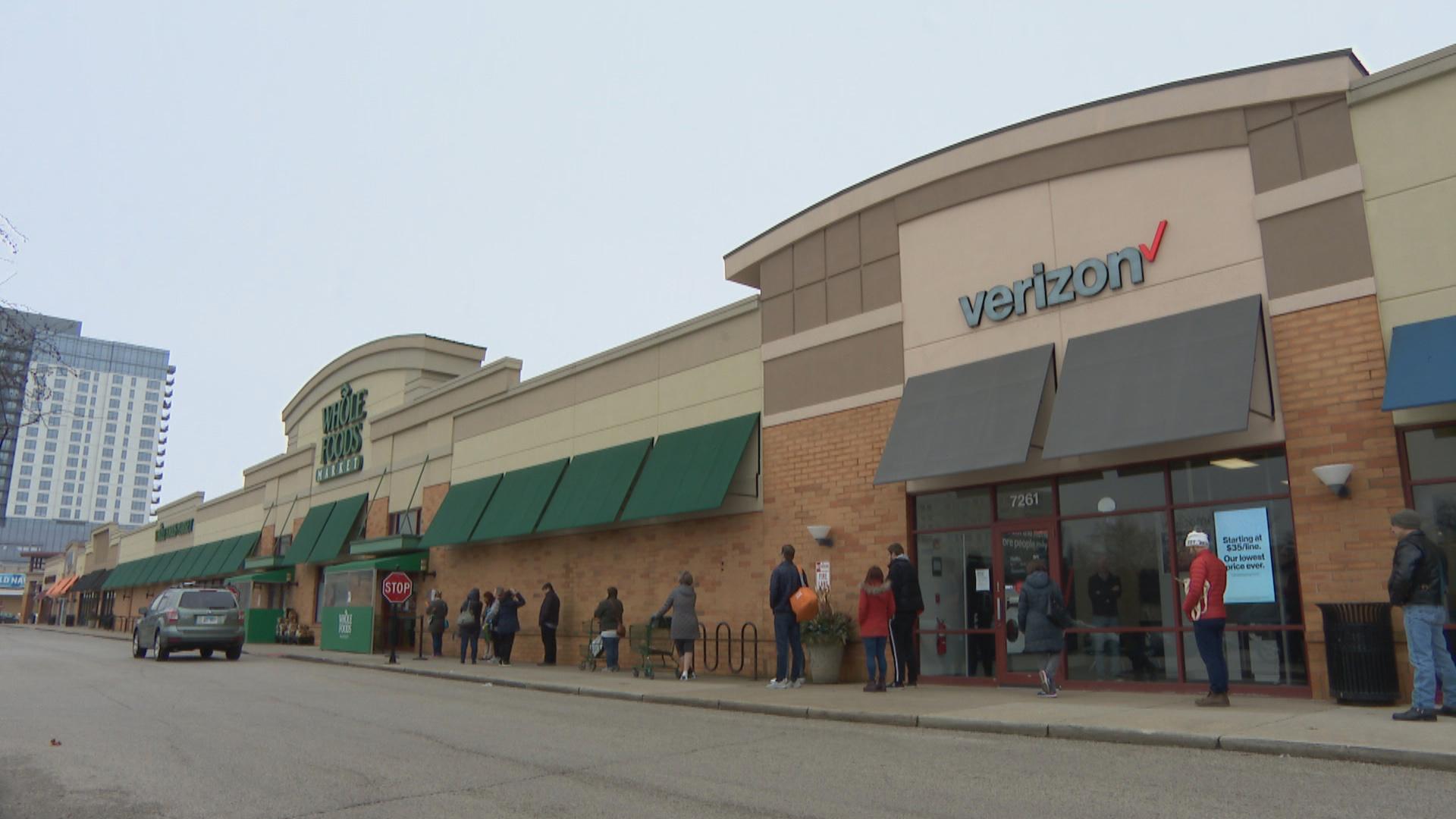 (WTTW News)
Residents at the nearest Whole Foods did line up to enter the store before the shelter-in-place order begins, and they appeared to heed calls for social distancing.
Business owners like Smith and Weaver say they're wary the order may last beyond the April 3 end date. And after that, all bets are off, they say.
"I can tell you what I plan to do for the next two weeks, but beyond that? I have no idea," Smith said.
Follow Paris Schutz on Twitter: @paschutz
---