U.S. stocks recorded their biggest single-day fall since the notorious Black Monday crash of 1987 as coronavirus fears accelerated and uncertainty ravaged the market Thursday.
The Dow Jones Industrial Average closed down 2,352.60 points or 9.99%.
"The amount of panic has simply increased," said Michael Miller, associate professor of economics at DePaul University. "A lot of this is psychological but it's going to have real effects on the economy over the next couple of months for sure."
Miller said panic selling had taken hold.
"I think people perceive a panic and when they see that everybody else is selling they unfortunately decide to sell. And this is the worst time to sell when the market is down this far," said Miller.
President Donald Trump's address to the nation Wednesday night struck the right tone and made it clear the administration was taking the coronavirus issue seriously, said Miller. He noted that some of the specifics, such as a proposed temporary payroll tax cut, would only help people who keep their jobs. But if you lose your job or are furloughed as a result of COVID-19 – which stands for coronavirus disease 2019 – a payroll tax cut is not going to help.
According to Ed Stuart, professor emeritus of economics at Northeastern Illinois University, part of the reason for the sell-off reflects "confusion at the top" of government that goes beyond just the president.
"The ship is rudderless and market people are getting spooked and rushing to cash as fast as they can, as happens every time there's some kind of strange situation like this," said Stuart.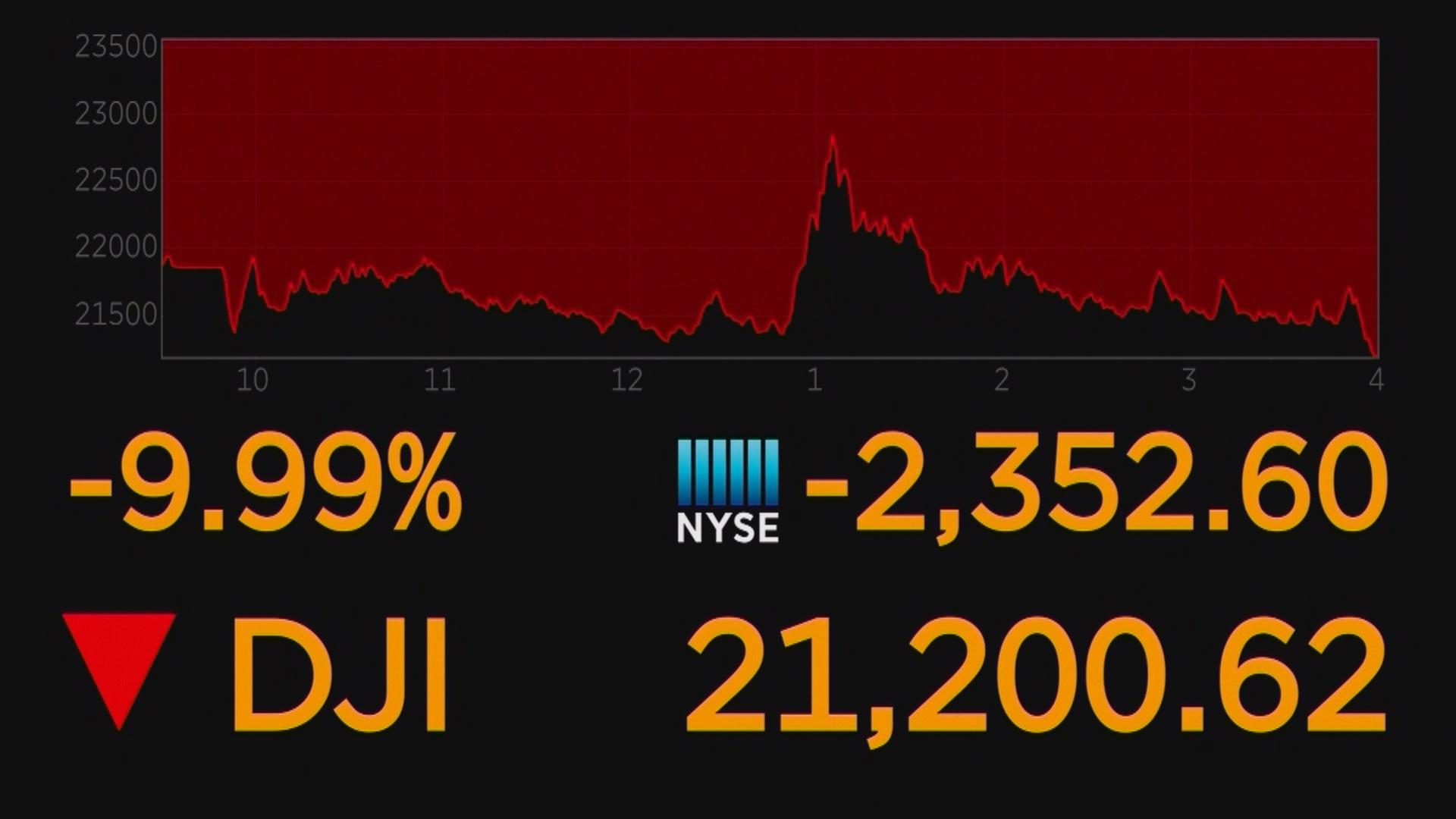 (WTTW News via CNN)
Economists expect the entertainment, travel and hospitality sectors to be particularly hard hit as people begin to isolate themselves and reduce social interactions.
"So much of it depends on how much people withdraw from the economy," said Miller.
Public health experts believe the worst is yet to come. But because of a lack of testing capability in the U.S., it's impossible to know how widespread the virus is. And should the U.S. have to impose the kind of emergency measures now seen in Italy, with that country on virtual lockdown, Miller says that would inevitably tip the economy into recession.
"This came completely out of nowhere. It is a black swan event. No one could have foreseen this coming," he said.
And if it shakes consumers' confidence in the economy, they will spend less.
"The real economy itself is at the mercy of the people who are buying and if you and I stop buying we will drag the economy down," Miller said.
Stuart, who earlier this week flew into O'Hare International Airport, said you can already see the slowdown in economic activity.
"I flew back Tuesday night from Spokane, Washington, and the cab driver who picked me up said he had been waiting there for five hours for a fare," said Stuart. "There was a guy on my flight, a United executive, who said their demand hit was bigger than 9/11."
Without sufficient help, Stuart fears that many small- and medium-sized businesses could go to the wall. But he said that one advantage the U.S. has over countries like Italy, France and Germany is that it is much less dependent on imports and exports.
"We are a fairly closed economy which means that 90% of our GDP is internally generated. So it's not going to be as big a hit as it would be to someplace like Italy which depends much more heavily on imports and exports," he said. "So the good news is it's only going to knock about 10% off our GDP – which of course is a large recession – but it's not going to be 20 or 30%."
Ultimately, both Miller and Stuart say the future of the economy is closely tied to consumer confidence, which in turn feeds the rise, or fall, of the stock market.
"I think it is mainly psychological," said Stuart. "If the run up (of the stock market) was based on irrational exuberance then the run down is based on irrational pessimism."
---