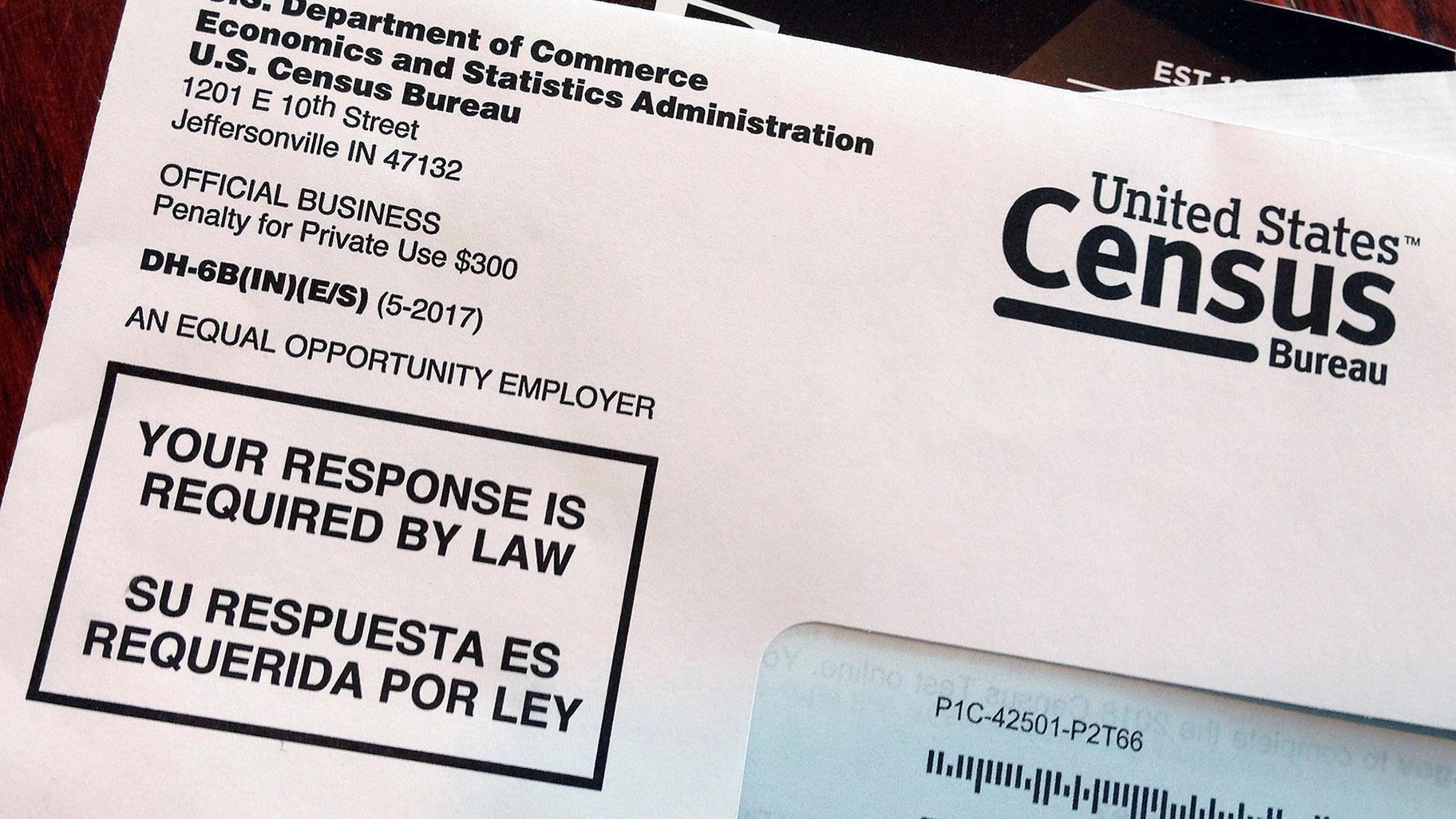 This March 23, 2018, file photo shows an envelope containing a 2018 census letter mailed to a U.S. resident as part of the nation's only test run of the 2020 Census. (AP Photo / Michelle R. Smith, File)
If it hasn't already, an invitation should be arriving in the mail any day now – an invitation to participate in the 2020 U.S. Census.
While this early outreach is going the snail-mail route, for the first time it's possible – encouraged, even – for anyone to respond to the census over the internet.
It's the first time the government's once-in-a-decade effort to collect population data about who lives in the United States, and where they live, will be primarily conducted online.
"It is going to be very easy for individuals to be counted because they can be counted online, and they can be counted by telephone," said Marilyn Sanders, Chicago's regional director for the U.S. Census.
The more people that do it, the better.
That's not just because, as census, government officials and community organizations continue to stress, Illinois and Chicago are literally counting on as many people as possible to participate in order for the state and city to receive as many federal dollars as possible – Illinois receives $19 billion each year on account of census results, according to Illinois Department of Human Services Secretary Grace Hou.
"These nine questions are important for your family, your neighbor, your city, your county and your state because your response determines Illinois' infrastructure, meaning roads, hospitals, schools, grocery stores, and fire stations," Hou said. "It determines how many congressional seats Illinois has in Washington. It is our voice in this country."
The number of households that return their census questionnaires this month will impact the number of workers who will have to go door-to-door this spring to personally encourage residents to fill out the form.
That is, participating in the census by phone or online will allow individuals to avoid face-to-face interactions with census workers.
That could be a concern, now that the World Health Organization has classified the novel coronavirus as a pandemic.
Sanders said that the Chicago region has recruited 100% of the workers it needs, though some may back out before training begins next month. She was unaware Thursday of any contract workers opting out because of concerns over COVID-19.
She said her operation will follow guidelines from the Centers for Disease Control and Prevention.
Guidance from the Census Bureau states that, "if we need to delay or discontinue nonresponse follow-up visits in a particular community, we will adapt our operation to ensure we get a complete and accurate count. Currently, we are successfully conducting fieldwork for some of our non-decennial surveys by phone in areas where we are seeing an outbreak."
Hou said Illinois will work with the bureau and the state public health department to "ensure the health and safety of individuals who are participating in census enumeration" especially in an ongoing effort to reach hard-to-count communities.
"We see the census as an extension of those same precautions that we would take for other types of care," Hou said, emphasizing the option for participation by phone, smartphone and computer. "We understand that some individuals will still need assistance potentially from a live person ... we will take every precaution from public health."
While the first census invitation should arrive in the mail any day from Thursday through March 20 (with three subsequent reminders, including a mail-in questionnaire for the final round), Sanders says for the first time it's not necessary to wait for the code that will arrive with that invitation thanks to what she called "non-ID processing."
In other words: If the coronoavirus has you working from home or you just want to get an early start on getting counted, you can go online and submit your information without waiting for a household code to arrive via the old-fashioned post.
Follow Amanda Vinicky on Twitter: @AmandaVinicky
---