Cook County voters have a rare opportunity this year to choose an Illinois Supreme Court justice.
It's rare because not only do each of the seven members of the state's high court serve 10-year terms, once elected they no longer need to run against opponents – once a decade, they stand uncontested for retention, which requires receiving the support of 60% of those voting.
No Republicans are running for the First District seat, which the Democrat who wins the March 17 primary will likely make it on the bench. The seven candidates, in the order they'll appear on the ballot, are: Jesse Reyes, P. Scott Neville, Shelly Harris, Cynthia Cobbs, Margaret McBride, Daniel Epstein and Nathaniel Howse.
Judicial races aren't like other political contests – judicial candidates have to abide by certain fundraising restrictions and candidates don't openly share their views on current events.
Still, judicial races are political; the candidates are running as partisans, after all.
Justice P. Scott Neville won the backing of the Cook County Democratic Party. He's also the incumbent, who in 2018 was chosen by the Illinois Supreme Court to fill retiring Justice Charles Freeman's seat (Freeman died last week.).
"It is very important in my judicial philosophy, keeping the scales of justice balanced, ensuring people don't only get the justice they can afford, but the justice they deserve," Neville said.  
Neville says he was part of instituting a rule to mandate judges begin civil trials by issuing an instruction about implicit bias, something that previously had been discretionary.
"Not only does that instruction remind jurors, but also the judges, that we all – including me – have biases and prejudices and we should not permit those biases and prejudices to influence our decisions," he said. "Being on the Illinois Supreme Court is a tremendous responsibility. I have seen a number of problems and I have worked on a number of solutions."
One of those issues, he says, is the number of individuals who represent themselves in court.
Appellate Judge Cynthia Cobbs says she has an idea that would help: Already, third-year law students are permitted to practice some law under the supervision of a licensed attorney. She wants to require these practicing law students to devote some of that practice to representing litigants who wouldn't otherwise have an attorney.
"It would certainly aide in getting those litigants the help that they need and it also, I think, helps with the court's own initiative to make certain that law students understand the need to give back," Cobbs said. "So you kill two birds with one stone."
Cobbs previously was director of the Illinois Court systems' administrative offices, so she says she could hit the ground running.
"Supreme Court Rule 3 vets in the Supreme Court a tremendous amount of authority to manage the practice of law, to manage legal processes in the court, to manage judicial education, to manage probation services, to manage the licensing of senior law students," Cobbs said. "So many aspects of the administrative work are second nature to me."
Appellate Judge Margaret McBride said she has been part of a committee that's taking up the issue of individuals without legal representation and therefore represent themselves.
"The mortgage foreclosure crisis, debt that has been created for many people, they don't have access to the courts because most of them can't afford an attorney," she said. "So we're trying to improve that. We've done things with language access. We've created forms that are easy for people to use."
Appellate Judge Jesse Reyes said a top priority is to address the high rates of individuals in jail who have mental health issues. He proposes forming a commission to study the issue – while they're inmates, as well as once they're released.
"We need to address that, we need to try to get them to where they need to be in order to get the treatment – to be diagnosed, assessed in terms of their condition," he said.              
Meanwhile, Appellate Judge Nathaniel Howse said that while he has made a point to have a case backlog of zero, he noticed some of his peers had years-old cases complete save for the judge issuing a decision. He said he helped to institute a new rule requiring judges give a reason – in writing – for any case that has gone without a decision for six months.
"And as a result of that rule being passed, within a couple of months the number of cases over six months dropped to virtually zero," he said.
He wants to expand that rule to the rest of Illinois' courts.
While Daniel Epstein is the only candidate who is not a practicing judge, the attorney has a lot of ideas for changes he said should be made to the courts system, ranging from tightening conflicts of interest restrictions for Supreme Court justices to requiring judges give a reason when they hand down sentences.
"They say 'Guilty, 25 years. Next case!' But they don't have to explain how they got 25 years which is a big problem because sentencing is an error-prone process, and if someone makes a mistake but doesn't explain how they got it, it's very difficult to fix on appeal," Epstein said. "Rules have been really overlooked by many. But they are so important. The fairest judge cannot achieve justice in any unfair system. We need systemic reform."
The campaign of the final candidate, Appellate Judge Shelly Harris, did not return Chicago Tonight's repeated requests for an interview.
But his name may nonetheless be familiar: The latest campaign filings show he had more money in his campaign fund then his opponents, thanks to $2.5 million in self-funding.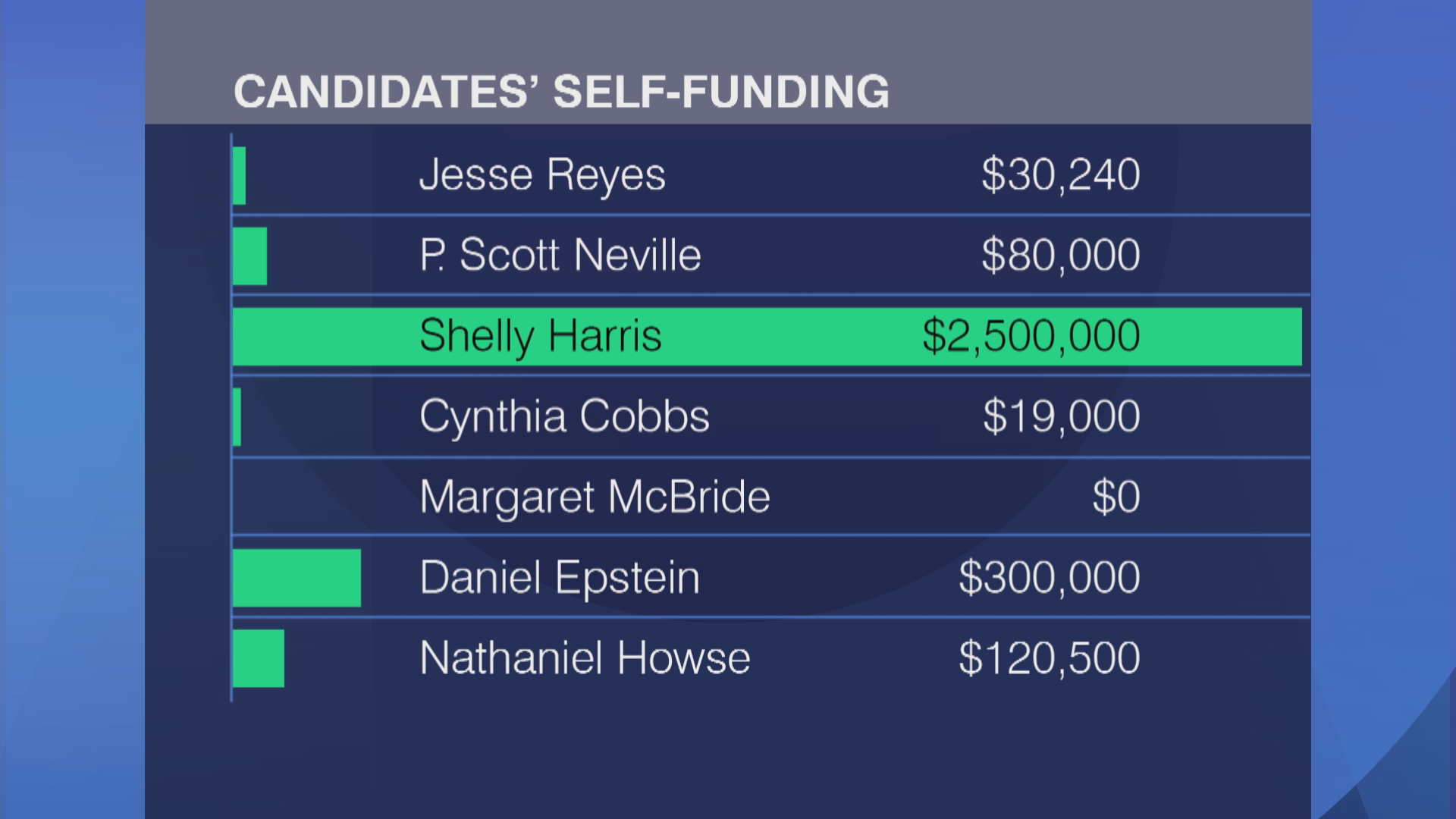 Follow Amanda Vinicky on Twitter: @AmandaVinicky
---