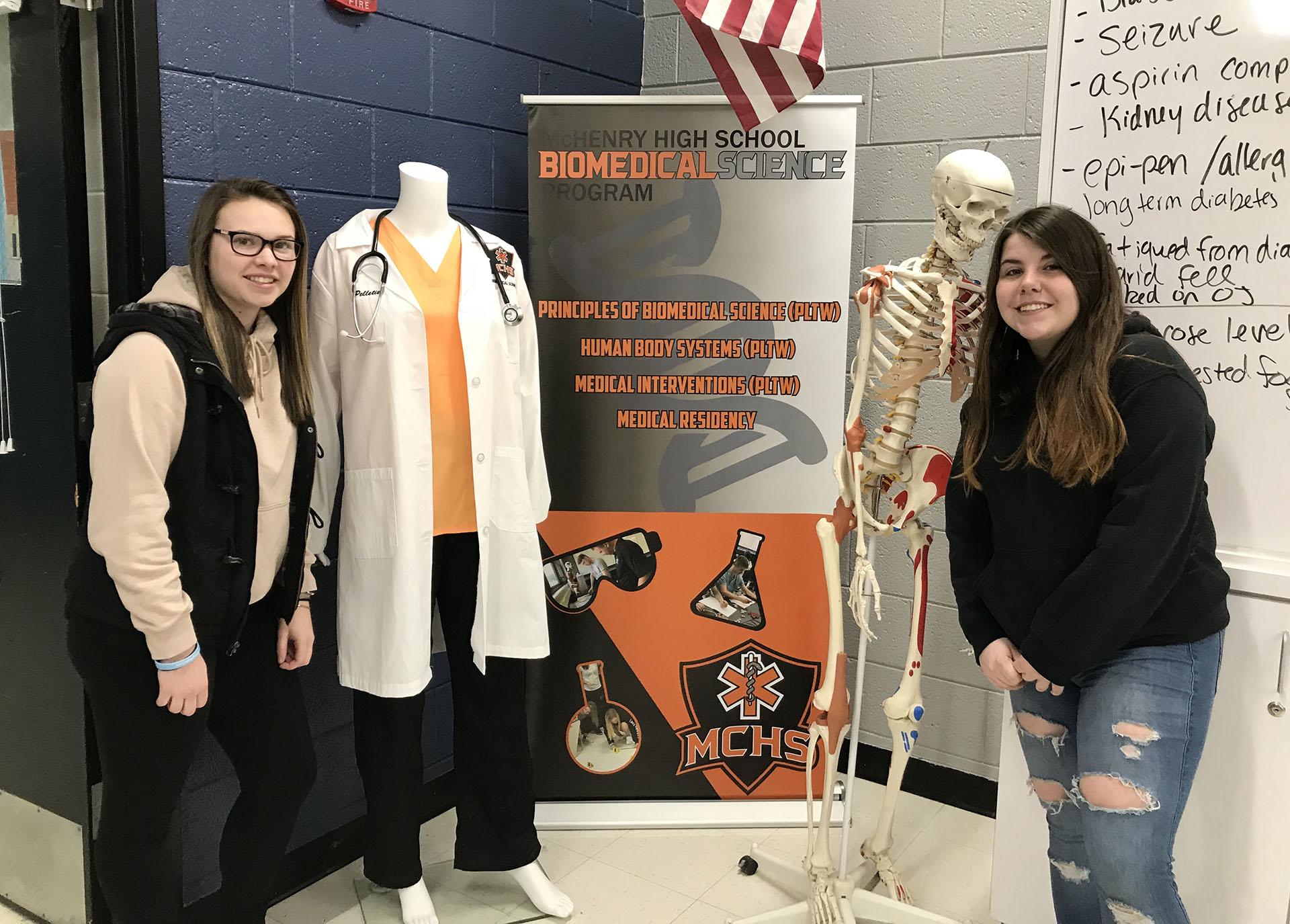 Sarah Touhy, left, a 2019 graduate of McHenry High School's East Campus and Breanna Darcy, a senior at McHenry High School's West Campus, pose for a picture on Jan. 15 in the biomedical science classroom at the east campus. (Courtesy of McHenry High School)
Sarah Touhy was driving alone on a June night last year when she came upon the aftermath of a motorcycle accident on Bull Valley Road in the northwest suburbs.
"It's a very dark road. Very twisty, turny and winding," said Touhy, who was 18 at the time. She pulled over to help.
After confirming 911 had been called, Touhy checked the pulse of the victim, a motorcyclist who was laying on the ground. She tried to get him to talk. "I kept asking him if he could hear me or squeeze my hand if he could hear me," she said. 
Touhy remained on the scene until paramedics and police arrived. According to reports, the injured man, 42-year-old Esteban Tellez, was pronounced dead after his arrival at Northwestern Medicine McHenry Hospital.
Touhy says she helped that night because she felt prepared to respond. And she credits that confidence to a biomedical sciences class she took at McHenry East High School.
"I knew how to take his pulse from that class," said Touhy, now a freshman at Carroll University in Waukesha, Wisconsin. "I was running on confidence and adrenaline because of that class. I don't know what I would've done if I didn't have that class."
The principles of biomedical science class is part of the biomedical science program at the McHenry High School district that culminates with a youth residency program with Northwestern Medicine. This is the second year the district has offered the program, created by Project Lead the Way, a national nonprofit that develops STEM curriculum for elementary, middle and high schools. Roughly two dozen Chicago-area schools offer the program.
"We cover a lot of the topics of biology but with a medical twist," said Leah Pelletier, a biomedical science teacher at McHenry East High School. "The focus is on human aspects of biology and disease, and how the body is affected by diseases and treatments for diseases."
During the yearlong class, students learn about different illnesses and the complications that can arise from them. For McHenry West High School student Breanna Darcy, a lesson on diabetes was critical. Because of it, she was able to recognize that her brother, who has type 1 diabetes, was suffering from a life-threatening condition, called diabetic ketoacidosis, and get him medical treatment.
"It's probably every teacher's dream – what you're teaching in class kids are actually using. Unfortunately, (Breanna's) brother had to be sick from it," said Laura Dziubinski, who teaches biomedical science and the medical residency class at McHenry West High School. "But on the positive end, she remembered what she learned in class and used it in real life."
Students learn about various illnesses by investigating the mysterious death of the fictional Anna Garcia, whose health and underlying medical conditions are revealed in labs and lessons throughout the year.
"She has diabetes, sickle cell anemia, cardiovascular issues and also has an infection going on. We look at how all those things connect and decide which one we think at the end of the year was the ultimate cause of her death," said Pelletier. "It's a mystery to crack and solve, and adds a different element than a typical class."
While the program is geared toward preparing students for careers in medicine, classes are open to all, regardless of their career aspirations. "It's important for all of us to be aware of how our body works and how disease can affect the body," said Pelletier.
Touhy, who is studying to become a physical education teacher, thinks everyone should take the class. "Everyone should know what goes on in the body and how things work," she said. "This you can actually use every day in your life."
Contact Kristen Thometz: @kristenthometz | (773) 509-5452 |  [email protected]
---