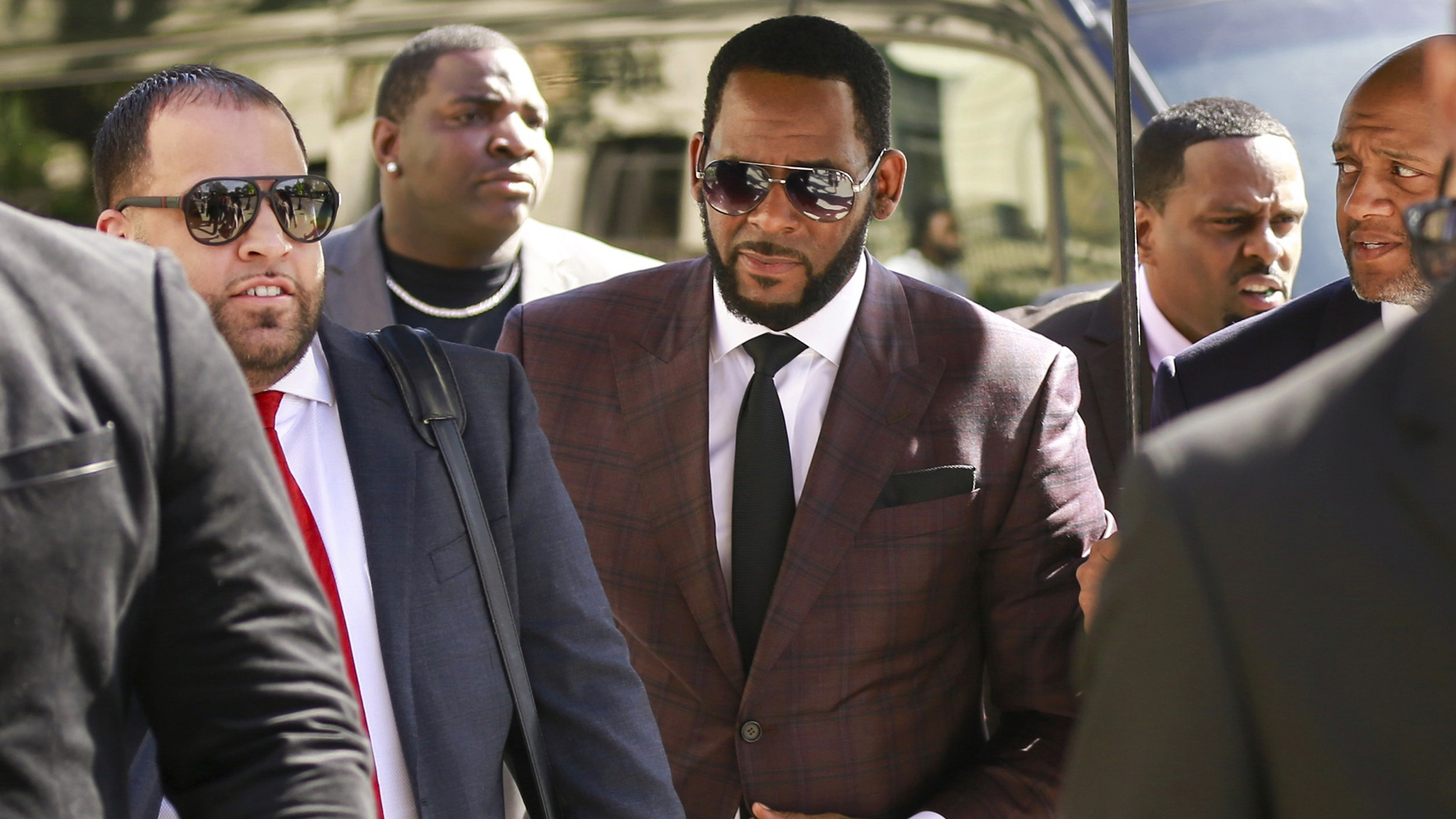 In this June 26, 2019, file photo, R&B singer R. Kelly, center, arrives at the Leighton Criminal Court building for an arraignment on sex-related felonies in Chicago. (AP Photo / Amr Alfiky, File)
Already facing the possibility of three separate trials in 2020, R&B singer R. Kelly was hit with a new federal indictment this week alleging he engaged in sexual activity with a minor over the course of four years in the late 1990s.
In a superseding indictment made public Friday in the U.S. District Court in Northern Illinois, federal prosecutors charged Kelly with aggravated criminal sexual abuse of a victim identified only as "Minor 6."
The initial 13-count indictment filed in Chicago federal court details efforts to cover up sexually explicit videos of Kelly with underage girls. Prosecutors say the defendants paid hundreds of thousands of dollars to victims and witnesses to make sure they wouldn't cooperate with law enforcement. It also accuses Kelly of using physical abuse, violence and blackmail to prevent victims from providing evidence to law enforcement.
That indictment, filed against the 53-year-old Chicago native last year, named only Minors 1 through 5. But the new filing removed Minor 2 and instead added Minor 6, alleging the sexual abuse lasted from 1997 until approximately December 2000. It also seeks forfitures from Kelly and his two co-defendants, Derrel McDavid and Milton Brown, that include Kelly's production company Bass Productions, Ltd, and another company, Winkler & McDavid, Ltd.
The indictment offers few details about the new accuser. It says she met Kelly around 1997 or 1998, when she would have been 14- or 15-years-old. It says Kelly engaged in sexual contact or sexual acts with her when she was under 18.
Kelly will be arraigned under the reworked indictment. That could happen March 5, a date set previously for a status hearing. The trial date remains April 27, though that will likely be pushed to later this year.
It's unclear why Minor 2 no longer appears to be on the prosecutors' list of alleged victims.
The federal charges in Chicago accuse Kelly of filming himself having sex with underage girls and of paying off potential witnesses in his 2008 trial — at which he was acquitted — to get them to change their stories.
In a tweet, Kelly's attorney Steve Greenberg said "We are aware of the superseding indictment. We continue to fight for him and look forward to the day he is free."
Kelly already faces charges of racketeering, kidnapping, forced labor and the sexual exploitation of a child in the Eastern District of New York, and multiple charges of aggravated criminal sexual assault in Cook County.
He remains held without bond in the Metropolitan Correctional Center in downtown Chicago, and has trials scheduled this year in New York, Chicago and Cook County courts.
Kelly has pleaded not guilty in each case.
The Associated Press contributed to this report.
Contact Matt Masterson: @ByMattMasterson | (773) 509-5431 | [email protected]
---