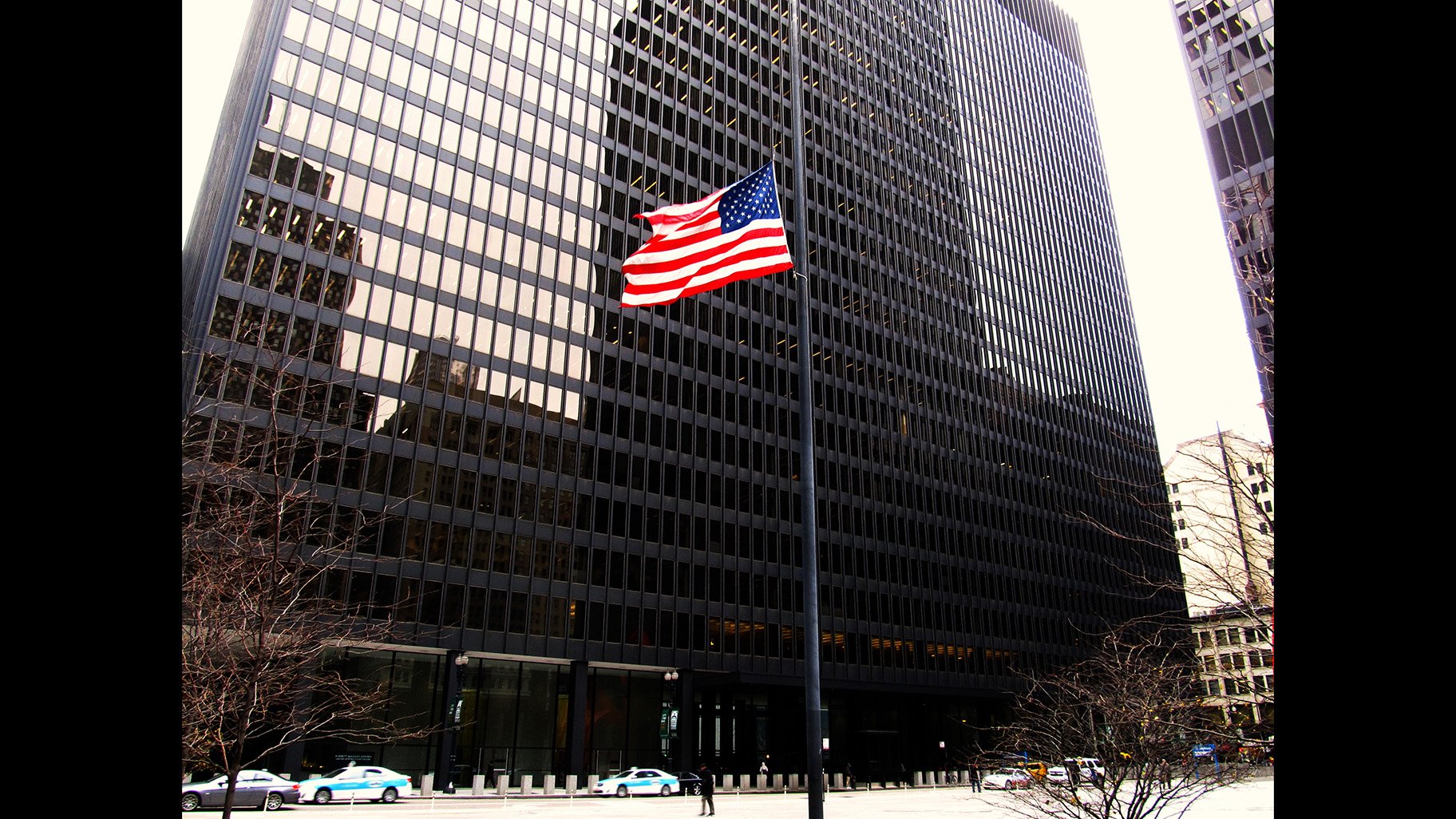 Dirksen United States Courthouse (Ken Lund / Flickr)
A Chicago doctor is suing an Illinois-based medical organization, claiming she faced "fierce retaliation" and was ultimately terminated after blowing the whistle on alleged cost-cutting practices that she says put patients at risk.
In a federal lawsuit filed Monday, Amanda Lund argued she was retaliated against by Midwest Post Acute Health Care, which allegedly denied her pregnancy accommodations, discriminated against her because of that pregnancy, and fired her illegally weeks before she gave birth.
"MPAC's retaliation against Dr. Lund and refusal to accommodate her pregnancy was shameful and they should be held accountable for the serious harm it caused," her attorney Kevin Love Hubbard said in a statement.
According to the complaint, Lund joined MPAC – which provides health care services to nursing homes and similar facilities – as its medical director in 2017 and was tasked with creating a new palliative care program. But she was also relied upon to provide Medicare oversight because the company had not hired a compliance officer.
As early as September 2017, Lund reported fraudulent billing practices that amounted to MPAC attempting to "double dip" Medicare payments for its social workers, according to the complaint.
"Dr. Lund knew that these practices amounted to Medicare fraud, which she refused to participate in," the complaint states. "She swiftly informed Mr. Shaw and Mr. Martinez of the problems with the billing practices and encouraged them to make changes to bring MPAC into compliance."
Even so, those practices allegedly continued for another three months, relenting only after two health care attorneys hired by MPAC agreed with Lund's findings. According to the complaint, she later uncovered more violations at Lutheran Home – a suburban care center Lund's company had partnered with – where MPAC was allowing nurses to handle calls without support, rather than hiring additional physicians.
This was done, the complaint states, in order to "prioritiz(e) profits over patients."
Brave whistleblower stands against fraudulent Medicare practices, unethical medical treatment, and pregnancy discrimination! We stand with her as she speaks out for patient and employee safety. https://t.co/a8tfazOpe8

— Medina Orthwein LLP (@MedinaOrthwein) January 7, 2020
---
Throughout 2018, Lund also found alleged state privacy and HIPAA violations and discovered an MPAC leader had suggested the company "pick and choose" which malpractice incidents to report to its insurance carrier.
Lund alleges the retaliation began that year as her workload doubled because MPAC refused to provide her with additional staff to cover the needs at Lutheran Home.
When she learned she was pregnant in March 2018, MPAC failed to modify her schedule or job duties, according to the complaint, and instead "escalated its retaliation" by relocating nurse practitioners and making her work environment difficult to the point she "believed MPAC was attempting to force her to quit to avoid having to accommodate her pregnancy."
"My life got crazy," Lund told WTTW News. "It was stressful … I was deeply concerned about the pregnancy and my health, but even more than that, the patients and not wanting any mistakes to happen and really feeling this need to be highly vigilant in terms of reviewing everything on my own."
During this time, Lund said she also suffered multiple medical issues that put her at a higher risk of having a miscarriage.
In October 2018, she complained to her superiors that she was being denied the reasonable accommodations recommended by her own medical provider and was being subjected to a hostile work environment, the complaint states. Two weeks later, she was informed she was being terminated.
The 10-count lawsuit alleges MPAC discriminated against Lund based on both her gender and pregnancy, and violated the Illinois Whistleblower Act and Americans with Disabilities Act. MPAC did not respond to a request for comment Wednesday.
Lund said she hopes her lawsuit can start a conversation about how those laws are enforced to help better protect pregnant women in the workforce.
"One of the things is to have these laws that you read and you feel so reassured," Lund said. "But to have it mean nothing until it's too late, that's hard for me."
"I don't think pregnant employees know how to talk about this and how to protect themselves," she continued, "and ultimately you want to be a good employee and do your job, and it's at the sacrifice of your health, and in my case, my baby's health. It would be nice if people knew that there's recourse and that they're not alone."
Contact Matt Masterson: @ByMattMasterson | [email protected] | (773) 509-5431
---