Video: A conversation with State Rep. Jonathan Carroll and Sylvia Smith, executive director of Giant Steps, a therapeutic day school for children with autism in west suburban Lisle.  
---
State legislators are searching for answers after bombshell reporting revealed that schools across Illinois illegally secluded and restrained students thousands of times in recent years. But beyond extra training and oversight, some believe a "total sea change" is needed to fully end this abuse.
Advocates and educators spoke in Chicago on Tuesday during a public hearing before the joint Senate Education and House Elementary & Secondary Education committees, hoping to give state leaders a better sense of what must be done to address student isolation and seclusion.
An investigation by the Chicago Tribune and ProPublica Illinois revealed in November that staffers in schools across the state placed students into isolation some 20,000 times between the 2017-18 school year and into December 2018.
More than half of those records give no reason as to why isolation was necessary.
In response, state Sen. Ann Gillespie and State Rep. Jonathan Carroll filed identical bills in November seeking to make Illinois the 20th state to ban the use of isolation rooms, claiming their misuse violated both state law and Illinois State Board of Education rules.
"Some of the specifics in those articles were truly horrifying," Gillespie said Tuesday, "and we need to ... do what we can to protect students in their classrooms."
A report from the @chicagotribune and @ProPublicaIL found that misbehaving children were disciplined by locking them in a seclusion room sometimes for hours, alone. The practice has found to be mentally devastating. An emergency ban was instated; now lawmakers want change.

— IL Senate Democrats (@ILSenDems) January 7, 2020
---
Only one student testified Tuesday about their first-hand experience. Joey Magyar, now 20, said he was forcibly restrained by multiple staffers inside a suburban special education high school when he was 16.
Struggling about his move to this new school, Magyar said he lay down on the ground, but was quickly grabbed by two employees who pulled him to his feet and held him up against a wall by his arms. Magyar couldn't say exactly how long this went on for, but according to an incident report drafted later, he was held there for some 45 minutes.
During that time he was mocked by an administrator at the school as four or more employees alternated holding him against the wall. A day later, he suffered a similar experience.
"Even now when I think back, I think that's the most amount of people I've had giving me attention in school for that amount of time that I've ever had," he said, his voice occasionally breaking as he fought back tears.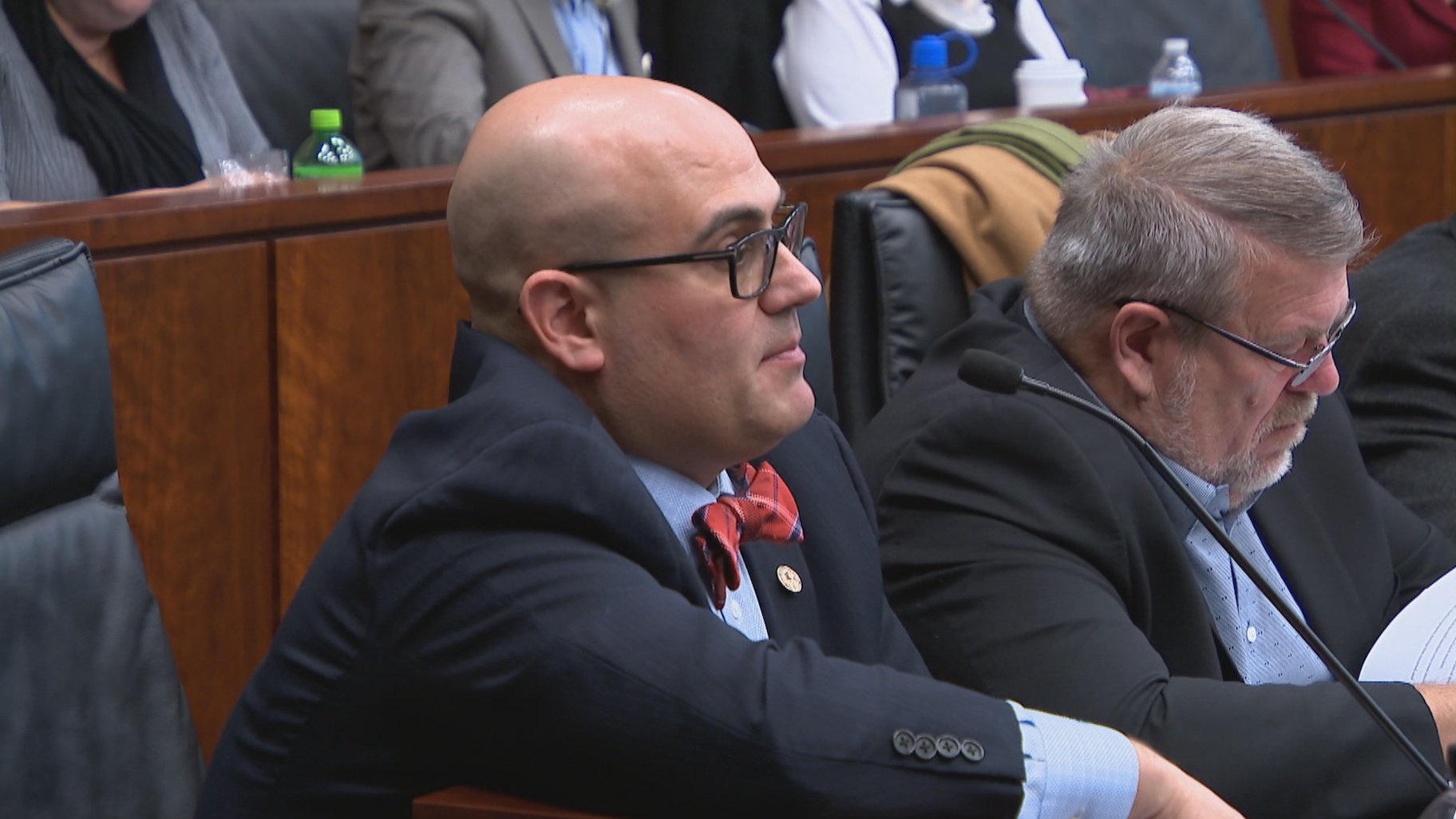 Illinois state legislators, including Rep. Jonathan Carroll, heard from parents, advocates and education leaders Tuesday during a public hearing about the use of isolation and seclusion rooms across the state. (WTTW News)
A day after the investigation was published, ISBE and Gov. J.B. Pritzker halted isolated seclusion in schools across Illinois and enacted a series of emergency rules, including a ban on physical restraints outside of emergencies and a requirement that students placed into timeout be held for therapeutic reasons and only in the presence of an adult in a room with an unlocked door.
Timeouts can also only be used when there's a clear safety threat and other methods have been tried; it can't be used as a form of punishment. The state's temporary ban on isolation rooms is set to expire in April.
ISBE said it has since opened nine investigations in direct response to the Tribune and ProPublica reporting.
Some speakers on Tuesday called for a total ban on student isolation. But beyond the misuse highlighted in the Tribune and ProPublica reporting, some parents and advocates believe there is a need for some type of isolation space, particularly for students with special needs who may need space to themselves if they're in crisis.
"Some of the circumstances spotlighted in the article were heartbreaking and, frankly, hard to read," Illinois Education Association President Kathi Griffin wrote in an op-ed last month. "However, it's important to understand that the instances highlighted in the article do not reflect the therapeutic timeout rooms or safe spaces that are used to assist students with special needs."
Many advocates instead want a focus on "systemic, sustained" training for teachers and staff, and additional resources to make sure that training can go through. But others also want to see a better oversight instrument to hold schools and districts accountable for abusing student isolation. ISBE said it's looking at increasing punishments to include anything from professional development sanctions to criminal charges for individuals.
But others, like Illinois Federation of Teachers President Dan Montgomery, believe that more severe punishments alone won't fix these issues.
"Unless there's a real sea change in how we train our staff in schools," he said, "you can't expect accountability to make a difference."
Contact Matt Masterson: @ByMattMasterson | [email protected] | (773) 509-5431
---