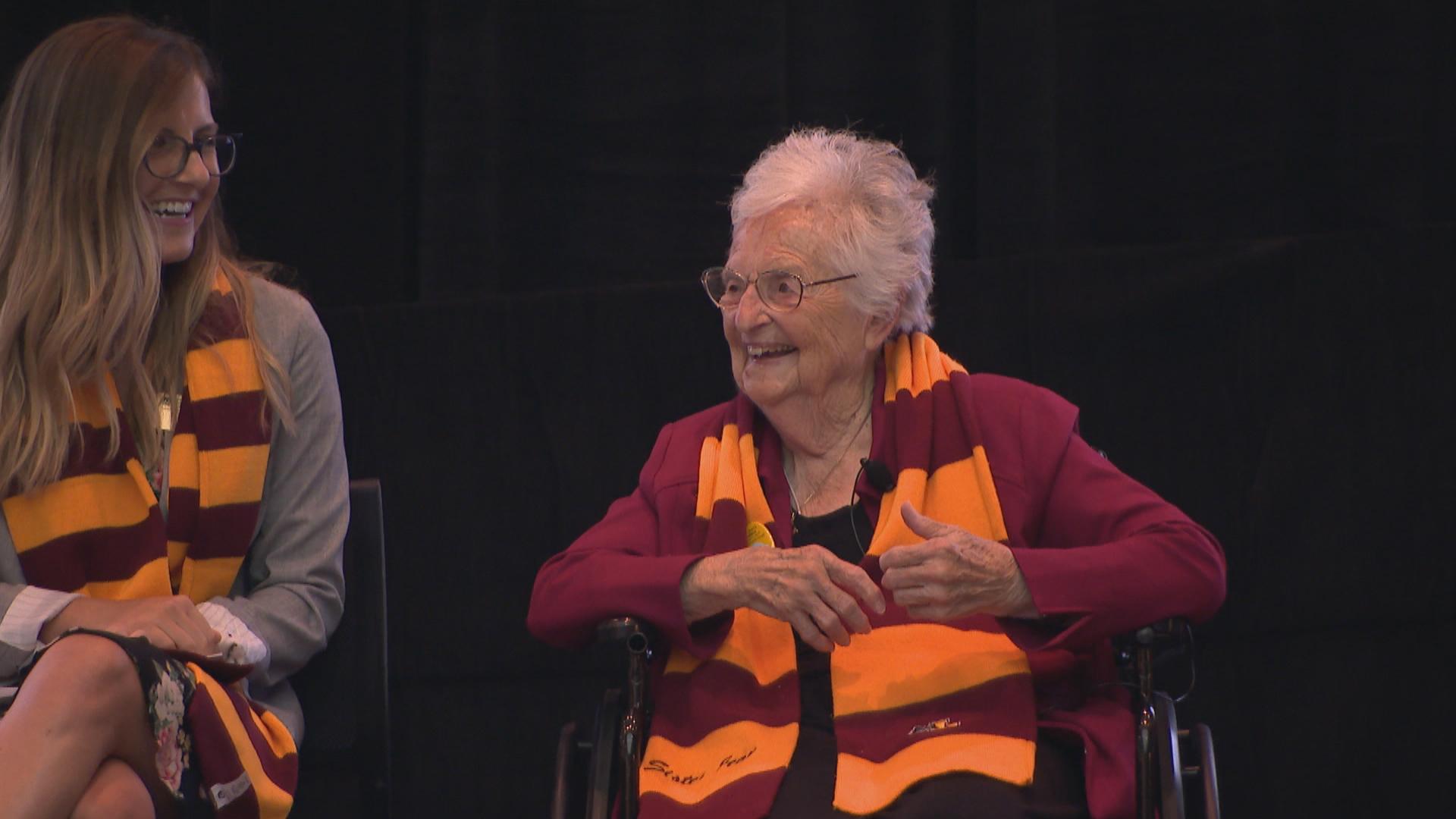 Sister Jean Dolores Schmidt, better known as Sister Jean, celebrates her birthday with fans and special guests at Loyola University on Aug. 21, 2019. (WTTW News)
Loyola University is celebrating the centennial of Sister Jean Dolores Schmidt, better known as Sister Jean, all week.
The celebrations started with cake Wednesday and are set to include a birthday mass Sunday and the special exhibit "A Century of Sister Jean" at the Loyola University Museum of Art.
Sister Jean became a sports phenom last year after basketball fans noticed her cheering for her beloved Loyola Ramblers in the NCAA men's basketball tournament.
She has been working with student athletes to help them keep up their grades – and then as the official team chaplain – since the mid-'90s.
Gov. J.B. Pritzker helped kick off celebrations Wednesday, declaring Aug. 21 "Sister Jean Day" in the state of Illinois.
"As your governor, what makes me most proud of you is your commitment to the Rambler community, not just on the court, but off the court," Pritzker said. "Not just in the limelight but through the decades of consistent and meaningful service.
"We should all strive to be more like Sister Jean," he said.
"When I hear these wonderful things, I think: 'Oh my goodness, there's more responsibility being put on my shoulders,'" Sister Jean said. "I have to keep doing it now. I can't stop doing it."
Her secret? She says she stays active, borrowing a quote from her mother that "it's better to wear out than to rust out."
Follow Brandis Friedman on Twitter @BrandisFriedman
---
Related stories:
Porter Moser: 'All In' as Loyola Ramblers Coach
Loyola Basketball: A History of Remarkable Ramblers Teams
Loyola Ramblers: What's Next After Team's Final Four Run
Loyola Ramblers' 1963 NCAA Win Also a Story of Racial Justice
---