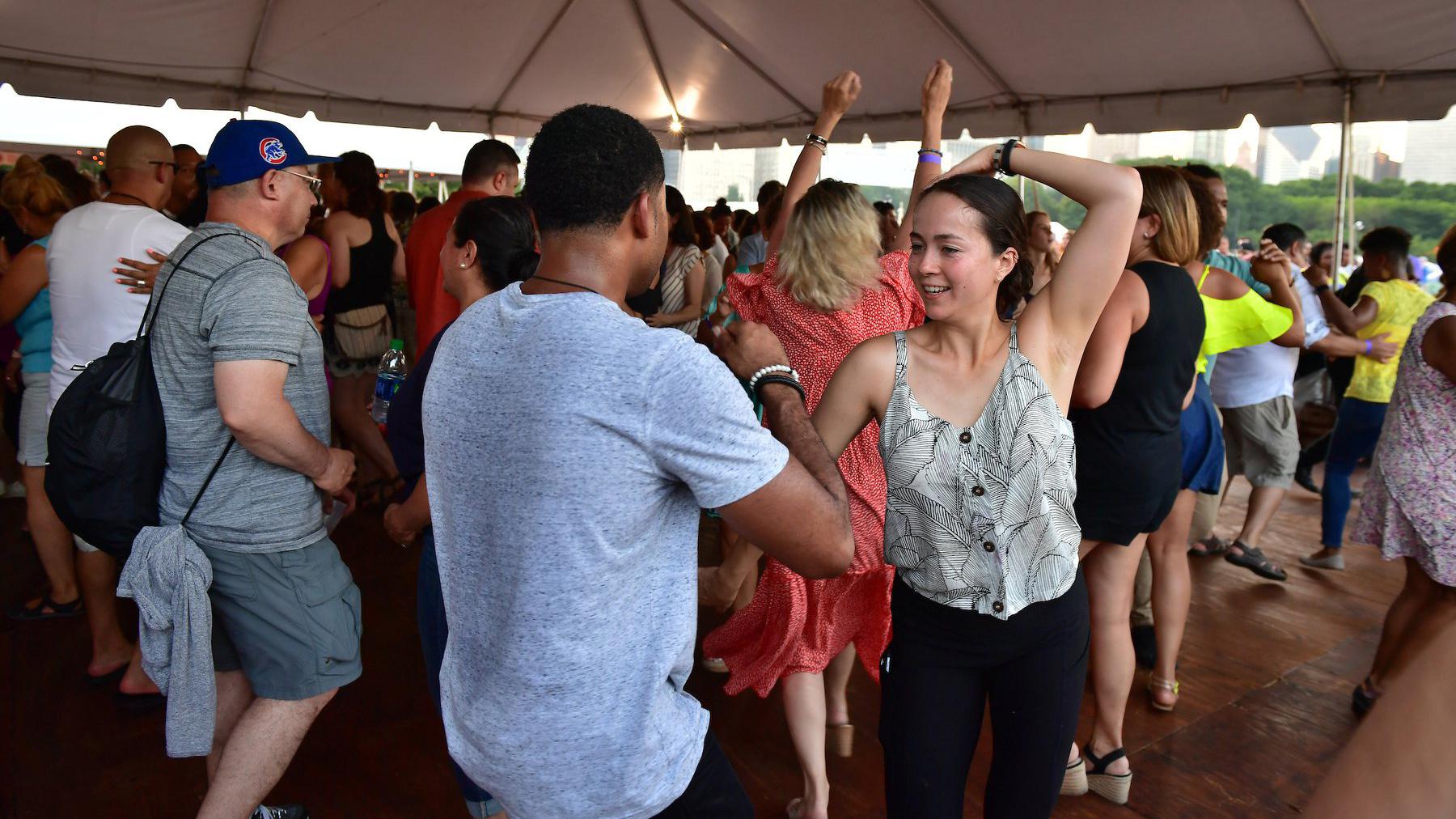 (Chicago Summer Dance / Facebook)
1. Twirl
Put on your dancing shoes for the Chicago SummerDance Celebration, the end-of-season wrap party for the city's annual festival of footwork. Take lessons in line dancing, salsa, polka and other styles throughout the afternoon. Already got the moves? Grab a partner and test your skills in "The Most Versatile Dancer Contest." Couples must dance in whatever style is announced by the emcee for 20-30 seconds, showing at least three basic steps, correct timing and knowledge of each dance style (registration at 2:30 p.m.).
Stick around for a dance party (7:30 p.m.) on the Great Lawn with DJ Selah Say following a dance showcase (6:30 p.m.) in Pritzker Pavilion featuring Hubbard Street Dance Chicago, Cerqua Rivera Dance Theatre, Joel Hall Dancers, Rated 'E' Dance Crew and others.
Details: 1-8 p.m. Saturday at Millennium Park, 201 E. Randolph St. Free / MAP
---
Find more fests: 2019 Summer Festival Guide
---
2. Feast
Dig into Mediterranean fare at the Taste of Greektown, where you can nosh on kebabs, gyros and more. You can even compete in a gyro-eating contest (6 p.m. Saturday). Beyond bragging rights, the winner gets a $250 Visa gift card (runner-up gets a $100 gift card). Enjoy Greek dance troupes and musical performances, in addition to tribute bands.  
Details: 4-11 p.m. Friday; noon-10 p.m. Saturday and Sunday along the 300 block of S. Halsted Street. $5 suggested donation / MAP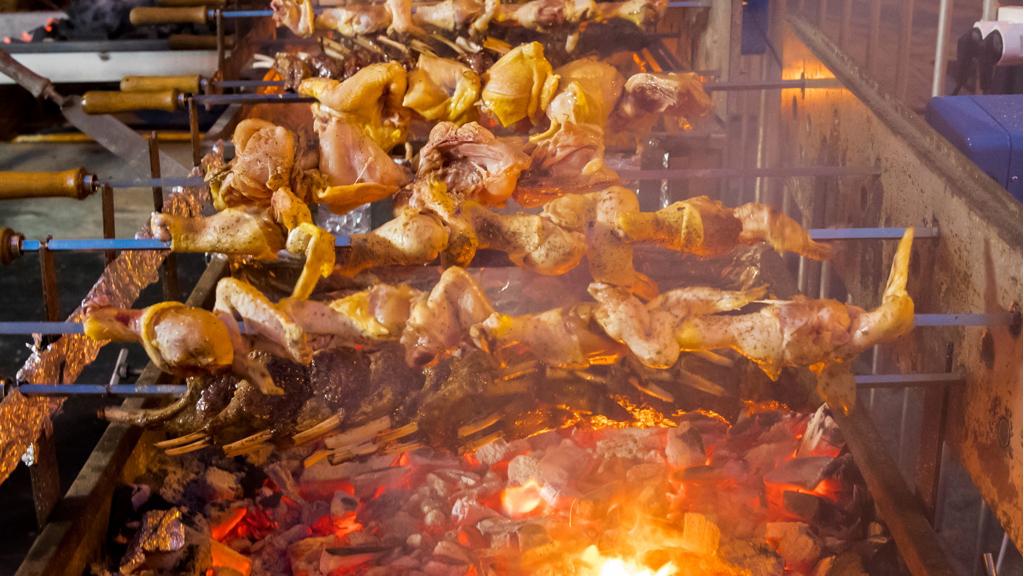 (Photo by Mike Lyons)
3. Chuckle
The Chicago Women's Funny Festival packs more than 80 shows into four days, showcasing the works of veteran performers and newcomers alike. New this year: an all-Spanish speaking set of shows featuring stand-up, sketch and improv.
Details: Performances from 8-10 p.m. Thursday; 8-11 p.m. Friday; 7-11 p.m. Saturday; 2-7 p.m. Sunday at Stage 773, 1225 W. Belmont Ave. $15 for individual tickets; $150 all festival pass / MAP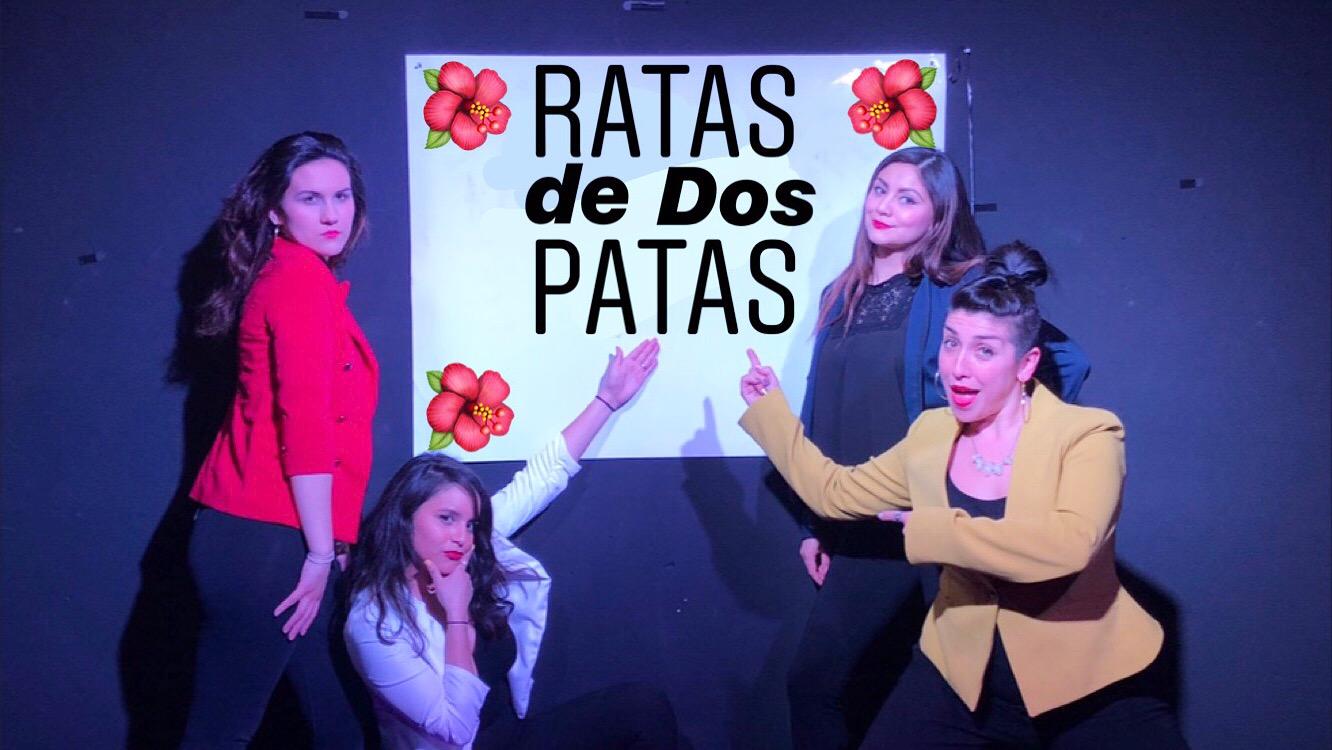 Ratas de Dos Patas, featuring Abigail Piñon, Kendra Jamaica, Jessi Realzola and Marilet Martinez are among this year's performers at the Chicago Women's Funny Festival. (Credit: Stage 773)
4. Enjoy
Live music by local and international artists highlight Villapalooza. Started in 2011, the fest seeks to provide a safe space for arts, culture and community engagement while preserving the neighborhood's cultural identity.
Details: Noon Saturday-1 a.m. Sunday along 26th Street between Kostner and Central Park avenues. Free (MAP) / Noon-8 p.m. Sunday at Shedd Park, 23rd Street and and Lawndale Avenue. Free (MAP)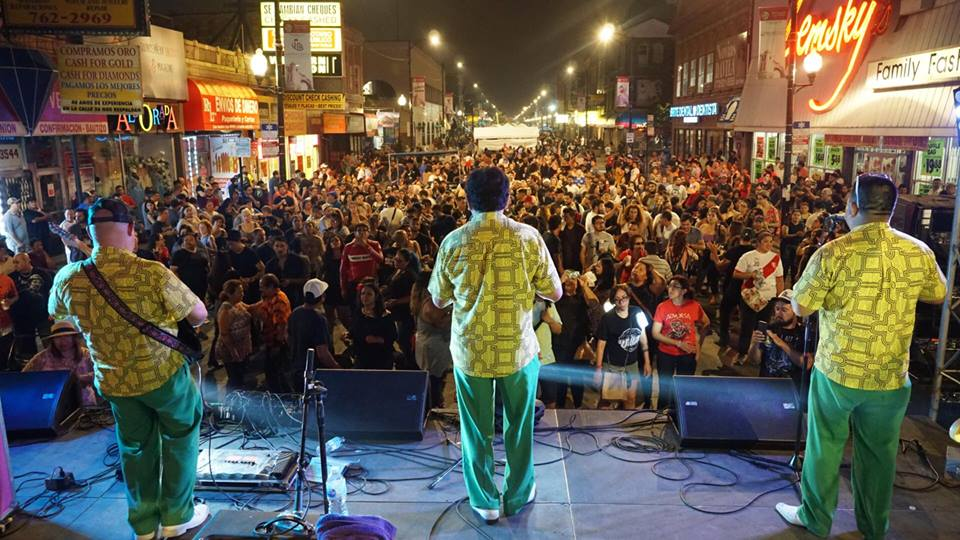 (Villapalooza-Little Village Music Fest / Facebook)
5. Acquire
Leather goods, jewelry, ceramics and mixed-media art are among the handmade goods for sale at the Bucktown Arts Fest. Strut your pup in the dog parade (11:30 a.m. Saturday; $10 entry fee includes bandana or Frisbee), enjoy live music and food and beer tents.
Details: 11 a.m.-7 p.m. Saturday and Sunday at Holstein Park, 2200 N. Oakley Ave. Free / MAP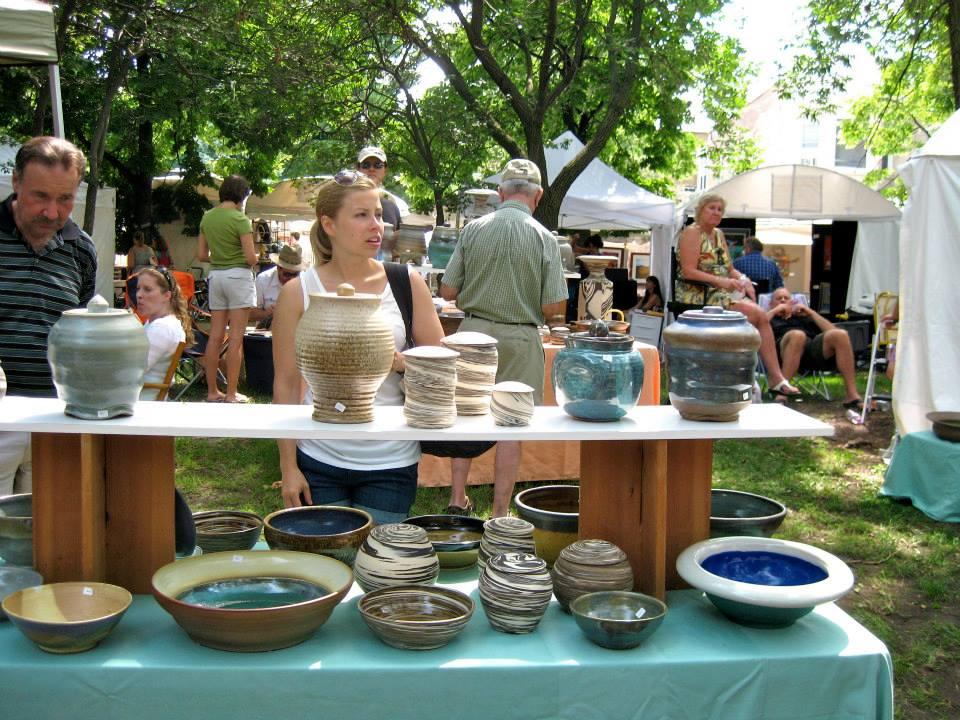 (Bucktown Arts Fest / Facebook)
6. Stargaze
Get an up-close look at celestial bodies and stars at Doane at Dusk using the Doane Observatory telescope, the largest aperture telescope available to the public in the Chicagoland area, which gathers 5,000 times more light than the human eye, allowing you to see objects that are trillions of miles away. Event is weather permitting. Follow Adler on Twitter for updates.
Details: 8:30-10 p.m. Friday at the Adler Planetarium, 1300 S. Lake Shore Drive. Free; first-come, first-served basis / MAP
---
7. Ponder
Taxidermy, osteological specimens and medical history ephemera are among the curiosities you'll find at the Oddities Flea Market. Browse row upon row of unusual wares from vendors from across the country, including Oddball Oddity and The Glass Coffin.
Details: Noon-6 p.m. Saturday and Sunday at Stan Mansion, 2408 N. Kedzie Blvd. $10 in advance; $15 at the door / MAP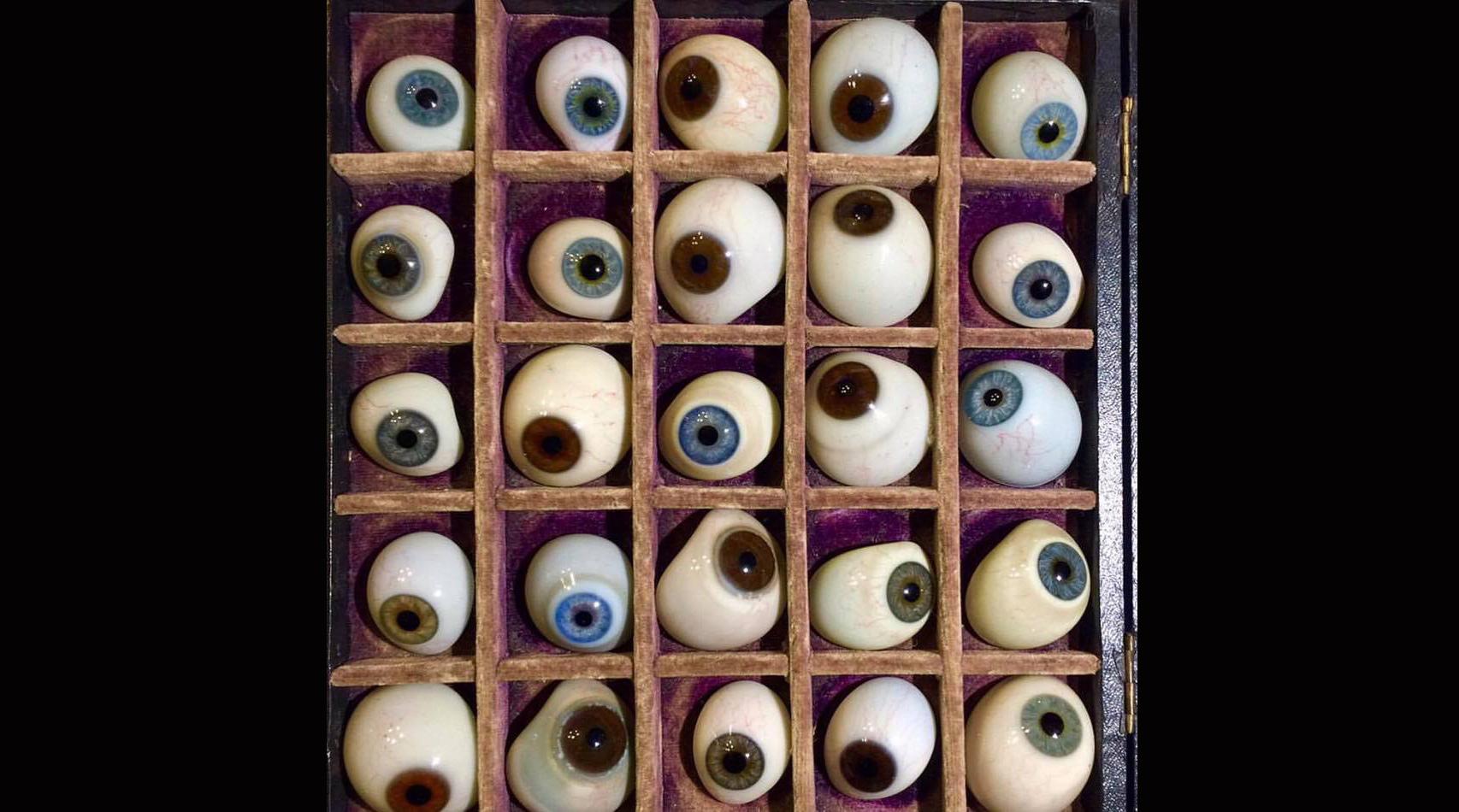 (Courtesy of Oddities Flea Market)
8. Cheer
Nearly 10,000 athletes swim, bike and run along the lakefront for the 37th annual Chicago Triathlon. Participants complete a 1.5-kilometer or 750-meter swim in Monroe Harbor; 40km or 24.5km bike course along Lake Shore Drive; and 10k or 5k run along the lakefront, ending in Grant Park. Going to cheer on a competitor? Organizers recommend downloading the Athlinks App to keep track of your athlete's progress. Events kick off Saturday with a kids triathlon and short-distance event at Foster Beach (5200 N. Lake Shore Drive). Check out the triathlon's guide for more details. 
Details: 6 a.m. international waves; 8:15 a.m. sprint waves start Sunday at Montrose Harbor, 720 S. Lake Shore Drive. Free / MAP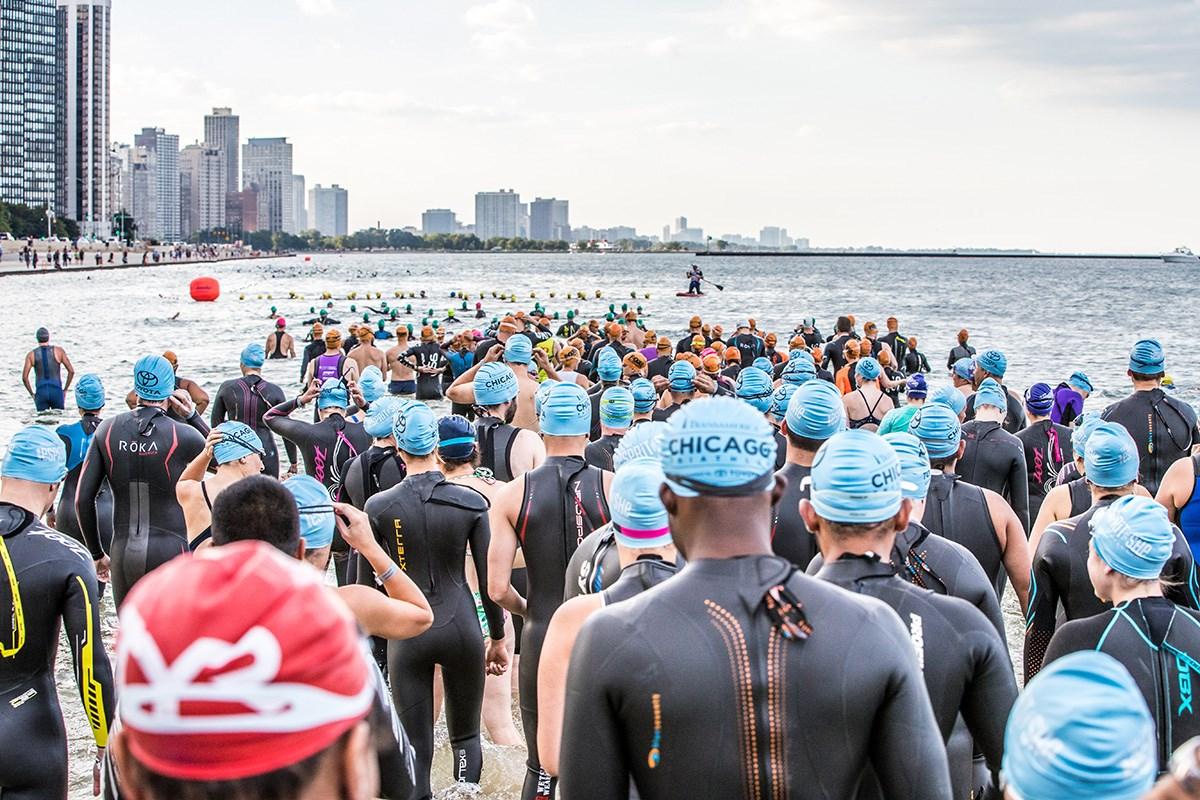 (Chicago Triathlon / Facebook)
9. Gawk
Sideshow performers, burlesque, aerialists and other acts "you can't unsee" are on tap at Lagunitas Beer Circus Chicago. Enjoy live music, midway games and craft brews from Lagunitas and other guest breweries. Proceeds benefit the Chicagoland Rescue Intervention & Support Program, which provides free services to help Chicagoans keep their pets.
Details: Noon-5 p.m. Saturday at Douglas Park, 1401 S. Sacramento Ave. $40 / MAP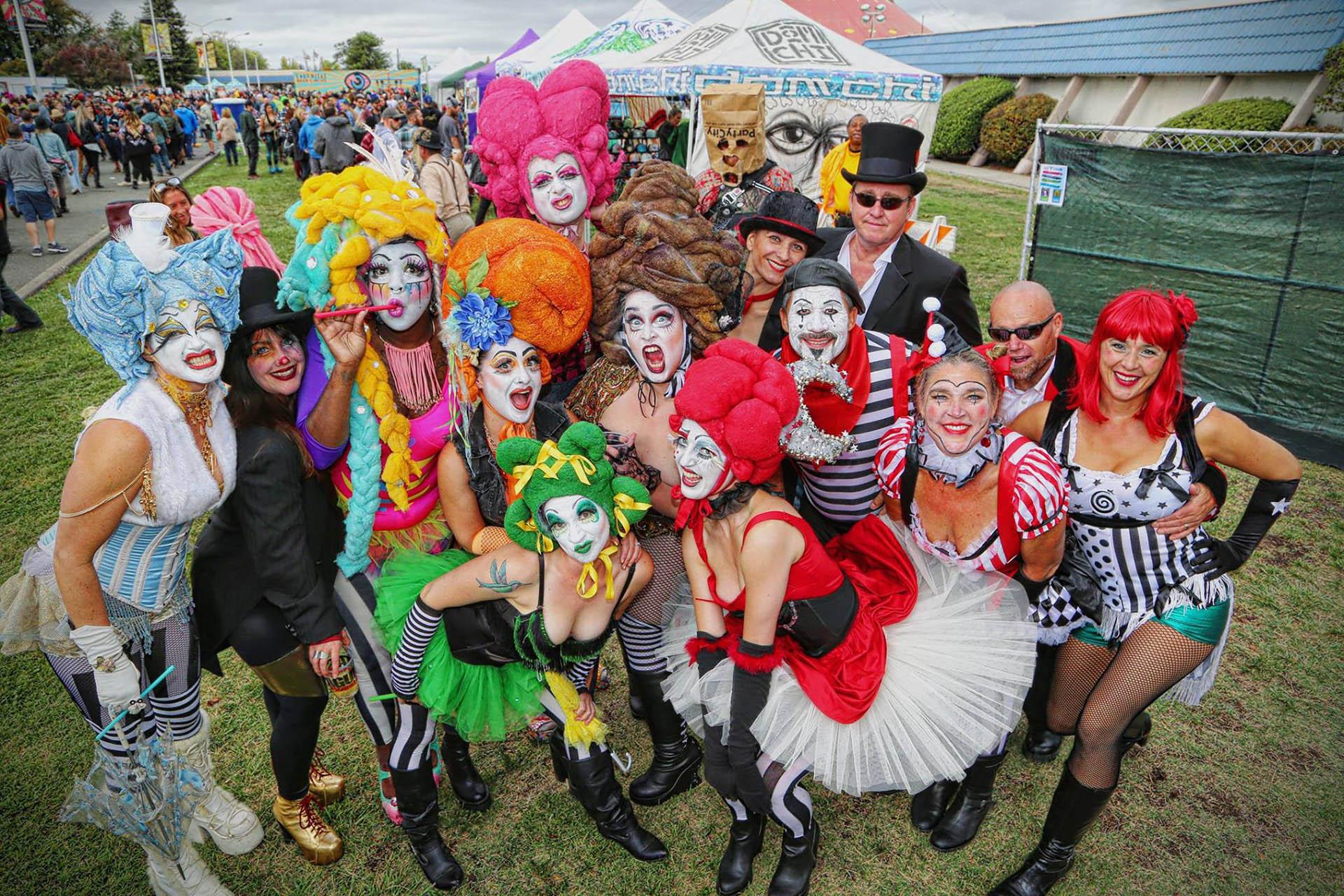 (Lagunitas Chicago TapRoom & Beer Sanctuary / Facebook)
10. Harmonize
The sweeping melodies of a live orchestra blend with hip-hop beats as Thee Phantom & The Illharmonic Orchestra perform. The 25-piece ensemble includes a DJ, strings, woodwinds, horns and pianist.
Details: 7:30 p.m. Saturday at the Auditorium Theatre, 50 Ida B. Wells Drive. $39-$59 / MAP
---
Events listed are subject to change. We recommend double-checking times and locations before you head out the door. Want to share your upcoming events with us for consideration in a future roundup? Send us an email.
---