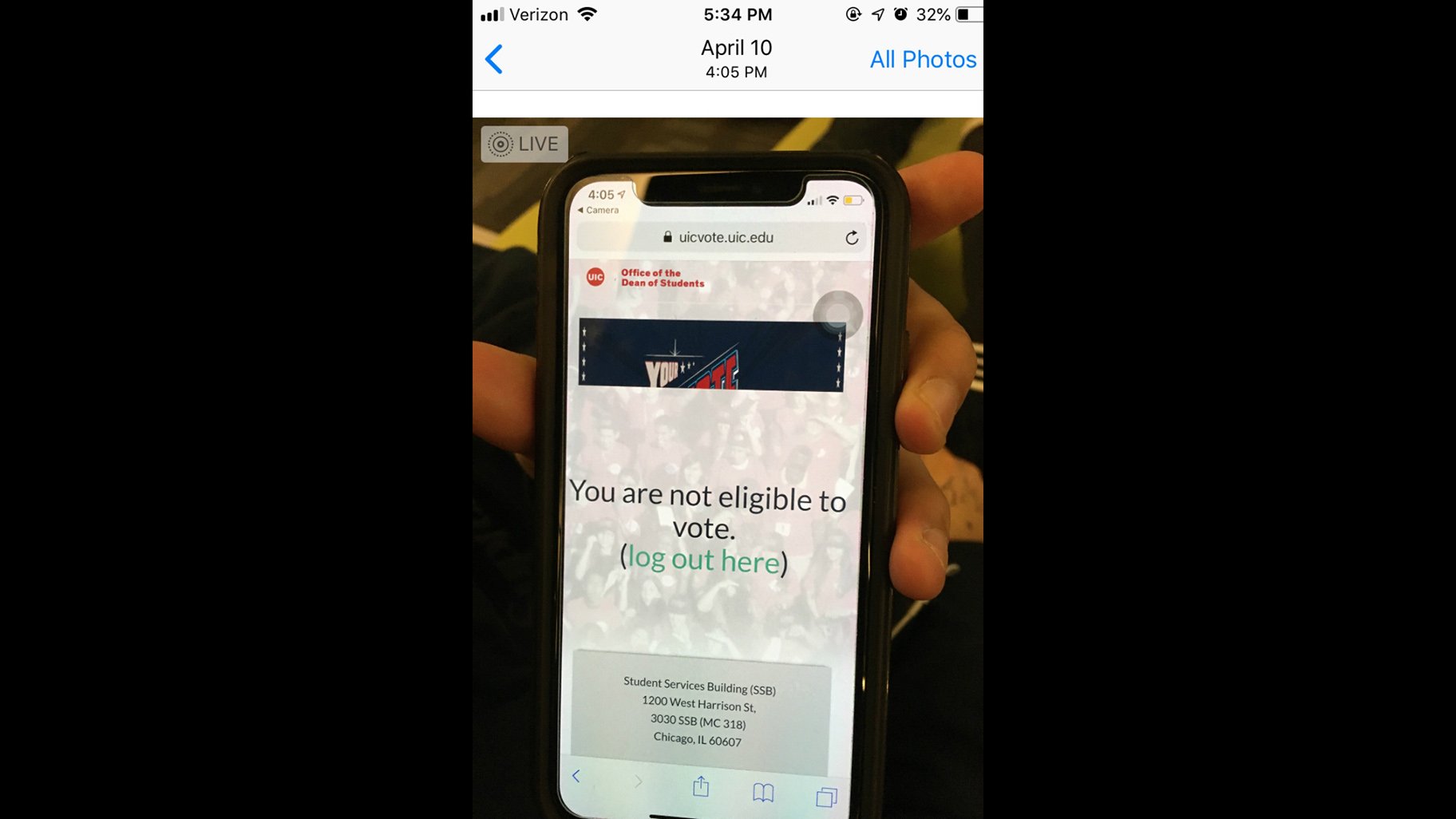 A student at the University of Illinois at Chicago shows the message they received during a student government election in April 2019. According to a new report, voting errors prevented at least 450 students from participating fully in the election. (Courtesy UIC Student Justice Coalition)
Hundreds of students at the University of Illinois at Chicago were prevented from participating fully in this year's student government elections due to voting errors caused by the "gross negligence or mismanagement" of the school's Office of the Dean of Students, according to a new report.
The UIC Student Justice Coalition, a new student-led group organized in the wake of these voting issues, claims at least 450 predominantly international students received incomplete ballots that left off several races or were erroneously told they were ineligible to vote.
"This is unconstitutional according to the Undergraduate Student Government Constitution," the coalition states in its report. "The April 2019 Student Election does not reflect a free and fair democratic process. Hundreds of students who pay into the system were robbed of their right to representation in an election that has impacts on UIC and the University of Illinois system as a whole."
Issues cropped up almost immediately when online voting began on April 9.
Elections that day were being held for student government president, vice president, House of Representatives, Senate, student trustee and a referendum on a fee increase. But many students attempting to vote only saw options for the trustee spot and the referendum. Others received a message informing them they were not eligible to vote at all.
After nearly two hours, the Office of the Dean of Students informed candidates the issues had been resolved and they would be adding 30 minutes of voting time to compensate those affected students, according to the report.
But the issues continued throughout the day and into April 10, according to John Donners, a student government representative now involved in the Student Justice Coalition. And it appeared a certain group of students had been affected more than others.
"Once it had concluded, a lot of international students who had run and were involved in the campaign … told us that a lot of their friends could not vote," he said. "And we saw an overwhelming trend of it being international students who were affected adversely."
Donners believes the issues were caused by an outdated voting system that coded international students as "non-degree seeking" despite their full-time status at UIC and full eligibility to vote.
An Indonesian-born international student who asked that her name not be used was able to cast a ballot but said her roommate and several of her friends were unable to do so. She believes that's because she immediately enrolled in UIC courses upon arrival, while others had to first take courses through UIC's Global Program before progressing into the regular curriculum.
It was many of those students who were unable to vote.
"I was honestly really hurt by the school," the student said. "I feel like they don't care, it's just something they do to go through the motions."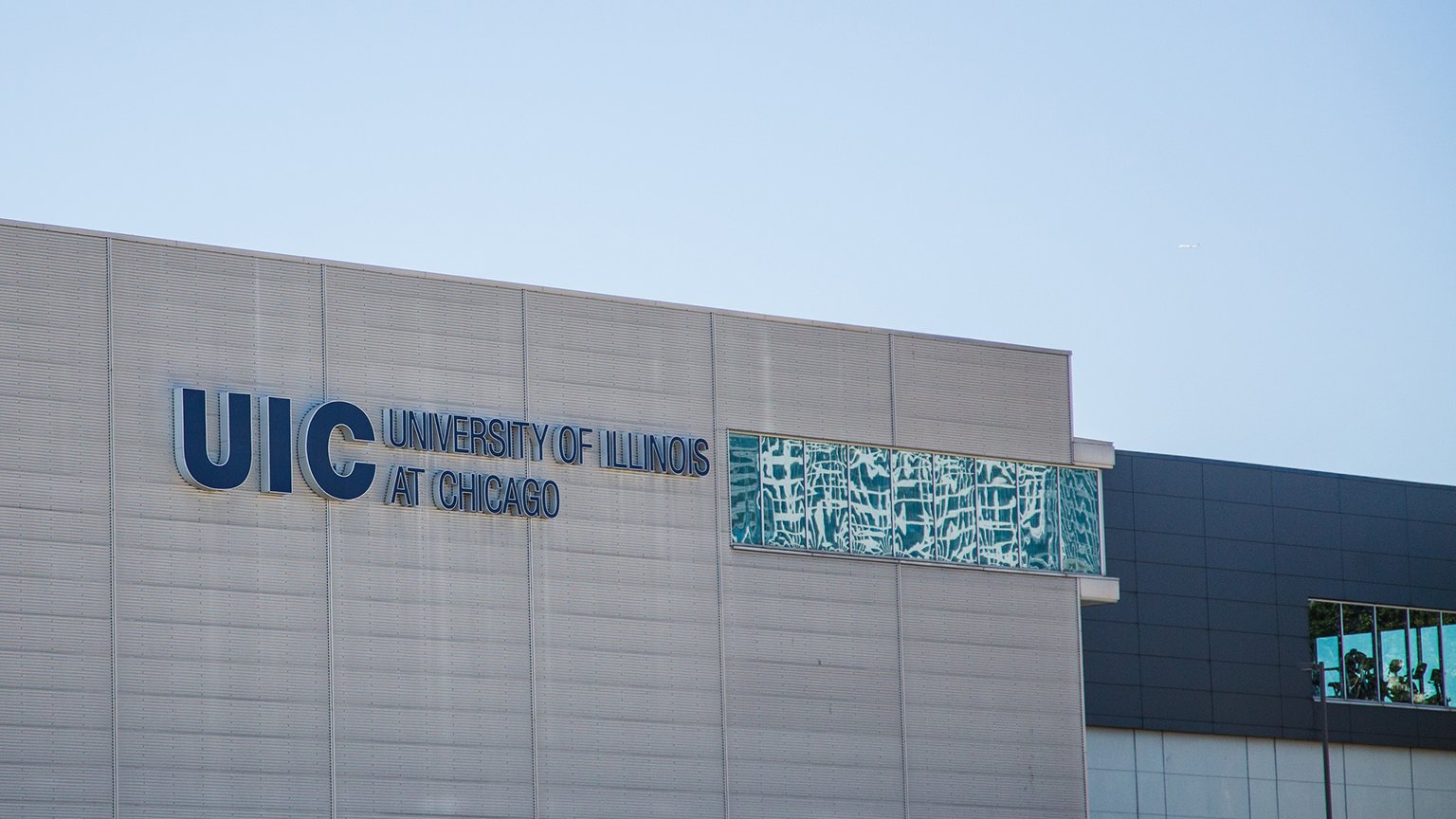 (Tony Webster / Flickr)
Following the election, multiple candidates filed complaints with both the dean of students as well as the Election Planning Committee – a group of graduate and undergrad students who oversee student government elections.
In an initial response to those students, the university said the election results had been finalized because "all candidates were equally disadvantaged" and there was "no reason to believe" the voting issues had persisted throughout the election.
The report claims that during a follow-up meeting with students, UIC Dean of Students Linda DeAnna claimed that only 48 students were impacted by the voting issues, which had no substantial effect on the voting results.
"We were essentially told, 'We understand your concerns, but there's nothing that we're willing to do because we don't see it as a major issue,'" Donners said.
But information provided to Donners and the Student Justice Coalition shows there are 450 non-degree seeking undergrads at UIC. They believe each of those students could have been affected.
In all, more than 2,600 students cast ballots between April 9 and April 10. But it may be impossible to track the full scope of the issues.
"In terms of who received ineligibility errors we were told that there is absolutely no way to know how many people received that because of the old nature of the system, it can only track people who completed their ballot," Donners said. "So if you aren't able to access a ballot, you won't be tracked and then also if you receive a flawed or incomplete ballot and decide not to finish voting … there's also no way to know that."
The university says the voting issues don't represent the "disenfranchisement" of any students, but rather reflect errors in the student government constitution.
Rex Tolliver, UIC's vice chancellor for student affairs, says that document does not clearly state specific eligibility for non-degree seeking students and allows them only to vote on non-binding referendums and student trustee positions – the two spots that appeared on the "incomplete" ballots.
"I have met with these students a number of times, but the students are not pleased with the results," he said of the student coalition. "The list the students have made that said 450 people voted or tried to vote is not accurate and makes the assumption that 100% of the students would have even tried to vote."
The student coalition claims these issues violate the Undergraduate Student Government Constitution and possibly a state statute – the University of Illinois Trustees Act. They've sought a meeting with UIC Chancellor Michael Amiridis, which the two sides have apparently agreed to, but it has not yet been scheduled.
In a subsequent email to the student coalition, the dean of students said it would correct the faulty coding that prevented non-degree seeking students from voting.
Tolliver likewise said the university is looking to update its voting mechanism, but he believes the issue can only be resolved by students correcting language within the student government constitution to allow non-degree seeking students to vote for all offices.
"What I've been trying to make clear … is to relay that the information alleged is not as accurate or portrayed in a way that reflects the totality of the situation," Tolliver said.
Donners said his goal, and the goal of the Student Justice Coalition, is to ensure the university recognizes these issues and carries out fair elections going forward. The Indonesian-born international student we spoke with hopes UIC officials take it one step further.
"Ideally," she said, "I would like another vote to be cast."
Note: This story was originally published Aug. 6, 2019. It has been updated to include comments from Rex Tolliver, UIC's vice chancellor for student affairs.
Contact Matt Masterson: @ByMattMasterson | (773) 509-5431 | [email protected]
---
Related stories:
UIC to Offer In-State Tuition to US Tribal Nation Members
Report: Illinois Parents Give Up Child Custody for College Cash
UIC to Offer In-State Tuition to US Tribal Nation Members