After two major developments – Lincoln Yards and The 78 – won major subsidies in the form of TIF funds from City Hall there's now a third major development looking to benefit from taxpayer funds.
This time the developer is asking for money from the state rather than the city to help fund a major new transportation hub that is part of a $20 billion commercial and residential development near Soldier Field.
Developer Bob Dunn, president of the newly formed Landmark Development, is a Wisconsin-based developer that is leading the project. Dunn is best known for stadium projects including the redevelopment of Lambeau Field in Green Bay.
Dunn says there are two parts to the project: what he calls the civic build and the vertical development.
"The civic build that is essentially a major transportation hub that would link together the Metra, the CTA Orange Line, potentially Amtrak and a trans-site system that we call the Chi Line that would circulate through the lakefront district," Dunn said. "We have many train stations but we don't tend to organize all of our transportation systems where they come together in a single location."
Dunn says about 6,500 parking stalls, retail dining and entertainment, and about 15 acres of parks and open space are also part of the plans for the civic build.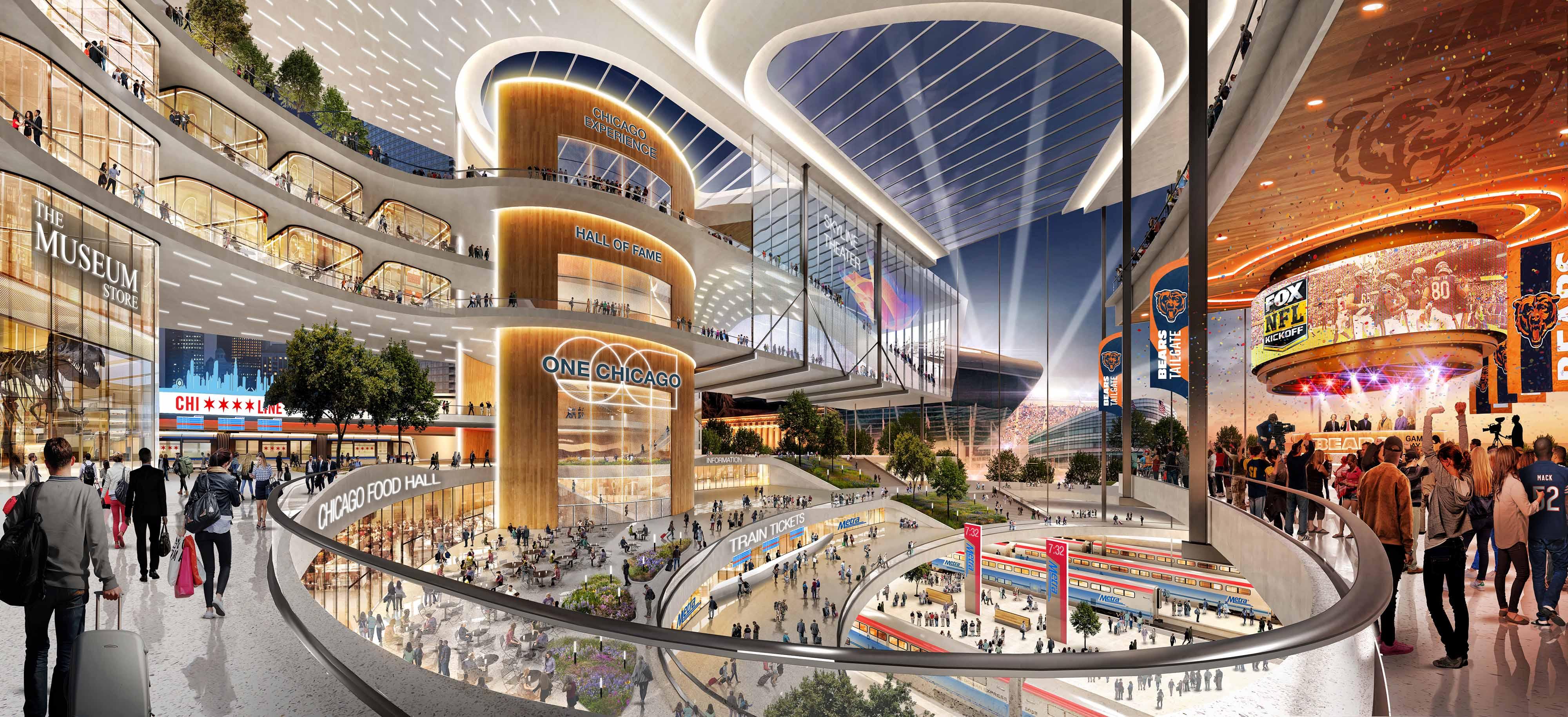 A rendering of the One Central atrium (Courtesy Landmark Development)
"Part two of the development is what we call the vertical development which would be mixed-use and include residential, office, a hospitality space, additional retail dining and entertainment and potentially health and wellness and education uses," he said.
Below, more from our edited Q&A with Dunn.
You want state subsidies for the transit center part of this project. Why should the state provide money for this when it has so many other pressing financial concerns? Why is this a good deal for the state?
It's an interesting question, you hit the nail on the head. Illinois like most states today has a challenging budget cycle and a number of fiscal constraints that over time need to be addressed. The most impactful aspect of this project, as was identified in a Chicagoland Chamber of Commerce study, is that this generates $120 billion of tax-based growth for the state, the county and the city. Of that $120 billion over a 30-plus year timeframe about half of that goes to the state. And that's all driven by our project. And the site today generates $23,000 a year in total taxes. So you are taking an undervalued, blighted piece of real estate in the core of the city and you are creating an economic engine that drives massive growth in taxes to the state, the county and the city. This is a major, major generator of new taxes to the state. This is an investment – this is not a subsidy. This is a not a state agency contributing its capital to a private interest. This is a private interest investing in infrastructure along with the state
Mayor-elect Lori Lightfoot has said she's going to approach these megaprojects in a very different way. She wants you to take account of community input and transparency in the process. Is that an issue for you?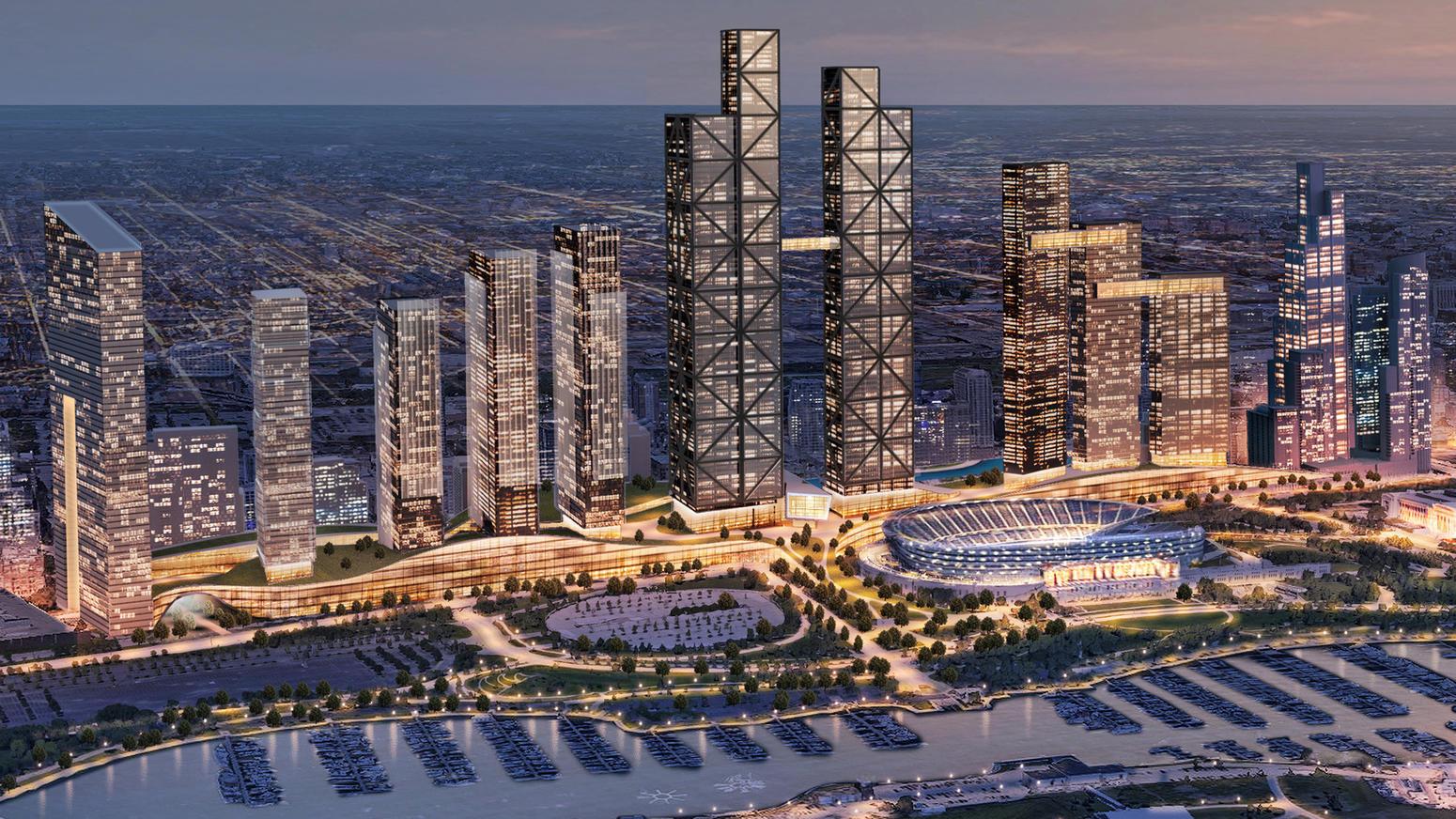 A rendering of One Central (Courtesy Landmark Development)
No not at all. We've been working on the project for some time. We want to approach the project the right way. We want to have a process that is open and engaging and transparent with the community. You have to look at a project like this with a time horizon of 10, 20, 30 years. It's more important that we get it right on the front end than to try to race to get to the starting line. Of course we would like to keep moving at a reasonable pace but by no means are we looking to rush anything through the city process. We want to get it right, we want to be organized and we want to work well with the city and the community interests and make sure that we have a project at the end of the day that's going to meet the interests of the community, ourselves and the city.
You need Springfield to act quickly on this because federal funding that could reduce the local cost of the transit center is set to expire. Explain the issue there.
In no way are we looking to rush this process. I've not spoken in any manner about a timeframe or schedule. We'll let the project evolve as the project wants to evolve and there's more factors that I don't control than I control. That's just a fact. At the same time, we are looking at opportunities for federal funding and there are some very significant opportunities for this specific type of transit oriented development … Some of those programs are scheduled to expire in December of this year. They have some very significant financial opportunities for the state if we were able to pursue those programs and secure that form of funding. Potentially this could mean savings of as much as a $1 billion to the state in their equity payments into the civic build.
So the magnitude of those financing opportunities is too great to ignore. It would be irresponsible of us not to advise the state of those opportunities.
Ald. Pat Dowell (3rd Ward) has expressed some reservations about the plan so far. How much might this development change based upon the feedback that you receive?
It's important to understand that we are at the beginning of a planning process. We don't have a design on the table at this point. We're not judging architecture. We don't have a final and definitive program that we are working to. What we are looking to do is work with Ald. Dowell, Ald. (Sophia) King (4th Ward), the city, community groups and evolve the plan for the project in a way that we can get the benefit of inputs from a whole set of stakeholders and use those inputs to guide the design, the master plan forward … We are at the beginning of the conversation. We really have to shape the plan once we have got input from the community and once we have that input then we'll start to build a more detailed design.
What is it about this site that excites you as a developer?
When I first looked at the site what got my attention was the uniqueness of almost a dozen cultural and civic assets that surround this site. It's a world class environment. I'm not sure that I could identify another location that in that close a geographic area. You've got such an incredible combination of civic and cultural assets. Then you realize you've got a Lake Shore Drive address. You're right on the lakefront – there are some very unique attributes to the site.
---
Related stories:
A Look at the Massive 'One Central' Development Proposed Near Soldier Field
Developer Wants Obama Presidential Center to Spur South Side Regeneration
City Council Approves Massive TIFs for Lincoln Yards, The 78
---