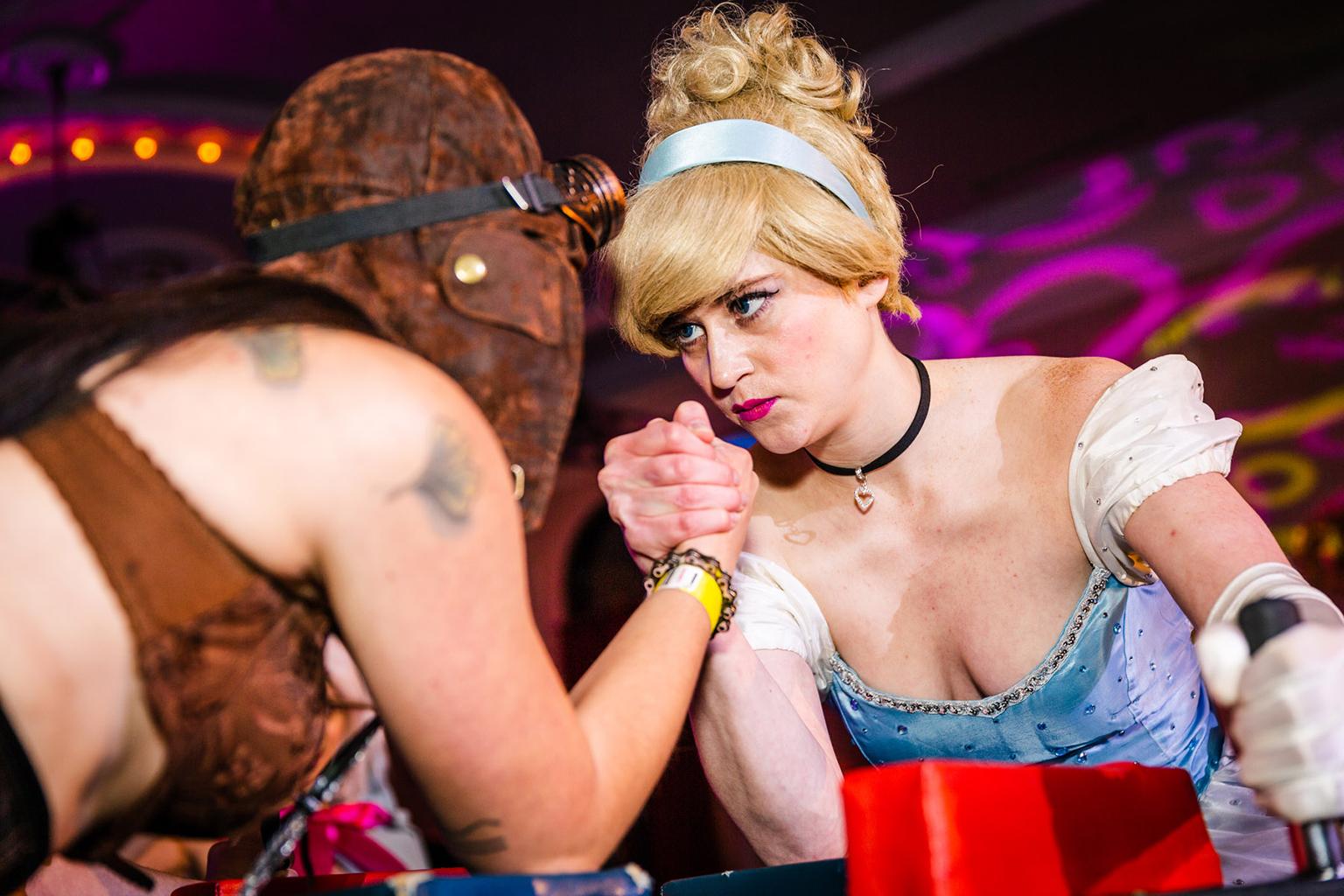 Amelia Earhurt vs. Winderella at the Chicago League of Lady Arms Wrestlers' CLLAW XXXI match at Logan Square Auditorium. (Photo by Trainman Photography)
1. Squeeze
The Chicago League of Lady Arm Wrestlers aim to get your blood pumping as they go head-to-head at CLLAW Flirty-Two. Watch as Captain Philippines, Aunt Nance and Marian the Barbarian Librarian elbow their way through the competition and arm wrestle their way to the top. Get in on the action by betting on your favorite wrestlers with local tender (CLLAWBUX). Proceeds benefit Sideshow Theatre Company and GirlForward.
Details: Doors open at 9 p.m.; first match at 9:30 p.m. Saturday at the Logan Square Auditorium, 2539 N. Kedzie Ave. $20; $25 at the door / MAP
---
2. Cruise
The latest models and classic cars are on display at the Chicago Auto Show, featuring more than 1,000 different vehicles. Snap a selfie in your dream car, go for a ride on indoor test track, and marvel at cutting-edge technology.
Details: 10 a.m.-10 p.m. Saturday through Feb. 17; 10 a.m.-8 p.m. Feb. 18 at McCormick Place, 2301 S. Lake Shore Drive. $13; $7 seniors and kids ages 7-12; free for kids ages 6 and under / MAP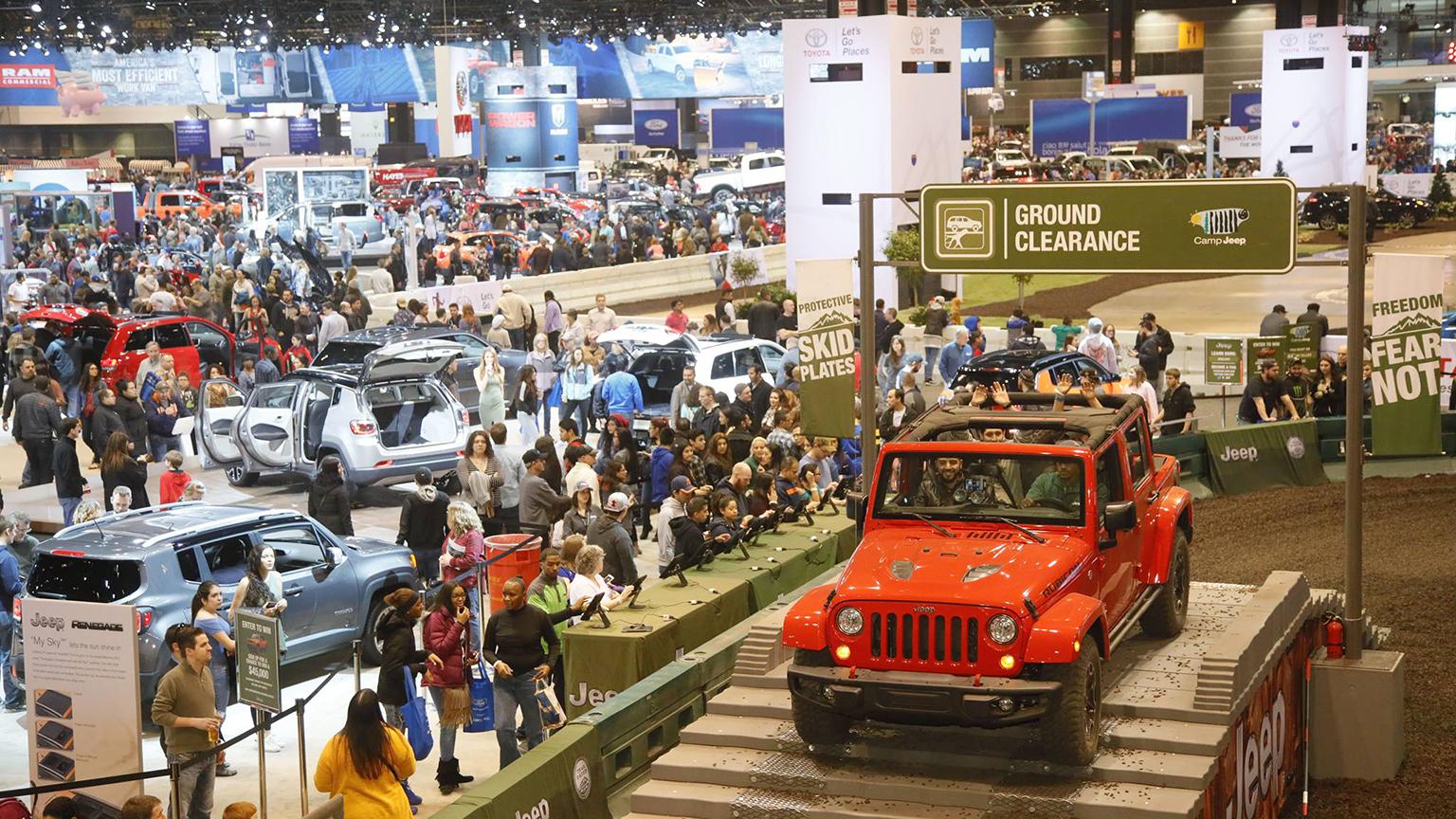 (The Chicago Auto Show / Facebook)
3. Screen
In honor of Black History Month, the Academy Award-nominated film "Black Panther" returns to the big screen – for free. See the action-packed Marvel film at select AMC Theatre locations across the country, including more than a dozen cities in Illinois and two in Chicago. Tickets must be booked online, with a limit of two tickets per person.
Details: Thursday. Hours and locations vary. Free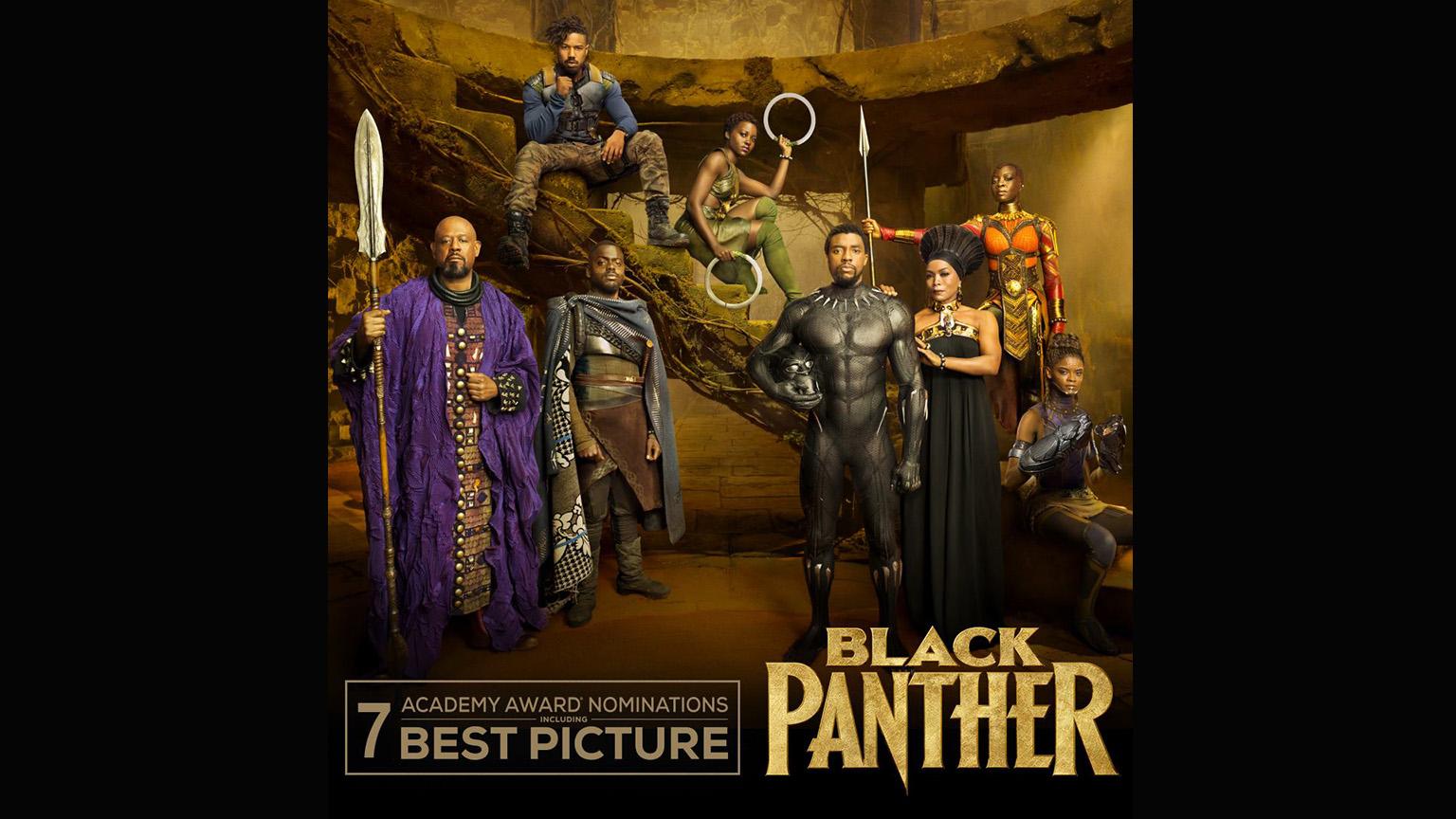 ("Black Panther" / Facebook)
4. Discover
The next generation of musicians are poised to play at A Journey Through Jazz – NextGenJazz Summit. Under the direction of saxophonist and educator Jarrard Harris, the Jazz Institute of Chicago opens its season with a septet of new voices, featuring Constantine Alexander on trumpet, Brent Griffin and Kenneth Leftridge on saxophones, Jackson Shepard on guitar, Julius Tucker on piano, Kurt Shelby on bass and Samuel Jewell on drums.  
Details: 7 p.m. Friday at Theater on the Lake, 2401 N. Lake Shore Drive. Free / MAP
---
5. Line up
Dragon dances, colorful floats and marching bands usher in the Year of the Pig at the Lunar New Year Parade. The procession travels north along Wentworth Avenue, stepping off at 24th Street and ending at Cermak Road.
Details: 1-3 p.m. Sunday at 24th Street and Wentworth Avenue. Free / MAP
106th Annual Chicago Chinatown Lunar New Year Parade - Celebrating "Year of the Dog" - 4716 from SUPER DEEP Media LLC on Vimeo.
---
6. Applaud
2019 has been designated the "Year of Chicago Theatre" by city officials. Commemorate the designation by taking in at least one show during Chicago Theatre Week. From musicals to comedies, to plays and improv, there's something for everyone. Not sure what to see? Check out Hedy Weiss's theater reviews.
Details: Thursday through Feb. 17. Hours and locations vary. $15-$30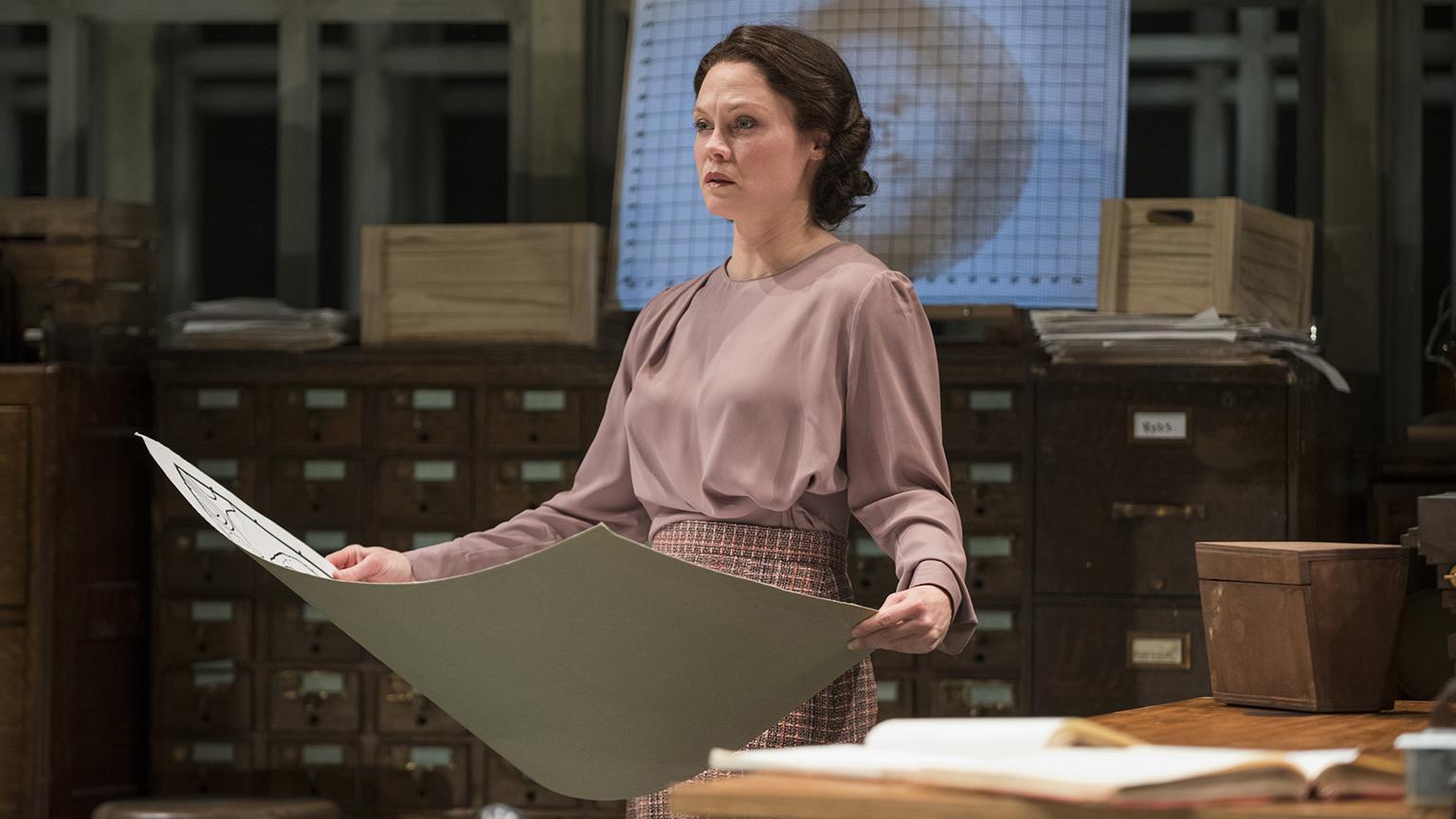 Chaon Cross plays Dr. Rosalind Franklin in Anna Ziegler's "Photograph 51" at Court Theatre. (Photo by Michael Brosilow)
7. Sip
More than 150 ciders, cider cocktails and apple-based spirits await you at Cider Summit Chicago. In addition to local, regional and international samples, you'll have the chance to try Cider Summit Reserve, a blend of heirloom and other cider apples made in collaboration with Seattle Cider Company. Tickets ($40) include a souvenir glass and 16 tasting tickets. VIP entry ($50) gets you in an hour early and includes 20 tasting tickets. Partial proceeds benefit Heartland Alliance.
Details: Sessions available Saturday from noon-3 p.m. and 5-8 p.m. at Navy Pier's Aon Grand Ballroom, 600 E. Grand Ave. $40-$50 / MAP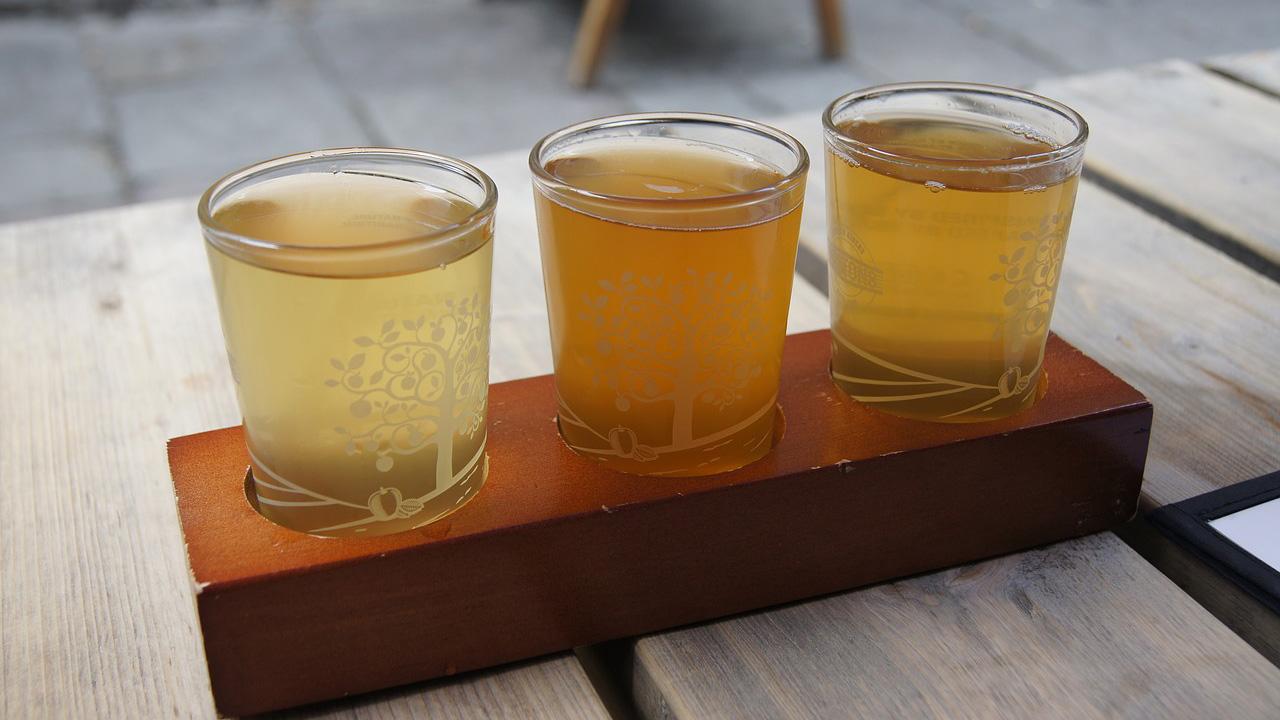 (RomanSvozilek / Pixabay)
8. Explore
The Museum of Science and Industry is open for after-hours exploration at MSI After Hours: Disco Tech. Slip on a pair of wireless headphones and tune into one of three live DJ sets as you stroll through the museum's exhibits, including "Black Creativity Juried Art Exhibition." You'll also get a sneak peek at MSI's upcoming exhibition dedicated to wearable technology, "Wired to Wear." Tickets include parking, coat check, snacks, a drink and headphones. Cash bar.
Details: 7-11 p.m. Friday at the Museum of Science and Industry, 5700 S. Lake Shore Drive. $30 (21+) / MAP
---
9. Experience
South Side artists offer an evening of theater, spoken word and contemporary dance at Encounter Englewood. Discover the story of Englewood resident Tonika Johnson, the artist and activist behind the "Folded Map Project" in a world premiere play. Additional highlights include performances by Example Setters Youth Poetry and a contemporary dance piece about racial healing by the Banks Performance Project.
Details: 7 p.m. Saturday at Kennedy-King College Theater, 740 W. 63rd St. Free; online reservations requested / MAP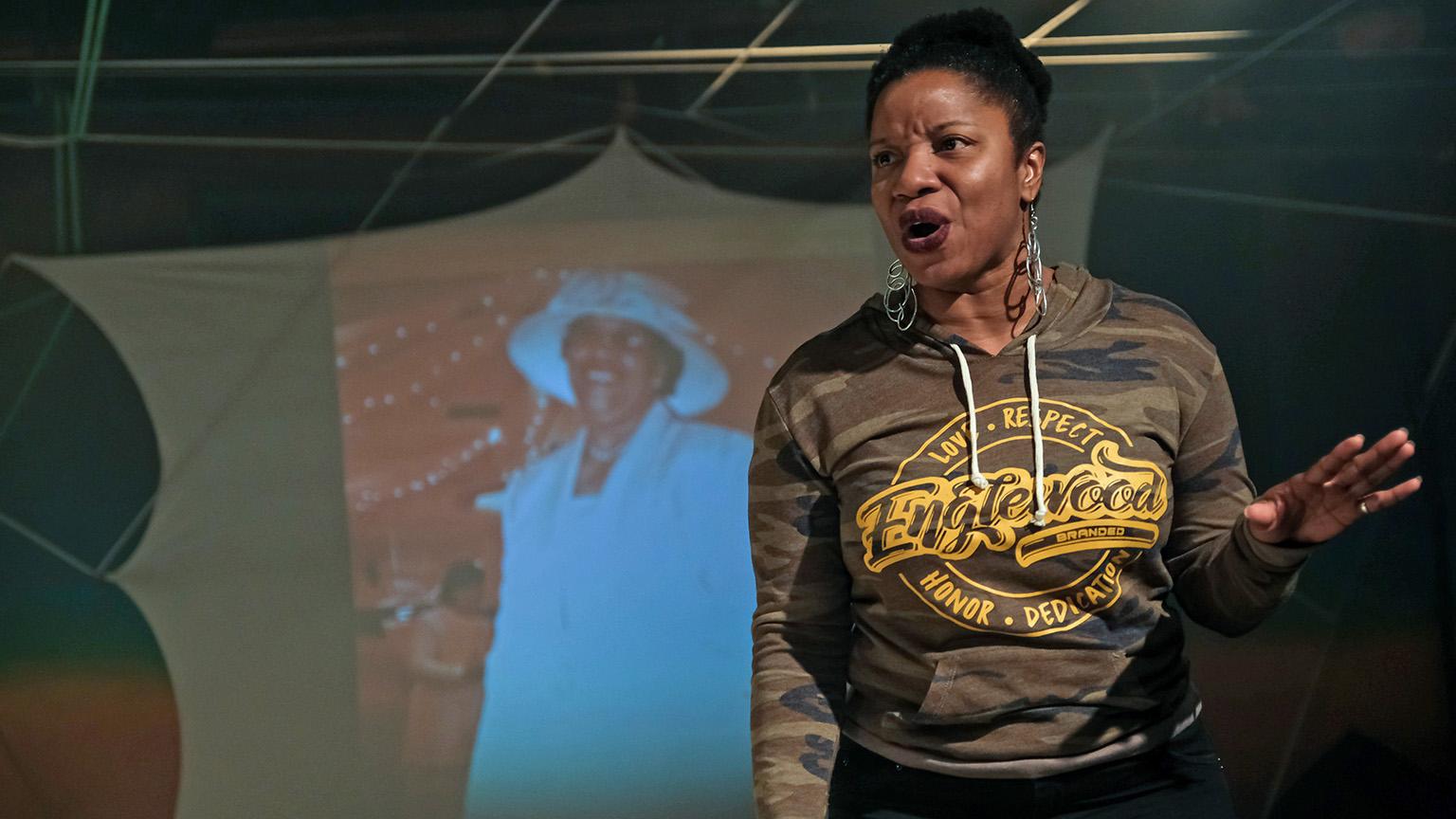 (Credit: Joel Maisonet)
10. Praise
Grammy-nominated gospel singer and Chicagoan Anita Wilson takes the stage with special guest Dante Hall. After years of background singing, Wilson emerged as a solo artists in 2011 with the ballad, "Speechless." Her albums, "Worship Soul," "Vintage Worship" and "Sunday Song" received Grammy nominations for Best Gospel Album.
 Details: 7 p.m. Sunday at City Winery, 1200 W. Randolph St. $22-$32 / MAP
(Photo credit: Michael Moorer)
Events listed are subject to change. We recommend double-checking times and locations before you head out the door. Want to share your upcoming events with us for consideration in a future roundup? Send us an email.
---