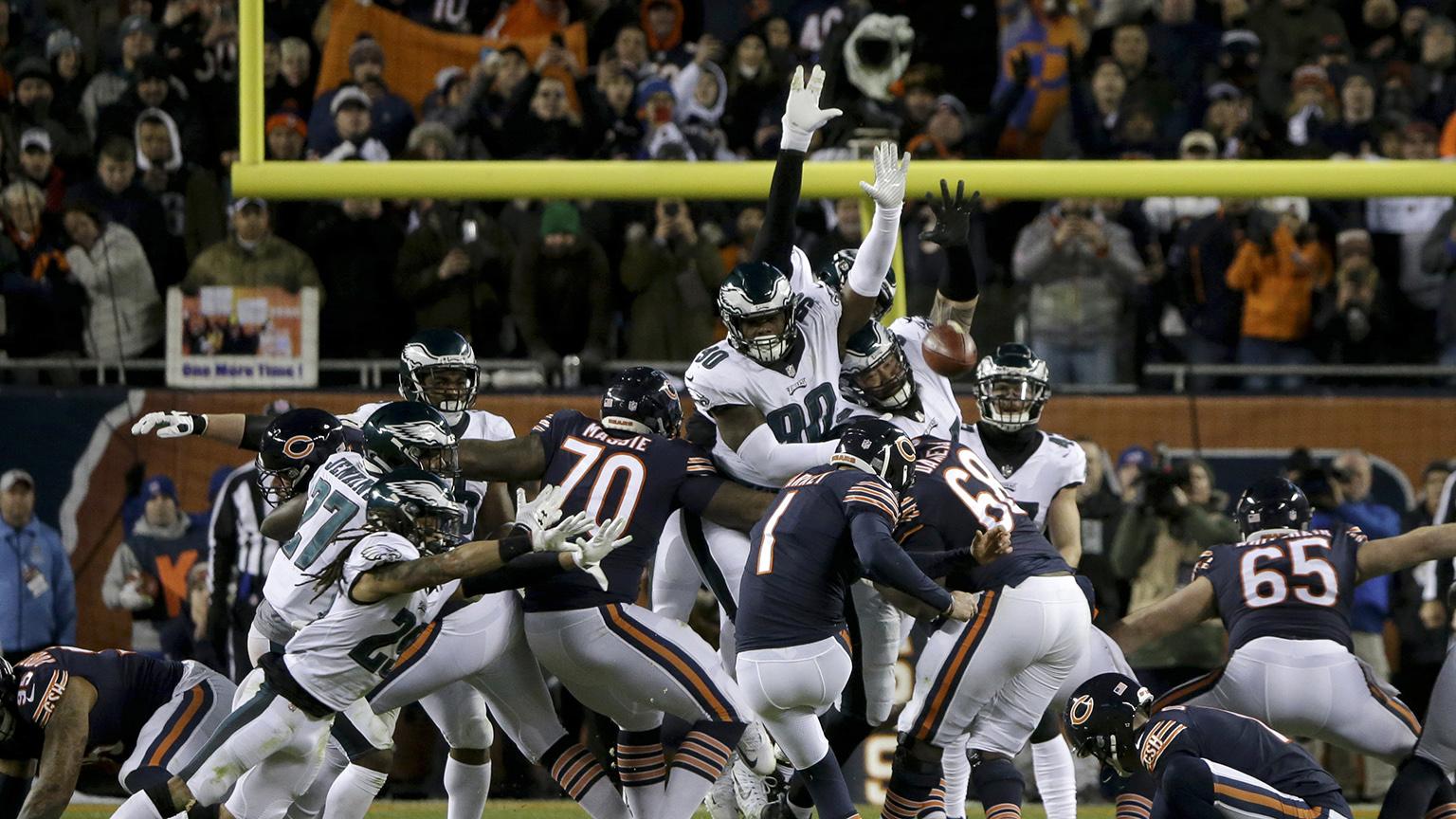 Chicago Bears kicker Cody Parkey (1) kicks and misses a field goal during the second half of an NFL wild-card playoff football game against the Philadelphia Eagles on Sunday, Jan. 6, 2019. The Eagles won 16-15. (AP Photo / David Banks)
1. Kick it
Still sulking about the Chicago Bears loss to the Philadelphia Eagles? Think you could've made that 43-yard field goal that Cody Parkey missed? (Yes, it was tipped, but that's beside the point.) Here's your chance to prove it: the Goose Island Field Goal Challenge. You'll get one try to make a 43-yard field goal, and if that pigskin soars through the uprights, you and a pal will get to attend a regular 2019 NFL season game of your choice. And if you make that 43-yard field goal, you'll have the chance to make a 65-yard field goal and the chance to win a pair of tickets to the 2019 Super Bowl. (Airfare and lodging included for both prizes.) Spots are limited and all Goose Island referee calls are final.
Details: Noon-4 p.m. Saturday at Goose Island, 1800 W. Fulton St. Free / MAP
---
2. Chuckle
Local and national entertainers work your funny bone at the 18th annual Chicago Sketch Comedy Festival, including "Community" actor Danny Pudi, who headlines a two-man show with actor Parvesh Cheena. This year's fest features a total of 120 shows over eight days. Expect to see a mix of newcomers, like Welcome to Anhedonia (a puppet show embracing nerd culture), and longtime favorites, including The Cupid Players.
Details: Hourly performances from 8-10 p.m. Thursday; 8-11 p.m. Friday; 6-11 p.m. Saturday; 3-7 p.m. Sunday through Jan. 20 at Stage 773, 1225 W. Belmont Ave. $15 per show; $24-$60 festival passes; $225 all festival pass / MAP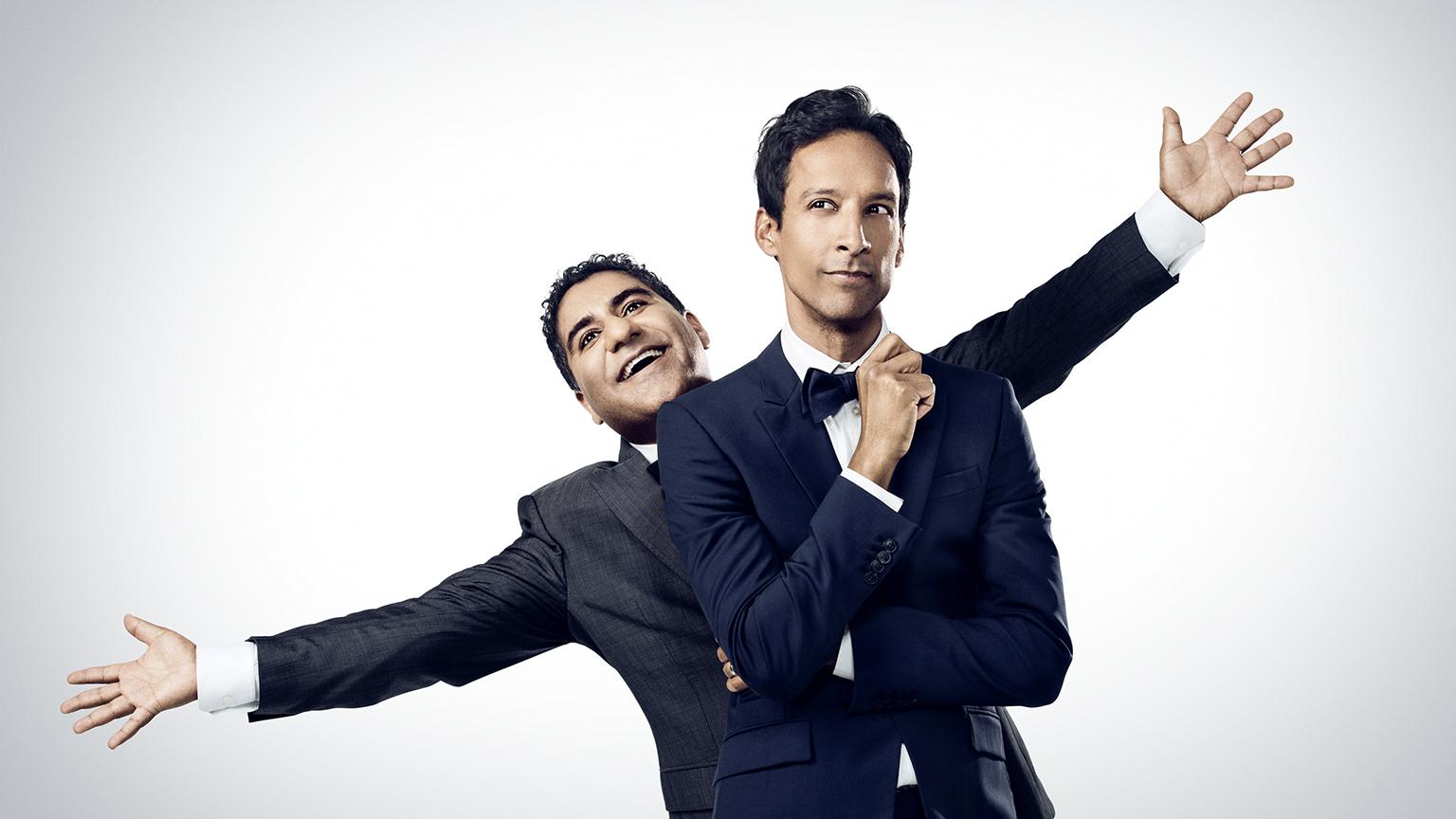 (Parv and Pudi / Photo by Elisabeth Caren)
3. Flaunt
Strip down to your skivvies for the No Pants Subway Ride. The "celebration of silliness" doesn't seek to offend, organizers of the Red Line event say, so be sure your undergarments cover your, ahem, private parts. The group plans to depart from the Loyola Red Line CTA station at 12:30 p.m. and advises participants to bring a bag in which to carry their pants for the duration of the ride.
Details: Noon Sunday on the fourth floor of the parking lot across from 1209 W. Arthur Ave. $2.50 / MAP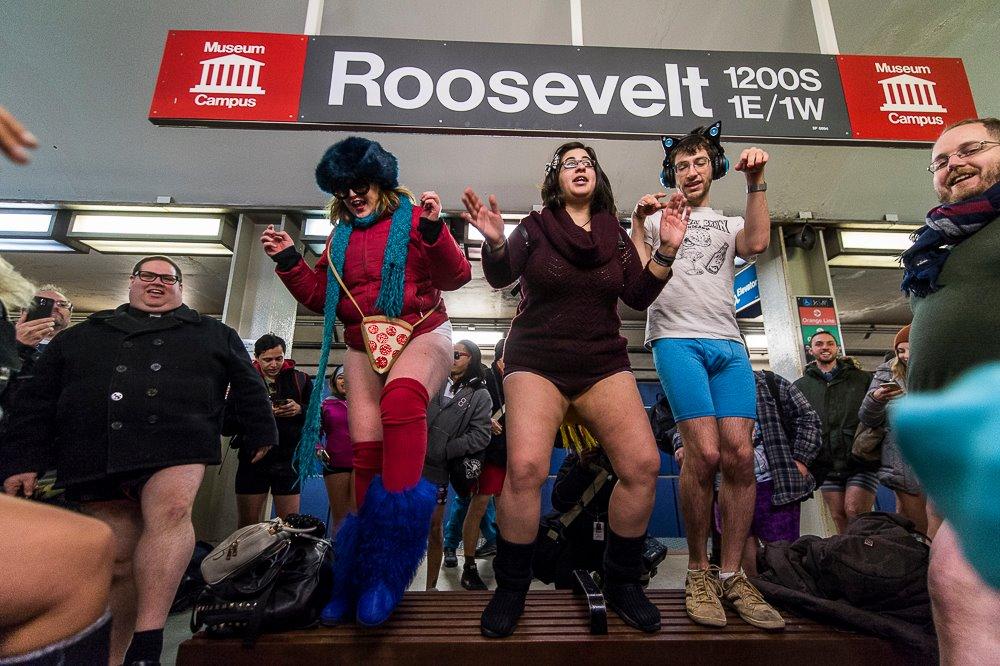 (No Pants Subway Ride Red Line Chicago Edition / Facebook)
4. Shop
Funky jewelry, knitted items, paper crafts and more await your perusal at Handmade Market Chicago. Discover the work of dozens of crafty Chicagoans while you browse with a drink in hand.
Details: Noon-4 p.m. Saturday at The Empty Bottle, 1035 N. Western Ave. Free / MAP
---
5. Do-si-do
Dust off your dancing shoes (or cowboy boots) for a night of fancy footwork at the 14th annual Barn Dance Apocalypse. Don't worry if you have two left feet: the pros will teach you the steps. The Golden Horse Ranch Band provides the beats for square dancing, waltzing, two stepping and line dancing.
Details: 7:30 p.m. Saturday at Thalia Hall, 1807 S. Allport St. $18 / MAP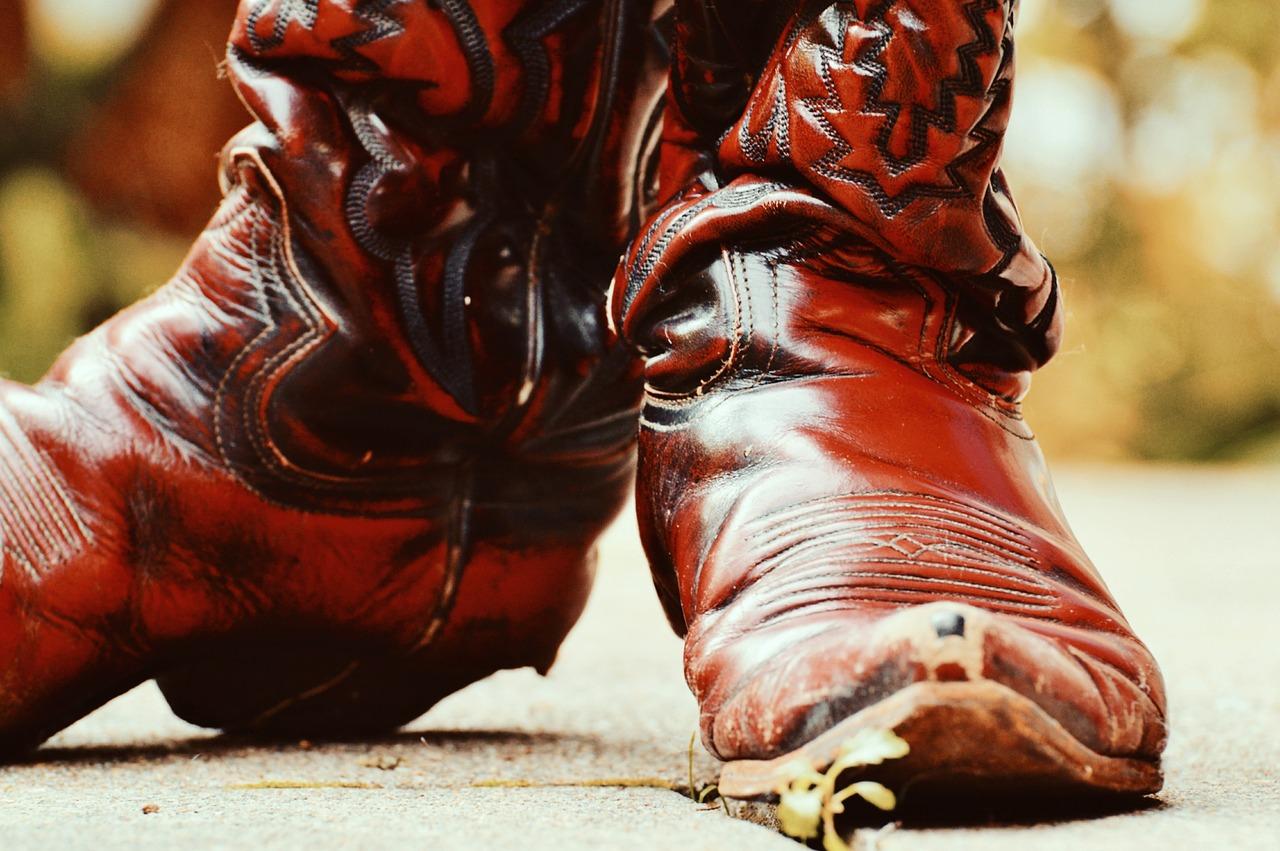 (Alexas Fotos / Pixabay)
6. Prepare
Your next out-of-town trip could be inspired by at visit to the Chicago Travel & Adventure Show, where you can meet with travel experts, attend educational seminars and discover the latest products and gadgets. Learn how to navigate Europe from Rick Steves and how to spend less while seeing more from Pauline Frommer. PBS' Samantha Brown will be sharing her favorite destinations featured in "Samantha Brown's Places to Love." Also on tap: camel rides, scuba diving lessons and cultural music and dance performances.
Details: 10 a.m.-5 p.m. Saturday; 10 a.m.-4 p.m. Sunday at the Donald E. Stephens Convention Center, 5555 N. River Road, Rosemont. $11-$15 single day admission; $18-$22 two day admission; free for children under age 16 / MAP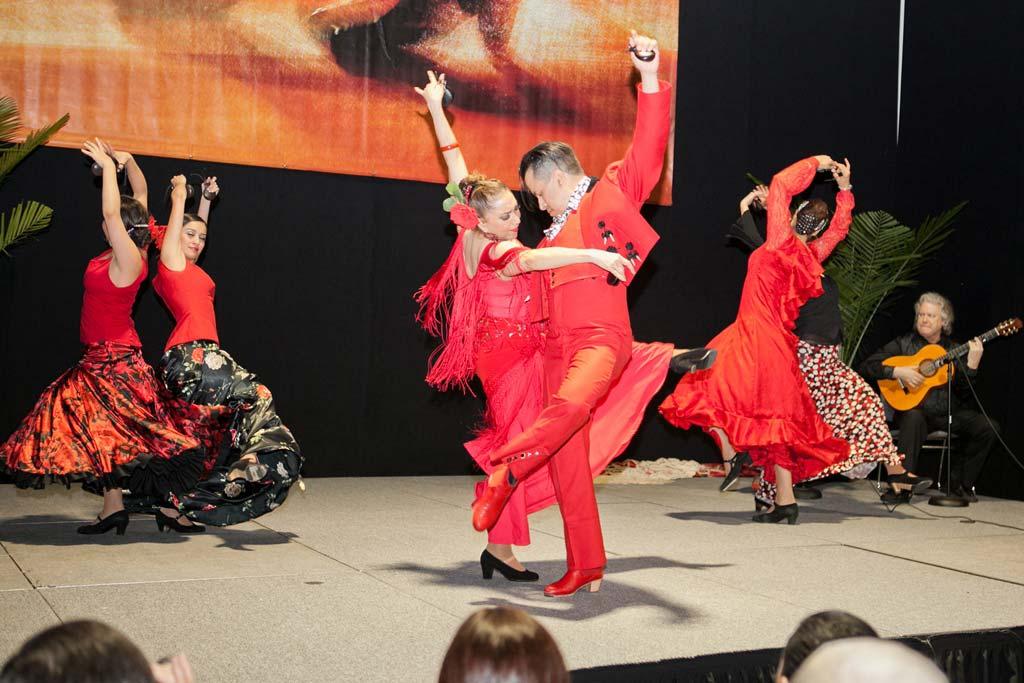 (Jim Donnelly Photo)
7. Say 'cheese!'
Make your mark on the city at the We All Live Here Mural Project Photo Shoot. Photographs taken during the event will be included in a collage with the words "we all live here" that will be installed in Edgewater later this year.
Details: Noon-4 p.m. Saturday at Broadway Armory Park, 5917 N. Broadway. Free / MAP
---
8. Stock up
Fresh fruits and veggies, soups, preserves and baked goods will have you thinking of summertime at the 61st Street Farmers Market. Vendors include Build Coffee, Breadman Baking Company, Gorman Fresh Produce and Quarter Mile Sauce Runnin' … Hot. Enjoy live music, chef demos (10:30-11 a.m.) and tips from sustainability experts.
Details: 9 a.m.-2 p.m. Saturday at Experimental Station, 6100 S. Blackstone Ave. Free / MAP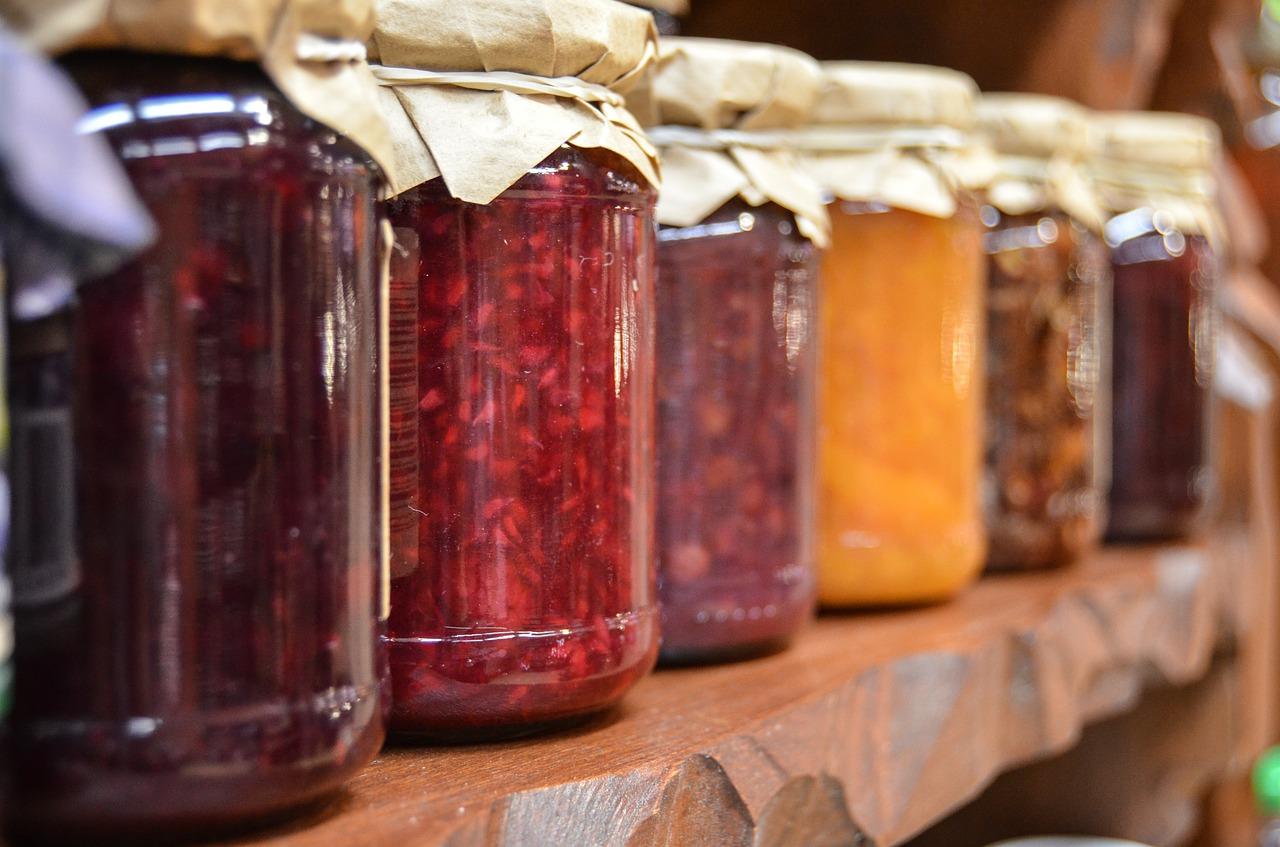 (jarmoluk / Pixabay)
9. Giddy up
The World Champions Rodeo Alliance and Professional Bull Riders have partnered up to bring you a weekend full of bucking bulls, starting with the Windy City Roundup on Friday. Watch 81 of the top rodeo athletes compete for a $1 million prize in events like bareback riding and barrel racing. The entertainment continues Saturday and Sunday as the top 35 bull riders compete against the fiercest bull in PBR: Unleash the Beast.
Details: 7 p.m. Friday; 6:45 p.m. Saturday; 1:45 p.m. Sunday at the Allstate Arena, 6920 N. Mannheim Road, Rosemont. $15-$100 / MAP
Ramon de Lima rides Blake Sharp/Sharp Farm & Cattle's Panama Outlaw during the second round of the Chicago Unleash the Beast PBR. (Photo by Andy Watson)
10. Listen
Discover the music of Black String. Formed in 2011 as part of a Korean cultural exchange program in the United Kingdom, the quartet has exploded on the international scene. They draw upon Korean music, jazz and rock to create a dynamic new sound rooted in improvisation. Ahead of the concert the band will talk about their musical background and traditional influences in a conversation with University of Chicago professor Travis Jackson.
Details: 2 p.m. talk; 3 p.m. performance Sunday at Logan Center for the Arts, Performance Hall, 915 E. 60th St. $38 / MAP
---
Events listed are subject to change. We recommend double-checking times and locations before you head out the door. Want to share your upcoming events with us for consideration in a future roundup? Send us an email.
---