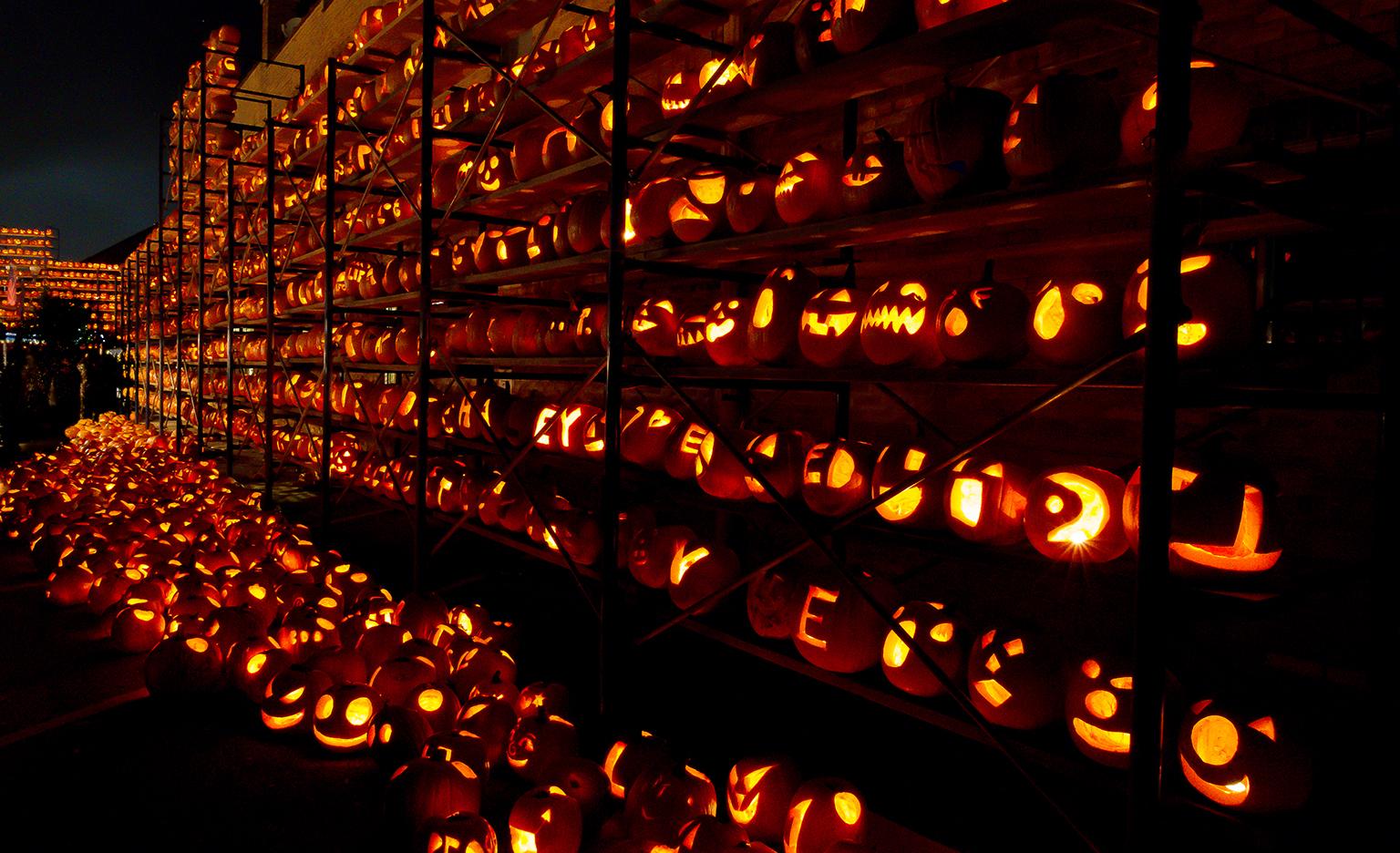 (Credit: Rick Roshto)
1. Carve
Get into the spirit of the season at The Great Highwood Pumpkin Festival, where you can feast your eyes upon thousands of glowing gourds as organizers attempt to break a Guinness World Record for the number of lit jack-o-lanterns on display: 30,851. Bring your own pumpkin to get free admission to the fest. While you're there, test out your Halloween costume in a contest, dance to live music, take a pony or camel ride, and, of course, carve pumpkins! All proceeds benefit Make-A-Wish Illinois.
Details: 4-10 p.m. Friday; 11 a.m.-10 p.m. Saturday; 11 a.m.-9 p.m. Sunday at Webster Avenue and Sheridan Road, Highwood. $3 daily; $5 weekend pass / MAP

Find more fall festivals in our 2018 guide
---
2. Meander
Snack and stroll this weekend at the West Town Food Truck Social and West Town Art Walk. Whadda Jerk, 5411 Empanadas and Pink Taco are among the vendors serving up bites. Sampler tickets ($20) include six sample-sized portions. (Don't worry: Regular-sized food and beverages are also available for purchase.) Once satiated, stroll along Chicago Avenue to check out public art installations.
Details: 4-10 p.m. Friday; 11 a.m.-10 p.m. Saturday along Noble Street from Chicago Avenue to Chestnut Street. Free / MAP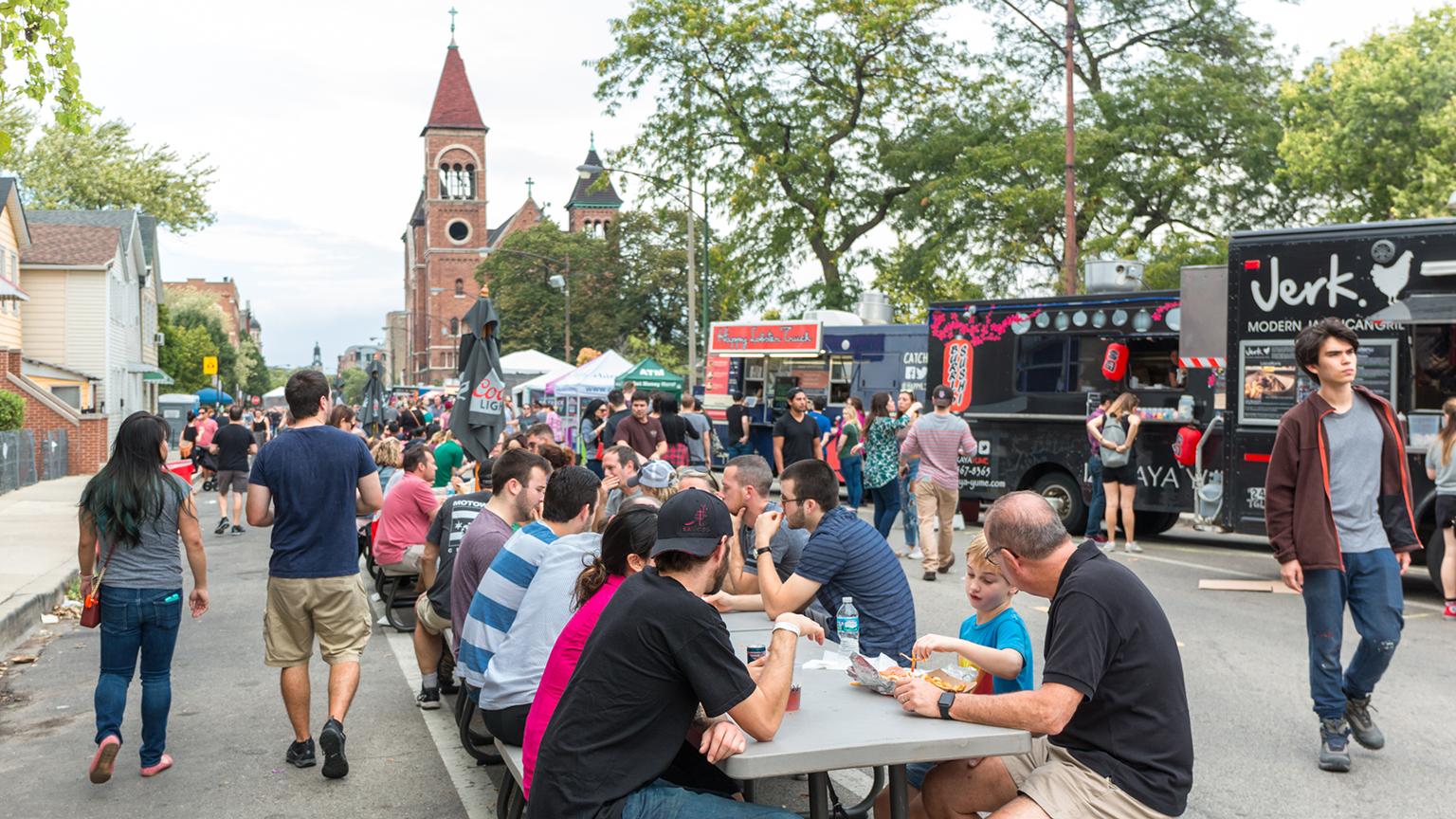 (Courtesy of the West Town Art Walk and Food Truck Social)
3. Indulge
Get your fill of cured meats and craft brews at the Bacon and Beer Classic. Indulge in three hours of noshing on bacon-infused dishes from local restaurants, including Overtime Bacon Bar and Angry Pig Tavern. Quench your thirst with sudsy beverages from regional breweries, including City Lights Brewing, Urban Renewal Brewery and the Peckish Pig. Live music, games and a bacon-eating contest are also on tap.
Details: 2-5 p.m. Saturday at Soldier Field, 1410 Museum Campus Drive. $59; $79 VIP (includes one hour early admission) / MAP
(Bacon and Beer Classic / Facebook)
4. Cheer
Thousands of runners lace up this weekend for the Bank of America Chicago Marathon. If you're not one of them, you can give your lungs a workout cheering them on as they dash through city streets. While you won't be able to access the race start and finish areas, you can show your support near the finish line at Michigan Avenue and Roosevelt Road. Other suggested spots to encourage runners: Grand Avenue and State Street; and Monroe and Jefferson Streets. Get more tips for the best way to see and cheer on runners. 
Details: Wave 1 runners begin at 7:30 a.m. Sunday at Grant Park, 307 E. Randolph St. Free / MAP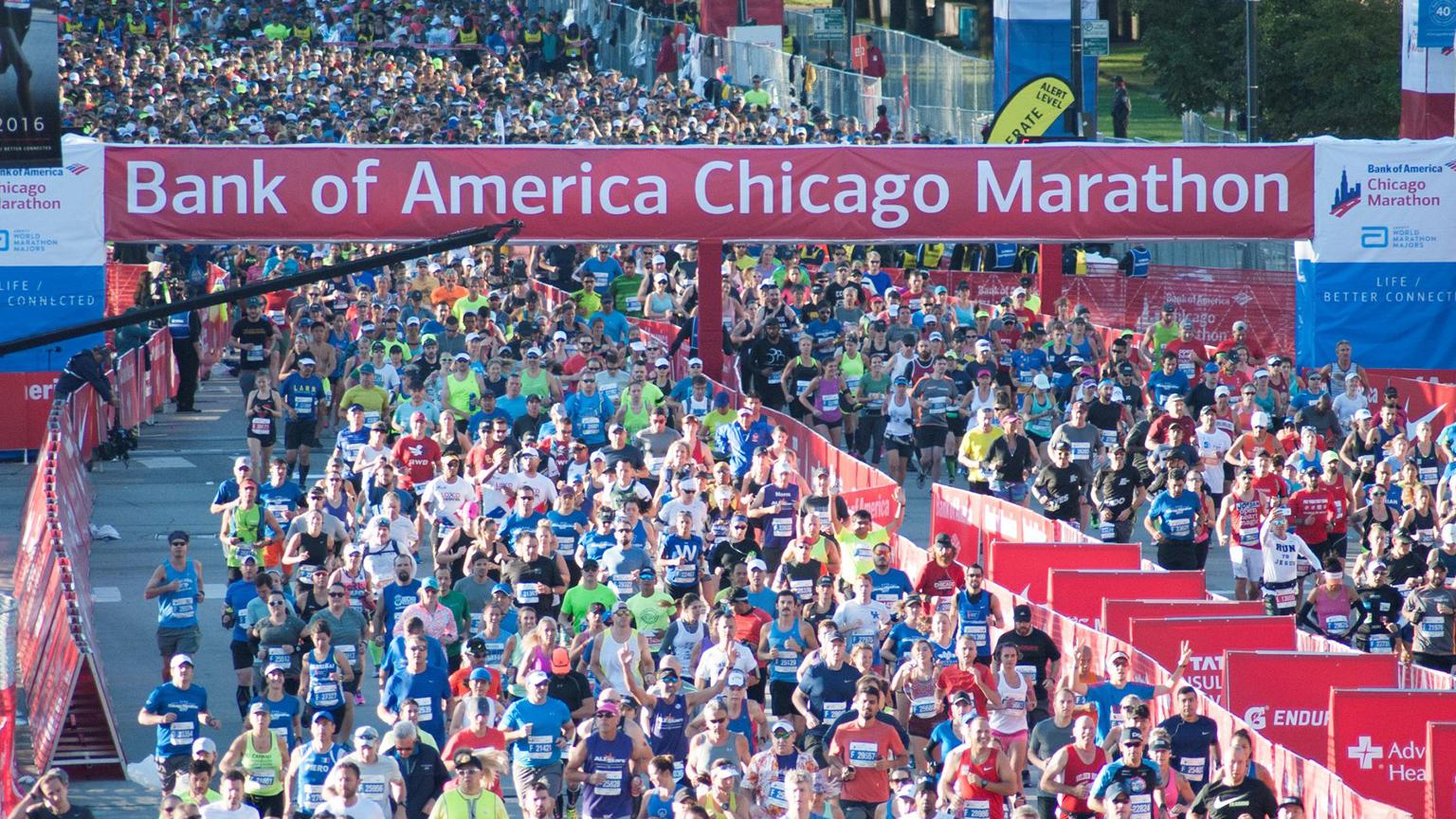 (Bank of America Chicago Marathon / Facebook)
5. Bite
Sink your teeth into the season's best fruit at Lincoln Square Ravenswood Apple Fest, where you can enjoy fresh apple pie, apple cider, candy apples and other apple-inspired dishes. Do you have an amazing apple pie recipe? Enter the apple pie bake-off (10 a.m. Sunday). Prizes will be awarded to the top two contestants. Learn how to make your own apple cider and other apple-inspired dishes during chef demonstrations.
Details: 9 a.m.-8 p.m. Saturday; 9 a.m.-6 p.m. Sunday along Lincoln Avenue between Lawrence and Eastwood avenues. $5 suggested donation / MAP
(Wokandapix / Pixabay)
6. Astonish
Aerial acrobatics, tightrope walkers and jugglers will have you on the edge of your ringside seat at the Midnight Circus. The two-hour, action-packed show combines acrobatics, storytelling, live music and dance, and even rescued canines. Founded with a mission to give back to the community, performances have raised nearly $1 million for Chicago park improvements.
Details: Performances at 2 p.m. and 5 p.m. Saturday and Sunday at Kosciuszko Park, 2732 N. Avers Ave. $22 / MAP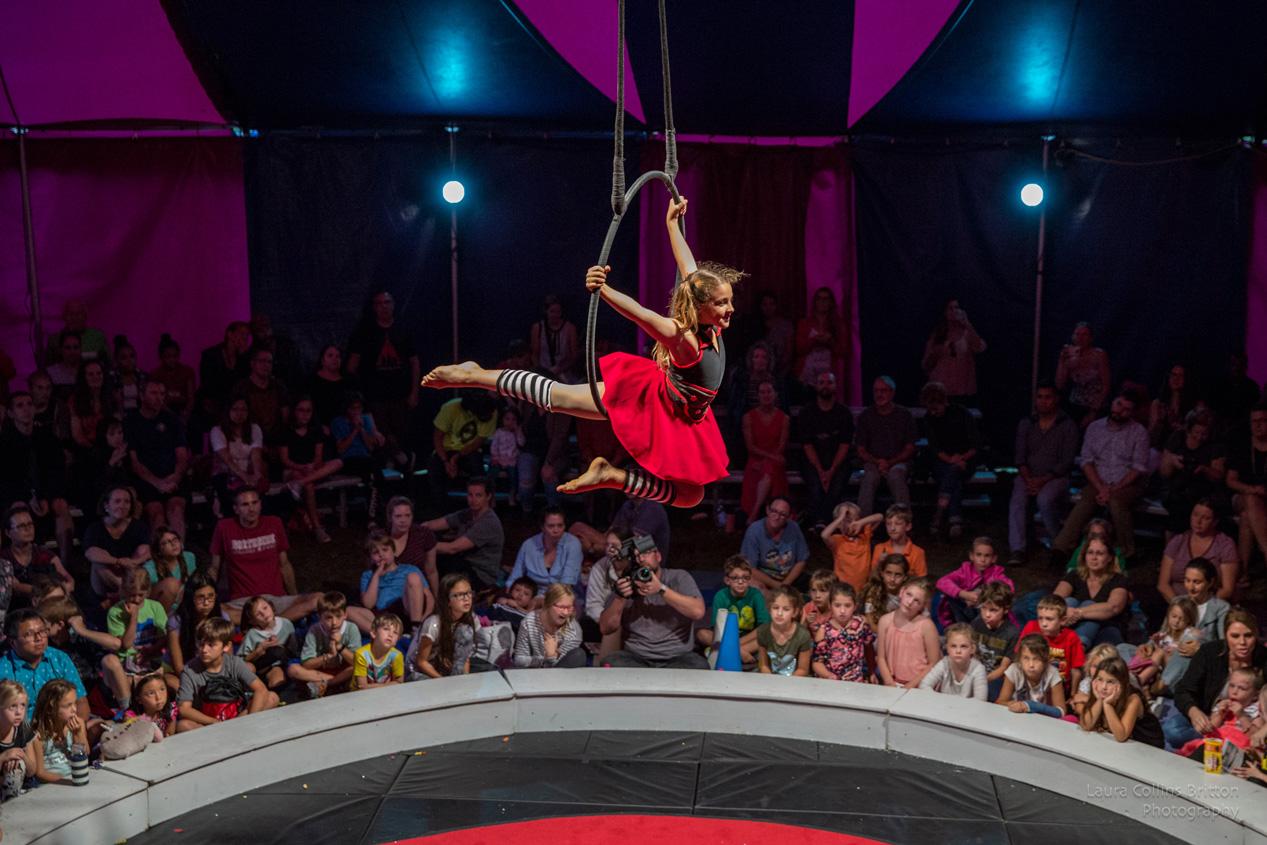 (Credit: Laura Collins Britton)
7. Empower
In the era of #MeToo and women's marches across the country, courageous women are everywhere. The strength and resilience on national display are the focus of the exhibition "Nevertheless She Persisted: Women of Courage, Tenacity and Strength." Produced in collaboration with the Oakton Community College Women and Gender Studies program, the exhibit seeks to highlight the creative talents of women in visual, literary and performing arts.
Details: 10 a.m.-6 p.m. Monday-Friday; 11 a.m.-4 p.m. Saturday at the Koehnline Museum of Art, 1600 E. Golf Road, Des Plaines. Free / MAP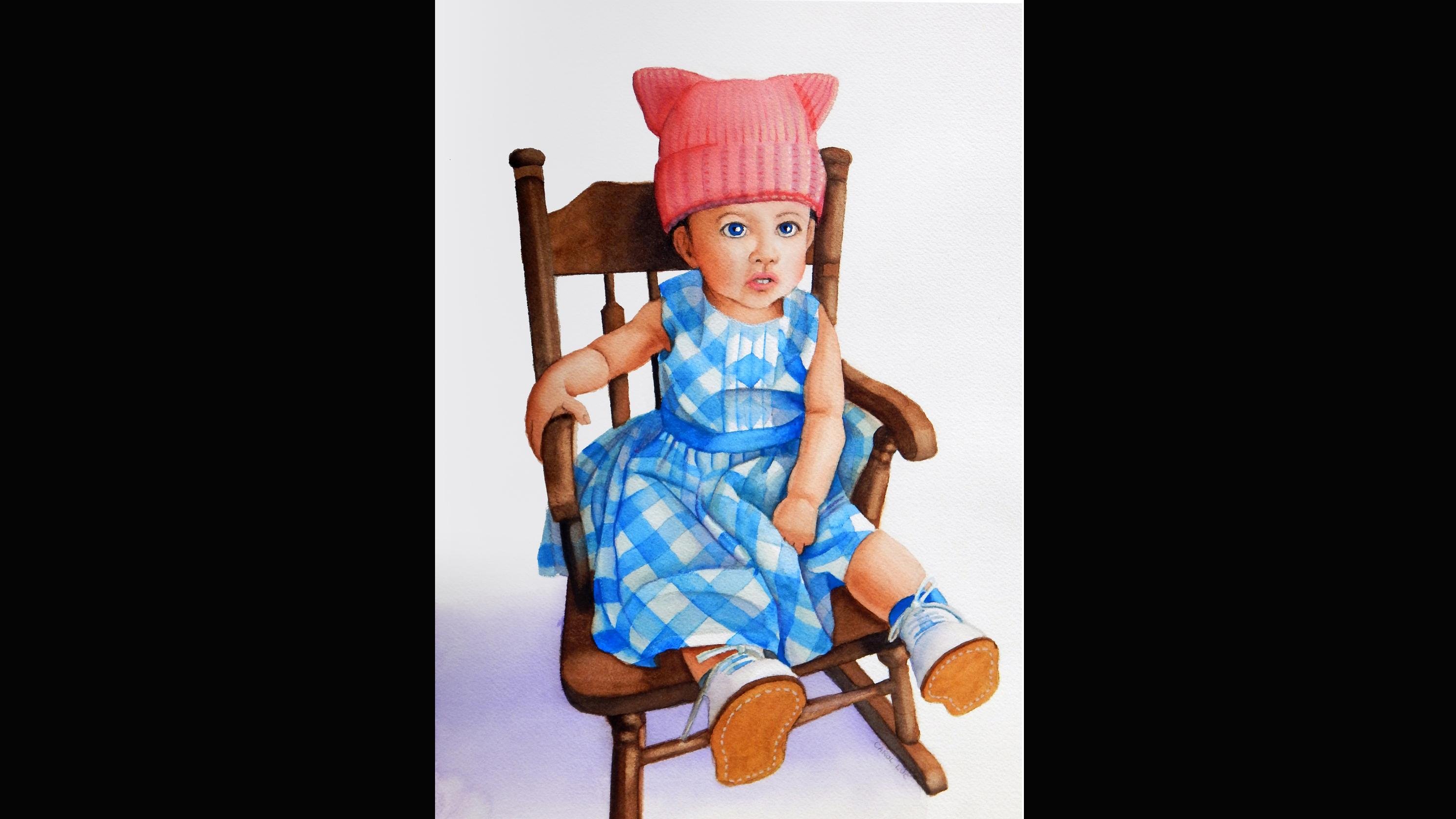 (Carol Luc, Nevertheless, She'll Persist, 2018, Watercolor, 16 x 20 in.)
8. Conjure
Give movie night a seasonal spike at Campfire Horrors at Northerly Island: "Nosferatu." The creepy silent film starring Max Schreck – made nearly 100 years ago – gets a live music upgrade with a score by Maxx McGathey performed by Gramps the Vamp. Stay warm around a campfire and toast marshmallows. Cap off the evening with a sing-along screening of the 1986 musical "Little Shop of Horrors" and the opportunity to learn about real-life carnivorous plants from local experts.
Details: 7 p.m. Friday at Northerly Island, 1521 S. Linn Drive. Free / MAP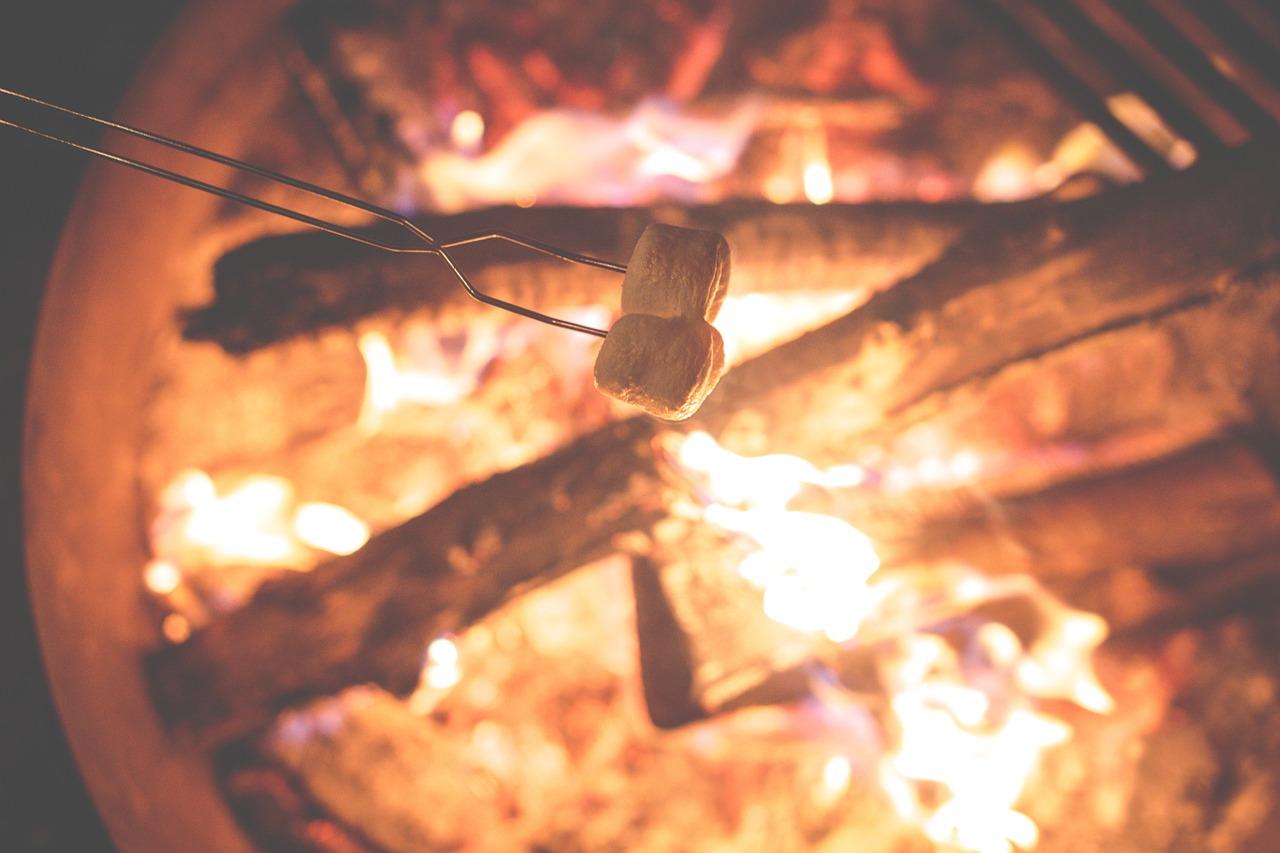 (Free-Photos / Pixabay)
9. Sprint
Run for your life (or walk briskly) at the annual Rosehill Cemetery Crypt 5K, which winds through candlelit paths inside the 350-acre Victorian-era cemetery featuring lush tree groves, mausoleums, lighted monuments and moats. Make it a fun run or try for a personal best with a chip-timed run. Partial proceeds benefit the Chicago chapter of the American Diabetes Association.
Details: 7 p.m. Saturday at Rosehill Cemetery, 5800 N. Ravenswood Ave. $34-$38 in advance; $39-$43 on site / MAP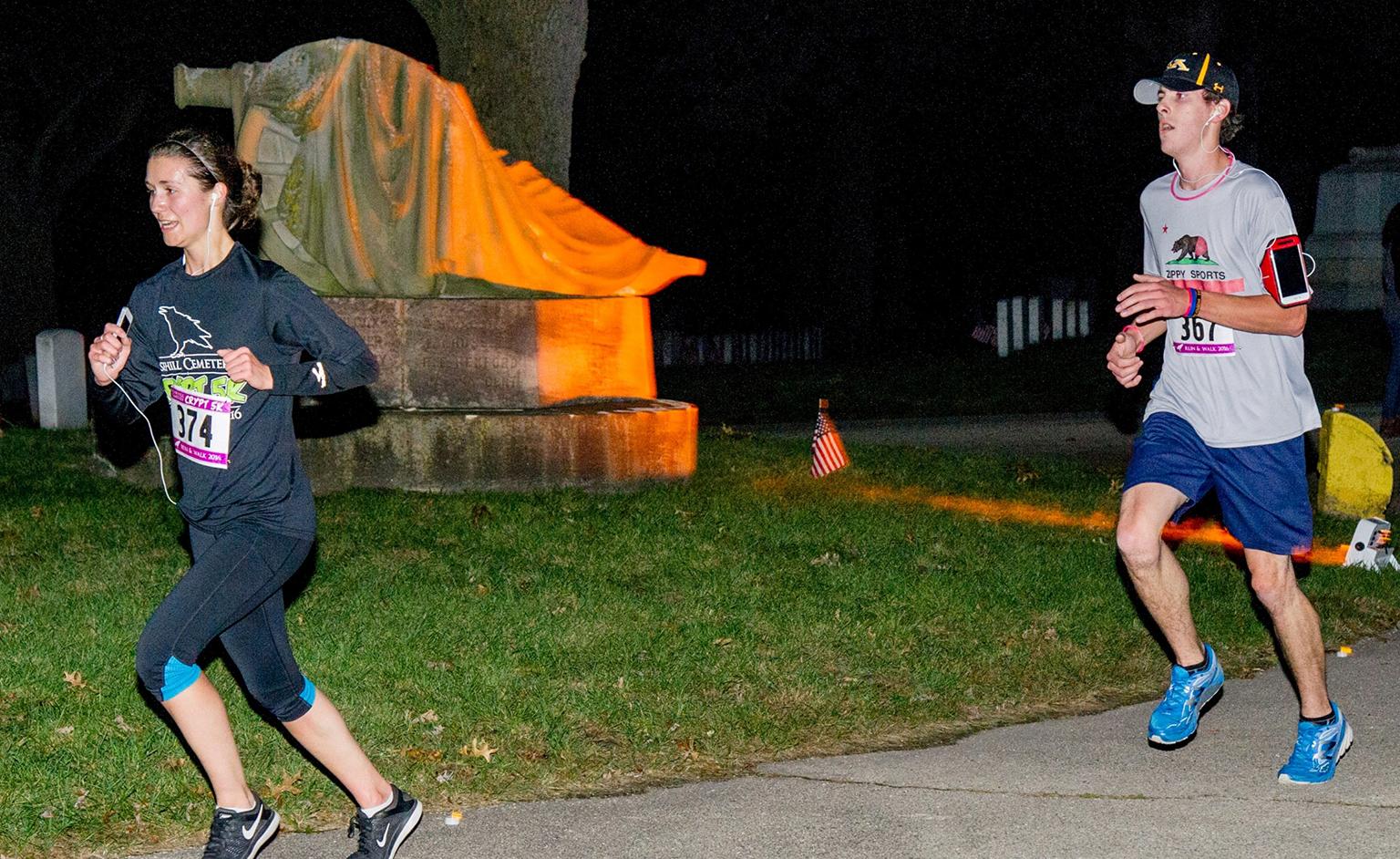 (Courtesy of Special Events Management)
10. Sample
Eat your way through the neighborhood this weekend at the Taste of Clark Street. Try bites from than a dozen local restaurants, including Taste of Peru, Smack Dab Chicago and El Pecado Mexican Food. Live music and activities are also on tap.
Details: 2-6 p.m. Sunday along Clark Street between Devon and Touhy Avenues. $15-$25 in advance; $20-$30 on site / MAP

Events listed are subject to change. We recommend double-checking times and locations before you head out the door. Want to share your upcoming events with us for consideration in a future roundup? Send us an email.
---