One of Chicago's hottest singers is on the comeback trail. We catch up with Paul Marinaro at the Green Mill accompanied by the Chicago Jazz Orchestra.
The big band and the singer with the big voice brought a lot of volume and a story to tell.
TRANSCRIPT
Phil Ponce: On a summer evening in Uptown, a crowd gathers for the main event.
Howard Reich, Chicago Tribune: Paul Marinaro has a remarkable instrument, just the warmth, the wide-open quality – there's no strain when he sings. Music flows from him like water from the faucet. You combine that – the natural, amber quality of his tone – with the swing rhythm that he is so comfortable with, and his – the intelligence of the way he can interpret a ballad – and you have really the complete singer.
Paul Marinaro: I mostly work with small groups where there's just a lot more freedom on either end of a beat for me to play around with. So just singing with a big band in general, it's a different form of singing; it's a more controlled form of singing. And you really need to know the arrangements that you're singing with and kind of where to lay in the pocket of what's on either end of you.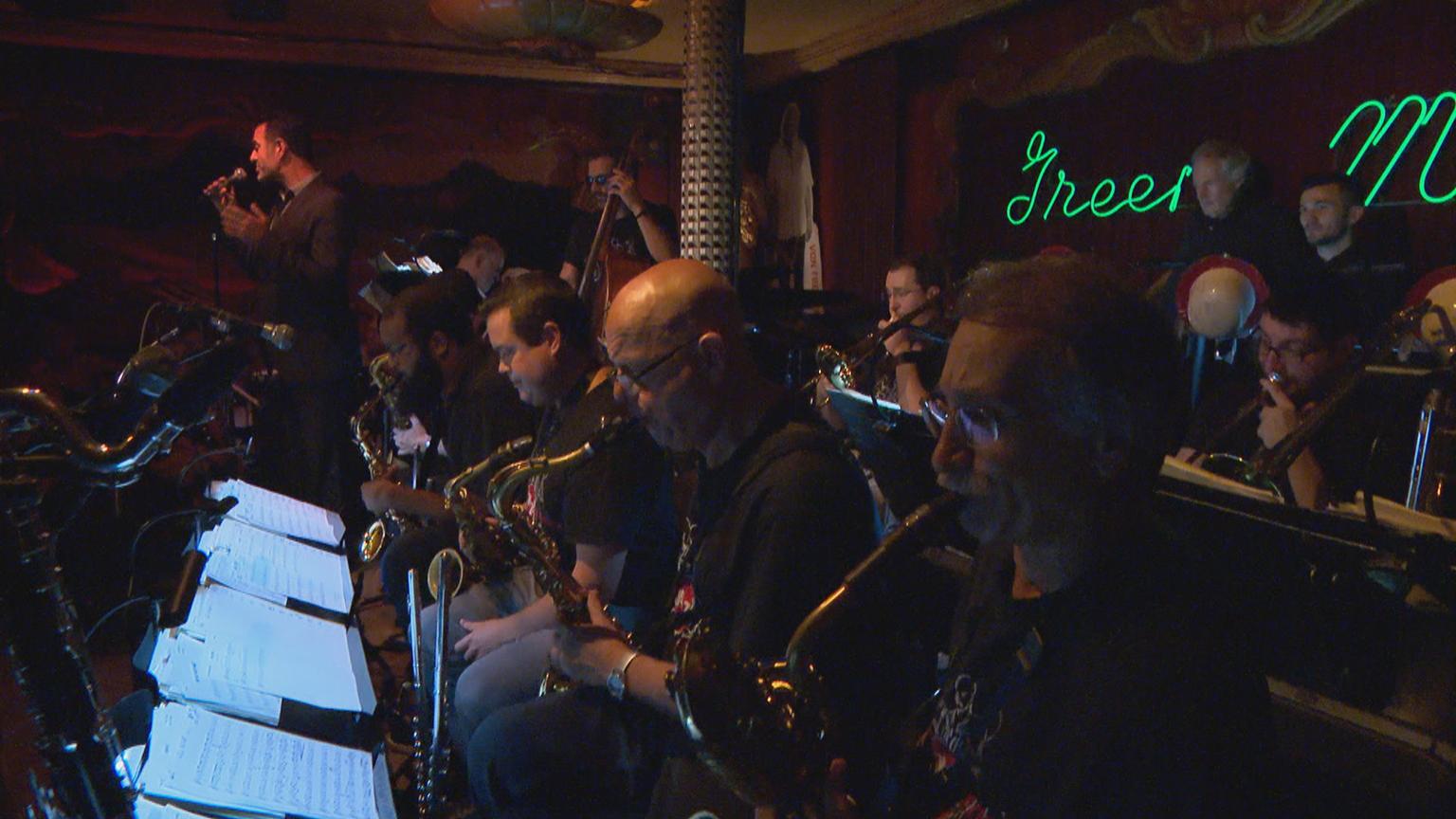 Ponce: Performing standards best known by the likes of Frank Sinatra and Nat King Cole doesn't bother the singer.
Marinaro: You know, I think the best artists connect to these songs, to these lyrics, as an actor would the words in a play. They're going to find something different to interpret. They're going to respond emotionally in a different way.
Reich: Paul doesn't just sing; Paul thinks about what he's singing. He's a philosopher as well as a vocalist.
Ponce: The Buffalo, New York, native visited a friend in Chicago 16 years ago and stayed. But he almost checked out last year when he underwent emergency surgery for a life-threatening stomach ailment. After a follow-up operation, he's just now at full strength.
Marinaro: I was closer to the edge than I ever want to be again, for a long time anyway. And that definitely changes your perspective on a lot of things in life. I had never been taken out of the game of music for as long since I first started singing. You get caught in a trajectory. You get caught in the forward motion of your career and what you're trying to do, and you don't really think about how much time is passing. You just keep forging ahead. So to be pulled out of that and to have this complete stop in the middle of all that was really different for me. It was very challenging.
I've been very blessed with not only the musicians that I've been fortunate enough to work with here in Chicago, but the familiar faces – from my earliest barroom gigs, when nobody knew who I was when I first got to Chicago, until now, I have some of the same people that still show up to just about everything.
Reich: You have a singer who can pretty much do it all in the jazz realm. And a voice like that and a talent like that and a development of skill like that comes along very rarely. And here now in Chicago, that's Paul Marinaro.
More on this story
Find upcoming performances by Paul Marinaro and the Chicago Jazz Orchestra.
---
Related stories:
Jeannie Tanner's 'Words and Music' Shines Light on Other Jazz Artists
Chicago Jazz Festival Expands to Neighborhoods for 40th Anniversary
Pitchfork Lineup Includes Debuts by Melkbelly, Nnamdi Ogbonnaya
---