Holiday ornaments, left, and glühwein: a recipe for shopping success. (Glühwein photo by Kameron Sears)
1. Warm up
A hot mug of mulled wine helps you warm up to the holiday shopping season (and then some). Raise a glass at the 22nd annual Christkindlmarket, an outdoor holiday fair underway at Daley Plaza that showcases handmade and traditional German gifts such as ornaments, nutcrackers, German beer steins, toys, wooden crafts, clothes and jewelry, plus German fare like potato pancakes, sausages and strudel, and roasted nuts, chocolates and more. Gluhwein—served in the market's souvenir boot-shaped mug—and German beer round out the offerings.
Bonus: This year's downtown market is already open, but on Friday the market opens at the Park at Wrigley and returns to Naperville.
Details: 11 a.m.-8 p.m. Sunday-Thursday; 11 a.m.-9 p.m. Friday-Saturday through Dec. 24 at Daley Plaza, 50 W. Washington St. Free / MAP

2. Mingle
Thanksgiving Day is all about traditions. For some of us, that means a lazy morning of sweets and spiked coffee before the big bird bash. For others, it means lacing up and hitting the pavement. The Art Van Turkey Trot Chicago, now in its 40th year, includes 5K and 8K run/walk options, a kids race, pre- and post-race games like turkey bowling and cornhole, hot food and drinks, and a Lagunitas beer for those over 21. Costumed encouraged; canned food donations benefit the Greater Chicago Food Depository.
Details: 8 a.m. Thursday at Cannon Drive and Fullerton Parkway in Lincoln Park. (Get the full schedule here.) $45; $25 for youth 5K (ages 17 and under); $20 for kids race / MAP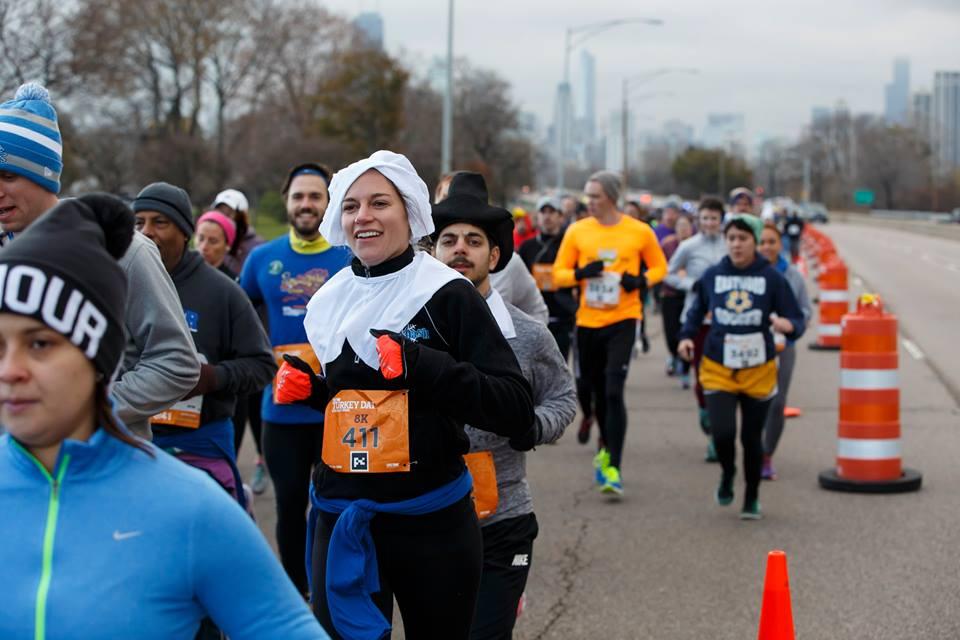 (Turkey Trot Chicago / Facebook)
3. Explore
A pop-up festival highlights local and national retailers, artists, musicians, DJs and filmmakers during Connect South Shore. Stop by neighborhood storefronts to browse art galleries, a marketplace stocked with handmade gifts, see short films and more along a half-mile stretch of 71st Street. 
Details: Noon-9 p.m. Friday-Sunday along 71st Street, from Luella to Bennett avenues, including Connect Gallery, 2226 E. 71st St. Free / MAP
Video: Connect Hyde Park, which took place last year.
4. Flock
Giant inflatable balloons, marching bands, floats, dancers, musicians, equestrian units and others are among the estimated 5,000 participants of this year's Thanksgiving Parade along State Street. Spectators start lining up along the mile-long route for prime viewing spots as early as 6 a.m. Organizers say the intersection of State and Adams streets offers less-crowded views.
Details: 8-11 a.m. Thursday from parade along State Street, from Congress Parkway to Randolph Street. Free / MAP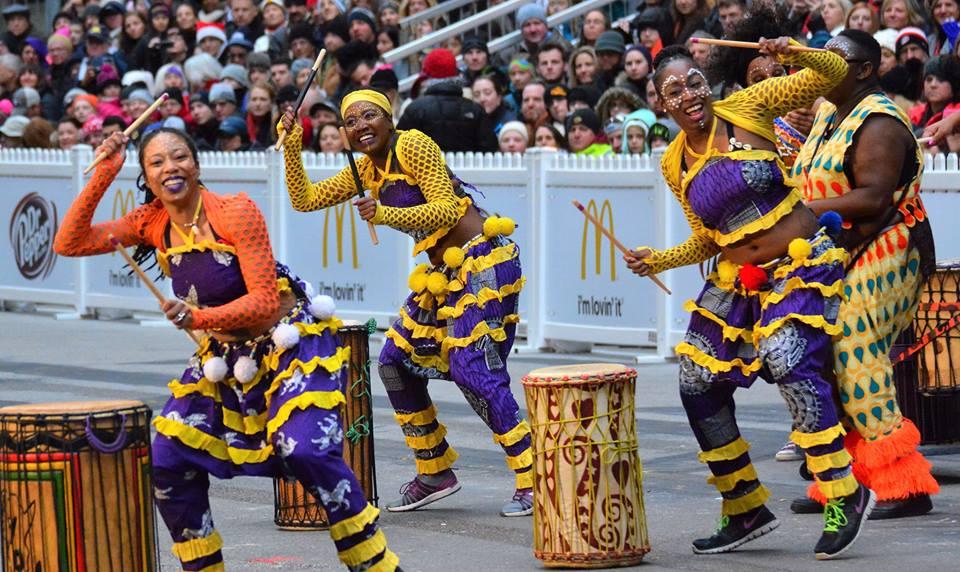 Ayodele Drum & Dance performs at the 2016 Thanksgiving Parade. (McDonald's® Thanksgiving Parade / Facebook)
5. Stay up
Get a taste of Black Friday—minus the big-box crowds—at The Late Late Craft Show. Now in its sixth year, the end-of-day market takes place in a bar/restaurant (i.e., you can cocktail while you shop) and features 30 vendors selling prints, ceramics, jewelry, body products, candles, photography and more.
Details: 5-10 p.m. Friday at Mrs. Murphy & Sons Irish Bistro, 3905 N. Lincoln Ave. No cover / MAP

6. Unplug
Billed as a pop-up music festival, ChillFest, now in its fifth year, features acoustic performances by more than 50 local musicians at businesses in the Wicker Park/Bucktown neighborhoods on what's now known as Small Business Saturday (a response to the big-box driven Black Friday). Each venue hosts 3-4 artists playing 20- to 60-minute sets, including jazz-pop singer Elle Casazza, alt-rockers Personal Public and pop duo Abandom. See full schedule here.
Details: 2-6 p.m. Saturday at about two dozen storefronts in Wicker Park/Bucktown, Including Dimo's Pizza, 1615 N. Damen Ave. Free / MAP

7. Twirl
Make new memories at Wrigley Field when The Rink at The Park opens Friday (the park's Christkindlmarket also opens Friday). In addition to offering a pretty cool backdrop, the 8,000-square-foot rink features twinkling lights and holiday décor.
Details:  3-11 p.m. Friday; 11 a.m.-11 p.m. Saturday; 11 a.m.-9 p.m. Sunday; 3-9 p.m. Monday-Thursday through Feb. 25, 2018. (Special holiday hours Dec. 24-Jan. 5.) The Park at Wrigley, 3637 N. Clark St. Admission: $5; free for kids ages 12 and under. BYO skates or rent them for $10. Bag check costs $2 / MAP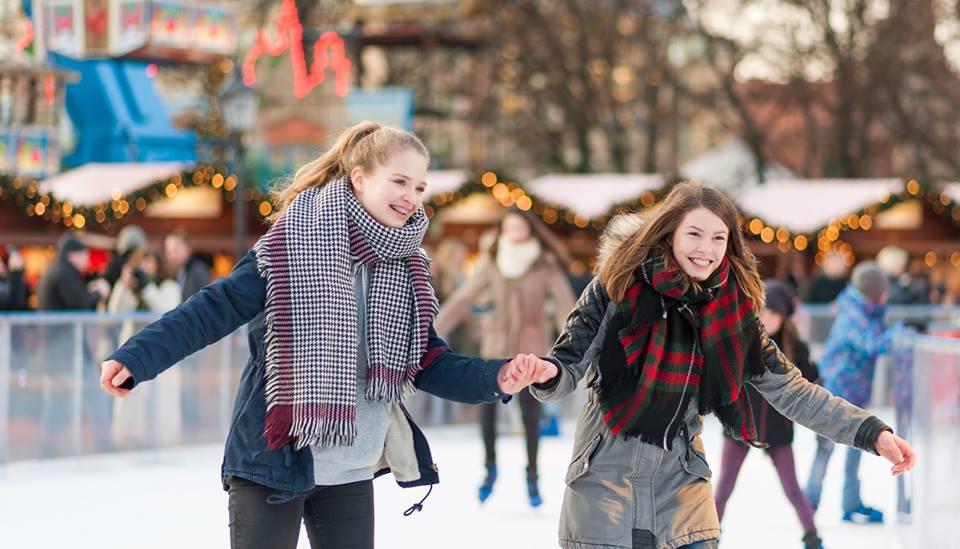 Glide through the weekend at Wrigley. (The Park at Wrigley / Facebook)
8. Harmonize
Holiday classics come to life when the city's beloved Bean sculpture becomes the gathering spot for the annual Caroling at Cloud Gate. The four-week series kicks off Friday with Leo High School Choir leading the crowd in an hourlong program of festive songs that's part sing-along, part concert.
Details: 6-7 p.m. Fridays through Dec. 15 at Millennium Park, 201 E. Randolph St. Free / MAP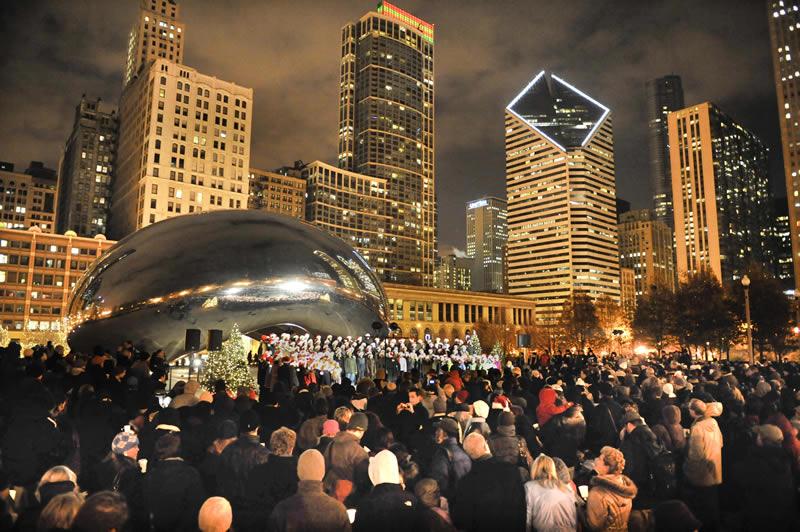 Gather round the Bean and raise your voice. (Courtesy of the City of Chicago)
9. Don't blink
Your turkey disappearing act, while amusing, is predictable. (Didn't you do the same thing last November?) Trade routine sleights-of-hand for more intoxicating feats at Ivan Amodei's "Intimate Illusions: A Magical & Musical Experience." The 90-minute show touts itself as a no-two-are-alike operation via audience participation and "unplanned moments" (not unlike holiday meals with tipsy guests) paired with classical music performed by a cellist. Amodei, originally from Sicily, says "the creation of an illusion is my personal agony and ecstasy." See some of his favorites this weekend.
Details: 4 p.m. and 7 p.m. Friday-Saturday at the Ritz-Carlton Chicago, 160 E. Pearson St. $75 / MAP
10. Dream
Whether or not snowflakes season city streets this weekend (unlikely), a little holiday magic—including the white stuff—is happening at the annual Wonderland Express. Watch model trains navigate a lush landscape that includes miniature Chicago landmarks as indoor "snow" falls. Carolers sing from 10 a.m.-noon Friday through Sunday; ice carvings are also on display.
Details: 10 a.m.-5 p.m. Friday through Dec. 22; 10 a.m.-7 p.m. Dec. 23-Jan. 7 (early closing days apply to some December dates) at the Chicago Botanic Garden, 1000 Lake Cook Road, Glencoe. $11-$13; $8-$10 for seniors and kids ages 3-12; free for kids ages 2 and under / MAP
Events listed are subject to change. We recommend double-checking times and locations before you head out the door. Want to share your upcoming events with us for consideration in a future roundup? Send us an email.
---