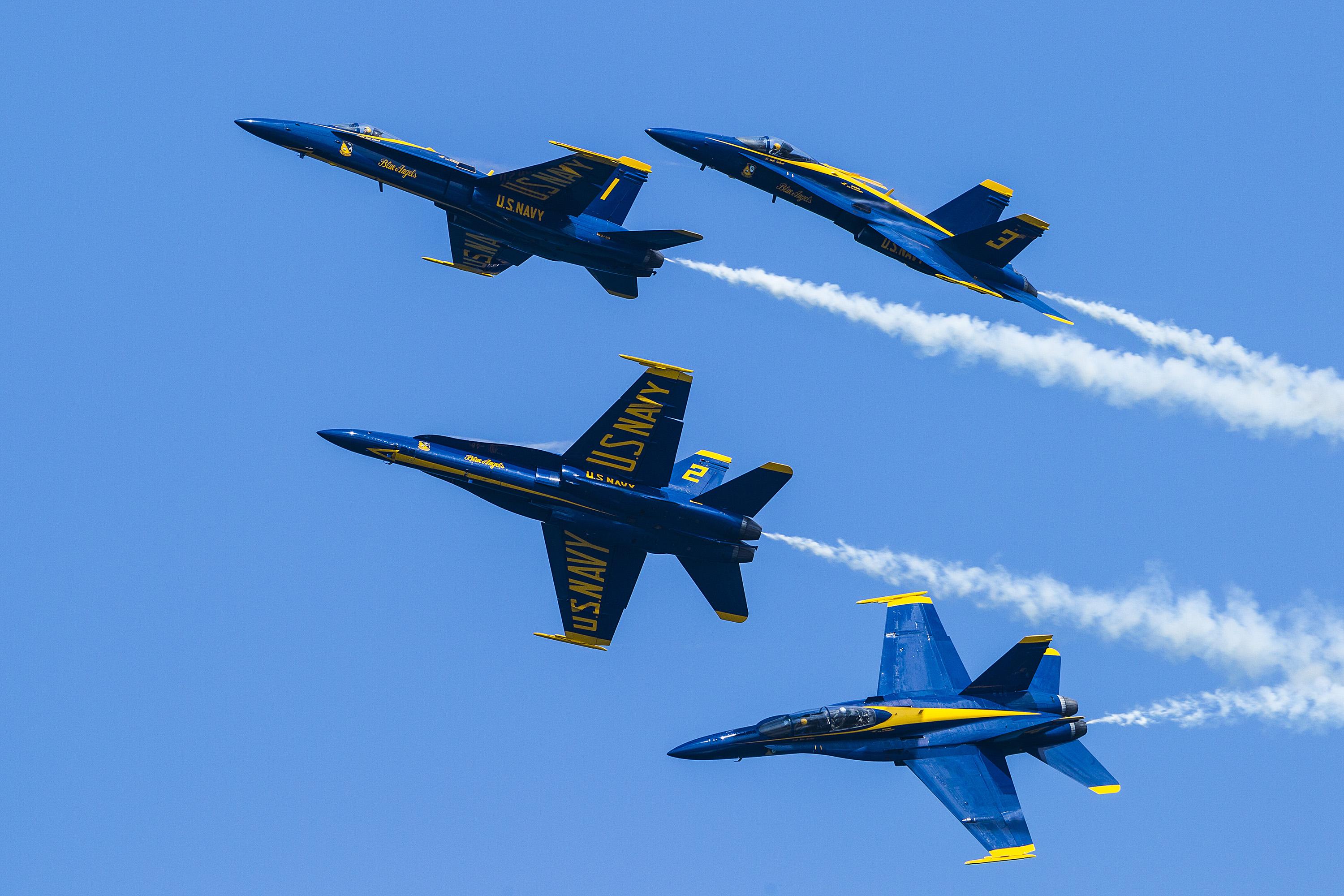 Chicago Air and Water Show 2015 (Scott L / Flickr)
1. Tilt
Whether or not you plan on lounging lakeside for the 59th annual Chicago Air and Water Show, chances are you'll see (or hear) the aerial antics as planes soar over the city this weekend. Headliners include the U.S. Navy Blue Angels, U.S. Army Parachute Team Golden Knights and the U.S. Navy Leap Frogs. On Saturday, former Cubs catcher David Ross (who was more recently a finalist on "Dancing with the Stars") opens the show by tandem jumping with the Golden Knights team.
The lakefront event—featuring nearly two dozen military and civilian teams, with Herb Hunter as announcer—is visible from Fullerton Avenue to Oak Street, with North Avenue Beach as the focal point. While you're allowed to bring a cooler, blanket and chairs to the event, alcohol and pets are among the prohibited items. Get more info about items you can and cannot bring.
Details: 10 a.m.-3 p.m. Saturday-Sunday at North Avenue Beach, 1600 N. Lake Shore Drive. Free. | MAP
2. Travel
Lincoln Square may be synonymous in summer with German festivals, but this weekend, Hellenic honors take the spotlight. The 68th annual Lincoln Square Greek Fest takes place on the grounds of St. Demetrios Greek Orthodox Church, where traditional fare (think gyros, lamb burgers, pastitsio and baklava), music and dancing are highlighted. Party bands and tribute acts also take the stage. 
Details: 5-11 p.m. Friday; 3-11 p.m. Saturday; noon-11 p.m. Sunday at St. Demetrios Greek Orthodox Church, 2727 W. Winona St. $5 suggested donation. | MAP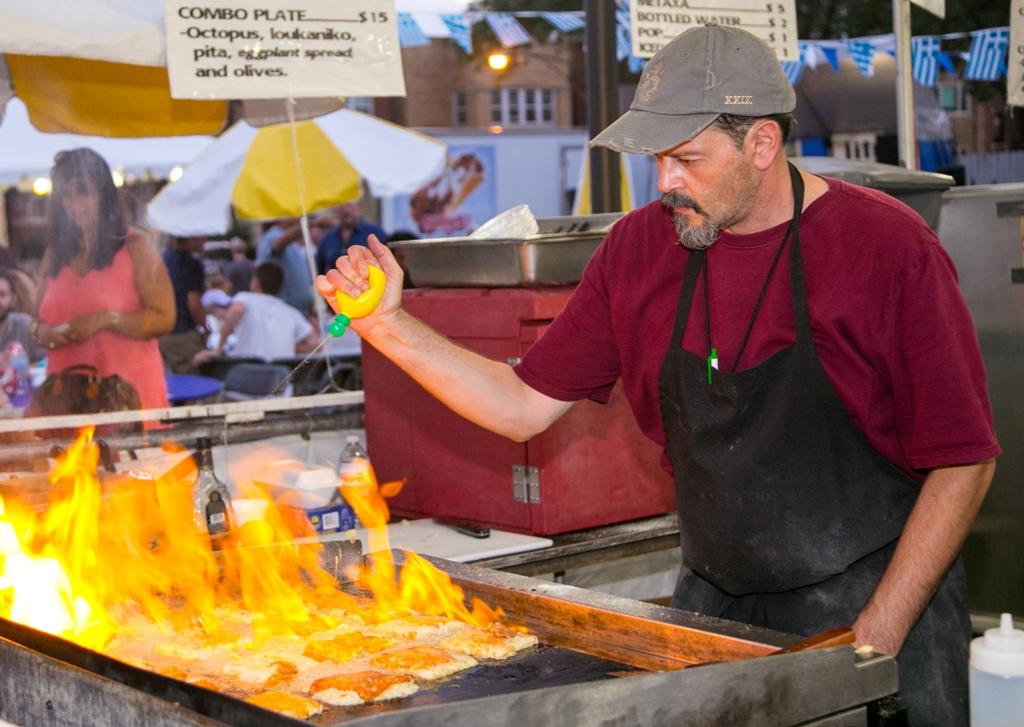 (Courtesy of Special Events Management)
3. Shop, sip, repeat
From local artwork to local beer, the Evanston Art and Big Fork Festival aims to address your weekend cravings. Shop for paintings, sculpture, photography, jewelry, furniture and other works from 130 artists; live music, food and drinks round it out. (Note: Art market closes at 7 p.m. Friday and Saturday.)
Details: 4-9 p.m. Friday; 10 a.m.-9 p.m. Saturday; 10 a.m.-5 p.m. Sunday in Downtown Evanston, 800 Church St. Free admission. | MAP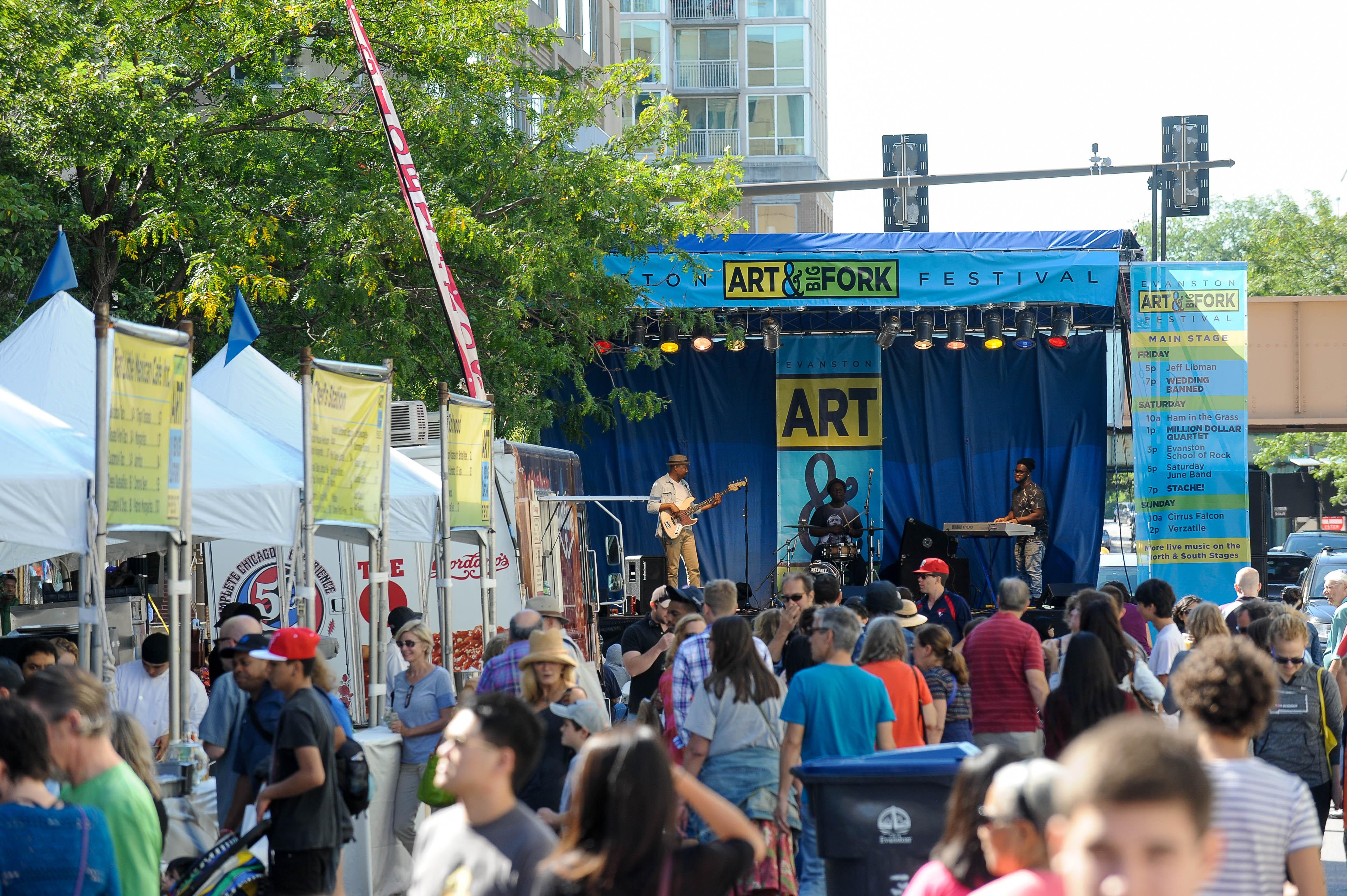 (Courtesy of Amdur Productions)
4. Feast
A five-block, restaurant-heavy stretch of Taylor Street becomes a playground for your taste buds at the 12th annual Festa Italiana. Expect a mix of crooners, jazz and party bands on three stages, local restaurants selling Italian fare and other festival eats, vendor tables, Italian themed art and more. Music highlights: Cole DeGenova and Chicago Diamond Trio, Too White Crew (Friday); Alfonso Ponticelli, John Michael Coppola, Wedding Banned (Saturday); Francesco Marino, Soco 7, 7th Heaven (Sunday).
Details: 5-11 p.m. Friday; noon-11 p.m. Saturday; noon-10 p.m. Sunday along Taylor Street, from Ashland to Racine avenues. $10 donation. | MAP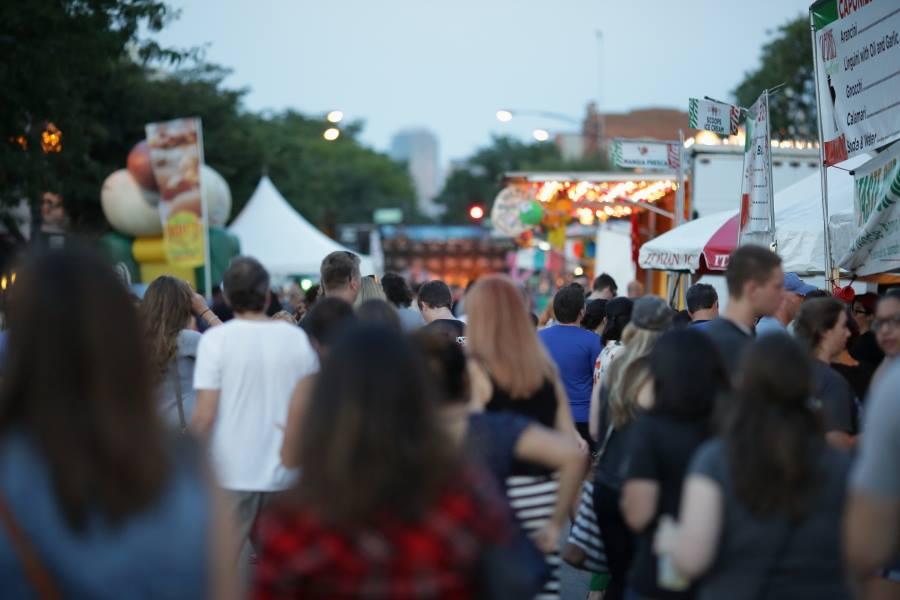 Festa Italiana 2016 (Courtesy of Star Events / Facebook)
5. Sample
A newer entry to the city's food-fest circuit, the second annual Tacos Y Tamales Festival is based on the notion of a tianguis—a type of open-air market typical in Mexico and Central America. Vendors sell Latin American fare, artwork and more; entertainment includes a range of live music, from traditional mariachi to ensembles to Latin rock and DJs, plus dance performances. A beer garden is also on site, featuring Modelo.
Details: 5-10 p.m. Friday; noon-10 p.m. Saturday-Sunday at 16th and Peoria streets. $5 suggested donation. | MAP
6. Reminisce
What happens when a classic summer event meets a classic Chicago love story? On-screen fireworks will be flying (and crowds may coo with pride) when Richard Tanne's 2016 drama "Southside With You" comes to the big screen outdoors as part of the Park District's Movies in the Parks series. Check out what else is screening this weekend.
Details: 7:30 p.m. Saturday in the lawn behind the DuSable Museum of African American History, 740 E. 56th Pl. Free. | MAP
7. Dance
WBEZ's sister station Vocalo Radio kicks off the weekend with a free Feminist Friday Dance Party hosted by Jill Hopkins and featuring DJ Heather, Lady D and All The Way Kay. The family friendly event also includes a chance to meet local organizations serving women and girls.
Details: 6-10 p.m. Friday at Union Park, 1501 W. Randolph St. Free. | MAP
8. Celebrate
More than 15 food vendors and nearly 10 dessert vendors team up for the first-ever Taste of Black Chicago. On the menu: Soul food, vegan fare, Caribbean eats, sweets and more from Brown Sugar Bakery, The Cultured Vegan, Dan's Soul Food, These Wingz? and other area chefs, restaurants and caterers. The outdoor event also includes kids activities and performances.
Details: 2-8 p.m. Saturday at 7351 S. Stony Island Ave. Free admission. | MAP
9. Sleep in
The 12-hour All Night Flea Market brings new meaning to the phrase "shop till you drop." We suggest a power nap before you tackle antiques, crafts, collectibles and more from hundreds of vendors at this indoor-outdoor extravaganza. Extras include live music and a roster of special guests, including actor Butch Patrick, best known as Eddie Munster from the '60s TV show "The Munsters."
Details: 3 p.m. Saturday-3 a.m. Sunday at the DuPage County Fairgrounds, 2015 Manchester Road, Wheaton. $7; free for kids ages 12 and under. Free parking. | MAP
10. Revisit
What started as a neighborhood sidewalk sale today attracts 20,000 festival-goers, organizers say. See for yourself at the annual Edison Park Fest, expanded this year with a new area for food vendors on the east side of the Metra station. Expect live music, a family stage, bags tournament (Sunday), bingo games, a beer garden, carnival games, business expo and—yes, a sidewalk sale featuring handmade goods (noon-6 p.m. Saturday-Sunday only).
Details: 5-10 p.m. Friday; 11 a.m.-10 p.m. Saturday-Sunday at 6730 N. Olmstead Ave., near Monument Park. $5 suggested donation. | MAP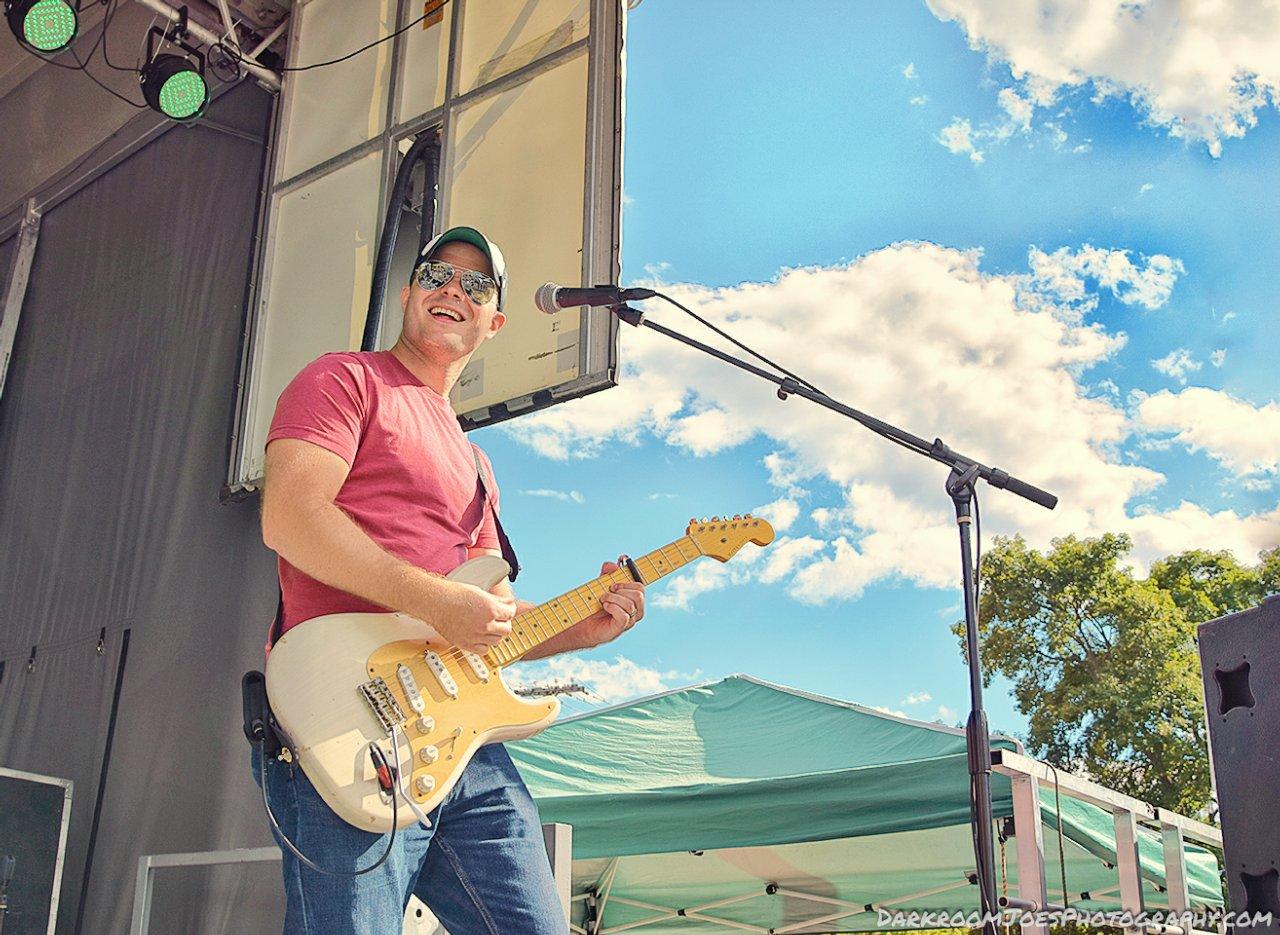 (Courtesy of Edison Park Chamber of Commerce)
Events listed are subject to change. We recommend double-checking times and locations before you head out the door. Want to share your upcoming events with us for consideration in a future roundup? Send us an email.
---