A Chicago woman says the classified ads website Backpage.com should be held responsible for her teenage daughter's murder late last year.
The suit filed Wednesday in the Circuit Court of Cook County claims that Backpage not only profited from sex trafficking advertisements, but coached advertisers so as to avoid law enforcement. 
Desiree Robinson, 16, was killed last Christmas Eve. Cook County prosecutors have charged Antonio Rosales, 32, with her murder. He's accused of beating her and slitting her throat following a party in a garage in Markham. Allegedly, Rosales had connected with Robinson via Backpage, where she was featured in ads for sex.
The prosecutor's office says Rosales pled not guilty in February. That criminal case is pending; a status hearing is scheduled for June 7.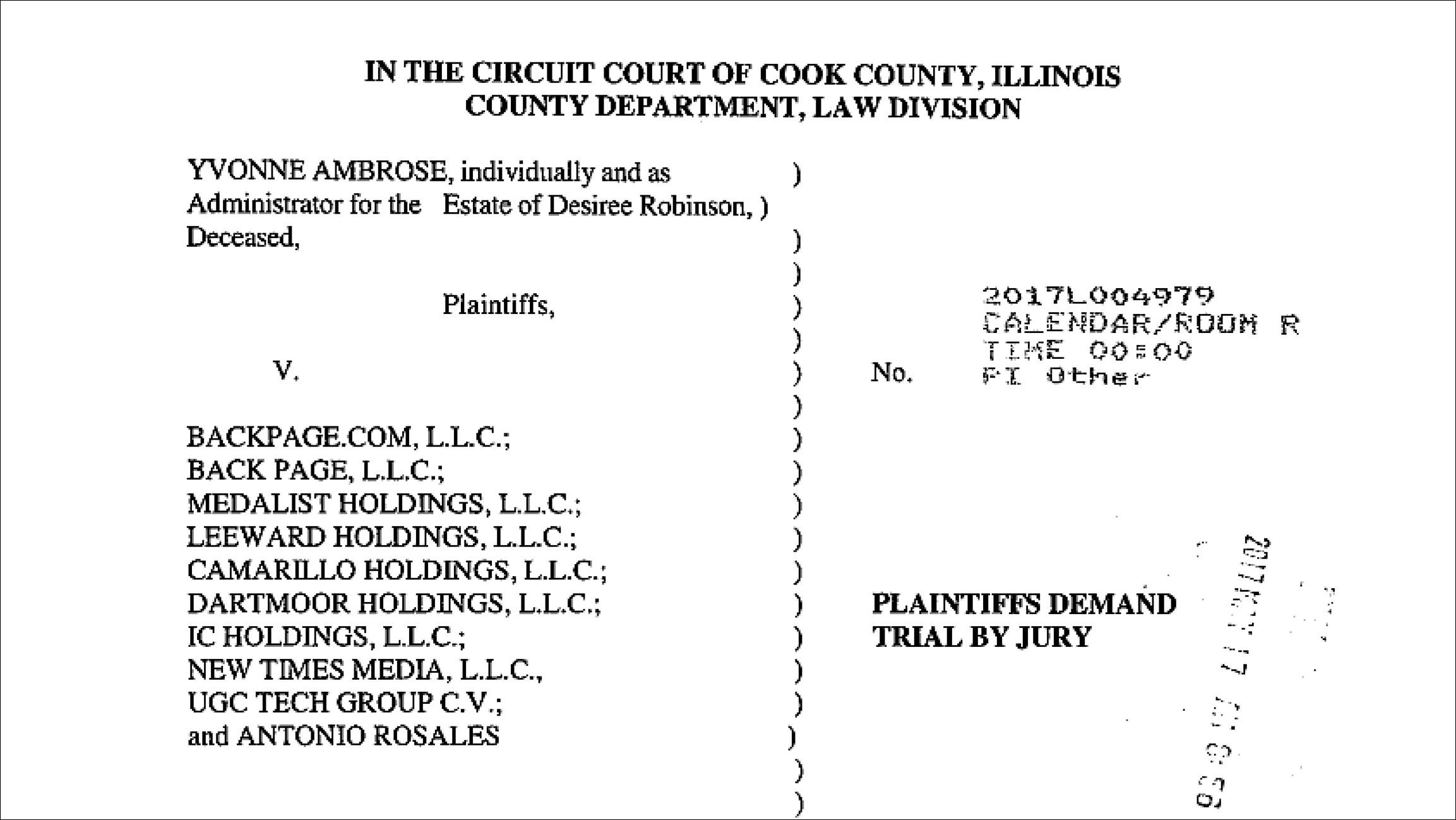 Document: Read the lawsuit against Backpage The case filed Wednesday is a civil suit, brought by Robinson's mother, Yvonne Ambrose, who says her daughter was a "smart child. Always had a smile on her face. Great student. Great personality. Always wanting to help. She helped with the Park District in the summer with the kids, she helped with the Boys and Girls Clubs of Chicago to plant plants for the elderly in the Roseland community. November of 2015 for Thanksgiving, her and I fed the homeless with our church. She was very actively involved in church."
Ambrose's attorneys didn't allow her to respond when reporters at a press conference announcing the lawsuit asked: What are the dotted lines that connect that sweet teenager to someone who ended up in escort ads on the website Backpage.com? The lawyers said it may interfere with the criminal trial.
The civil suit lists Backpage.com, eight other limited liability corporations and holding companies and Rosales with knowingly facilitating sex trafficking of minors like Desiree.
Backpage is website along the lines of Craigslist; on the Chicago site, it lists everything from nail salons to a roommate search. There's also a "dating" section, and that's where critics say Backpage becomes an international online brothel that makes millions annually off ads for "escorts" – a code word for "prostitutes."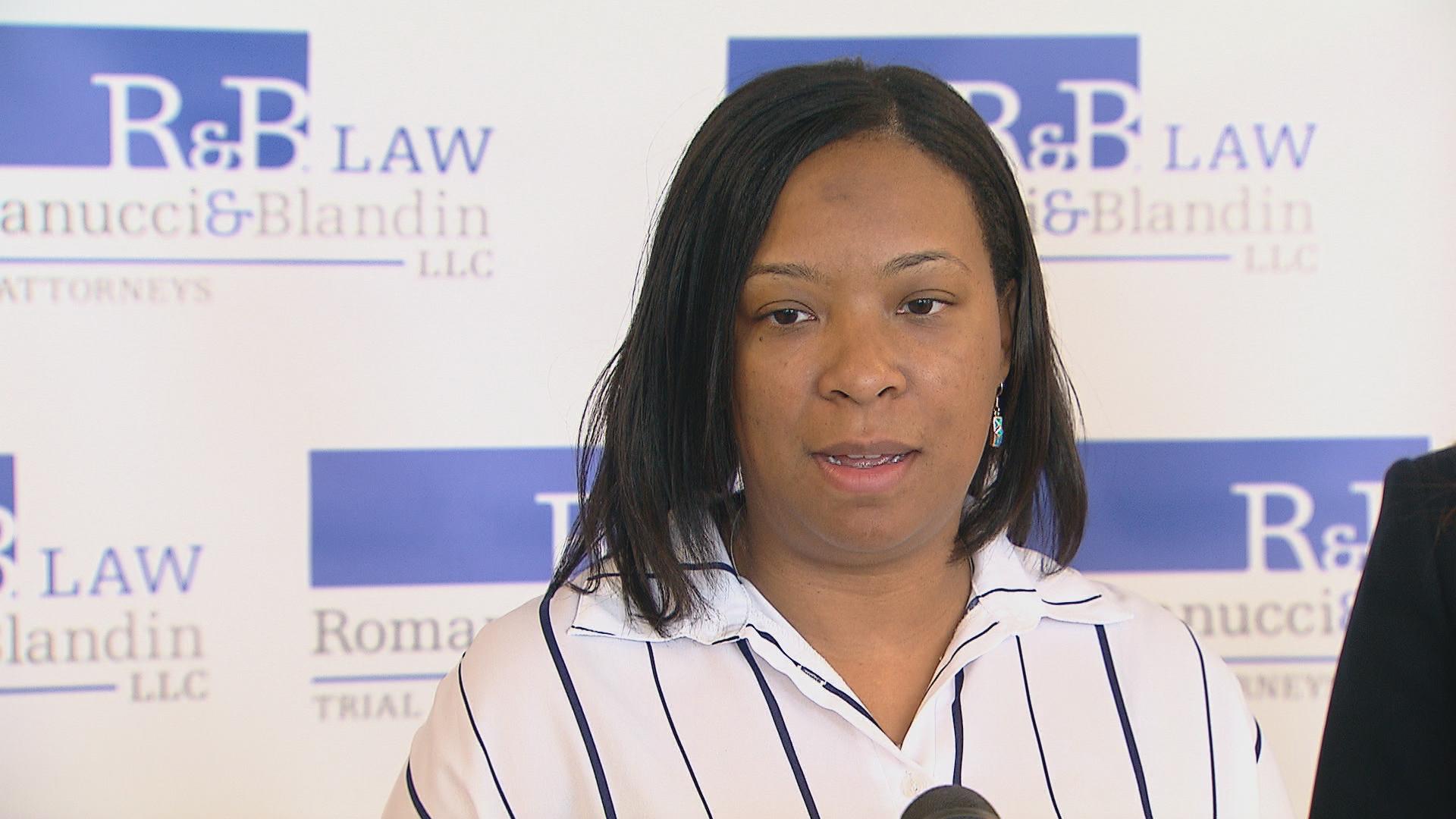 Yvonne Robinson-Ambrose speaks to the press about her daughter Desiree Robinson. "She excelled at everything. Track and field, basketball. You name it."
Backpage has been sued before: In November 2015, a federal appellate court prevented Cook County Sheriff Tom Dart from his attempt to discourage credit card companies from working with Backpage.
But Ambroses's attorneys say that a U.S. Senate report revealed that in an effort to remove itself from public scrutiny and the watchful eye of law enforcement, Backpage began to manually and automatically (using software) "sanitize" its ads.
"Coaching (advertizers). They have a list of forbidden words: 'doll' … those sorts of things ... that they create a system to filter those out and flag it to the pimps so that they can modify their ad," Ambroses's attorney, Gina Arquilla DeBoni, said.
Arquilla DeBoni says she believes the revelations in the Senate report, and Backpage's active role in editing ads, distringuish this case from previous, unsuccessful attempts to shut down and punish Backpage in court.
Currently, Backpage and other websites are protected by federal law: Section 230 of the Communications Decency Act.
"The Communications Decency Act insulated or immunizes websites that just take content form their parties. So if you're a bulletin board, if you're a landing page, you have no liability for content that's created outside your website," said Harold Krent, dean of Chicago-Kent College of Law. "The idea is that the person who provides the third party neutral space shouldn't be liable for the ads because they're not saying that they've approved the ads, they're not saying that they benefit directly from the ads. They're just saying that they space. So we want to encourage this kind of development of the internet by having these hosting sites and not impose liability and make them edit everything."
But while it may be legally permissible for sites like Backspace to knowingly post, profit from or facilitate ads for activities like sex trafficking, Krent says if Backpage began playing an active role in editing posts, the company could lose its immunity.
Robinson's mother may receive monetary damages if her suit is successful, but she also says her goal is to bring awareness.
"Justice is everyone who is involved being held accountable for this. Because Desiree isn't the first girl that this has happened to and she won't be the last person, unless this system structurally is brought down and stopped. It can happen to anybody," Ambrose said. "People know that it happens in other countries but they're unaware of what happens right here at our own doorsteps."
An attorney for Backpage didn't respond to requests for comment, and an email to the company went unreturned.
Follow Amanda Vinicky on Twitter: @AmandaVinicky
---