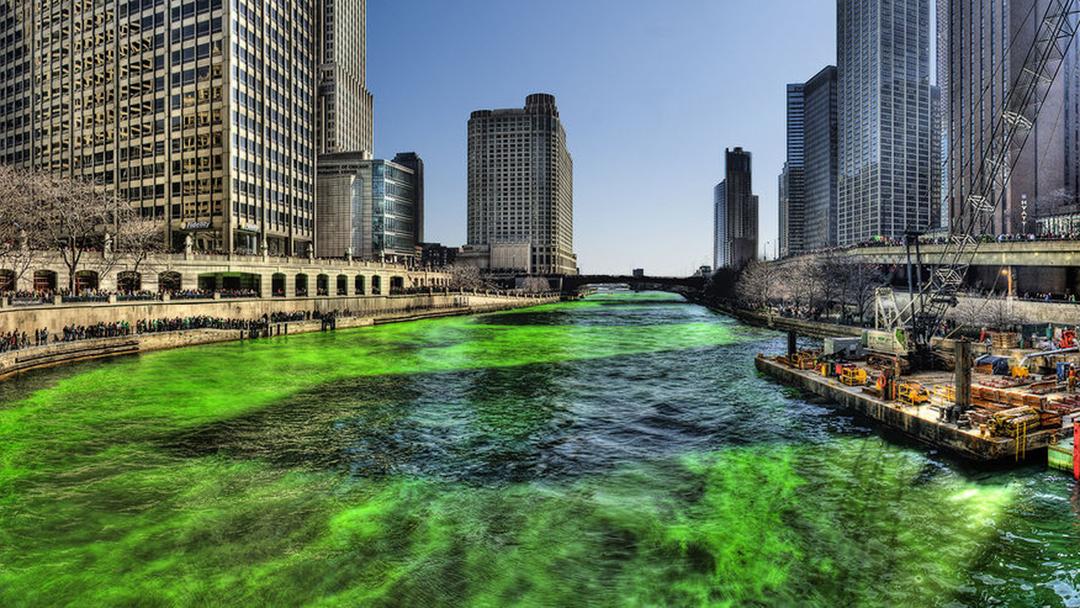 Saturday's annual dyeing of the Chicago River celebrates St. Patrick's Day a little early. (Mike Boehmer / Wikimedia)
1. Go green
Forty-five pounds of vegetable dye swirled into the Chicago River will kick off the city's annual St. Patrick's Day festivities at the crowd-pleasing River Dyeing. The 62nd annual Chicago's St. Patrick's Day Parade follows, with floats, flags and bagpipers and an "Irish immigration" theme.
Details: River dyeing starts at 9 a.m. Saturday; parade steps off at noon from Balbo and Columbus drives. View the river dyeing along the east side of Michigan Avenue, the west side of Columbus Drive or from upper and lower Wacker Drive, between Michigan and Columbus. Free. | MAP of parade start

2. Get inspired
The Peace on Earth Film Festival highlights 33 works from around the world that center on social justice, nonviolence and peace. Films range from family friendly shorts such as "Tree Huggers" to a graphic portrayal of Bahrain's uprising two years ago in "Witness Bahrain." Filmmaker panels and Q&A sessions with directors are interspersed throughout the festival.
Details: 7-10:45 p.m. Friday; 10 a.m.-10 p.m. Saturday; 11:30 a.m.-8:55 p.m. Sunday at the Music Box Theater, 3733 N. Southport Ave. Tickets range from $5-$15 depending on length of film. | MAP
3. Travel
The Malpaso Dance Company of Havana makes its Chicago debut with a trio of performances this weekend. The contemporary dance program features "Indomitable Waltz," an exploration of the soul under intense emotional circumstances and "24 Hours and a Dog," created to reflect the tempo of the dancers' pedestrian experience in Havana.
Details: 7:30 p.m. Thursday through Saturday at the Columbia College Dance Center, 1306 S. Michigan Ave. $10-$30. | MAP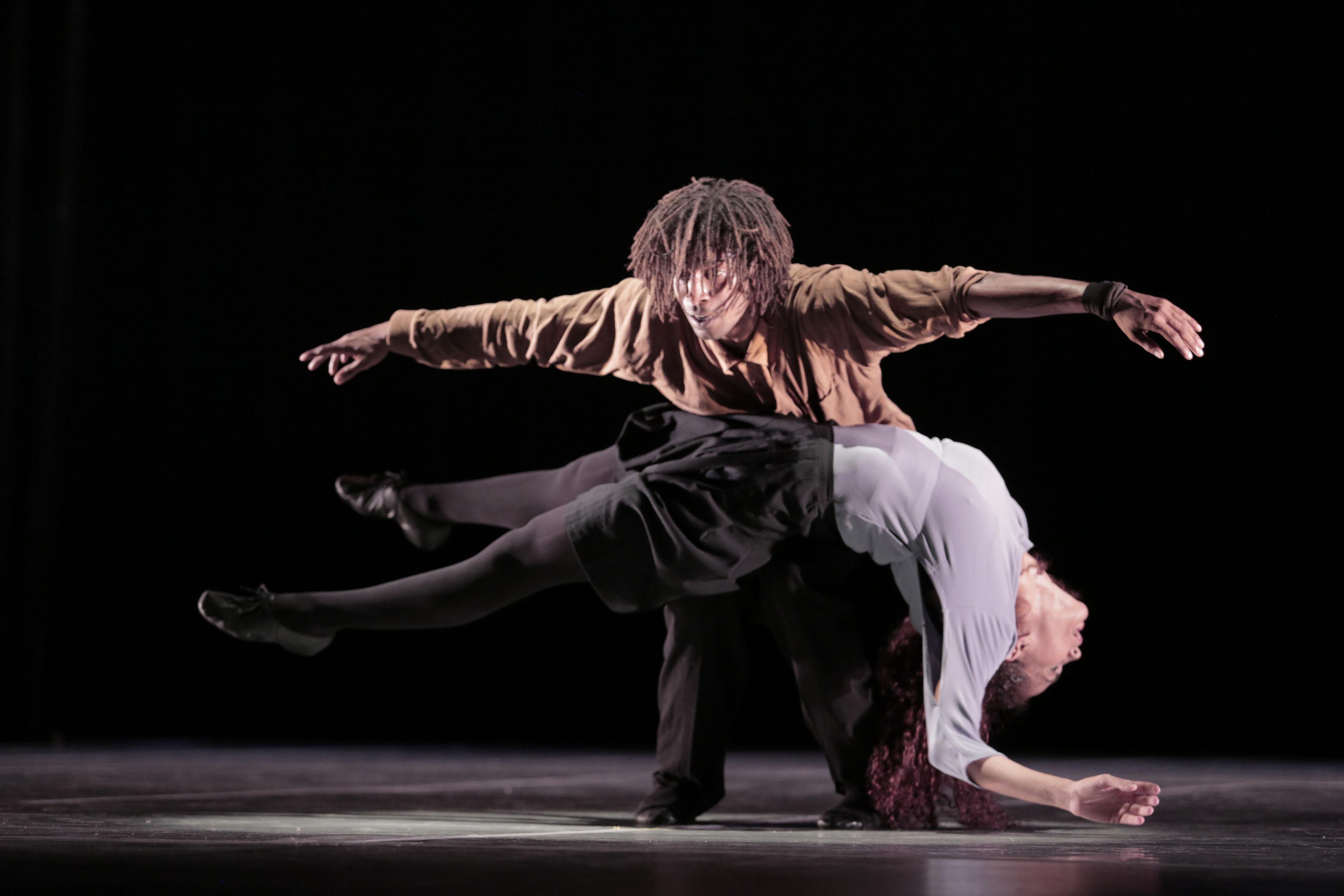 The Malpaso Dance Company performs in their Chicago debut this weekend. (Courtesy of Roberto Leon)
4. Explore
Chicago arts nonprofits Links Hall and Threewalls host THAWALLS, a 10-week contemporary art exhibition. Celebrate the opening at a launch party where you can connect with the artists and dance, if you wish, to music curated by Constellation Chicago.
Details: 6 p.m. Thursday at Navy Pier, 600 E. Grand Ave. $50. Exhibition is on display through May 18. | MAP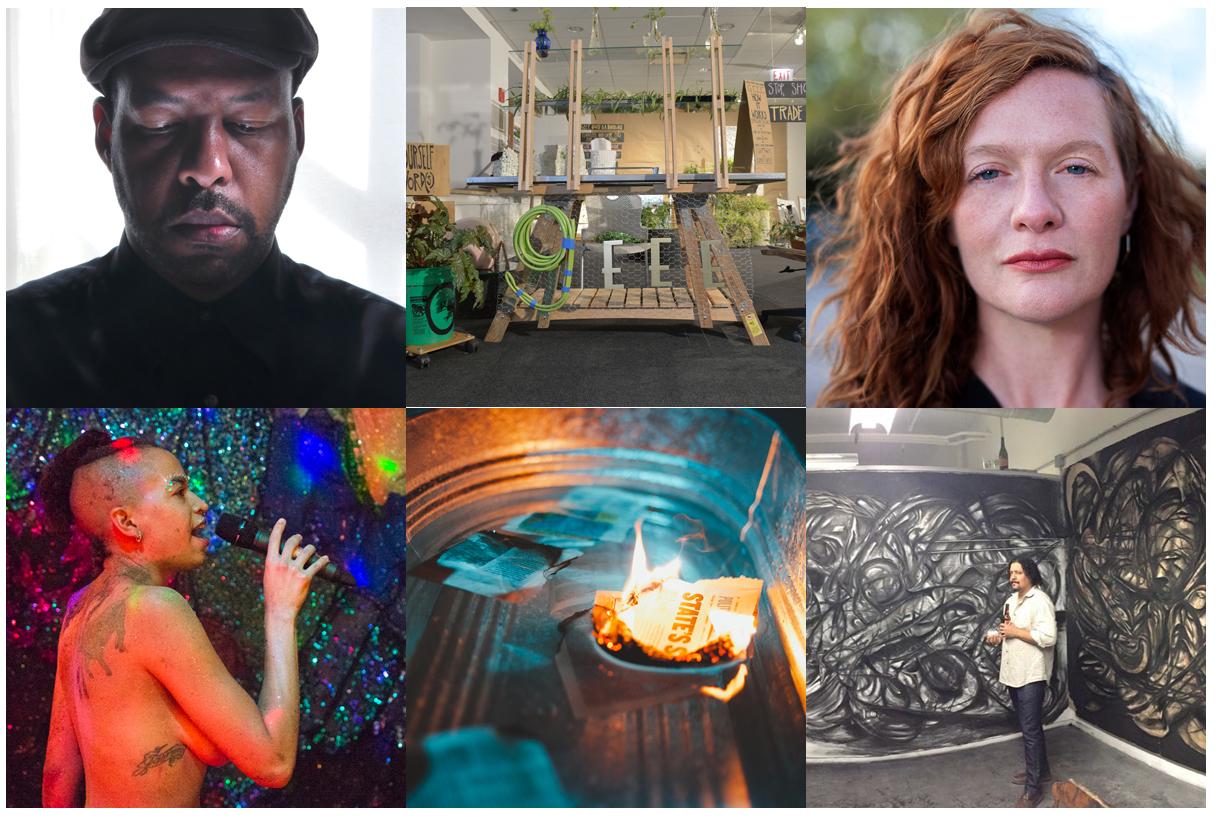 These are a few of the artists whose work is on display at THAWALLS. (Courtesy of Three-Walls)
5. Line up
Chicago is a city that loves a parade. This weekend, you can double up on the fun. The annual South Side Irish Parade features music, dancing and floats honoring Irish culture. Note: The parade "is a family-friendly event and has a zero-tolerance policy for alcohol along the parade route."
Option number two: the Northwest Side Irish Parade steps off at noon Sunday at Onahan School, 6634 W. Ravens St. 
Details: South Side Irish Parade steps off at noon at 103rd Street and Western Avenue and proceeds along Western to 115th Street. Free. | MAP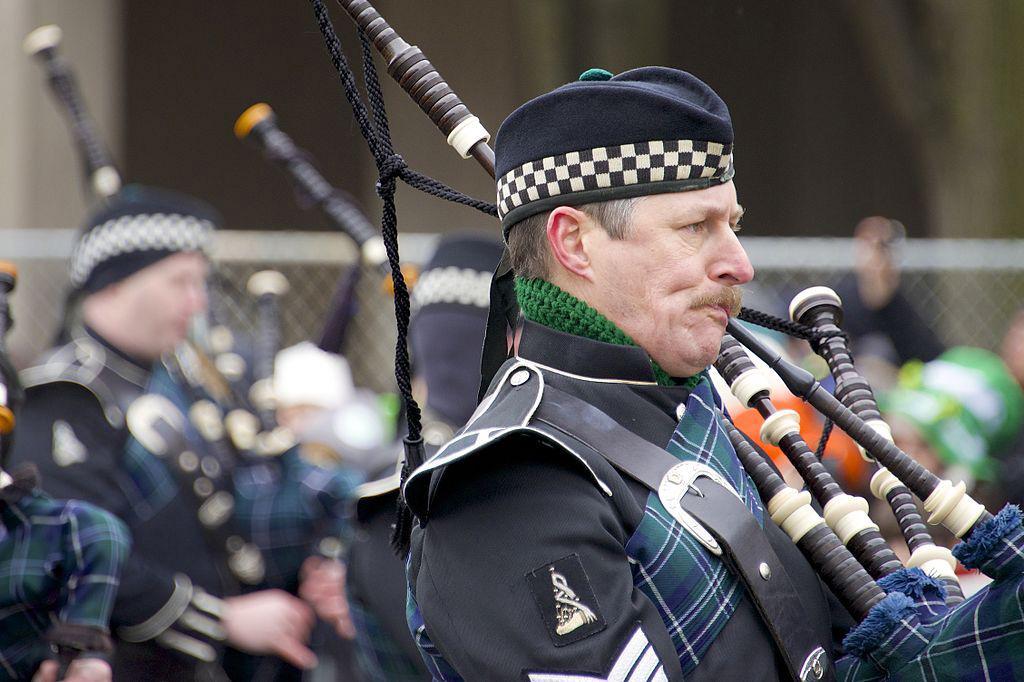 Bagpipes are expected to make their presence known at Sunday's parade. (Jamie McCaffrey / Wikimedia)
6. Pace yourself
It's tempting to celebrate St. Patrick's Day by guzzling green beer. If that's what floats your boat this weekend, take advantage of one of the many bar crawls taking place throughout the city. A sampling of options: The Shamrock Crawl in Wrigleyville, the St. Pat's Walking Bar Crawl in Wicker Park and the St. Paddy's Day River Crawl in River North. Just remember, people: it's a marathon, not a sprint.
Details: Saturday, various times and locations. Prices for events above range from $10-$60.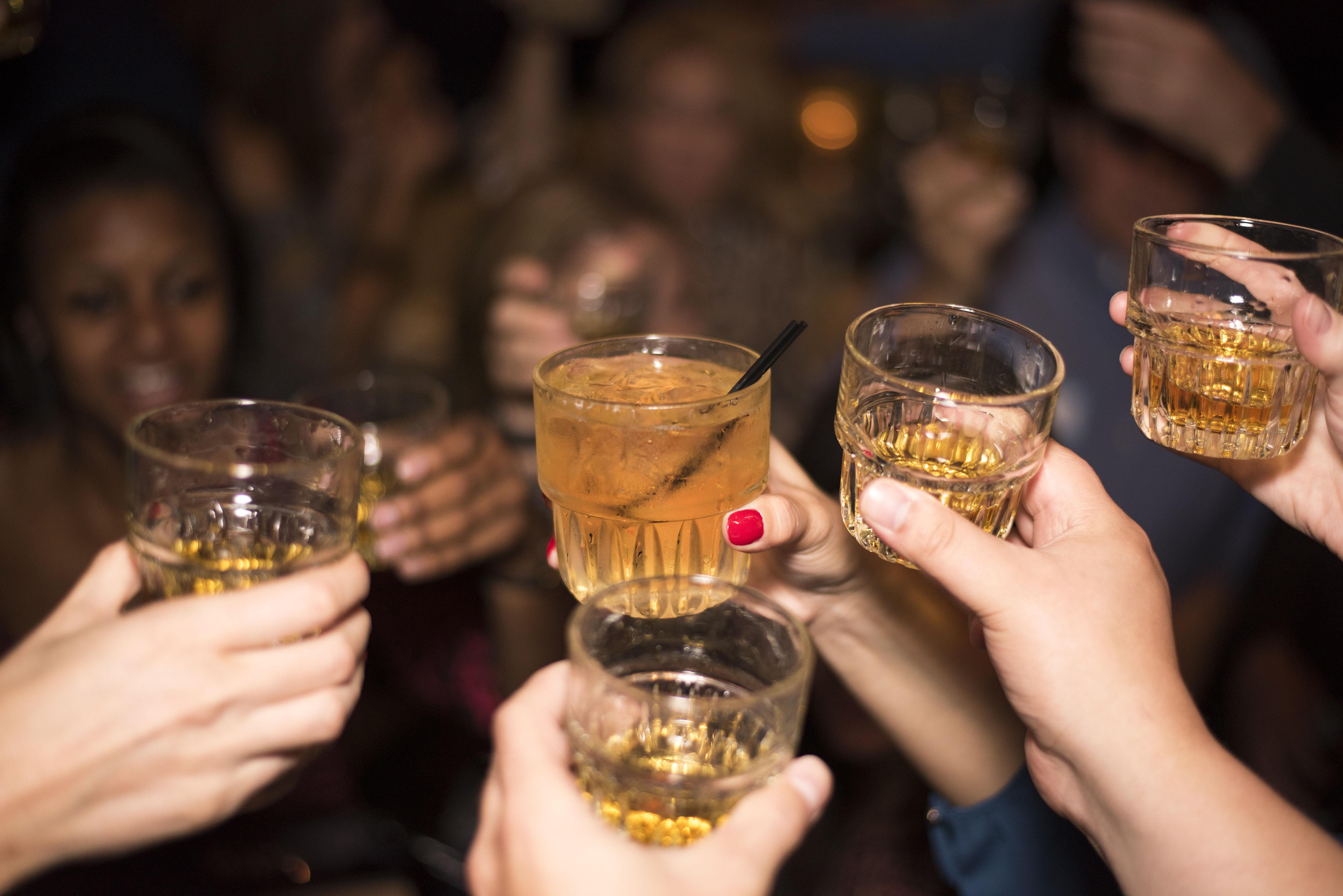 Thousands of Chicagoans are set to take the streets to celebrate St. Patrick's Day in local bars.
7. Color
St. Patrick's Day isn't the only game in town this weekend with a penchant for bright colors. Celebrate the Indian festival Holi – widely known as the festival color – which marks the arrival of spring. An outdoor festival in suburban Lemont includes a bazaar, cultural programs and dancing.
Details: Noon-9:30 p.m. Sunday at the Hindu Temple of Greater Chicago, 10915 Lemont Rd., Lemont. Free. | MAP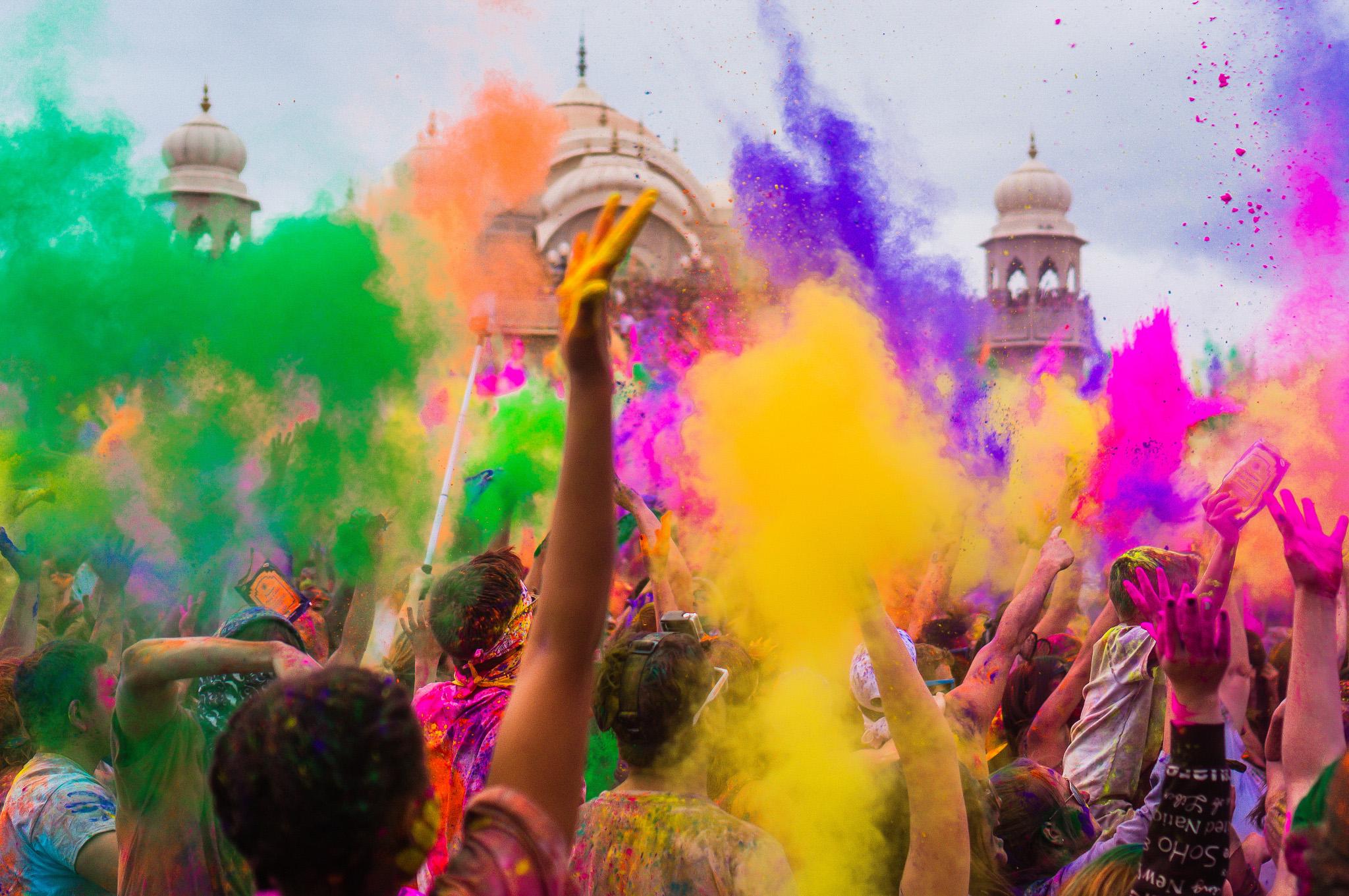 Holi is often associated with the colored powders that coat its participants (Steven Gerner / Flickr)
8. Celebrate
On the heels of International Women's Day, the Ukrainian National Museum hosts a public reception for its "Celebrating Women of Courage" exhibition featuring works of art from more than 15 artists who have "overcome extreme difficulties in their lives," including survivors of war and cancer. The exhibit includes photography, mixed media, paintings, poetry and short films.
Details: 7 p.m. Friday at the Ukrainian National Museum, 2249 W. Superior St. $10. Exhibit continues through March 31. | MAP

9. Dance
Phantogram brings its self-described electro rock sound to the Windy City. The duo from Greenwich, New York samples favorites from its three studio albums and eight singles.
Details: 8 p.m. Saturday at the Riviera Theater, 4746 N. Racine Ave. $30. | MAP
10. Bind
Put your craft skills to the test at the DIY Journals: Bookbinding Workshop. Learn basic book-binding techniques, master the Coptic stitch and walk away with a small hardcover book by the end of the session. 
Details: 9:30 a.m.-12:30 p.m. Saturday at The Center for Intuitive and Outsider Art, 756 N. Milwaukee Ave. $40. | MAP
Events listed are subject to change. We recommend double-checking times and locations before you head out the door. Want to share your upcoming events with us for consideration in a future roundup? Send us an email.
---